During my trip to Vietnam, I ventured to WORK Saigon, a coworking space, creativity school and cafeteria in Ho Chi Minh City.
WORK Saigon is different than most coworking spaces, since there isn't an entrance fee. Instead, people who want to work here are simply asked to purchase something in the adjacent cafe, which features food and drinks. (Oh yeah, and there's a swimming pool. #Awesome)
I roamed around WORK Saigon on a Thursday afternoon to find out what people here are working on; the number-one tip they have for remote workers; and if they have a book recommendation.
Lori Shea, Massachusetts, USA 
I am finishing electives for a TESOL (teaching English as a second language) diploma, doing freelance digital marketing work for social enterprises and non-profits in Australia, and lesson planning for English classes that I'm teaching in Ho Chi Minh City.
Lori's Tip: Get out of the house as often as possible.
Book Recommendation: The Subtle Art of Not Giving a F*ck by Mark Manson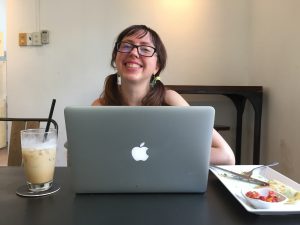 Khoa Pham, Ho Chi Minh City, Vietnam
I am doing bottom-shelf virtual assistance.
Tip: Focus more time on leisure.
Pierre Freaud, Paris, France 
I am studying workplace English because I am going to Shanghai for an internship, so I need to improve my English.
Tip: Listen to music without lyrics while you're working.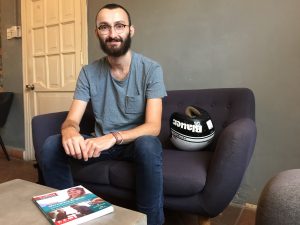 Adam Lev, New York City, USA 
I am working on a fashion e-commerce startup and a photography app.
Tip: Have a routine and don't move from city to city too much in order to avoid FOMO (fear of missing out). Stay in one city as long as possible.
Book Recommendation: Tools of Titans by Tim Ferriss and The Hard Thing About Hard Things by Ben Horowitz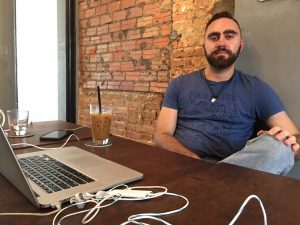 Joe Vallender, Bristol, England 
I am a working on my financial technology business, Landlord Invest.
Tip: Use the morning. Get as much work done before lunch as possible.
Ruby Tran, Ho Chi Minh City, Vietnam
I am a digital marketing consultant for vserv.
Tip: Change your working environment often.
Sam Hall — Toronto Canada 
I work for a professional e-sports company, developing software for competitive league play. Right now, we're developing a desktop client for a Minecraft league.
Tip: Find something you like doing.
Julian Currie, Bay Area, California, USA 
I am working on a new social network. It's kind of like Twitter or Instagram for foodies.
Tip: Set aside actual time to work, or else you'll get very involved in the tourist aspect of traveling.
Book Recommendation: The 4-Hour Workweek by Tim Ferriss
Steven Hochman, Paris, France 
I am studying international business law at Vietnam National University, Ho Chi Minh City.
Tip: Always have a clear, definitive objective.
Hao Tran, San Francisco, California
I am the co-founder and managing director of Vietcetera. We write articles defining and uncovering the new Vietnam. My job is to go out there, meet people and write stories.
Tip: It's easy to get distracted in places that are affordable and fun, so it's really important to be disciplined and surround yourself with people who are disciplined. Also, always be learning.
Book Recommendation: The $100 Startup by Chris Guillebeau