Founders Vinayak Agrawal and Utkarsh Kawatra have turned what was once a budding idea into a coworking community with a strong presence in Delhi/NCR in India. After founding their coworking company, myHQ, in 2016, the founders are happy to have now expanded to 70 spaces with over 10,000 community members utilizing the workspaces regularly. By focusing on hospitality, streamlining operations with technology and building a tight-knit community, myHQ has revolutionized coworking in Delhi/NCR. Read more about its inception, here!
What is your involvement with
myHQ
? When did it open / why did you start it
We founded myHQ in June, 2016 and have been working on myHQ since. When we were exploring the option of setting of coworking spaces, one of our friend, offered us his pub/lounge to run as a day time co-working and work from. Though initially hesitant, we took it up and saw many people, happily joining and working from the space. Within a month, we had the spaces filled with hardly any effort. The interesting part was that the users varied from a college student coming to study to a freelancer, from a 5-member start-up working out of the space regularly to a VC using it for meetings. Seeing the varied use cases, and getting more requests from space owners to set this up, we realised that this was hitting a sweet spot of bringing efficiency and creating a lot of value for all involved stakeholders. Hence, we decided to go ahead with this.
How would you describe the community at
myHQ
?
Our community is a diverse mix of entrepreneurs, freelancers and corporate professionals. All our community members  The balanced mix creates a vibrant atmosphere and facilitates interaction. We've seen a lot of business transactions, companies and freelancers finding new clients within the myHQ community.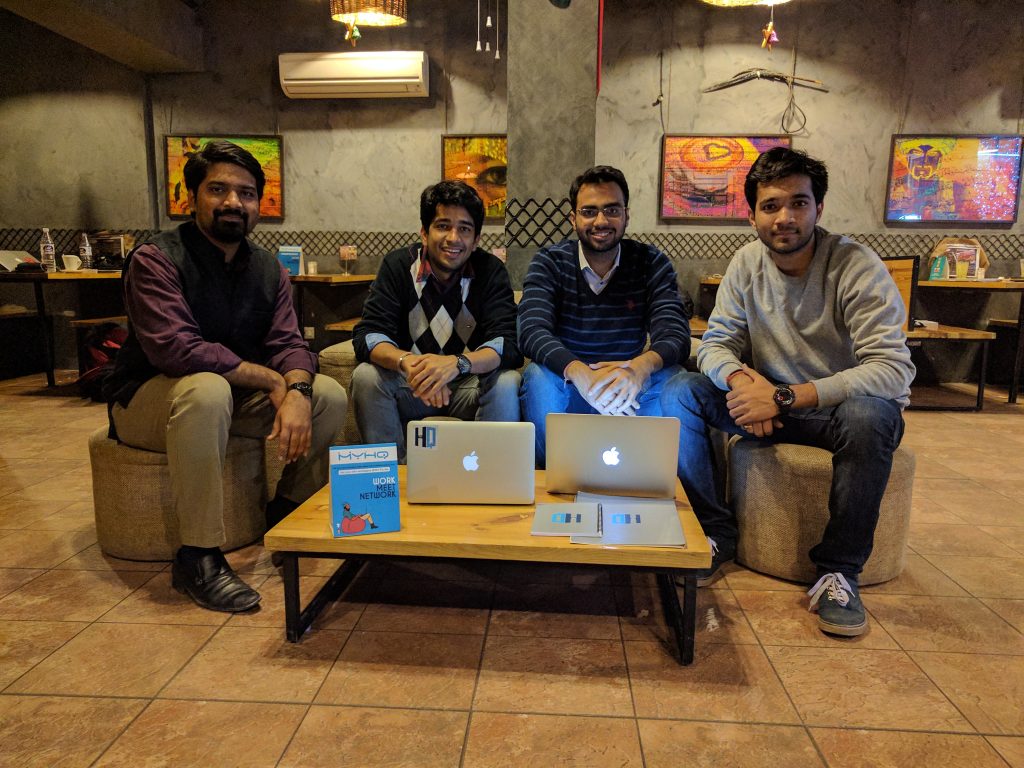 Do you host any sort of events to bring the community together?
We organize regular community events and meetups – ranging from 1-on-1 pitching sessions with leading VC's, AMA Sessions with industry experts, Founders Meet-ups to fun beer-mixers, coffee-painting, Wellness hours and football matches.  Our events are an integral part of our community and offer a great way for our members to grow, learn and network.  A lot of interaction and engagement between the members also happens online on the myHQ mobile app (android, ios). On the app the members can see the profile of other members, post their business requirements and professional queries.
What are the three key ingredients for operating a successful coworking space?
Community, Location and Experience.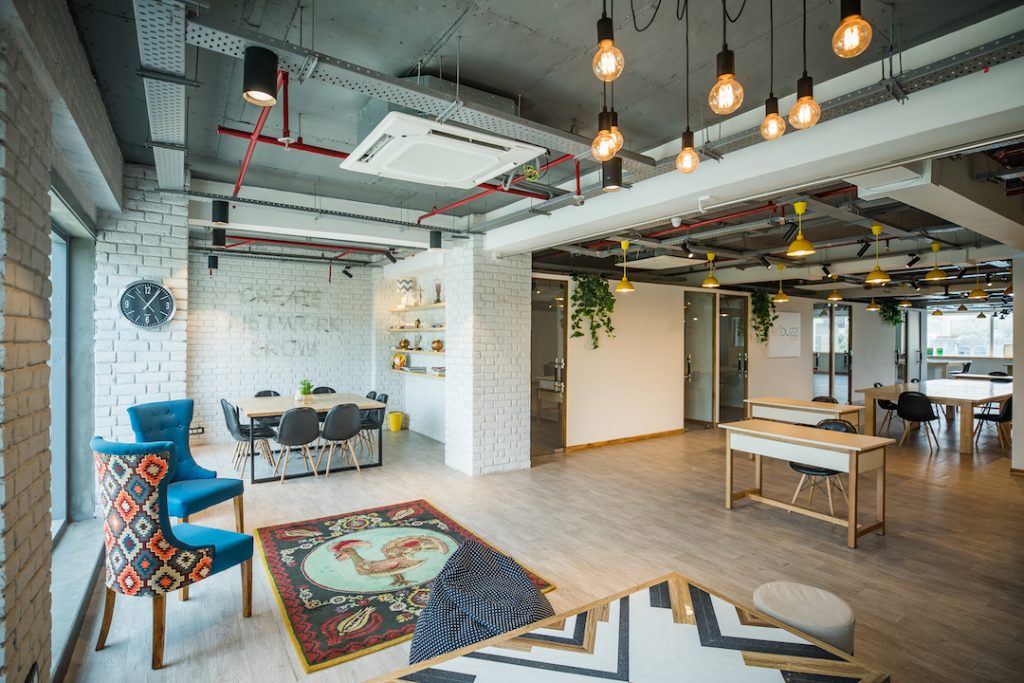 What is your favorite part about coworking?
Our favorite part about coworking is both being able to find a creative environment to work out of and being able to meet and network with people with a diverse set of professional background and experiences.
What types of cool projects are your members currently working on? 
A lot of our community members are working on several interesting projects. A few that come to mind are:
Tamanna Sharma is an aspiring zero waste practitioner. She is the founder and director of Earthling First, an event waste management service. With the mission to send 'Zero Waste' to Landfills, Earthling First helps organizations reduce waste generation, facilitates proper disposal of waste by sending it back into the economy through composting and recycling.
Ishita Kapoor is a successful Women Entrepreneur, who is extremely passionate about Women Equality. She says that "we all know women hold up half the sky, but they are still not considered important. She realized that there is a problem affecting the women community which needs to be solved. Ishita thinks that being a woman it's her responsibility to help her gender and that is how the idea of her existing venture came into picture.
Jigyasa Chaturvedi is the founder and CEO of 82ISM, which can be best described as UBER for innovation. 82ISM is a marketplace offering innovation as a service to enterprises. She founded 82ISM to make innovation easy and accessible while changing the world for the better. She and her company has made a commitment to donate ten percent of their profits to charities.
Poorva Sadana left her full-time pharma consulting job to pursue her dreams of writing and entrepreneurship. Today she is a thriller/horror author, working on her first novel, along with working on several other life projects. She writes micro-thrillers everyday on Facebook/Instagram at Figments by Poorva Sadana  (@poorvasadana), which are definitely worth a read! She also owns her own lifestyle blog Fashion Food Soul  and has her own brand of exclusive quirky costume jewelry, called Sammoh.
What was the most challenging part, thus far, of opening and operating a coworking space?
Since we do not own the space, controlling the work experience at these spaces is a challenge.  Ensuring that the Internet is working, office stationery is stocked at all locations isn't very straight forward. Over the last couple of years, we've invested in building a strong tech infrastructure – right from a centralised Wi-Fi and Payment system to inventory management to monitoring the spaces real-time (occupancy levels, Wi-Fi status etc.). This helps keep our operations lean, provide a great work experience to our users.
Do you have any advice or tips for someone who is looking to open a coworking space?
Working on this for over 2 years now, we have learnt with time- about the expertise needed in this business. We have realised it is lesser real estate and more about hospitality, streamlining of operations with technology and building a community
What are some of the highlights of
myHQ
?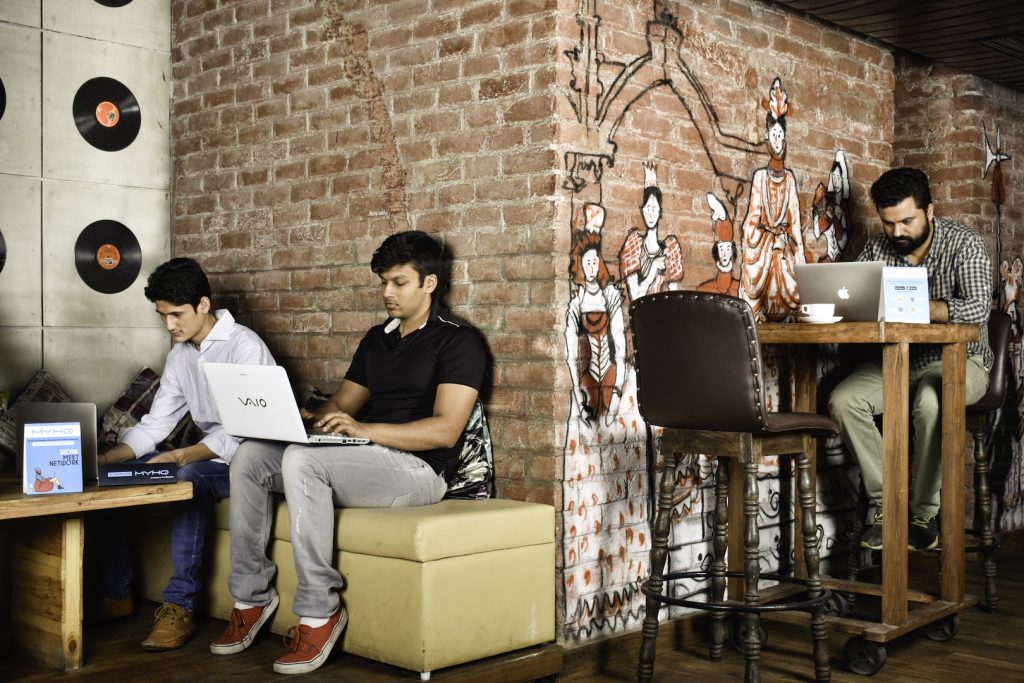 Unlike other co-working spaces in the market, myHQ is building a chain of collaborative work spaces by taking up curated spaces inside well designed cafes, lounges and offices. Whether it is a pub which is not operational during the day or a café which has unused inventory – myHQ exclusively focusses on such spaces and converts them into hassle-free work zones. myHQ already has a strong presence in Delhi/NCR with over 70 spaces and 10000+ community members using the spaces regularly.
myHQ, has a visit based subscription based model and there is no monthly rental, no deposit and no lock-ins. With a subscription, the user has access to all myHQ locations
How would you like people to remember you and
myHQ
?
We would like people to remember myHQ as a creative and vibrant network of workspaces that changed the way how people work!
Anything else you would like to add?
We, at myHQ, aim to provide the perfect productive experience of an inspiring workspace but at the price of a coffee. Curated standardised spaces, remodelled to be work friendly, with no fixed rental and an amazing community to interact with.