In the span of just a few weeks, the way we work, communicate, and navigate daily life has drastically changed. The spread of coronavirus (COVID-19) across the world has caused companies to completely readjust their operations in an effort to halt the spread and, quite frankly, to stay in business during these challenging times. 
Governments in several countries — including Bulgaria, Italy, Luxembourg, and Switzerland — have ordered people to stay home unless on urgent business, forcing the world's largest remote-work experiment to date. 
For the coworking industry in particular, the global pandemic has proved to be a menacing adversary to typical operations, requiring many spaces to close their doors to members. To weather this uncertain storm, coworking operators are under pressure to reevaluate their operations and come up with new business models, sanitation practices, and flexible solutions for their members as quickly as possible.
In general, space utilization has experienced a dramatic decrease as more people are being encouraged to stay home. Compared to this time in 2019, Coworker has witnessed a 10.51% drop in site visitors in March 2020.
At Coworker, we care deeply about the spaces in our community and want to offer support during these uncertain times. That's why we decided to conduct a survey and collect information about how coworking spaces are navigating COVID-19, engaging with their members, and sustaining their operations.
The survey, which was shared with all of Coworker's 14,000+ coworking spaces in 172 countries worldwide, was conducted between March 16 and March 18. 
We believe any opportunities spaces have identified to support themselves and one another are essential, as sharing our best practices, tips, and advice is the only way we can continue to thrive as a global community. Let's dive into the results!
Consequences of COVID-19 for coworking
One of the most obvious consequences of coronavirus has been the massive rise in the number of people working from home, which we hoped would boost coworking operations in an article we wrote last week.
However, the survey unfortunately found the opposite to be true — 71.67% of spaces said they have witnessed a significant drop in the number of people working from their space since the outbreak. 
Along with a dwindling in-person workforce, 40.8% of coworking spaces reported a negative impact on membership and contract renewals since the outbreak. And, 67% of spaces have experienced a drop in the number of new membership enquiries.
For coworking spaces all across the globe, the consequences of coronavirus are far-reaching and have fully altered the way that the spaces carry out daily business. In the survey, we asked spaces what the top consequences they've experienced as a result of coronavirus are, and they responded with the following:
Event cancellations (71.04%)

Meeting/conference room cancellations (65.99%)

Membership cancellations (34.68%)




Changing behaviors of members (24.24%)

Space closure (20.2%)

Sick members (8.75%)
Additionally, spaces have seen more members choosing to work from home, delays of move-in dates for new coworking tenants, and a shift to providing online-only services, such as audio editing and recording.
A number of spaces also mentioned that they have cancelled services like Deskpass, Liquidspace, and other external booking partners for the time being, with new enrollments and visitors suspended indefinitely.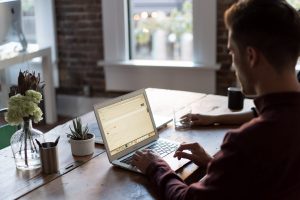 Spaces adopt alternative business models 
While these consequences are both threatening and highly disruptive to coworking operators across the board, spaces are finding unique ways to deal with the effects of the outbreak in a positive way. By reassessing their services and creating new solutions, many spaces have adopted alternative business models in an effort to not only stop the spread of the virus, but also to support their community's current needs.
In our survey, we asked our 14,000 spaces if they had adjusted their business model or introduced any new practices in response to COVID-19. Here are some of the new models spaces are integrating to help them navigate the crisis:
Adjusted cancellation policies to allow for more relaxed cancellation periods

Lower pricing for new members and discounts to current members

New student memberships for university students transitioning to online classes

New "virtual plans" and offering virtual mail services, in which no physical presence is required

Ability to roll over any unused days to future months for part-time shared desk members or pause membership entirely

Single-person rentals of meeting rooms for virtual meetings

Virtual member events and online workshops, including collaborations with video conferencing companies

Partnerships with local businesses to assist members and their families, including additional services by food delivery companies

Changing marketing strategies to reflect a new focus on selling private office memberships
These new business models showcase the adaptability of the coworking industry, which by its very nature, is dedicated to providing flexible solutions in whichever manner is needed most.  And though many spaces have decided to close for now, coworking operators are remaining positive about the potential opportunities that may come of this pandemic. 
With everyone doing their part in preventing the spread — whether that be working remotely from home, increasing sanitation, or providing education about the outbreak — many spaces are optimistic that things will return to normal once the curve has flattened. In our survey, we asked spaces if they predict any long-term positive effects, and here are some of their responses: 
"Yes, in Portugal, we are on the verge of closing the country like Italy did. Many workers are now at home, as ordered by their companies. This experiment can be a chance to open peoples' eyes and find new and more productive ways to work. Also, coworking is a much less expensive option, and companies are still beginning to feel the impact of this crisis. After the health issue is stabilized, then the financial storm will come and hit us hard. Coworking can be a good option for workers to feel safe, closer to their homes, be more productive, and save money, both for the workers and for the company." –CoworkCascais, Portugal
"Companies are thinking about decentralization of work, improving efficiency, and reducing costs. Compulsory work-from-home or opting for a nearby coworking space may be an eye-opener for corporates." -Founders Cube, India
"Our members are all published writers, journalists, and podcasters who already worked alone and used our space to get out of lonely home offices. Our new virtual services will help for the duration and I think will prove valuable even afterwards. It makes community membership useful even when you move from the area or if you can't come into the space itself if you are too busy." –What Cheer Writers Club, Rhode Island, USA
"It could have a positive effect now that companies know that their staff can actually work outside the office and still be productive. The only reason now to go to work is to see other people and socialize. Maybe companies will invest less in offices and furniture, but more in the work environment quality and surroundings." –La Station, Rimouski, Canada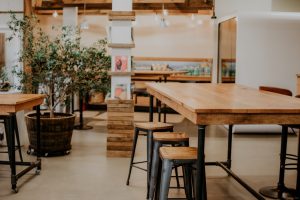 Stop the spread: what spaces can do
As more people become infected on a global scale, unfortunately no shared space is free from the potential of  contamination. If your coworking space is remaining open for the time being, there are certain actions operators can take to ensure the safety of members.
In our survey, we asked operators what they have done to combat the spread of coronavirus at their spaces, and here are the most common measures that they have put in place: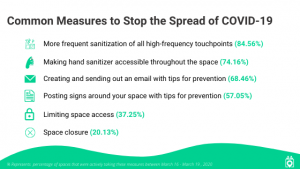 Additionally, spaces have decided to end communal breakfasts, lunches, and other gatherings, allowing only two to three members to be in the kitchen space at a time. Some spaces have also chosen to spatially rearrange their furniture and service points to ensure sufficient distance.
Nevertheless, as the situation evolves with every passing day, more spaces will be electing to close their doors or encouraging their members to work from home, which renders these measures mostly obsolete. Because shared offices are gathering spaces by nature, it has become an act of social responsibility to halt in-person operations to effectively reduce the spread of the virus.
For spaces that have closed, many are still finding creative ways to engage their communities and support their members from afar. In addition to translating their programming to virtual platforms, here are some of the top examples from our survey respondents who have temporarily closed their doors:
"We utilize Slack Channels to maintain engagement, encourage community building, and avoid isolation/loneliness." –Plug and Play Munich Co-Working Community, Germany
"We have created a PDF for the whole community, encouraging them to keep in touch and be creative. Coworking is not just wi-fi it is above all a community. We organize online breakfasts, yoga classes, and online mindfulness. Plus, each coworker is offering their services for free and are always available online." –The Beach Factory. Castelldefels Coworking, Spain
"We are now using the space for different business needs, such as storage." -_york, Russia
"We offer online coworking on Mondays, Wednesdays, and Fridays in a Zoom room to fight loneliness, especially with the national curfew. If possible, we are transferring events to Zoom conferences as well." -Rayaworx, Spain
"We are writing and sharing blog articles, making videos on how to work remotely, what to be careful of, talking about COVID-19, the news, decisions of the government, etc." –Manistal, Belgium
In conclusion
As more people look to their governments and employers for guidance and direction during this challenging time, having a plan in place that includes alternative or flexible coworking solutions may be the best way to proactively address the underlying uncertainty. Though it's too soon to say if the coronavirus outbreak could force a permanent work-from-home movement, it will be interesting to see how the situation evolves in the coming months and how coworking spaces will respond.