Running Remote is back this year with a live event in Montreal on May 17-18. Now in its fifth year, the world's largest remote working conference brings together global experts on building, managing, and scaling remote teams. 
Whether you are starting your own remote business, looking to scale your remote team, or making transitions to the hybrid model of work, it's always better to learn from those who have succeeded.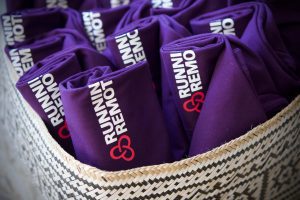 At Running Remote, you can expect a transformational experience with some of the top international leaders in remote work with a 40+ speaker line up on two stages, networking sessions, an expo zone, satellite events, and more, over two exciting days. 
This sought-after international conference offers remote-first founders & hybrid-team leaders access to the knowledge, connections, and solutions to lead remote teams to excellence.
The remote work landscape had changed dramatically since Running Remote launched the first conference on the future of work in 2018. At this year's live conference, we are not only presenting the most groundbreaking leadership tactics from globally leading companies, but are also focusing on how enterprise organizations transition to hybrid working models.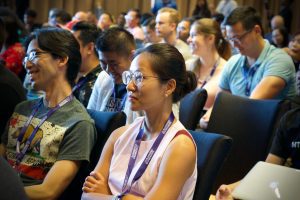 As remote and hybrid work models have now become the norm worldwide after the pandemic catapulted us to rely on new systems and progressive ways to work online, companies must keep up or they will get left behind.
With a global remote and hybrid workforce, it's imperative organizations now adapt to effectively utilize and manage new working systems, technology, and processes to attract the best talent and even more constructive ways of working. This year's Running Remote 2022 is not to be missed. 
The best minds in remote work will gather together in Montreal where you will hear from globally renowned executives including: 
– Harry Moseley CIO at Zoom
– Janelle Bieler President Canada at Adecco
– Jeff Shiner CEO at 1Password
– Sarah Sutton Founder and CEO at Flexjobs
– Dareen Murph Head of Remote at GitLab
– Nathan Barry CEO & Founder at ConvertKit
– Tracy Hawkins VP of Work Transformation at Twitter
– And many more!
With technology and the remote working landscape moving fast, we will cover pivotal topics and sessions including includes recruitment & HR practices, the role of the Head of Remote, vibrant company culture, surviving hypergrowth, communication strategies, wellness & ergonomics.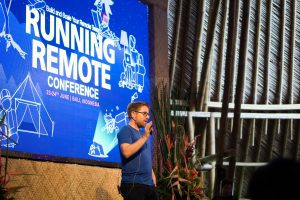 The agenda includes "real-world" best practices from industry-leading remote-first & hybrid companies and the latest methodologies on building and scaling remote teams. You will learn: 
The key strategies and technologies to recruit, manage, and scale your remote/hybrid team effectively

How to build a cohesive, vibrant, and happy team culture, so that both your in-office & remote team members feel equally valued and nurtured.

Boost your team's efficiency and avoid zoom fatigue with a balanced async/sync communication strategy

If your company needs to hire a Head of Remote? Understand the issues related to remote work to consider what's best for your business

Avoid common pitfalls and keep your remote team on track during hyper-growth phases

Optimize your leadership in the "new normal" — what does good look like?

The challenges, problems, and solutions of web3s emerging technology and what to do about it 

And much more!
The new hybrid format event for 2022 offers both live and on-demand options, allowing you to access the conference across desktop, mobile, and in person.
This provides the 500+ in-person and 500+ online attendees the opportunity to network with, and learn from, your company and other industry leaders.
Previous Running Remote conferences have been attended by 6,000+ remote work enthusiasts from 80+ countries, half of whom were founders, CEOs, or senior executives at remote-first companies. Thousands of new business connections have been made and hundreds of meetings took place.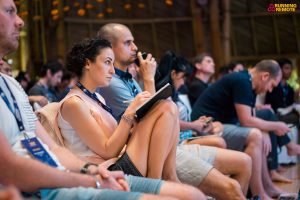 Soon, hundreds of international leaders of distributed, remote-first, and hybrid teams will flock to Canada to learn from each other, get inspired, and propel their teams to new heights. This is the remote working conference to attend for new ideas, case studies of successes, advice, guidance, and exciting networking opportunities. 
Running Remote has welcomed executives from companies like Cisco, Zoom, Citrix, Twitter, Upwork, Vanguard, Toyota, Automattic, and Pixar. Previous partners and attendees included monday.com, Microsoft, PwC, McKinsey, and New York University. This year's partners and sponsors include Staff Virtual, Fellow, R:AF, and many more.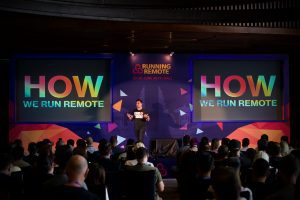 ​Running Remote 2022 is the world's largest conference dedicated to meeting the critical business challenges of remote & hybrid workplace transformation. After running in-person and virtual events for the past four years, Running Remote is back in its fifth year with a live conference on May 17-18, 2022 in Montreal, Canada. Get your tickets here now before they sell out!
All Coworker readers get a 20% off the conference pass with the promo code: coworker