With a population of just under half a million, Bristol is on the River Avon, southwest of England. What was once a port city has now become a bright cultural gathering pot.
A median age of 32.4 years makes the overall population of Bristol significantly younger than England and Wales. Many young people in Bristol are flocking together and launching a variety of businesses, making it a great destination for remote workers.
Here are five of the best flex offices in Bristol: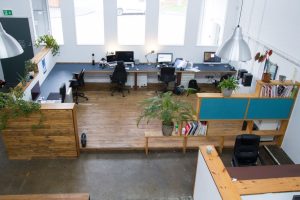 TEA BEAT STUDIO
Want a work from home setup with plenty of sunlight and space, well Tea Beat Studio is a great option.
Tea Beat Studio is located on Spike Island, Bristol. More specifically, it is present inside one of Europe's biggest studio complexes, Spike Island Artspace.
Home to a diverse bunch of people, creatives and professionals, this flex office can help you grow your personal and professional network.
Fast wi-fi, proximity to public transit, bike parking, a relaxing area, a variety of catering options (vegetarian and vegan included) are all the amenities that you can expect at this coworking space.
The space is open for 24 hours during the work week (Monday to Friday).
Want to bring your dog to the office? No problem. Tea Beat Studio has opened its arms to people and canines alike.
Since the space is filled with creatives and art professionals, there is also an art gallery that you can visit and reinvigorate yourself.
At Tea Beat Studio, you can book a hot desk, a dedicated desk or even a private office for three or five people.
The prices are not too shabby for the benefits you're getting and for the location. All in all, Tea Beat Studio is a decent flexible office that'll not only help you get work done, but also grow your network.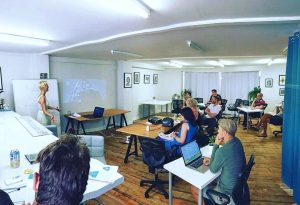 RAW SPACE
Where Tea Beat Studio may provide the open space and sunlight, Raw Space provides an excellent community. Raw Space is located in the heart of Bristol's independent business.
It has a great networking atmosphere that provides all its members the opportunity to work and collaborate with each other.
Raw Space also enables freelancers and small business startups to grow and thrive. A large, modern space with all the caffeine you need, sofas and bean bags to relax and a buzzing atmosphere.
The space is open for 17.5 hours from 5:30 am to 11:00 pm, seven days a week. They have both daily and monthly membership plans.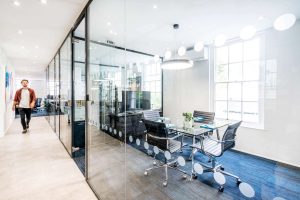 SQUARE WORKS
Square Works first opened back in 2019 and is at a truly ideal location.
It is just a six minute walk away from the University of Bristol. The Bristol Museum and Art Gallery are nearby along with the Brandon Hill park.
While Square Works is a little on the pricier end, it does justify its worth by the sheer number of amenities it provides.
For people that can't go a day without their coffee, Square Works provides both coffee and tea for free. Not to mention that there are free snacks and drinking water available.
Another thing that makes this flex office ideal is that people can work on a standing desk. But also, they have access to ergonomic chairs that'll help keep their posture straight and their spine health in check.
Air conditioning and heating are present. Not to mention the outdoor terrace you can enjoy some spare time. Also, you can take full advantage of the event space that you can get for rent.
You can also book meeting rooms. There are two rooms – one is for six people and the other is for four people.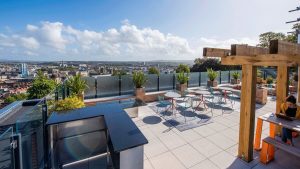 ORIGIN WORKSPACE
Origin Workspace is located at 40 Berkeley Square, Bristol.
Not only is this workspace huge at 42,000 ft., but it also has an amazing view visible from the roof terrace.
Given the current world situation and pandemic, the Origin Workspace is a covid-secure space. Meaning that the staff will ensure that things are safe for everyone.
This flex office is amazing because it gives you free trial days that you can use to test out the amenities and workspace. You can then make the decision to prolong your stay or sign a contract.
Some amenities that make the Origin Workspace favorable is high speed internet, free beverages including water, coffee, tea, ergonomic chairs, etc.
There is also a gym and a yoga studio that you can use to stay in shape. The ping pong table is also a great place to interact with people and keep yourself in shape.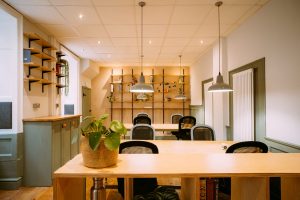 DISTIL CO-WORKING
Looking for something a little more cozy? Distil Co-Working is one of the best choices available in All Saints Lane, Bristol.
Distil is a flexible coworking space that only has 14 desks. It's situated right above St. Nicholas Market and away from the business that the center of Bristol brings.
A defining feature of this co-op space is that there are large windows that bring in a lot of natural light. Since the market is nearby, you can easily walk to get some lunch from the market or get your daily walk done.
The interior is well lit and complemented by bright tones throughout the coworking space. Less people surrounding you will give more time to think and process your thoughts. You can also bring in your cats or dogs to the office and have them stay by your side.
There are a lot of free beverages including coffee, tea, beer and water. You can also take advantage of the free snacks or even buy some.
Other amenities include personal lockers, standing desks, ergonomic furniture, and event space that you can rent.
Conclusion:
Bristol is a vibrant city that has a young population and a diverse culture. There are a number of coworking spaces that people can use as their base to start and eventually grow their business.
Coworker is a great place to find the best flex offices in Bristol or elsewhere. You can find offices that suit your needs at a reasonable price.