If you've never worked from a coworking space before, you may find yourself wondering why are coworking spaces popular among so many professional demographics.
From business owners and freelancers to startup teams and even large corporations, many people utilize coworking spaces as the site of fruitful collaboration, daily productivity, and ultimately business growth. Still there seems to be some sort of "secret sauce" that only members of coworking spaces know, hinting at why spaces work so well as alternative office spaces.
If your boss has given you the green light to work from anywhere, you might be hesitating to pay a monthly membership at a coworking space where you don't know anyone. But take the plunge and you'll soon see that the "secret sauce" is self-evident — the answer to "Why coworking?" becomes crystal-clear.
Why are coworking spaces popular?
In a survey of hundreds of coworking space members, Statista gathered data related to why people opt for coworking spaces.
The most popular response to why coworking spaces are appealing was because they provide "a social and enjoyable atmosphere." Ranking second on the list of responses was "interaction with others" and third was "community."
Clearly, if you're curious about why coworking spaces work for so many people, the answer lies in the spaces' social element. The number one reason why remote workers are dissatisfied with their jobs is that they miss the sense of community and togetherness that came with an office environment and having colleagues.
When working from a coworking space, all of those cherished opportunities to interact with other people during the workday and form long-lasting friendships become possible once more. In addition to coworking member socials and networking events, simply being in the same space every day with the same group of people will allow you to form a meaningful community where you are an integral part.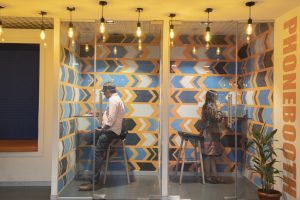 Why coworking spaces appeal to everyone
Another reason why coworking spaces work so well for so many people is that they appeal to a mass audience. Year over year, the demand for coworking spaces increases in cities all over the globe. This is because coworking offers something to every kind of worker — from the introvert who likes to hide away in a private office all day, to the talkative CEO looking to grow her network in the open kitchen during lunchtime.
In Statista's survey, 47 percent of members said they choose to work from a coworking space because of the like-minded people that make up the community.
Being around people who share the same work ethic, career path, professional interests, or merely the same entrepreneurial mindset can do great things for your own productivity. Plus, there's a greater chance you'll meet someone who could really benefit you — either as a friend, mentor, or collaborator — when the group of people you're around have the same type of job as you.
————
Next time you're wondering why are coworking spaces popular, consider the sense of community that's fostered by a shared work environment teeming with like-minded entrepreneurs. Sharing a workspace reduces barriers, giving all types of people the same chance to utilize the resources all around them.
Still curious about why are coworking spaces popular? Check out our article on the top reasons why coworking spaces boost productivity.