As Germany's busiest port and 2nd largest city overall, you'd think this city would have no chance at flying under the radar… yet, it does. There's a good chance you wouldn't even know which city we were talking about if you hadn't read this post's headline.
We are of course referring to Hamburg. Hamburg is often completely overshadowed by its big brother Berlin. Though Berlin is a larger economic powerhouse, you may not have realized that Hamburg has a BOOMING economy in its own right.
After all, Hamburg is the 8th largest city in the European Union. With a 2016 average income of €49,332 for employees, living in Hamburg pays — literally.
Opportunities are particularly abundant if you're seeking to get a job or start a business in the following industries…
— Logistics (via the harbor)
— Media
— Tourism
— Hospitality
Apart from being a potential cash stacking destination, Hamburg is also a great place to live. Hamburg was ranked the 19th most livable city in Mercer's 2018 Quality of Living Survey.
The city's beautiful architecture (over 2,500 bridges!), universities, and well-developed public transportation system no doubt contributed to that ranking.
If you'd like to enjoy Hamburg's excellent business opportunities and quality of life, here are four of Hamburg's best coworking spaces!
Having opened in 2010, Betahaus is one of Hamburg's oldest and most established coworking spaces. Located in the beautiful district of St. Pauli, the cool part about this coworking space is its tight-knit community.
Because the coworking area only has enough desks for 42 coworkers, Betahaus has a cozy community where everybody knows everybody. In fact, this space is so personable, the staff will remember your coffee preferences after just a few visits!
Speaking of preferences… Betahaus Hamburg offers multiple work environments depending on how you work best. If you like working in a silent area, you'll spend most of your time upstairs. If you prefer a more lively and social environment, however, you're free to try working in the cafe downstairs.
Finally, let's talk about networking. Betahaus Hamburg has regular community events. These events are a great place to meet local friends, share experiences, and have good-natured debates.
Oh, and we'll let you in on one more secret. Betahaus isn't just a single coworking space located in Hamburg. It's actually a chain of coworking spaces spread all throughout Europe.
But check this out…
Betahaus actually has a coworking passport program. We'll save the details because we've already described it in our post about coworking passports, but here's the main idea. If you're a member of one Betahaus location, you can also work from other Betahaus locations for FREE when you travel.
For a powerful global network and convenient workspaces abroad, we can't recommend joining Betahaus Hamburg enough!
Located in the middle of the business district, Mindspace is one of Hamburg's better coworking options. Mindspace offers a modern and comfortable work environment that you'll find suitable whether you're an independent freelancer or the founder of a company with a dozen employees.
Apart from serving a diverse range of professionals, Mindspace is one of the most accommodating coworking spaces in Hamburg if you're new in town.
Let's be honest, while solo travel or starting your career alone in a new city is exciting, in an ideal scenario you'd have a local family member or friend to give you recommendations or help you integrate into your new destination.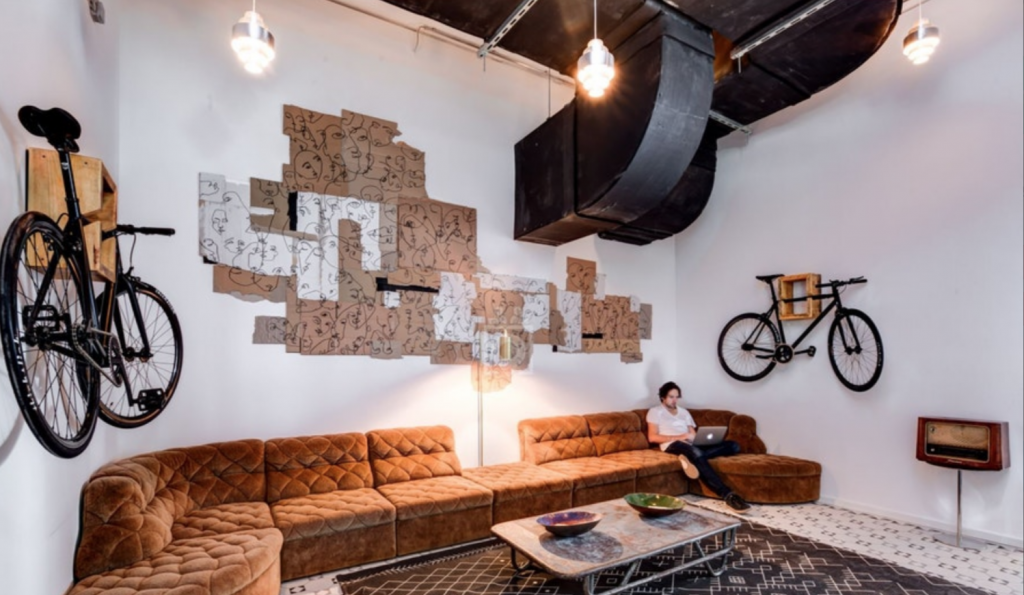 Mindspace acts like that local friend that can help you get up and running with anything you need upon arrival in Hamburg.
Whether you're on a coworking vacation and you need sightseeing recommendations, or you're a lonely new arrival in Hamburg that needs help meeting friends, you'll find Mindspace's community manager and staff wonderfully helpful.
As far as amenities go, Mindspace offers:
— Free coffee
— Community events
— Free beers
— Meeting room access
— A spacious work environment
The biggest downside to working at Mindspace? There are no standing desks. Apart from that, Mindspace is one of the best Hamburg coworking spaces out there. Click here to book a free tour of the space.
Hamburg's coworking scene has no shortage of coworking spaces. But, this next coworking space will stand out to you if you appreciate aesthetics. Hamburg's "Places" coworking space has an absolutely stunning interior design.
The founders of Places are furniture dealers by profession, and their expertise in contemporary furnishing is apparent from the moment you step inside. Simply put, you'll be proud to meet clients at such an attractive coworking space.
While Places is a bit pricier than most other coworking spaces in Hamburg, it also attracts a more upscale clientele. If you want to network with the top professionals in Hamburg, there's a good chance you'll see many of them working out of Places.
Best of all… Places has an abundance of furniture and quiet corners for naps or private phone calls.
If you'd like to learn more, visit the Places coworker.com page here.
"I love expensive coworking spaces with hidden fees" — Said by no one. Ever.
Fortunately, neither of those issues are present at Beehive. Beehive is one of the most affordable coworking spaces in Hamburg.
Monthly memberships start at just 139 Euros/month and include EVERYTHING. No extra fees for meetings, late-night work sessions, nada.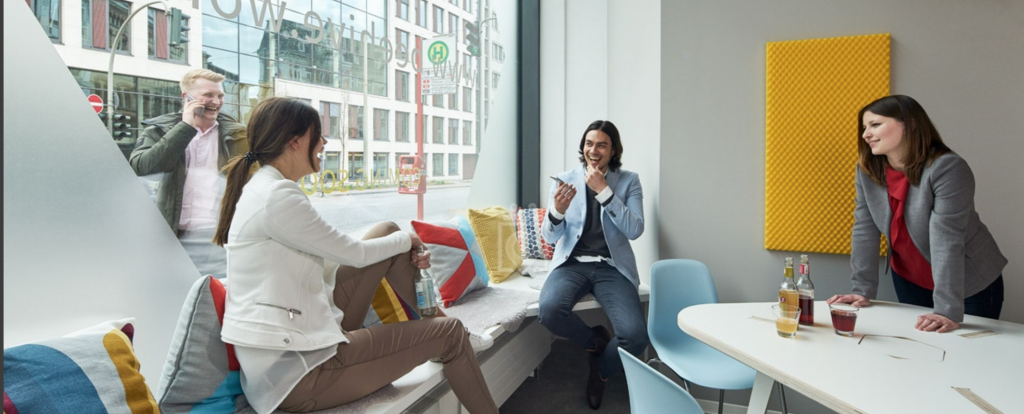 Even cooler, Beehive is totally futuristic in its sign-up process. You don't need to wait for an overworked manager to set you up, rant about the space's rules, and so on. NOPE.
All you need to do to join Beehive is register through their mobile app or website. Within just a few minutes of fumbling around on your phone, you can successfully join Beespace for as long as you'd like!
If you need a 24/7 quiet work area that'll get you out of the house and help you separate your professional and personal life, Beehive is a perfect Hamburg coworking option for you.
For more details about Beehive, including day passes for purchase starting at just 9 Euros, click here.
Conclusion
Hamburg is an excellent place to advance your career, grow your business, or simply network and find new clients. We hope you've enjoyed our short post on Hamburg's coworking scene and best coworking spaces.
If so, you may also be interested in reading about Berlin's coworking scene.