After joining a coworking space, members usually have the option to join the space's online platform or portal. These platforms — ranging from individually-developed software to Facebook groups — can be utilized in numerous ways to improve members' experiences at the space.
For example, community platforms can house pertinent information about the coworking space's operations, such as availability of meeting rooms, Wi-Fi codes, and event details. Many platforms also offer members the opportunity to interact, most commonly in a forum-style or sometimes through private messages.  
But some coworking companies, like Servcorp, have taken these platforms one step further, building out a community portal that allows members to network, create groups, post job offers, list events, and expand their businesses with unparalleled opportunities for collaboration.
We caught up with Aroha Kareroa, Servcorp's Community Marketing Coordinator, to learn more about Servcorp's community platform and the massive value it adds for members.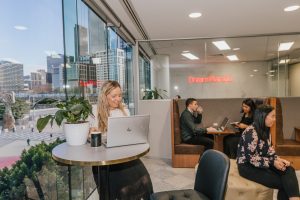 1) What is Servcorp's online community platform? 
It's a platform that allows our clients to connect, collaborate, and grow with 60,000+ businesses globally. Within the platform, you can also book workspaces and control any technology services you may have through Servcorp. This might include updating your phone settings, changing your call handling, or just checking your charges.
2) What are some of the tools or resources members can utilize through the platform?
Similar to most member portals, there are several ways to facilitate client interaction. They can access thousands of events, articles, benefits, and more. These create the tools needed for a client to build, manage, and engage with their community.
Our main difference is our clients have their own personal and business pages, which act as their 'business card.' Within the Servcorp directory, a client will generally find what business or person they're after. It is effectively a trusted 'yellow pages' since you can easily find a verified business within the portal. 
It also means that once a client's business is set up within the platform, their 'page' is evergreen—meaning it's there for the lifecycle of their membership. A client may have set their profile up months earlier and may still be receiving some leads with little effort. We also have a cool Servcorp feature called 'global dial,' which allows members to call any client who has a Servcorp phone for free.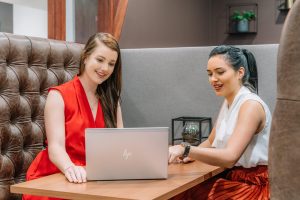 3) When and why was the community platform created?
Unlike other business communities and service providers, Servcorp's real advantage is that every individual client has gone through a verification process. Why does this matter? It matters because the trust factor of doing business with another reputable business improves.
This platform was created only a few years ago to help connect our clients and create added value for them. We have a very unique membership that's spread across 23 countries but are all of similar business standing. This is where we differ from most other operators. We find Servcorp clients aligned through business outcomes, thus sharing a similar ethos and purpose. We continue to see members connect, watching strangers become contacts and then customers. It is these real-world outcomes that are the beauty of any digital platform.
4) Why do you think other coworking brands should develop similar online communities like Servcorp's platform?
Coworking won't work without having a sense of a community, and there is no better way of solidifying community than through a dynamic online platform. Coworking helps create natural networks, and these networks are strengthened and amplified when combined with an online portal. Without active involvement from your team, however, it can very quickly become a ghost town, so watch your space (offline and online)!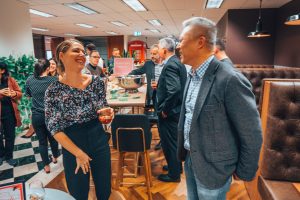 5) What are your tips for starting an online community platform? 
Although Servcorp has spent heavily on our own IT and our community platform (and we still have a long way to go), an online community platform can start simply through a Facebook Group, Google Group, or WordPress forum. There are plenty of sites out there now that offer cost-effective platforms. One of the best online communities I've seen was initially done through Google Groups!
The easiest step is to build a platform. The hardest and most rewarding stage is figuring out ways to create engagement, which can only be done by offering 'real' value for members. This may look different for every community, but often a 10% voucher won't cut it. You need to think what really would impact your clients. For us, it was making sure their business can be easily listed and found. 
Also, watch your data. In a data-driven world, the result will always be to serve our clients better. Like any community platform, we are constantly evolving to create the outcomes each Servcorp client is looking for within the platform. From our side, we've only just begun.