Given the fiercely competitive marketplace in most cosmopolitan cities, coworking spaces now — more than ever before — need to focus on driving traffic and awareness to their brand.
One great, cost-effective way of doing this is by launching a podcast. The additional content not only broadens the reach for marketing purposes, but it keeps potential clients engaged longer while increasing the chances of attracting them as a member. 
Here are three ways starting a podcast can drive more traffic to your coworking space:
Increased SEO
If the content is relevant to the type of members you wish to attract, having a podcast will most definitely lead to better search engine optimization for your organization. There are, of course, a few tricks to best utilize this benefit. Make sure that your podcast is uploaded and accessible on all of the major platforms—namely, iTunes and Spotify. 
Also, upload your podcast onto YouTube, which is another great platform that sometimes gets overlooked but has an incredible reach. The more places you can add the podcast to, the better! 
Make sure you've clearly linked to the podcast on your website so all that great traffic you're generating from the podcast is connected to your space. Finally, be sure to transcribe each episode so that you rank for those keywords people are searching for online.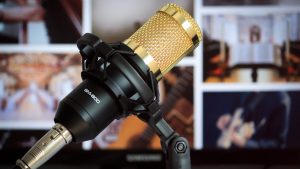 Added Value for Potential and Current Members
If you're putting out quality content that is relevant and useful for your target audience, this value-added benefit will automatically give potential members a positive connotation about your brand. For current members, it will also reinforce this positive association.
Word of mouth is key here if you're adding value, as people will automatically share the content with their friends, which in turn increases your reach.
Attracting Niche Customers
If your coworking space has any sort of niche focus, podcast content is a great way to attract potential members. For example, if you have an all-women coworking space, focusing your podcast content on women entrepreneurs and women-led companies could increase your reach to that specific audience. Knowing your clientele as well as your niche is key to effectively drive traffic to your space using your podcast as your tool.
_______________________________
The Big Idea Box Podcast, born out of The LAB Miami coworking community in Wynwood- Miami, FL, connects the entrepreneur community by using the power of audio to uplift, empower, and share our varied experiences through creative content delivery. This podcast broadens the listener perspective, supports innovative development, and is the hub for entrepreneurial storytelling. The show entails stories, experiences, and the reality of our lifestyles including interviews with local founders, entrepreneurs, and investors; Brainfood Speaker Series interviews encompassing successes and failures of local business leaders; and topics from mompreneurs to innovating with purpose. The LAB Miami is Miami's original coworking community founded in 2012.