Silicon Valley has a huge number of tech startups, designers and writers. As one would expect, San Francisco's huge population of creatives has led to a demand for places for them to work on their projects and develop their professional networks. Over the last decade, the coworking scene in San Francisco has exploded.
Whether you're building a tech startup or working for Google, your time is valuable. As such, using your time and mental energy to do menial tasks, such as sweeping the floor or troubleshooting internet issues, probably isn't the best use of your time.
The more you're able to concentrate on your product and/or customer acquisition, the more likely you are to be successful in your career and business endeavors. That's why joining one of the coworking spaces in San Francisco can be instrumental in your professional success.
Whether you are looking to network, participate in skill development workshops or simply work in an environment that's conducive to concentration, you're sure to benefit from joining one of the top 4 coworking spaces in San Francisco.

Eco-Systm is a cozy, modern workspace located on Howard Street in the heart of San Francisco's South of Market District. Eco-Systm's dynamic community consists of freelancers, creatives and startups from multiple industries.
The purpose driving Eco-Systm is to maintain a workspace for local professionals that brings together entertainment, creativity and business for the ultimate work experience. The nonstop community events, spacious work environment and beautiful fine art dotting the space's interior make a coworking membership at Eco-Systm fulfilling in so many ways.
As a member of Eco-Systm, you'll enjoy many amenities. Along with standard office amenities such as photocopying or free water, you'll also enjoy that the space offers additional facilities to meet the unique needs of its members. If you have some type of mobility impairment, you'll be pleased to know that Eco-Systm has both an accommodating staff that will support you and excellent wheelchair accessibility.
Alternatively, if your problem is that you just can't sit still, you can happily note that Eco-Systm offers both standing desks and the ability to bring your dog to work.
Interested in working at Eco-Systm? The space often offers a one-day membership to the public on the first Friday of every month for just $5 (contact Eco-Systm beforehand to check availability). Alternatively, consider purchasing a one day pass for $30 or becoming a full-time member of Eco-Systm for $400/month.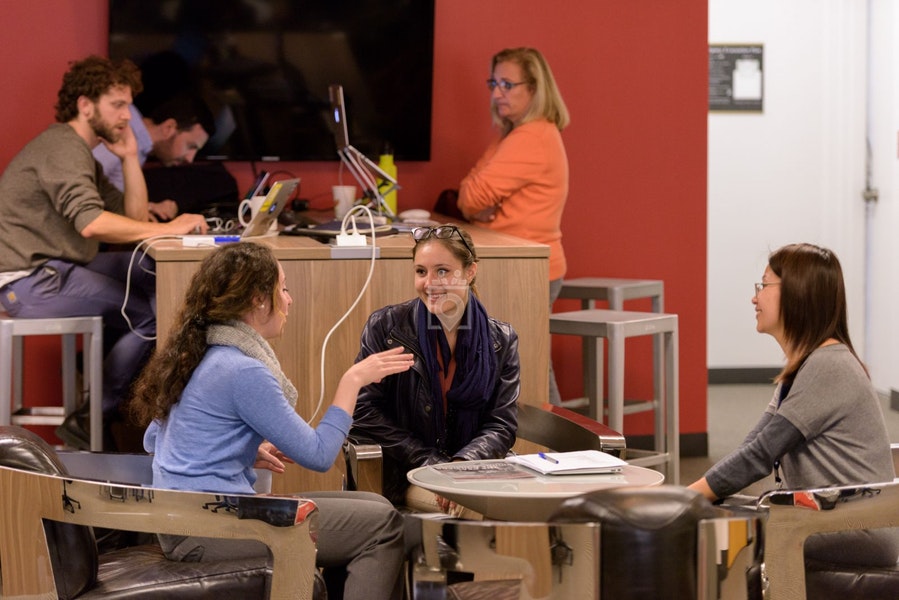 RocketSpace is a long-standing coworking space in the heart of San Francisco that also functions as a technology campus. RocketSpace may be the best place to cowork from if you're looking to scale a tech startup. Since 2011, RocketSpace has seen 18 of its unicorn companies raise more than $21 billion in funding. Yes, that's a "b" for billion!
If you're ambitious, you'll appreciate that RocketSpace gives you all the tools necessary to really hunker down and make rapid progress on your projects. We're talking 6 Gbps wifi speeds, use of the Rocket Space address on your website, 24/7 access, video surveillance, free printer-scanner usage and more.
Even better than the what, however, is the who. As a member of Rocket Space, you'll have the potential for excellent exposure and access to RocketSpace's corporate client roster. You'll also enjoy meeting industry leaders, VCs and other local professionals at the community's regular networking events, exclusive to members of the coworking space.
RocketSpace also has an excellent record helping accelerate mega startups such as Uber, Weebly and Spotify. If you're looking to rub shoulders with industry giants and become part of an ecosystem with great potential to aid your startup in becoming the next big thing, RocketSpace may be the city's most suitable coworking space for you.
Bespoke is a coworking space, event space and product demoing center. Located in San Francisco's Westfield Centre (an upscale shopping mall), Bespoke is in the hippest area of town. A membership at Bespoke guarantees being in the middle of the latest trends in the retail and tech industries on a daily basis.


The interior of Bespoke is modern with comfortable desks and a spacious work environment. If you're working in the retail or tech industry, you'll also have the ability to regularly network and brainstorm with talented entrepreneurs.
As enlightening as those conversations may be, however, the most memorable aspect of Bespoke has to be its amenities. The coworking space boasts a library with spaces to nap, a bouldering wall and even  a Bocce Ball court.
With 24/7 workspace access, flexible membership plans, high-speed wifi, leisure options and one of the best locations in San Francisco, it's no wonder Bespoke is becoming one of the city's most popular coworking spaces.

The Anchor coworking space is conveniently located in the center of San Francisco's Central Business District. Anchor is an excellent coworking choice for those looking for a work environment that draws the creativity out of you. Anchor also has a friendly community of professionals to enjoy music with. Watch out for the surprise impromptu happy hours after work too!
Of course, work should come before fun. Fortunately, putting in productive hours into your projects is a breeze at anchor. Ergonomic chairs are available to help you maintain both your posture and your concentration. Comfortable sofas are also available to work from if that's more your style.
Many members of Anchor say that their favorite aspect of the coworking area is that it gives them space to move around and change their positioning at their leisure. Some of Anchor's other notable amenities include its high speed internet, lounge area, meditation area, conference rooms and foosball table.
We'd be lying, however, if we didn't say that our favorite part about Anchor is its dinky membership fees. Just $250/month is all it will cost you for a dedicated desk (only used by you) and 24/7 access to a workspace in one of the most desirable parts of the city.
Anchor also has a 'try before you buy' policy. Feel free to set up a tour with Anchor (you can do that easily by following this link and clicking schedule tour) to see if it's a good fit for you before committing to a monthly membership.
Private offices are also available with specific rates depending upon the size of the office. The smaller private offices start at $1,000/month to give you a reference point, however.
Conclusion
While these are some of our favorite place to work, we'll be the first to acknowledge that this isn't a comprehensive guide to all of the best coworking spaces in San Francisco. We've surely missed some of Silicon Valley's top coworking spaces–and that's why we'd love to hear from you. Leave us and the rest of the community a comment below, giving us your opinion on the top coworking spaces in San Francisco!