You probably don't have to be sold on the professional benefits of living in New York City. Along with an incredible abundance of opportunities, NYC also has a go-go-go energy that will motivate you to hustle and take advantage of your surroundings.
From a lifestyle perspective, living in NYC offers incredible diversity with over a third of the city's residents having been born in another country. Simply put, just living in NYC is a cultural experience. New York has also been rated the most walkable city in the US. 24/7 convenience, endless variety and multiple forms of transportation ensure you'll never endure a boring night in NYC.
Of course, no city is perfect. Rent, entertainment and even groceries are significantly more expensive in the Big Apple. After all your expenses, the last thing you'll probably want to do is rent an expensive traditional office. Spending your entire week cooped up working from a tiny studio apartment isn't ideal, either.
Enter coworking spaces.
Joining a coworking space in New York makes a lot of sense. A coworking membership will greatly help you expand your network–something extremely valuable in NYC. The city's excellent walkability also ensures you'll have no difficulty finding a nearby space to commute to each day.
In fact, the biggest downside to coworking spaces in NYC may simply be that they are so many of them that it's easy to get overwhelmed! With around 80 coworking spaces in New York, it would be impossible to definitively choose the best coworking spaces in the city. With that being said, here are a few of our favorites.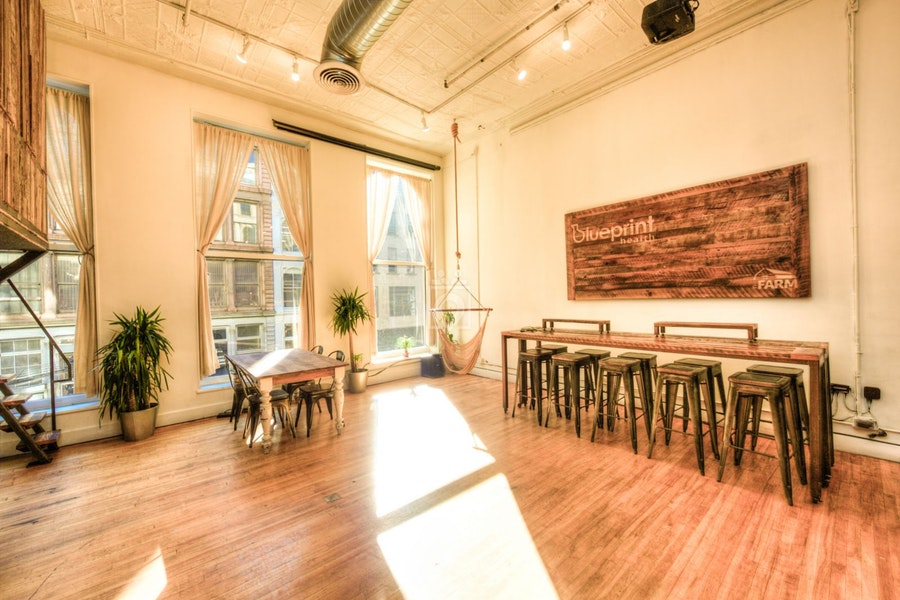 As the name implies, The Farm Soho is located in the heart of the hippest district in Manhattan. Near all of the city's major subway lines and in close proximity to other tech companies such as Squarespace and Meetup, The Farm SoHo couldn't possibly be in a better location. Plus, The Farm's community is just as dynamic as its location.
This coworking space is an epic mashup of designers, developers, artists and entrepreneurs. Whether you're wanting to share ideas, learn from others or simply work in their presence to avoid the isolation of your home office, you'll find a membership at The Farm Soho capable of helping you achieve any of these objectives.
One underrated aspect of a membership at The Farm is the coworking space's rustic feel in the midst of the concrete jungle we call NYC. The calming work environment at The Farm is an excellent escape from the endless chaos of the city outside. The Farm's list of amenities even include a nap room and tree house hideaway when you need some space to breathe deeply. That's not to say the work environment is all zen and no hustle, however.
Home to the Blueprint Health accelerator, a fair share of technology and healthcare startups call The Farm home. Big deals are being made over phone in the private booths, and innovative collaborations go down in the open shared seating area. Whether you're a solo entrepreneur or a team clawing to establish itself in the cut-throat NYC startup scene, it's well worth your time to check out The Farm Soho.
Private desks start at $329/month while a hot desk in the shared seating area will set you back only $169/month. Considering The Farm's comfortable work environment and excellent location in Manhattan's SoHo district, we'd say you're getting a solid deal here.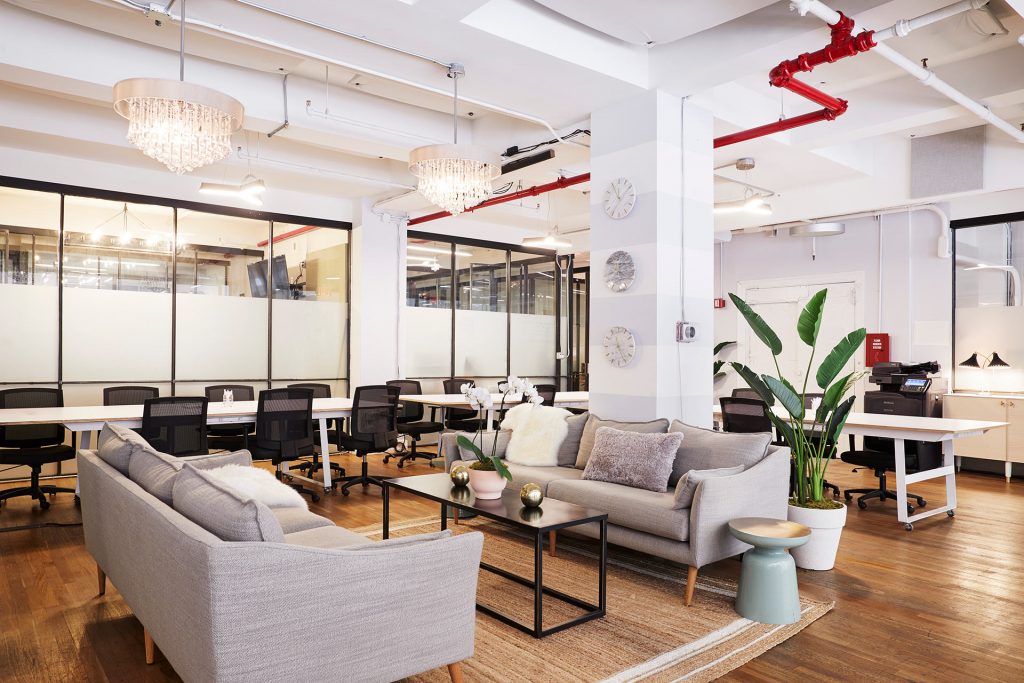 Bond Collective is a popular chain of coworking spaces in NYC. While Bond Collectives do differ slightly from location to location, the chain's four coworking spaces are mostly similar. Our favorite part about Bond Collective spaces is that they are both classy with their smooth modern designs, as well as splashy. Errrr… splashy?
That's right. The Bond Collective brand makes a splash by offering all of its coworking members free freshly brewed coffee, tea and even beer. Ottoman style sofas just add to the sweet comfort of the common areas.
Let's not forget work though. You'd probably feel a lot better enjoying some drinks if you'd actually worked up a sweat to begin with. Fortunately, Flatiron spaces offers all of the modern facilities you need to "Crush It" like Gary Vaynerchuk in your career. 24/7 access, private phone booths, HD projectors and conference room access are all included with your coworking membership.
As if Bond Collective members needed any other perks, the space's community often hosts workshops, lectures, networking events and foosball competitions. Safe to say a coworking membership at Bond Collective will help you shine both personally and professionally.

Not all of NYC's best coworking spaces are located in Manhattan, or even Brooklyn. Queen's QNS Collective (located next to the M and R train) is a coworking space led by the principle: "Collaboration fuels innovation". If you're an extroverted individual, you'll no doubt appreciate QNS Collective's social atmosphere.
Community-based learning and skill sharing are some of the central goals of QNS Collective. Don't be surprised to regularly learn new skills from your coworking peers. The benefits of a coworking membership at QNS Collective extend far beyond the welcoming community, however.
The coworking area features dedicated desks in a spacious high-ceiling loft space with abundant natural lighting. Speedy wi-fi and endless high-quality coffee are also available to help you make your dent in the universe. A library is also available to help you develop professionally or simply wind down after a long day of work.
Request a free day pass and see if a membership at QNS Collective is right for you!

Green Desk
Green Desk is a chain of coworking spaces that offers desks and office space to over 4,000 members. With 10 environmentally-responsible locations located throughout NYC, Green Desk does lots of good for both the planet and its coworking members.
Each Green Desk space is fully furnished and ready for you plug your computer in and get to work. As a member of Green Desk, you'll enjoy doing great work in an attractive environment. Green Desk offers coworking members a number of amenities that help make it one of the top coworking spaces in New York. Some of these perks include a blazing fast internet connection, an outdoor patio and a cafeteria that serves organic coffee.
Green Desk's diverse community consists of entrepreneurs, small businesses, freelancers and independent creatives. Regardless of where you stand, you'll find yourself growing from the lessons and knowledge you share and gain from this coworking space's ambitious community.
Hot desks in the shared seating area cost $299/month. Numerous private working arrangements are also available upon request.
Conclusion
There's a lot to love about the coworking scene in NYC. The scene is competitive with enticing new workspaces constantly popping up. What do you think are the best coworking spaces in NYC? We'd love to hear your opinion. Let us know in the comments!