Thinking about changing offices? What if you could relocate to a city that's right in the heart of Europe?
Luckily there are plenty of destinations to choose from! We have done some research in order to come up with some of the most amazing coworking spaces in Warsaw.
So what is it like to join a coworking space in Warsaw?
Warsaw is an enchanting city that stands on the banks of the Vistula River in Poland. Very cosmopolitan, very modern, Warsaw is the country's largest city and one of the most populous cities in Europe.
You will love coworking in Warsaw because it enjoys a central location in the heart of Europe, opening up the opportunity to visit numerous other European capitals, as well as unique tourist attractions. You will be amazed at how well the city manages to incorporate modern urban development projects with its breathtaking historical architecture.
This capital city enchants with snowy winters and sunny summers, well deserving of its nickname of "The city of contrasts."
In terms of economical opportunities and potential, Warsaw offers plenty of both. A lot of foreign business entrepreneurs find their path to success here, where the policies are business-friendly.
The city life is vibrant with lots of delicious eating venues to choose from, from cheap eats to fine dining. Of course, the cafe shops are abundant.
Local attractions like sightseeing tours, museums, the Castle Square, libraries and science centres are just a few of the different options you have to spend your free time here.
Choose the best coworking places in Warsaw
If you're like us, you don't necessarily fancy working from home. And putting money aside for a holiday is not your cup of tea.
So how can you combine the two to your advantage: go on holiday AND have the financial resources you need to make the most of your experience in Warsaw?
Warsaw's coworking spaces can be a perfect solution that comes with added benefits: you can meet new people, create new friendships, live in a modern European city, interact with a different culture, all while being given the freedom to earn your own money, keep your clients happy, and the business thriving!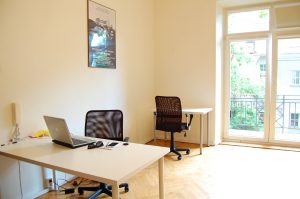 Located in the heart of Warsaw, toMiejsce is close to eating places like this delicious italian pizzeria Ciao a Tutti and this cozy coffee shop Green Caffè Nero where you can take a lunch break or just reward yourself with some goodies after a hard day's work.
If you're more of an outdoorsy type, Pole Mokotowskie park may be the relaxing spot for you to take a walk or a hike.
toMiejsce offers an open space office with 6 desks and 3 conference rooms. They also have amenities like: kitchen, lounge area, outdoor terrace, tech equipment and they can even provide childcare.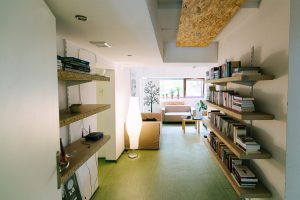 Located in the Ursynow district, ClockWork is a calmer, more quiet coworking space. It's a perfect space for micro offices and business startups, as well as for freelancers.
Its quieter location doesn't make it isolated, though. With places like Bałkański Kocioł for some delicious balkan cuisine and gastropub Tutu Music Bar for some afterwork unwinding, this place is anything but isolated.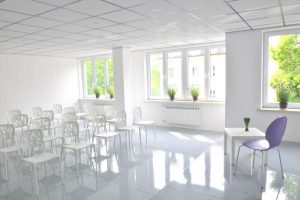 Humańska 8 is a serene coworking space located in the heart of Warsaw. The large modern interiors offer plenty of natural lighting. The offices are fully equipped, so no worries about the level of comfortability.
In terms of transportation options, the coworking space is located near the municipal bike station (400 m). Driving to work is also a possibility, as the office offers free parking.
There are some cool restaurant options nearby that can become your go-to eating destinations.  Restaurant Różana is a Polish cuisine place where you can stop by on your lunch break for a traditional Polish dish. There's also Bułkę Bibułkę if you're in for a heavenly-smelling, delicious breakfast stop on your way to the office.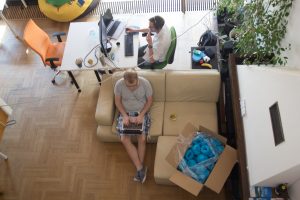 A vibrating and friendly community of startups and freelancers excited to collaborate and network with new like-minded professionals. Reaktor is a great place to find your perfect coworking space. It offers lots of outdoor and indoor space for socializing and brainstorming. They have a beautiful garden where you can work or relax. Reaktor may easily be the place you call your work home!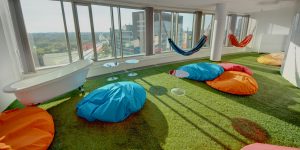 Office spaces tailored for each entrepreneur or freelancer. From private and shared offices to meetings rooms, Business Link offers a comfortable working environment for you. The offices have a large, modern design. Lots of space for working and networking under one roof.
The Cafes nearby vary from cozy little cafes like Ministerstwo Kawy, Latawiec to the well-known and universally-loved Starbucks.
Why use coworking spaces?
Have you ever heard about a work holiday? It is a term that has become all too familiar among freelancers and startup CEOs. A work holiday is a vacation during which you also work – and this is where coworking spaces are magnificent because they allow you to visit amazing places all over the world while providing you with a professional working space where you can meet and work with like-minded people.
Then, during the rest of the day, you can simply enjoy the beauty of the city, socialize and travel.
These are just some of the great opportunities that await you in Warsaw. Are you excited yet? Pack up, book your flight and make one of these coworking spaces your work home.