It's all about losing the kilos – a happy traveler packs little and buys on the run for the odd unexpected, like an impromptu high tea with the Queen. Talk to any seasoned traveler and the more they travel, the less they pack. The globetrotter packs half as
much as what they think they need and has access to twice as much money as they plan on spending.
Give yourself a stern talking to:
Weight
Give yourself a self-imposed rule of how much baggage you are prepared to lug around with you – think climbing stairs (especially in European train stations), over cobbled or maybe dirt bumpy lanes, jumping on and off trains/buses or keeping your bag with you when in a taxi, so the crooked driver can't speed off with your bag still in the boot.
Same Same
Whether you are traveling for a week, a month or longer, pack the same amount. Even the most under-developed countries have a sink, if not a well, where you can wash your clothes. If you are going the luxury route, every hotel has a laundry service and Asian countries have laundries usually down the road from accommodation houses. The shower is "the" pseudo laundry when all else fails.
Neat Freaks or Messy Souls
Invest in some packing cubes, airless baggies and forget the compressor bags if they are the ones that you need a vacuum cleaner for. Give a distinct home to your goodies such as undies in one, socks in another, t-shirts in another one. You will
know where everything is without having to empty out your bag to find that elusive sock to the one in your hand.
Pack for the Best Case Scenario
Don't think along the lines of what will be "handy" on a trip, but what is "essential". Take clothes that can be layered rather than one bulky coat and you don't need extra toothpaste because believe it or not, you can buy toothpaste nearly anywhere in the world. Failing finding a shop down the road, do what the locals do, from charcoal in rural India to licorice root twigs in Africa. When you do find the shop down the road and you can't read the label, break into a big smile and do a pantomime of what you need to the sales assistant.
Be a Traveling Philanthropist
If your trip entails the crossing of seasons, cultures or activities, buy what you need locally and when you depart that region, leave them in the hotel room for the probably poorly paid cleaning staff, the local community park where the homeless sleep or take the items to the local charity shop. From clothes to snorkeling gear, one man's trash (in this case too much baggage) is another man's treasure.
Contemplate and Procrastinate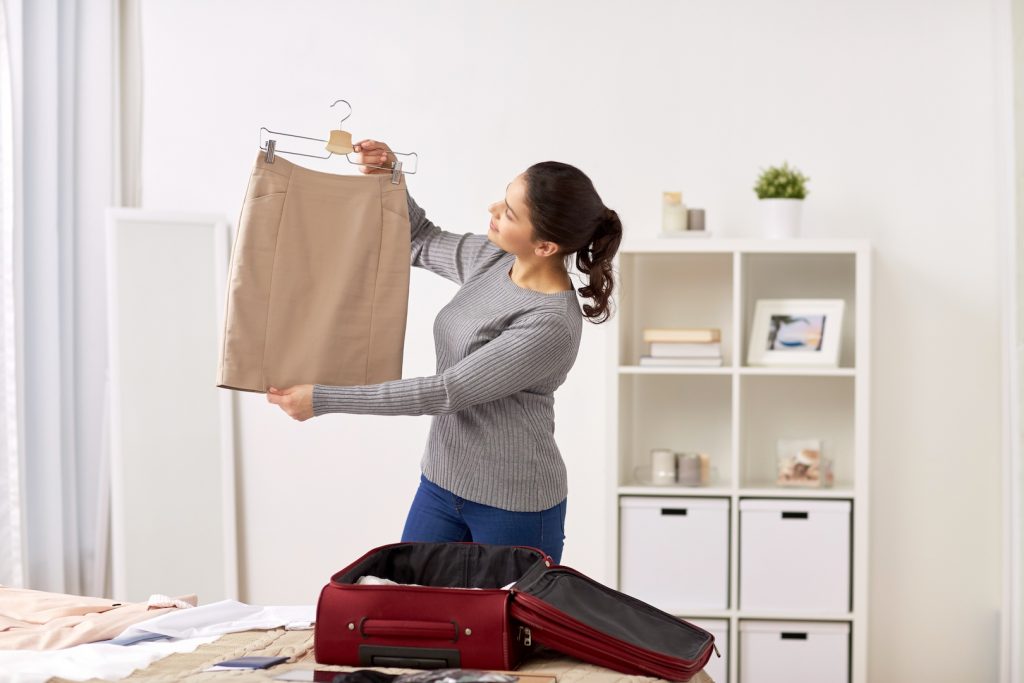 Before you put an item in your luggage: Do you really, really, really need it? Spread everything out on the floor in front of you, pick each item up individually, feel its weight, look at its size and ask yourself, "Can I live without it, can I hire or buy it
whilst I am away, or does it "deserve" to be placed in my bag?" Always aim to pack casual, light and simple.
The Secret
Prior to departing home, carry your luggage around the block, up and down some stairs and if you are really pedantic play tourist in your own town for an hour and see if you break out in a sweat, get blistered hands or a sore back. You will walk with
your luggage when traveling more than you can imagine, so go for a dry run.
Take out Travel Insurance
Be prepared to lose whatever you pack, whether it lands in a different country to you, a rogue baggage handler takes a fancy to your undies, or someone runs off with it. Make sure you take out travel insurance that covers your baggage, get some awesome padlocks and differentiate your bag with stickers, ribbon or name tags that won't fall off. Never pack anything of value in check-in luggage.
Our top two choices for travel insurance
With over 55 years of experience protecting travel investments from the unknown, Travelex is a world leader in travel insurance. Their comprehensive packages offer the most popular features and benefits including trip cancellation, trip interruption, and bankruptcy and terrorism coverage. They offer superior coverage for all types of vacations.
With the Travelex Affiliate program, you can partner with the top name in travel insurance, help travelers protect their investment, and earn top commissions in the travel category.
RoamRight knows no two travelers or trips are the same. That's why they offer travel insurance plans for all kinds of situations.
Whether you need insurance to help protect the expenses you've paid into your vacation or coverage for medical insurance while you're abroad, RoamRight has the travel insurance plan for you. Get started by completing their quote form to see what you're working with. If you aren't quite ready to purchase your travel insurance plan, you can complete a quote and request for RoamRight to remind you to purchase at a later date.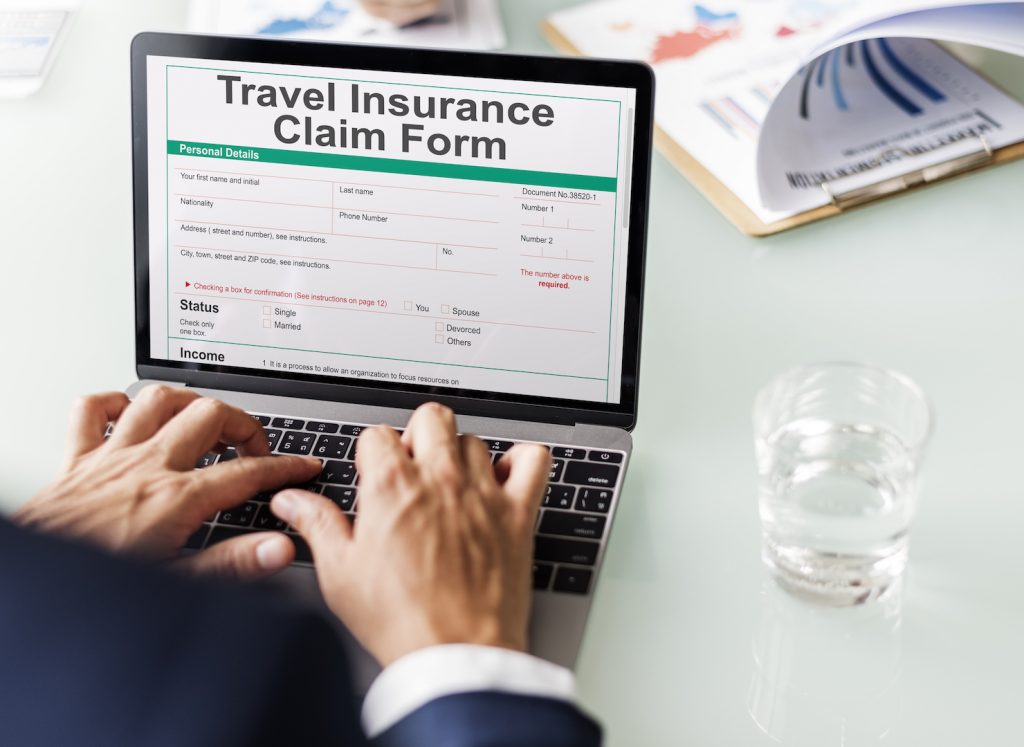 Check-in or carry-on-board luggage?
For the brave intrepid souls that turn their undies inside out for a few days to get another wear or 2 out of them, carry-on luggage is definitely the way to go. Especially if you don't want to be a part of the luggage scrum at the baggage carousel or if you have a penchant for being the first to be snuffled by the prowling sniffer dogs when you land at your destination. Your bag has less chance of being broken, stolen or lost, if it is with you all the time. You can save money by not having checked-in luggage and you won't be putting a big cross on your back that you are a newly arrived tourist to be taken advantage of by lurking self-imposed porters or con- artists. You are mobile, in control and can change locations on a whim. For everyone else that can't be so contained, keep your check-in luggage to one bag that is easy to maneuver, carry or wheel without breaking your back.
Don't Stint When Buying Luggage
Luggage should be versatile, lightweight, large enough to hold what you need, but a size that you can easily handle. It should have a good warranty because then you know the manufacturer is standing behind their product. There is nothing worse than
an exploding bag because the zipper has broken, trying to drag a one-legged creature instead of two because a wheel got knocked off on the luggage carousel or struggling with a broken handle that keeps slipping through your fingers.
 Travel Backpack – for the young at heart with good backs, which will give you
hands-free travel.
 Wheeled Backpack – this one is handier than a straight out backpack, as you
can wheel it when your back starts to niggle.
 Duffel Bag – it is lightweight, simple and for those with strong shoulders.
 2-Wheel Rolling Luggage – perfect for sidewalks and paved roads in big
cities, as well as going off-road. Easy to maneuver in small spaces, wheels
tend to break less and they are easy to pull behind you.
 4-Wheel Rolling Luggage – better than 2 in some ways, in that 4 wheels
keeps the weight off your wrists, they are better balanced and easy to wheel
beside you. The major drawback is that they can run away from you quickly
on a slope.
 Carry-On – make sure it is the right size for the airline you are traveling with
as some have different dimensions. You don't want to have your life in it, only
to find out that it is an inch or 2 too big and has to fly as checked-in baggage.
Travel Essentials (whether you have clothes or not)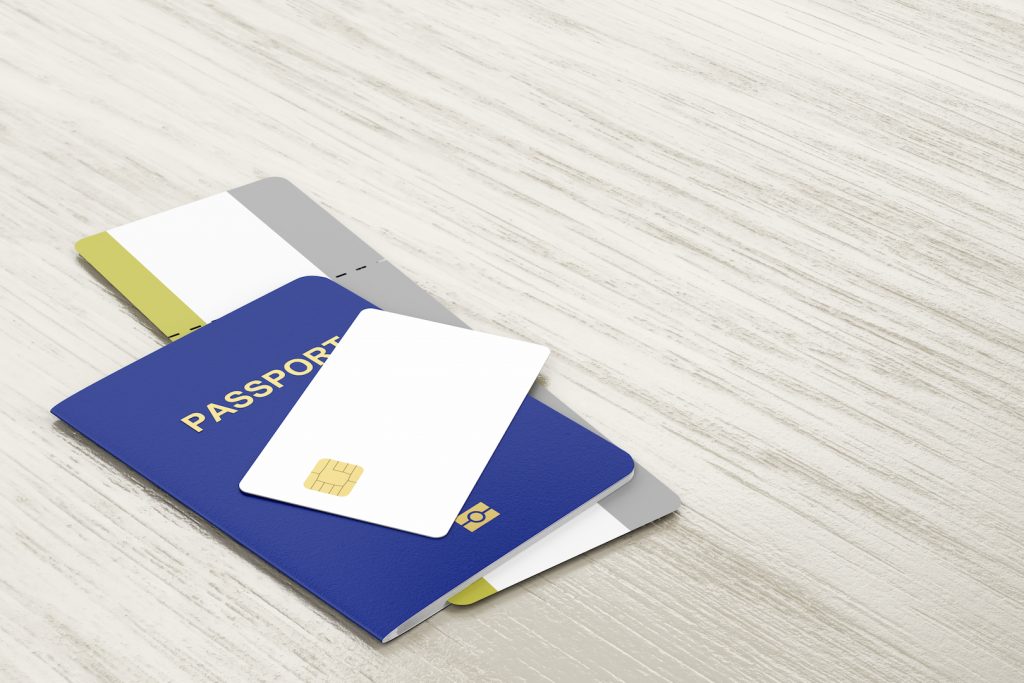 Below is the international travel checklist that you can't leave home without:
 A passport with 6 months validity that hasn't been through a washing machine
or dropped in the ocean and retrieved, 2-4 spare pages depending on the
country you are traveling to and the applicable visa, if visa-on-arrival is not
available. Email a copy of your passport and the visa to yourself plus scan
copies to scatter throughout your luggage.
 Cash and credit cards – check if you have to pay cash for a visa-on-arrival in
a certain currency and have enough cash to change at the airport if you need
to pay for transport from the airport to your first night's accommodation.
Notify your credit card company and your bank where you will be traveling, so
they don't put a stop on an international transaction thinking it is fraudulent.
 Carry a copy of your travel insurance with you plus email a copy to yourself in
case the hard copy gets lost. Keep a note of the insurance company name
and policy number in your wallet.
 Take your home health insurance card with you, as some countries have
reciprocal health care agreements.
 Personal identification – remember students and seniors get discounts in
some countries for tourist attractions and or travel.
 Have a list of emergency contacts with the pertinent information – photo copy
this and have one in your purse, one with your passport and one in each of
your bags.
 International driver's license if you need one, plus your current one, as this
must be shown with the international driver's license.
 Spare passport photographs just in case.
 Frequent flyer cards or loyalty cards for hotels.
 Travel Itinerary – do it yourself if you didn't use a travel agent, as it is so easy
to lose track of the days when you are having fun. Print a couple of copies
and scatter them about your luggage plus send it to yourself via email.
 Transport tickets even if you intend using your cell phone to check into
whatever, print a copy out in case your phone goes AWOL.
 Even if you do not intend to use your mobile phone on roaming, take it with
you in case of an emergency.
 Put all your copies of the various items in a plastic sleeve so they can be
found in a hurry if need be.
 Be a good citizen and register your travel plans on your government's travel
site so they know to look for you if there is a mud slide or a tsunami.
 A pen to fill out immigration forms – you may be sitting beside a grumpy
selfish person on the plane who is not inclined to lend you one.
Don't leave home without:
There are just some things that you really can't leave home without, unless you plan on spending the entire holiday tracking them down or are staying and traveling in luxury, such as a certain cord to recharge your mobile/laptop/kindle/tablet/camera
plus an electric adapter applicable to the country you will be in. If you are as blind as a bat without your glasses, pack an extra pair or those that wear contact lenses should not forget extra contacts, cleaning solution and a case to
put them in. Load up some travel apps to help with directions, language, finding great workspaces, and money conversion.
Travel Security
If you want to triumph over the pickpockets and the lurking thieves, keep your cash and credit cards hidden underneath your clothing, or even in your shoes. There arenumerous amazing ways to stash that cash without looking like the Michelin Man
from bra to leg wallets, money belts that purely look like a normal belt to scarves with hidden pockets. You may even wish to invest in a wallet or bag with RFID blocking, so that the information stored on the microchip of your passport or credit card cannot be read by identity thieves.
Stay Healthy when Traveling

 Always check on what nasties are floating around the country you intend to
visit, as you may require certain vaccines and consider that some will not take
affect unless you have the jab about 2 months prior. Jump onto your
government' travel site and check out what they suggest for the particular
country or region you are going to.
 Personal prescriptions should be in original packaging and make sure you put
them in your hand luggage. Get extra prescriptions, so that you can get a
refill if required.
 Take some anti-bacterial hand wipes in your hand luggage.
 Make up your own personal first aid kit with a few essentials such as pain
killers, something for an upset stomach to stop the cramps and the necessity
of being within range of a toilet 24/7, any allergy medicines you may need,
cold medicine (everyone seems to get a cold after being on a flight), anti-itch
cream, a few band aids and maybe some eye drops.
 If you are heading into the wilds and will not have the opportunity to stock up
before you leave the safety of a town or city, then your first aid kit should be a
bit more focused according to your activity. Think along the lines of altitude
sickness pills, motion sickness pills, anti-chaffing cream, blister care packs,
antibacterial ointment, sunburn relief, bug repellent, electrolyte pills and
petroleum jelly (to moisturize lips, hands and feet plus it is handy for skin
irritations). Remember if you are on an organized trekking tour, your guide
should have all of these things, so don't pack what you don't need.
Packing a Toiletry Bag
You don't want to be the smelly soul, so think carefully about what you need to pack in your toilet bag. Remember that at most destinations you will be able to buy what you have forgotten and plenty of hotels will give you the basics (the luxury ones will
give you so much more), so don't throw a hissy fit when you consider taking that heavy bottle of shampoo that is the only one that tames your golden locks. Chances are no one will know you, so a frizzy hairdo will not be an issue. If you are only taking carry-on luggage be aware that liquids, gels, aerosols, creams and pastes must be in 100ml (or less) clear containers with not more than 1 quart packed in a sealed plastic bag. If you are going to a tropical climate awash in vampire mozzies that spread dastardly diseases, don't bother packing any perfume or aftershave, as mosquitoes are attracted to sweet smells.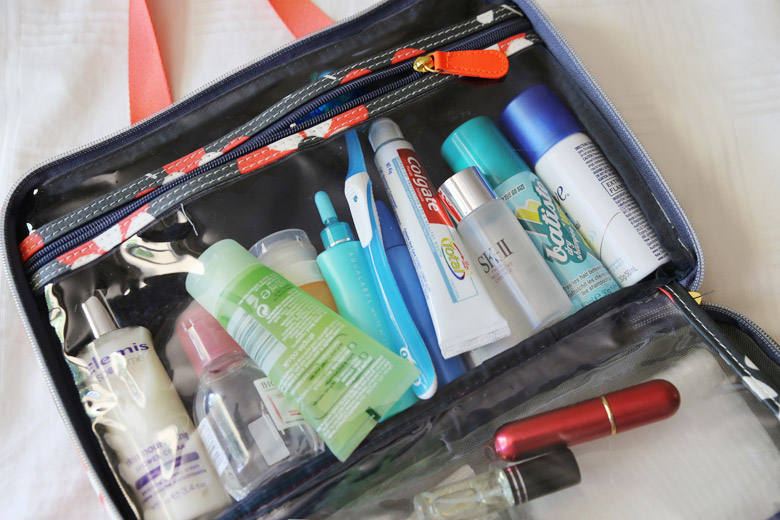  Toothbrush, toothpaste, tooth picks or floss, whatever you use
 Face wash and makeup remover for those who like to wear paint
 Makeup if you have to
 Sunscreen whether you are going to the beach or not
 Lip balm with SPF
 Moisturizing lotion for face and body
 Small cake of soap – just in case
 Deodorant
 Hygiene products of the female variety if needed
 Cotton buds – to keep your ears clean
 Hair brush/comb, hair ties, or whatever else you pull your hair back with
 Shampoo and conditioner – this is an iffy one as it is easier to buy it at your
destination
 Shaving kit
 Hair products to tame your out-of-control hair – another iffy one
 Small personal mirror
 Sewing kit, if you can be bothered playing seamstress plus some safety pins for when you can't
 Small quantity of clothes detergent (iffy as you can always use the bath soap) and a travel clothesline
 Nail clippers, scissors and tweezers to get at your nose and ear hairs, but
remember these items must be in checked-in luggage.
Clothing List
Don't pack your entire wardrobe and hide your tendency to be Imelda Marcos when traveling. Check on the season of the country you intend to visit taking note of the day and night temperatures, as well as the culture, just in case you need to cover up more than usual. You don't need hiking boots if you are going to a beach destination, so pack appropriately for where and what you will be getting up to.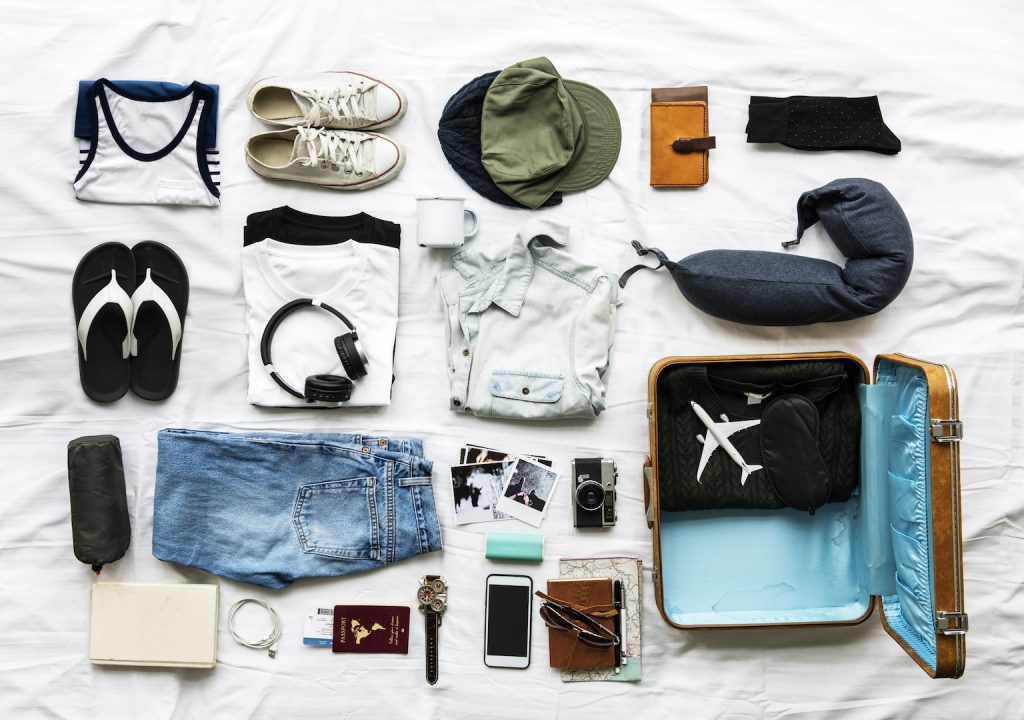 A packing guide:
 Undies – bras, g-strings, bloomers, y-fronts, boxers or whatever else you hide
your bits and pieces with
 Socks – woolen are the best for hiking
 Clothing that is lightweight and can easily be layered.
 Long sleeved shirt
 T-shirts
 Shorts/long pants
 A belt – if you need one to hold up your pants
 Something to sleep in if you are not into being buck naked in bed
 Sweater or a jacket of some sort that can easily be rolled up
 Rain jacket/umbrella – only if you know you are heading into a rainy season
 Swimsuit – even if you aren't going to the beach there may be a pool, a
stream, a river or a waterfall you want to splash around in, plus throw in a wet
bag to store your wet swimmers in
 Dresses or skirts for the feminine individuals
 Jewelry – only take costume junk that can make an outfit look chic and that
you have no real attachment to
 Hat or sun visor – another iffy item as it can be purchased when you land
 Sarong or huge scarf – this is a serious contender as it can be used as a
cover-up, a scarf, configured into a carrying bag or used as a towel.
 Comfy walking shoes and you don't need to pack the red dancing stilettos
unless you are going to spend all your time dancing the flamenco in Spain
 Thongs – flip flops or whatever you want to call them
Before packing carefully consider "does this go with that" – plain block colors are
better than prints, if you don't want to look like a clown. Ensure that what you wear
during the day can be dressed up for a night out in a restaurant. If you intend to be
in the back of beyond, think about buying some clothing with mosquito repellency
and don't worry about packing the tuxedo or the ball gown. Also throw in a few
sealable plastic bags to stash your dirty washing or muddy shoes in.
Convenience Items for your Checked-In Luggage
 A wine opener of the old fashioned "waiter's friend" variety, as it has a little
knife with it – perfect for impromptu wine sessions when no opener is in sight
 A torch – good for lighting your way home at night or in fog, as well as being a mini self-defence item
 Extra el cheapo mobile phone for a local sim card
 A lightweight collapsible bag for when you over indulge in the shops plus a
lock for the flight home
 Duct/masking/packing tape – great for impromptu shoe or bag fixes, can be
used instead of a band aid where blisters are concerned, can also be used to
stop bottles from leaking or to stabilize wonky power outlets
What to put in a Carry-On Bag
All of your valuables, but as little as possible as you will have to carry it and the size
(maybe even the weight) does have to comply with the airline's restrictions.
Must Have: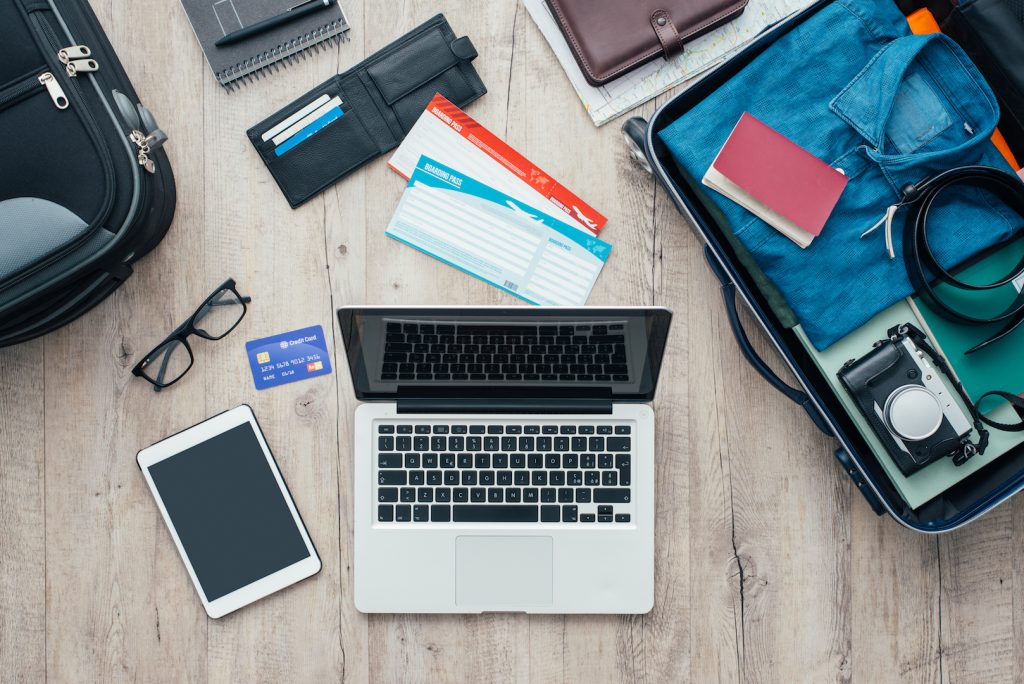  Travel documents of any sort plus a pen
 Wallet with cash and credit cards
 Safety whistle/alarm – especially if flying solo
Tech Items:
 Mobile phone plus charger
 Laptop – make this accessible for when you go through security
 Camera of any sort plus necessary chargers, memory cards etc.
 EBook/Kindle or whatever you like to read on
 IPad/Tablet
 Electrical adapter
 Noise-reducing head phones
To Keep You Comfy
 A travel pillow
 A large warm scarf that can double up as a blanket
 Lip balm – it gets dry in the sky
 Tissues for when you get an attack of the sneezes
 A deck of cards if you want to entertain yourself
 Ear-plugs and an eye mask if you are a light sleeper on a long haul flight
 Sunglasses plus case, as well as reading glasses if needed
 Socks to keep your feet warm
 Mints in case you eat a lot of garlic – this is known as having empathy for your
fellow traveler otherwise a toothbrush and small tube of toothpaste
 A good luck charm to ward off the evil eye
Just in Case and if there is Space
 A spare pair of undies – accidents do happen.
 If really lightweight, a change of clothes – just in case your luggage is delayed
or goes AWOL.
Traveling with Children
This is a whole scary ballgame that needs very careful consideration, as you will have a torrid time if you forget blanky, dummies, baby wipes and a long list of other necessities.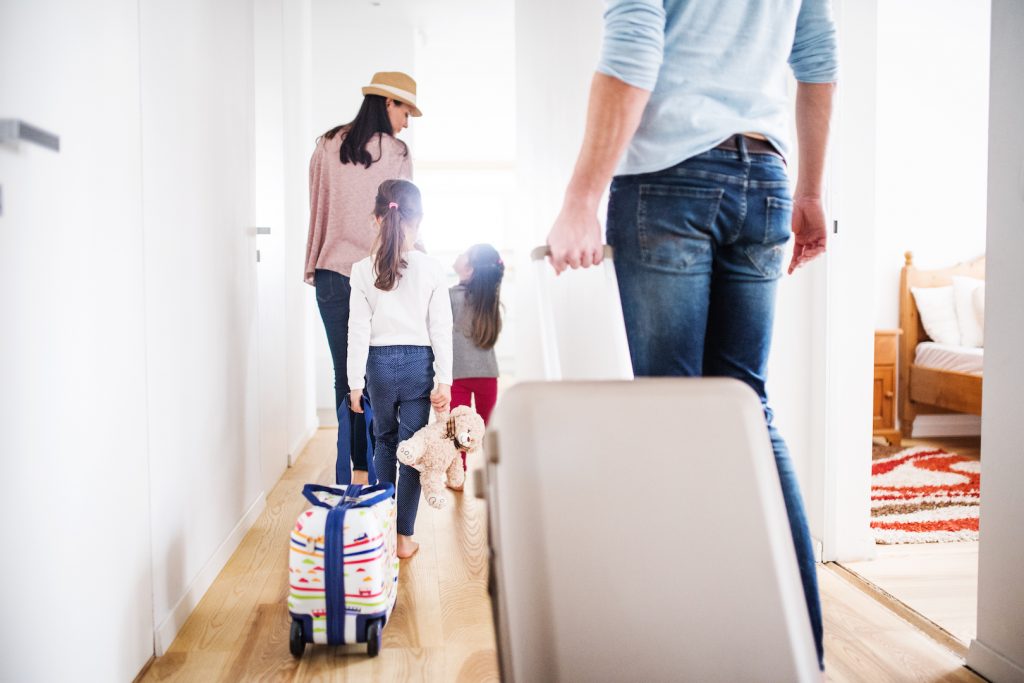 Get Your Home in Order
You don't want to broadcast that there is no one at home to all and sundry when you go away, so be a bit circumspect about what you put on social media. If you are going to be away for any length of time, maybe think about getting a house-sitter,
even if you don't have a furry 4 legged friend to worry about, the plants will need watering and you don't want a letter box full of flyers.
Below are a few little details that should be thought about when vacating your castle.
 Clean out the fridge, unless you are into cultivating your own penicillin
 Stop the newspaper delivery – if you are old school and like to get newsprint
on your hands
 Unplug every appliance in the house, including air conditioners and heaters
 Turn off the washing machine taps and turn down the water heater
 Store any valuables in a safe hidey hole, if you don't have a safe
 Arrange for paperless bills, so you can pay them whilst traveling, or pre-pay
them if you don't want the hassle of getting on-line
 Arrange for the post office to hold any mail for you
 Set up an email auto-responder if you totally want to disconnect from work
and the world
 Set up a timer system for lights to go on and off (false security) but it may
help. Or, if you have a security system, advise the service provider that you
will not be at home
 Arrange for someone to mow the lawn, if have one that is
 Leave your travel plans and a house key with someone handy to where you
live and who cares about you – not all relatives are in this category
 Lock all the windows and doors when you leave and double-check them all
 Check your household insurance policy for any specific instructions in relation
to the premises being left empty
 Check in online for your flight and reconfirm your airport transport.
Remember there are 2 types of tourists:
Those that pack light and those that wish they had.