Besides the Opera House, the Tower Eye and a few more tourist attractions that Sydney is well-known for, very few people know that Sydney is also the capital city of coworking opportunities.
Lucky you, as we are about to hop on the ultimate tour guide to discover why Sydney can be the excellent destination for all us coworkers. Ready?
About Sydney
Before we dive into the coworking opportunities let's take a good look at this marvelous city.
Sydney is recognized as the most populous city in Australia. And it's not just that. Sydney enjoys a beautiful multicultural population: there are more than 250 languages spoken on the streets of Sydney! Who knows, maybe coworking in Sydney will be your chance to learn a new language?
Lots of Sydneysiders came here looking for a brighter future, and they found it. This city provides amazing opportunities for businesses and start-ups, with its progressive economical market on the rise. And its economical development in the last couple of years proves that innovation and progress are valued and encouraged here.
Business is great, but the people are awesome. Sydneysiders are friendly and easy going. You'll fit right in and make some friends along the way, as there is definitely someone in Sydney who resonates with you.
The atmosphere in the city is vibrant and full of energy especially in the evening, when you can go out at restaurants and terraces. And, if you're coming from the northern hemisphere, keep in mind that the crazy cool winter time is actually a superb summer time in Australia.
In terms of tourist attractions and places to visit, you will be able to enjoy modern and colonial architecture on every street corner. You'll witness the perfect blend of the vibrant urban style and the laid-back iconic beaches. Let's be honest, can it get more perfect than that?
Of course, it is only once you come and live here that you will be able to get a sense of what Sydneysiders love about their city.
Coworking in Sydney
Here at Coworker we make work fun by offering you a wide range of coworking spaces where you can meet new people and make new friends. Work doesn't have to be boring. Whether you're looking for a transition from your home office or office cubicle, or you are interested in spicing things up a bit and hopping on an adventurous ride this year, Sydney can be the place you can do all that… and then some more.
Sydney offers a multitude of fun and unique coworking spaces that will introduce you to a new perspective to what "working days" can really be like. Are you ready to be amazed?
Let's take a look at these coworking spaces in terms of the perks and cool things that make them outstanding. Here we go:
Fun breaks
When you think Sydney, you think fun activities. Relaxing out on the terrace or playing some ping pong with your coworkers is okay but… I want to challenge you to think a bit more outside the box.
WOTSO
Close your eyes and imagine unwinding with your coworkers on an entertaining yet competitive game of mini-golf. Now open your eyes: at WOTSO WorkSpace – Pyrmont this is reality.  
With an indoor mini golf course, you can have fun breaks while polishing up on your golfing skills. When you'll get out on the real golf course, you'll basically be a pro.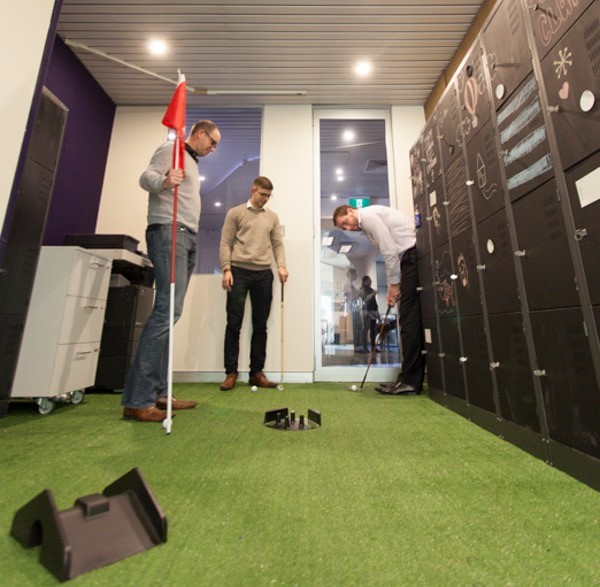 Tip: it's also a great way to impress a golf-loving client. Fun can be profitable.
Bay 9
It can also be healthy. Think about indoor bike riding activities made available by physical therapy professionals. Bay 9 is the place to enjoy just that.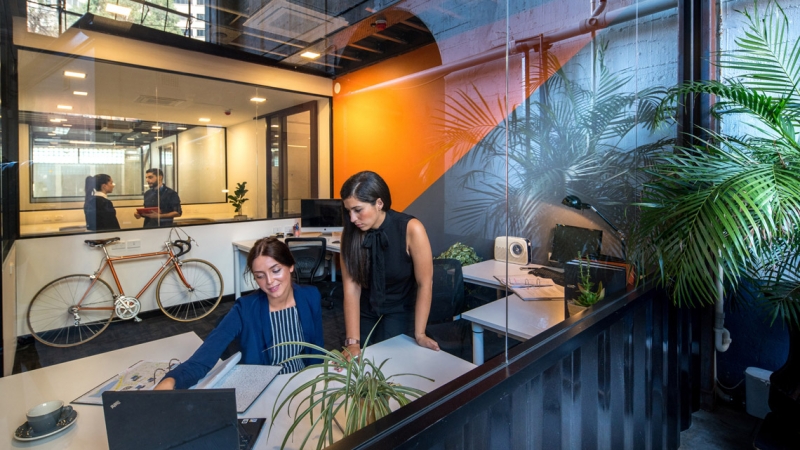 Bay 9 has a bike available in every office. So, whenever you start feeling stiff from all that sitting, take that as your cue to get up and start biking.
Whether you're the adventurous type who loves any opportunity to be physically active, or you're a bit reluctant at the idea of working out, one thing is for sure: your body will thank you. And your energy levels will spike without an ounce of energy boosting drinks.
It's also a great opportunity to tackle your New Year's resolution: "Mindful and proactive about my health." Check.
While we're on the subject of health and New Year's resolutions, let's take a look further at some other healthy perks that coworking spaces have to offer.
Standing desks
Lots of people prefer standing desks and consider them to be a great alternative to the classic standing desks. There's also research reviews that point out to the many health advantages of standing desks. People who've tried them back researchers up on this.
Space&Co is a coworking space that offers a modern and stylish designed work setting and great options when it comes to standing desks.
You can either choose to get your work done at an active workstation or sit on tall chairs to experiment a bit before committing to it. They offer the possibility of classic sitting desks as well. Spacious rooms, comfortable equipment, various desk options.
Another coworking space for you to check out in Sydney is Weco. They encourage a healthy working environment by providing both comfortable sitting desk areas and ergonomic chairs with large desks and the classical cubicle workstations.

Whatever your working style is, you can find a comfortable and productive work environment in one of these two coworking spaces.
Spaces to develop your creativity
Looking for a coworking space where you can be creative? I have two perfect coworking spaces for you that promise to provide the perfect environment for your creativity to flourish.
Fishburners is Sydney's largest community of start-ups. They meet daily to bring their innovative ideas to life and socialize. This coworking space offers a variety of working spaces: whether you're looking for a shared of private office, they have you covered.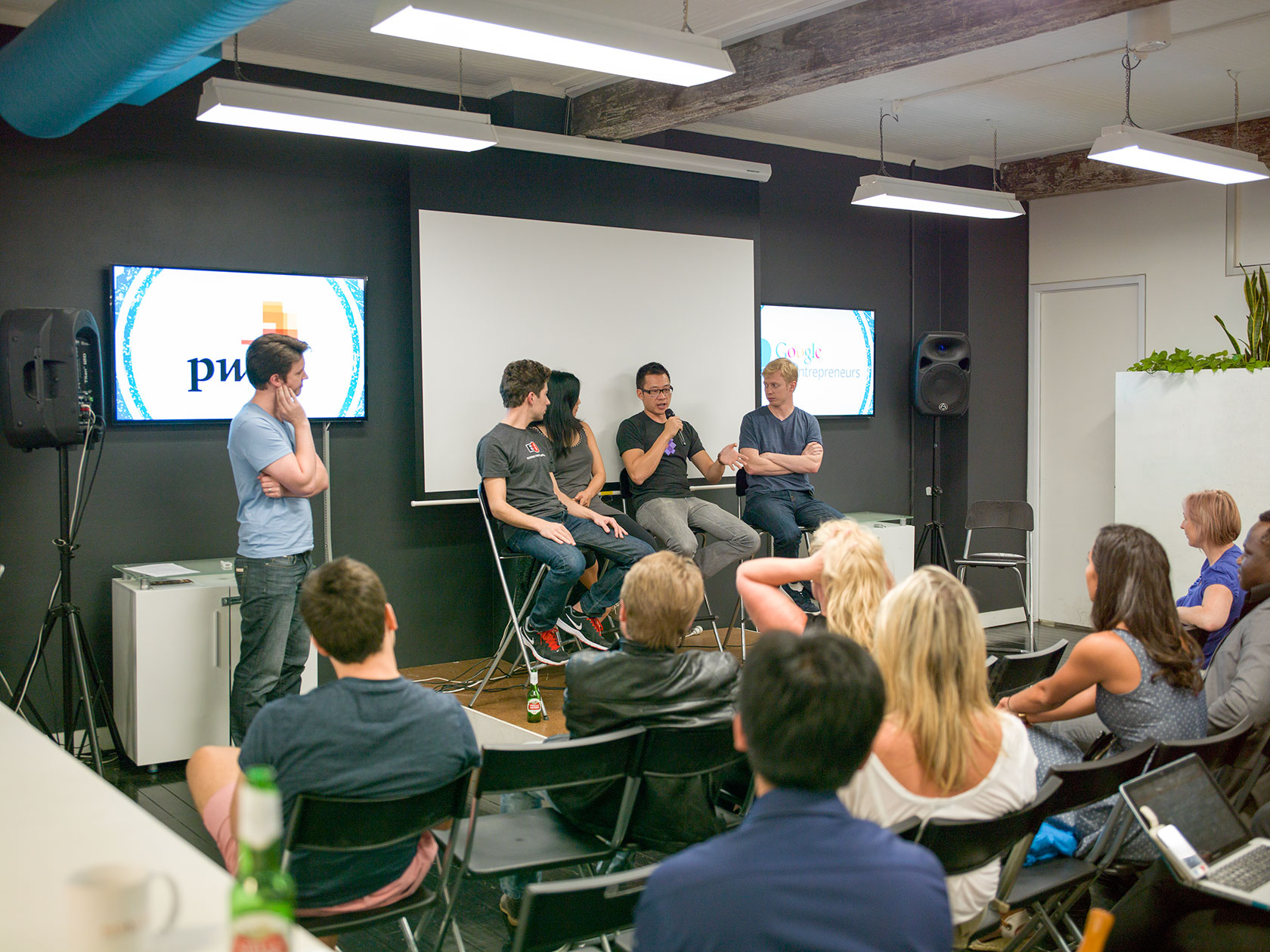 Here's where it gets interesting. Fishburners has event and workshop spaces available for those of you who want to organize courses, workshops, various events or meetings. Do you prefer a place to have your Skype calls? They have a place just for that – Skype rooms.
Nous House is another great option for all the creative types out there. What this coworking space offers beyond everything else we already mentioned above, is a podcasting room. A room specially equipped for recording your podcasts.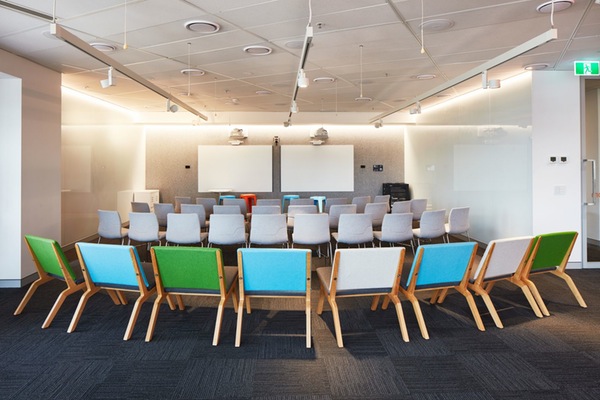 No matter what kind of space you're looking for, whether it's a space to hold your workshops, courses or record your podcasts, these two coworking spaces can be a great fit for you.
Family friendly
Now you can relocate to Sydney without worrying about finding a good creche for your child nearby your coworking space. WOTSO WorkSpace in North Strathfield offers a coworking space for you and an excellent creche for your little one.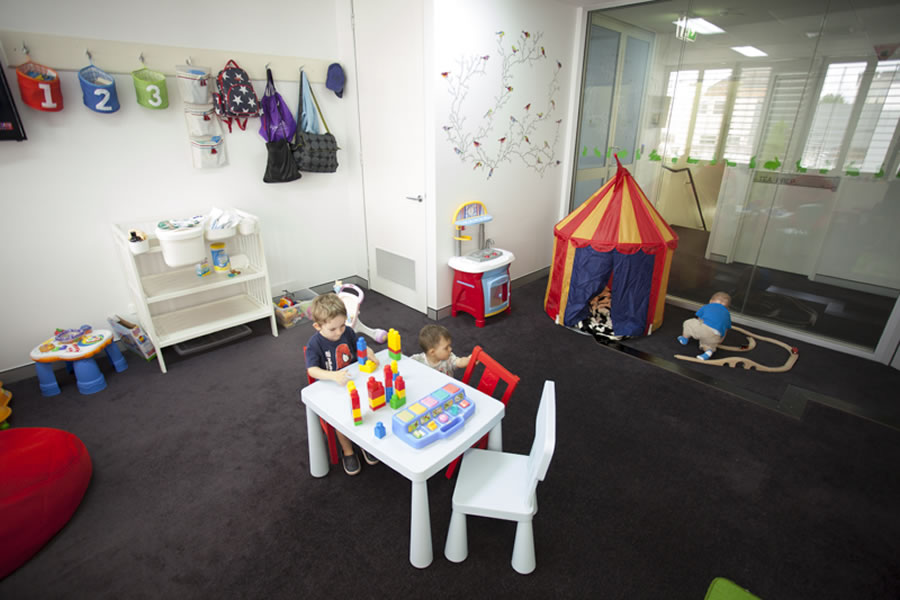 WOTSO understands how having your child well taken care of in the same building you're working in can be beneficial not only for your peace of mind, but also boost your productivity levels.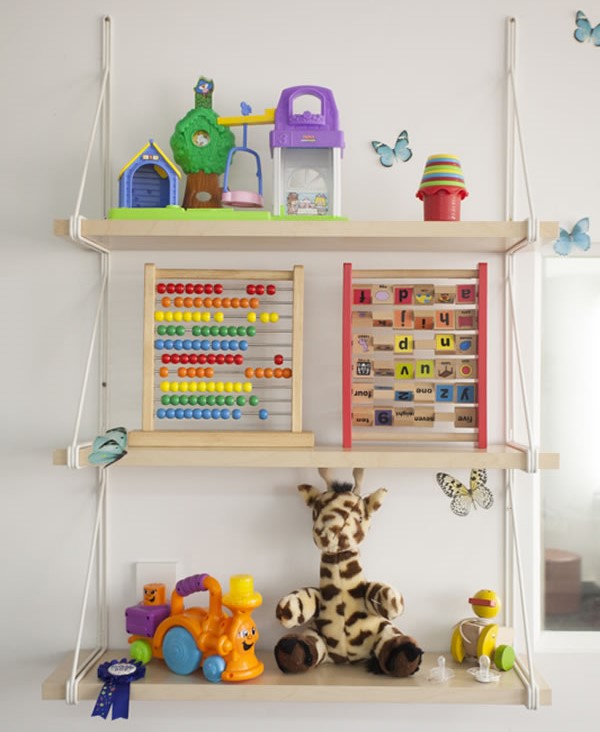 WOTSO Wabbits is a perfectly colorful place, fully equipped with everything your little one would enjoy playing with everyday. Here, your child will also have the opportunity to make friends and develop their early social skills. You will be able to come and play with your kid yourself whenever you feel like taking a break from work.
Sydney is calling. What are you waiting for?
Sydney has some amazing coworking spaces. Now that you've gotten a glimpse of what the city has to offer, all that's left for you to do is find the space that best fits you and relocate.
You know what they say: the best is yet to come. Make 2017 the best year for you now.