Along with best pad thai, hippiest night markets, and cutest cat cafes, an informative guide to coworking spaces is what you'll need before *attempting* to move to Bangkok. Can't help you out with the other things, but I sure can give you a few tips on choosing the best coworking space(s) tailored just for your own needs and tastes. And a few mom jokes.
First off, you'll need to do research on your preferred location in Bangkok. Whether or not you're planning on riding your own bike or using uber or relying on the BTS/MRT or a combination of all three, it's always much more rewarding and productive to just stay in the area that you'll more likely to work and eat and whatever else you'll do beside working and eating. Look at what available in each main area and see which one attracts you most. Are you a Khaosan kinda girl or a Sukhumvit kinda guy? There's also Silom and Siam. Or you could be as oblivious as I was and choose Ladphrao for your first Bangkok trip.
There are almost 50 coworking spaces spreading all over Bangkok, so whatever area you choose to stay at, you'll have a good chance of finding a coworking space not too far away. This guide is not location-based. But if you want to see the location of each coworking space I mention, simply click the hyperlink to Coworker website to see its proximity to your stay.
1. Most Mentioned by Expats: Hubba
Hubba was the first coworking space in Bangkok, opened in 2011 when locals didn't even know there were possibilities outside the 9-to-5 world and when internationals were first slowly nomading to this side of the globe. 6 years and almost 50 other coworking spaces later, Hubba still remains one of the best, most mentioned coworking spaces in Thailand. Word of mouth from one herd of nomads to another has brought Hubba to the #1 position today. And I'd say it well deserves that. What's so special about Hubba, you asked? It's the vibe dude. It's the entrepreneurial vibe. Beside an immense desire to simply get shit done, every single member here brings their motivation, determination, and ambition to become the next great entrepreneur to the community. That stuff is contagious; you can feel it in the air.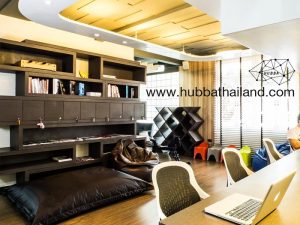 Original Hubba
Hubba has recently opened two more locations: Hubba to Co-creation and Discovery Hubba. Beside the Hubba trademark, Hubba also owns Cluster and allies with Ma:d.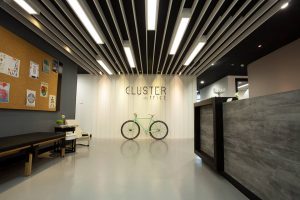 Cluster (looking not very clustered at all)
2. Artsy Fartsy Spaces: Paperwork,  Hubba to Co-creation, Draft Board
Long gone are the days that the arts cannot feed the mouth. With different platforms that help artists generate passive income, more and more remote workers can not only afford to stick to their arts but also thrive on them. Vloggers, video editors, photographers, illustrators are just some of the common remote career paths out there. Here is my selection of excellent coworking spaces if you either want to surround yourself with a bunch of other artsy peeps or if you actually need supplies and equipment for your arts.
We all know how well your creativity juice flows when you work shoulder-to-shoulder next to another person in four walls with zero natural light. Paperwork immerses you in a simplistic but gorgeous open space with glass walls and contemporary interior design, and therefore allows you to expand your creativity.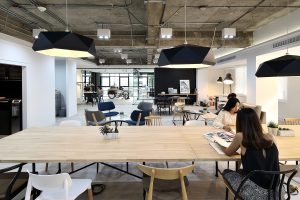 Paperwork showing off its minimalistic allure
With ceramic spins, sewing machines, a pattern printer, and much more, Hubba's third location: Hubba to Co-creation prides itself as the only makerspace in Bangkok and one of a few in Southeast Asia.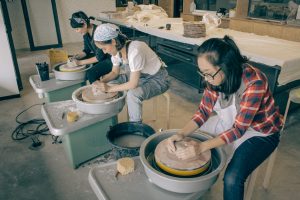 A corner at Hubba to Co-creation
Draft Board's photo studio isn't just helpful for professional photographers but also for bootstrapping e-commercers who fancy high quality product photos. The studio comes with professional lightings and a large white canvas background.
A sneak peak at Draft Board's photo studio
3. Spaces with Coliving Accommodations: ONEDAY | Forward, Poolsub
There is undeniable convenience in being able to go straight to a coworking space within steps from your bedroom. These two coworking spaces offer you just that. ONEDAY | Forward coworking space sits right next door to its brother ONEDAY Hostel and provides a perfect solution for the passing through nomads that are in town for a short time and still want to crank out some work.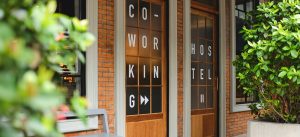 ONEDAY | Forward sharing walls with its sibling hostel
Word has it that Poolsub is building a coliving setup right in the same building with the coworking area, although we're not yet confirmed when that will finish. We are not sure whether it will be a dormitory or private room setup. But we'll stay tuned and holler at you when we have more info.
4. Spaces with Beanbags: Wolf, Launchpad, Ma:d, Poolsub
I hate slouching. Unfortunately, I don't have the self-discipline it takes to force myself to sit up straight every time I catch myself slouch. And instead of using a standing desk, I much prefer lounging on a squishy beanbag and get as comfortable as I possibly can so I can get back to uh… more slouching. Here are my personal favorites of coworking spaces with beanbags in Bangkok.
Wolf coworking space dedicates the whole third floor to decorating a modern Indie lounge area and an open coworking area, both facing glass wall and viewing a stunning peaceful Thai alley.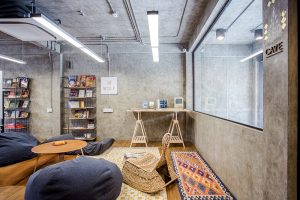 Aztec, Indie, and geometry: Wolf knows what's up with interior design
Within walking distance from Wolf is Launchpad coworking space. Launchpad has two separate sections: one for a cafe and the other for a coworking space. Although the main area is dominantly furnished in orange, there are brown beanbags that work in harmony with that. (Phew)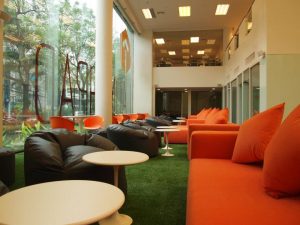 Launchpad's upbeat yet relaxing vibe
Not as spacy as Wolf or Launchpad, Ma:D coworking space still has enough beanbags and Thai styled padded cushions for you to sit, squat, and lie on.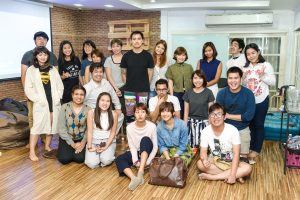 Ma:D's lounge area turning into a social mingle coziness
Poolsub's second mention today belongs to its effort in bringing a touch of mother nature into the lounge area by using artificial grass as floor tile.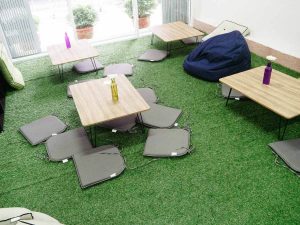 Poolsub's evergreen lounge area
5. Spaces with 24h Access: The Hive, the Work Loft, Draft Board
Due to either a difference in time zones, backward sleeping habits, or procrastination, we all need to know a place we can quickly drop in for a quick work sprint after midnight.
Both the Hive and the Hive Prakanong are elegantly charming during the day and much more so at night.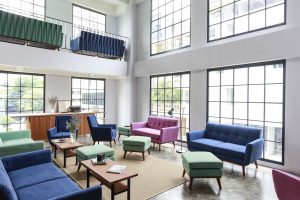 The Hive quietly showing off its famous luxuriousness
As a community-based coworking space, The Work Loft goes extra miles to make sure its community members feel engaged and taken care of. With a spacious event room, an on-site cafe and bar, and multiple coworking and relaxing areas, the Work Loft guarantees to make you feel at home yet productive at the same time. Not only that, the Work Loft opens 24/7 and is even kind enough to offer free 3 day pass.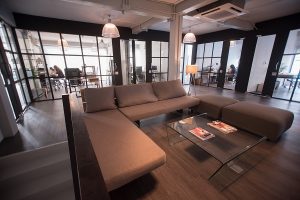 A beautiful relax area at the Work Loft
If you're still not 100% sold on Draft Board's photo studio, good news is it opens 24/7 for members.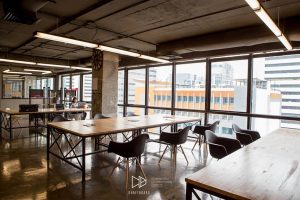 Draft Board's main coworking area
6. Spaces with Unexpected Perks: The Hive, ONEDAY | Forward, Hubba, Muchroom
Quite self-explanatory because who doesn't love unexpected perks.
We all know the Hive goes far and beyond to guarantee customer satisfaction. From impeccable attention to detail in interior design to an on-site spa to FREE BEER?! Both the Hive and the Hive Prakanong locations. I'm speechless.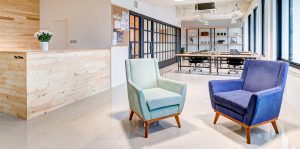 An example of The Hive Prakanong's perfection
Hubba provides an outdoor adult-sized trampoline because it understands that the best stress-relief activities are kids-like activities. Sorry there's no Play Doh. But sure we'll take the trampoline for now.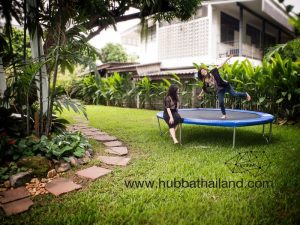 Hubba's outdoor trampoline
At Muchroom, Wednesday Yoga classes are held in its beautiful outdoor garden area. YES sign me up please!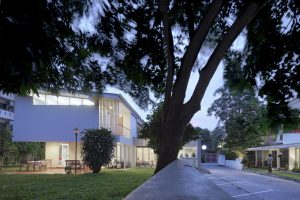 Yoga here? Take my money!
7. A Simply Gorgeous Space: Pencave
Aesthetics serves a deeper purpose than purely pleasure to the eye. A well designed space with elements working in harmony with one another boosts concentration and creativity. I'm sure there's science backing that up uh… somewhere. As for me, there ain't nothing wrong with *just* pleasure. These are two gorgeous coworking spaces that haven't already been mentioned above.
Looking a lot more like a secluded getaway destination than a bustling coworking space, Pencave wins me over with its distinctly nature-like vibe. Quite literally, Pencave brings a refreshing breath of air not only from the level of natural air, plants and trees within the premise, but also from its earthy toned interior.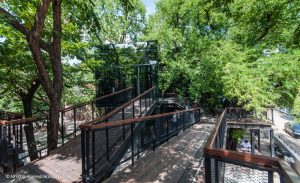 Pencave's outside terrace
8. Worthy Mention: Regus
With 16 locations in Bangkok and hundreds of locations worldwide, quantity is not the only impressive qualification that Regus holds. What makes Regus my worthy mention today is its very unique coworking space model. With the vast majority of space dedicated to private offices and meeting rooms, Regus actually has very little space for its coworking area. But instead of the normalcy of coworking desks and chairs, Regus coworking area is designed like a VIP Lounge area. Each Bangkok location consists of 4 private booths with enough space for you to stretch your legs out and enough privacy to take your power naps. It comes with free tea and coffee. And the best part? Only 1990 Baht per month. That's the average price of a week pass at other coworking spaces.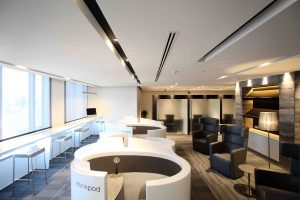 Private booths at Regus Exchange Tower
Still not sure? No problem. Go to coworker.com, search for "Bangkok" coworking spaces and redeem their free day pass to test them out before making any commitment.