THE REMOTE FUTURE SUMMIT🔸- the biggest online conference about remote work, where 50 top experts and influencers will share their best practices how to effectively tackle the remote revolution. Read more about THE REMOTE FUTURE SUMMIT, here!
Tell us a bit about what is the Remote Future summit:
The Remote Future Summit is an online conference happening from 5th to 8th of June where you can learn from top global experts how to effectively tackle the remote revolution. As the remote work is on the rise we have realized that both companies and employees need to learn how to adjust to the new reality. Therefore conference agenda has 4 days, each focusing on different group and their learning needs.

Why was The Remote Future Summit started?
Frankly speaking, the idea of The Remote Future Summit was born as a result of shaping business model of Remote How which was initially a start-up providing innovative incentive program, dedicated to the top talents in companies. We were working on a 1-month remote work & travel program in locations around the world. We want to combine traveling with learning experience, but very soon we have realized that the market needs education beforehand. We have interviewed almost 50 HR managers and C-level from US and Europe to get their feedback on remote work. This is when we got inspired to organize the Remote Future Summit for the first time. It took us some time (and lots of cups of coffee!) to talk to these people and to understand what are the expectations of such conference.  

When will this event take place?
The Remote Future Summit will take place in June, from 5th to 8th. Each day will be focusing on different topics so make sure to check agenda earlier and book your time.  Read more about Remote Future Summit, here!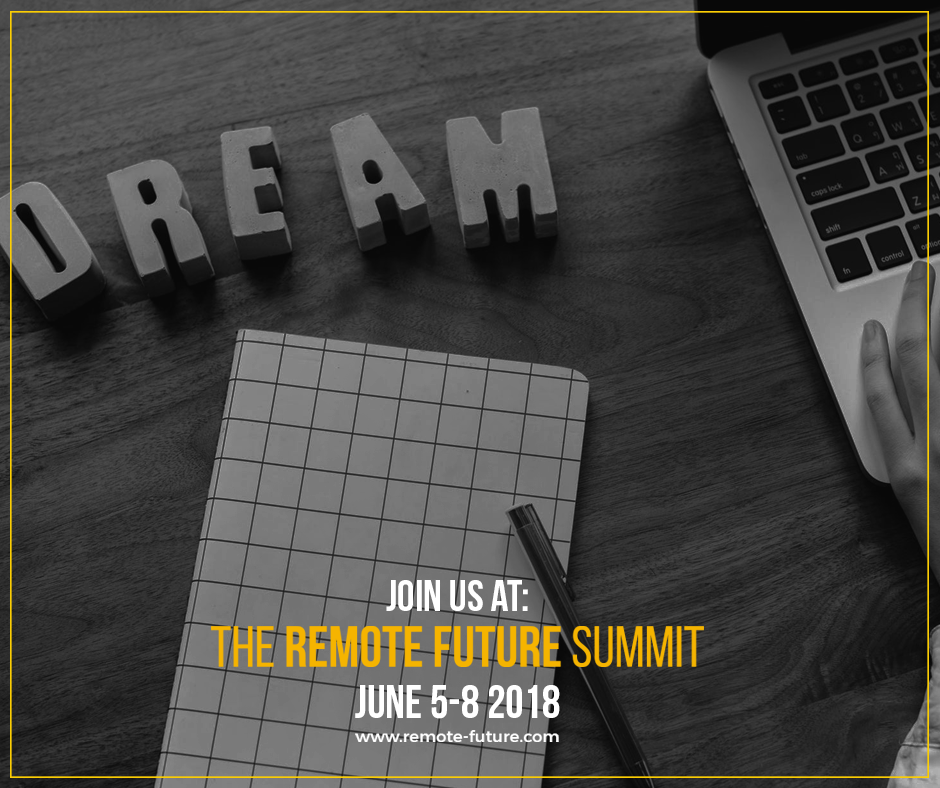 Where is Remote Future Online Conference happening?
We are 100% online, meaning, you can join the Remote Future Summit from wherever you are planning to be from 5th to 8th of June.
How many participants do you expect this year?
We are expecting in total +9000 participants from all around the world. Just recently we have opened the registration and we can see that with every day there are more and more people registered.
What makes the Remote Future Summit different from most conferences? (Play on the fact that it is online, etc)
What makes the Remote Future Summit different is definitely our approach. First, we decided that the conference about the remote work should be done online, so it can be accessible for everyone, everywhere. By choosing to do it online we are making sure that quality of learning experience will not be compromised. Second is that we have gathered an exceptional group of speakers from different organizations who will be sharing their best practices on remote work. You will have the opportunity to learn from organizations like Asana, SalesHacker, SAP, Mural, Toptal, Etsy, Dropbox, the New York Times, abadoo and many more. This kind of knowledge can not be find in one place anywhere else. Last but not least, with this very event we want to build the community of remote advocates that will spread the Remote Revolution further. By joining us, you'll have the chance to be part of this movement. I don't think anyone has ever done that before!
What can participants expect over the 4 day event? (tie in points on the structure, and the goals of the event).
We will for sure have something for anyone interested in remote work.
– Day 1 is for all kinds of managers and it will cover the challenges that the workforce is facing in 2018. You will have the chance to listen to our Remote Work Advocates talking about the future of workplace when it comes to engagement and culture. You will learn how to build, scale and manage distributed teams.
– Day 2 is for employees and freelancers who are dreaming of working from any place in the world. We will give you the tips and tricks on how to convince your boss that remote work is awesome and how to stay productive, engaged and disciplined.
– Day 3 will be fully focused on polish market (as our team, and the founders of Remote-How come from Poland)! During that day we will show Polish success stories – people and companies that thanks to remote work have been successful.
Last day of the Summit is dedicated to all kinds of workshops which you can also join remotely. Full agenda if the event is available here: www.remote-future.com/schedule/
Who are some of the people attendees can look forward to hearing and learning from during this event?
That probably depends on what you want to learn about remote work. We have experts representing more than 50 organizations and companies of different sizes and businesses. Just to name a few, you can expect to hear and learn from top managers from Asana, Sales Hacker, Upwork, Github, Forbes, SAP, Dropbox, The New York Times, Toptal, … and many more! Just to give you few names … you will hear the story of Max Altschuler Founder and CEO of Saleshacker who has built 3 multi-million dollar media companies and wrote two bestsellers all remote! Or you can learn from Joshua Zerkel Head of Global Community at Asana how be a successful remote worker by establishing productivity habits. We are very proud that all our speakers are remote advocates who really believe in the Remote Revolution!
One of the benefits of attending conferences is meeting and connecting with individuals who attend. Does Remote Future plan to create opportunities for theses same connections but in an online capacity?
Yes, there will be some opportunities to network and meet others, but as always it will be up to participant whether to take this opportunity or not. For instance during all the  key-notes or panel our attendees will have the opportunity to talk to each other and exchange comments. We have also opened a Facebook event and a dedicated LinkedIn profile where we will moderate discussion about topics related to remote work.
Make sure to join us:

Check out our Facebook Event Page here
Where can people get tickets to the 2018 Remote Futures Summit?
You can get your free tickets within just two clicks on our website
www.remote-future.com
.