When you think of Chiang Mai, if you're familiar with the digital marketing landscape, chances are you'll think of digital nomads. The coined term merely refers to anybody that works from a laptop and travels around the world.
Many think of Chiang Mai as the ultimate startup location, and it's actually regarded as one of the most popular digital nomad hubs in the world. It seems only natural then that the Nomad Summit would rise to such popularity in Chiang Mai.
Having recently finished it's fourth annual summit, we will dive into what the Nomad Summit is all about, what it can give you, and why you should book your ticket for next year.
Are you interested in becoming a digital nomad or expanding your business? The summit may be just what you're looking for.
What's the Nomad Summit About?

Built for nomads by nomads, the Nomad Summit is an event set up by Johnny FD, a substantial digital marketer in Chiang Mai who runs a very popular podcast "Travel Like a Boss." Johnny is big into giving and decided to set up the summit four years ago to help promote this lifestyle that he and many others have been living.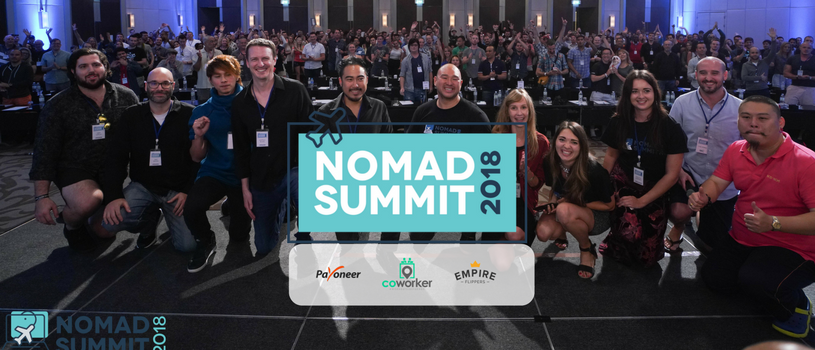 The Nomad Summit, sponsored this year by Coworker, Empire Flippers and Payoneer, has grown every year since its inception. It brings together digital nomads from all over the globe to network, share ideas and, for many, to form business partnerships.
How Much Does It Cost?
Tickets for next year's Nomad Summit are already available and for sale with a heavy discount. You have a choice of three types of different tickets:
Standard Tickets, $197 – These give you full access to the conference including free food and drinks throughout the day.




Deluxe Tickets, $297 – These give you the standard offerings plus upgraded seats towards the front of the conference hall and a table, which allows you to take notes more efficiently or use your laptop.




VIP Tickets, $997 – In addition to the standard and deluxe offerings, the VIP tickets put you center stage with full access to the key speakers, including an invitation to the speaker's dinner.



Currently, the discounts for 2019's event put the tickets at a 52% discount. Not a bad saving!
What Was Offered in 2018
The Nomad Summit included up to four days of events, though the main event happened all on one main day:
Day 1 – Pre-meetup and ticket pickup

Day 2 – Main conference, speakers dinner and after party

Day 3 – Pool party

Day 4 – Optional workshop
With the event running two to four days depending on how much people wanted to interact, there was a number of things going on that you could participate in.
Let's run through the events as they happened in order.
Day 1 – Pre-Meetup Event Held at the Beautiful Japan Village
The Nomad Summit held the pre-meetup event at a beautiful bar and pool area near the popular Nimmin district in Chaing Mai. Many digital nomads will be familiar with this area as a hub for anyone interested in all things nomadic.
The setting for the pre-registration was seamless. The staff exchanged the tickets for lanyards and wristbands, which took little to no time, giving attendees access to some free goodies, too.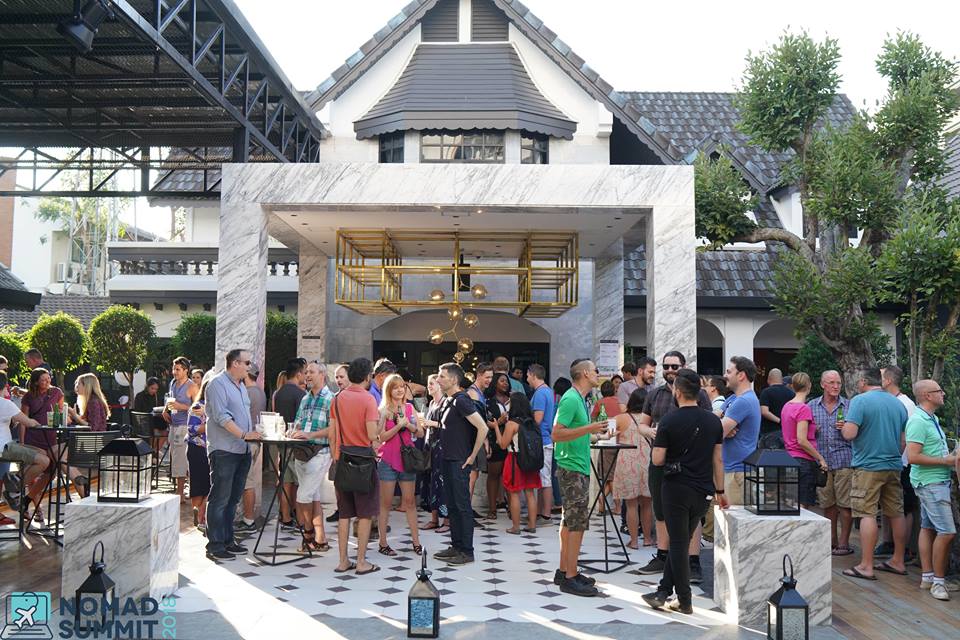 Coworker teamed up with the Nomad Summit to give away all-access passes to the most popular local coworking spaces throughout Chiang Mai. The team behind Coworker put a lot of effort into organizing the event and even ran a competition to win a month's free access to one of the coworking spaces.
When attendees arrived, they were also greeted to some freebies, which was a nice touch. The rest of the pre-registration event was a great way to network and grow familiar with other people attending the event, setting a positive, exciting tone for the rest of the conference.

With these events, you get out what you put in, so don't be shy to walk up to a group of people chatting, introduce yourself and make yourself known to as many people as possible. You never know what possibilities might arise from that one 20-minute conversation you had at the bar.
Day 2 – The Main Event at Le Meridien Hotel
The 2018 Nomad Summit held the main event at the beautiful Le Meridien Hotel–quite an upgrade from previous years. As the Nomad Summit has progressed, you can tell that the event owners are investing more and more into it every year.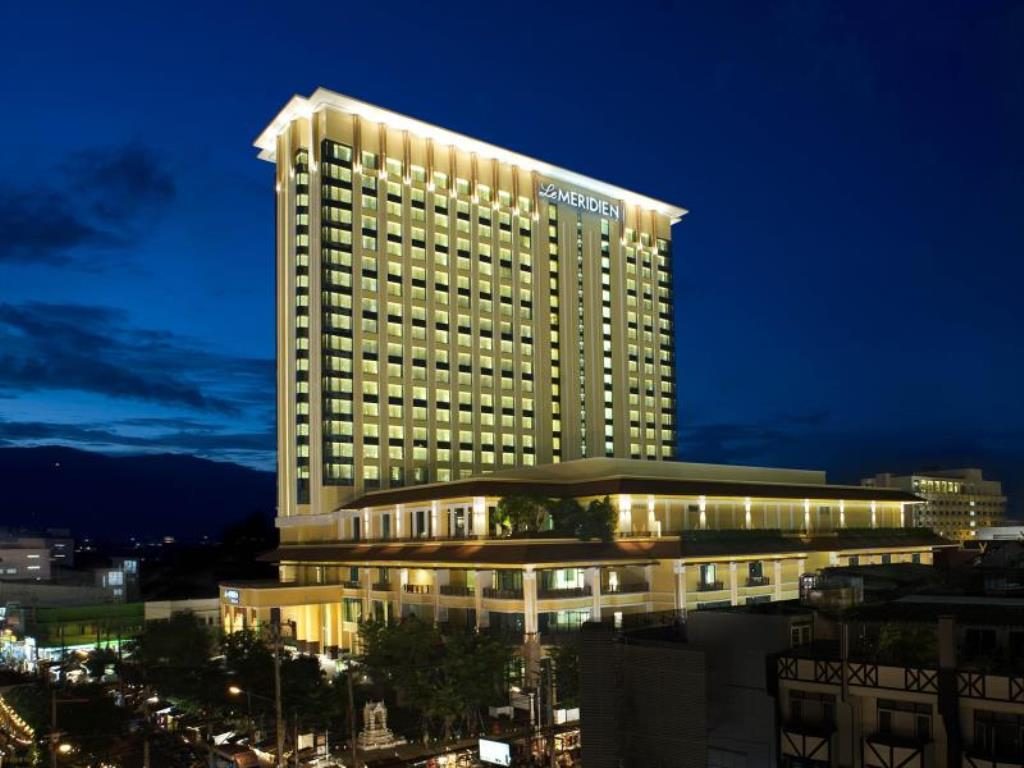 The event started a little after 9 a.m., beginning with free coffee and around 45 minutes of networking with people from the previous day.

The day's event consisted of eight key speakers, including presentations from the event sponsors who shared their vision of what they had planned for the future.

Matt Bowles & Viola Eva Schenkel
Matt and Viola were the first two speakers at the 2018 conference. I was lucky enough to have the deluxe seating which made quite a difference for taking notes at the event.
Matt spoke of how he set up his company with a vision of being location independent, something never done before by a realtor. His talk was full of energy and offered some helpful tips for how to travel efficiently with just a carry-on bag.

Viola shared some wondrous insight into how she scaled her business and how her SEO agency has grown from a small start-up to now employing numerous people in only 12 months. Viola's talk demonstrated how you can expand an idea into something powerful in just a few years.

J Keitsu & Nick Nimmin
J Keitsu was probably what I would consider as the most successful speaker at the event, with an e-commerce portfolio that boasted over $2 million a month in revenue. His insight into how his systems for success worked helped us to see what is possible.
Nick Nimmin was just as impressive as J, showing us how he had grown his following to over 100,000 monthly subscribers and nearly 5 million views. His tips on how to see Youtube as a platform to leverage was insightful.
March & Fern From Coworker
March and Fern gave a fascinating talk on 10 of the best coworking spaces from around the globe.
C
oworker.com
is unique in that it immerses the community within its website, and you get the sense from March and Fern on stage that they genuinely care about the work they are doing.
Mike Larosa talked a lot about coworking spaces, too, as it's his passion. His talk, alongside Fern and March's talk, makes you start to see the power of community and support.
Virginia Campo, Mike Larosa & Derek Pankaew
Virginia Campo gave a heartfelt speech that focused on how she has always been confined to create within the constraints of her job. Now, she was turning that on its head and built gignomads.com, a platform designed to focus on completing simple jobs in an easy and effective way for travelers and digital nomads.

Mike Larosa injected some awesome entertainment and comedic value for the audience. His tales of how he went from the youngest Starbucks manager in the company's history to where he is now showed us that even when you make bad decisions, it can still work out great in the end.

Derek Pankaew, the founder of the foldable push-up bar, showed us how we could level-up our e-commerce platforms and learn how to break through the barriers we unknowingly set for ourselves. The talk was particularly informative and engaging for everyone in attendance.

Overall, the three speakers in the afternoon gave us something different to the speakers in the morning. In summary, there was a great selection and variety of speakers, all appealing to different audiences and topics.
Johnny FD Closing the Show
Johnny closed the show with a talk on how you can get started with e-commerce but also how you can scale into the future. The general feel of the event was one of excitement, engagement and you could see a lot of people networking and genuinely getting something out of the event.

Day 3 – Pool Party at Buristro Bar & Cafe Coworking Space
Something that stood out as particularly fun was the party the Summit hosted the next day at a local coworking space called Buristro Bar and Cafe. The venue was incredible, and you could really gain a sense of community as we all relaxed together after all of the awesome speakers on the previous day.
The party had everything from food, drinks, a DJ and even a guest DJ performance by an up-and-coming rap artist, Suwana, which added a huge burst of energy into the afternoon.
Day 4 – Optional Workshops

Both Viola & Paul Adams deserve special mentions for putting on these extra workshops. They provided some incredible information about how to get started with Amazon FBA and also how to get started with your own service business.

The workshops were a nice practical addition to what we had all gotten a taste for in the conference and taught us the basic steps of how to get started in either business.
The Nomad Summit in Review
Experiencing the Summit for myself, I have reflected with great depth on how the Summit affected me and what I got out of it on my blog.
The truth is, my experiences of the Nomad Summit may be different to what you would experience. All I can tell you is, if you have an interest in becoming a digital nomad, or if you are already on the journey and want to…
Connect and network with like-minded digital nomads

Get real-life examples of successful businesses explained in detail

Learn practical skills on how to get started in the digital world
…then the Nomad Summit is definitely for you.
Can't Wait Until 2019?
If you're reading this and thinking, I can't wait until 2019; I need something like this right now then It'd be wrong for me not to talk about Stephanie and Cara, who organized the entire Nomad Summit.

If you want to experience another event with a similar feel, check out TokenomX, which starts April 17, 2018.