If you're an English-speaking freelancer or online professional who will be traveling or moving to Tokyo, Japan in the near future, you may be in need of a comfortable place to get work done. Your hotel room probably won't have the ambiance or professional amenities you require, and it's no fun staying cooped up in your apartment all day. While coffee shops and cafés are great, they have many distractions and won't be all that supportive of lengthy stays.
This makes a day or monthly membership at a coworking space a convenient and cost-effective alternative. Coworking spaces are also an excellent way to network and meet both locals and other foreigners who live in Tokyo, or are just passing through. There is a long list of both casual, modern, and luxury coworking offices to choose from, but here are some of our top picks for English-speaking travelers and expats.
Samurai Startup Island, Higashishinagawa, Shinagawa Ward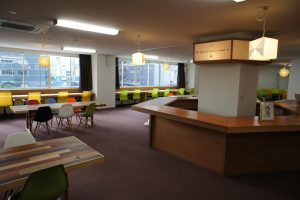 There's no shortage of coworking spaces to choose from in Tokyo, but what foreigners will appreciate most about Samurai Startup Island are their spacious and thoughtful facilities. Yes, you may be at a group desk with six other professionals, but the overall space isn't at all cramped. The space is also versatile, with access to hangout rooms, private Skype space, conference rooms, and event spaces for up to 120 people. While SSI also has a self-service kitchen, you may prefer to venture to one of the many hip bayside cafés, restaurants, and bars.
One day drop-ins are welcome, but it is best to apply ahead of time. If you will be using the space more than 3 days, SSI offers a discount on the 2000 yen/day rate.
Enjoy standard coworking amenities, Wi-Fi, printer, scanner, shredder, cutting machine, lockers, and more. The staff openly exclaims their broken English, so you will easily be able to communicate. This coworking community is also open 24 hours a day for members, but only standard daytime hours for drop-ins.
Mono, Aomi, Koto Ward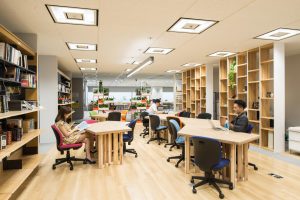 Mono is more than just a coworking space, as it offers many office, meeting, and event options. They have an impressive English website, and English-speaking staff always on site. Daily drop-ins are welcome for the standard daily rate of 2000 yen, but if your needs are more specific, chose from the many options in modern, shared and private offices—or rent an event space for a few hours.
If you'll be in Japan for a month or two, consider a package that offers 24-hour access. This membership offers all the standard amenities of most coworking spaces, but also a library (mostly Japanese content), showers, free coffee, tea, and water. You'll also enjoy an ultra-modern and professional place to get your work done.
Connecting The Dots, Jinnan & Yoyogi, Shibuya Ward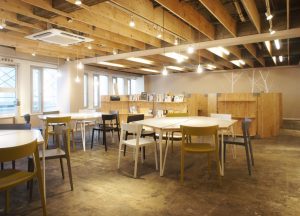 Connecting the Dots has two locations in the popular Shibuya area of the city. Both are large, multi-floor spaces that offer a variety of casual coworking areas to meet your needs. Drop-in, part-time, or monthly access plans are available, with drop-in rates as low as 1350 yen/day. Host meetings, workshops, and events, come with your team, or spend the day there solo.
Amenities include a printer, fax machine, scanner, kitchen, Wi-Fi, and extra monitors if needed. With simple but modern decor Connecting the Dots is a no-frills place to get work done in a community of like-minded professionals.
Studio Geeks, Hongo, Bunkyo Ward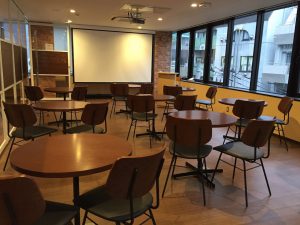 Studio Geeks seats about 60 in all and offers hourly, daily, and monthly rates. Currently there are no printers or scanners, but unlike many other spaces, they allow you to rent a PC or extra monitor for your PC. This casual space is ideal when working on projects that are just plain easier when you have access to a second screen.
The Studio Geeks staff and coworking community is very welcoming of travelers. Anyone in need of a PC can quickly pop in and out, or stay for the day. Close to the University of Tokyo, there is always something to do nearby.
The Snack, Ginza, Chuo Ward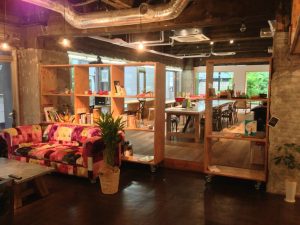 Per its name, The Snack is more than just a coworking space, as they also have an impressive on-site café. While not as spacious as some other spaces, it's well laid-out and has a variety of thoughtful workspaces — from outward-facing desks that allow you to gaze out at the city, to shared tables, couches, chairs, and loungers.
This hip space is full of young creatives by day and fun events by night. Their daily rate is also a bit lower than most, at just 1500 yen per day. Their small group meeting rooms are always available for rent.
There isn't much more than Wi-Fi in terms of professional amenities, so the space is really best for those who just need a quiet and comfortable place to get work done. If you have any questions, you'll always find a friendly English-speaking staff member or coworker. Located just five minutes from the Ginza station, there's plenty to do before and after working.
Portal Point, Yurakucho, Chiyoda Ward & Aoyama, Minato Ward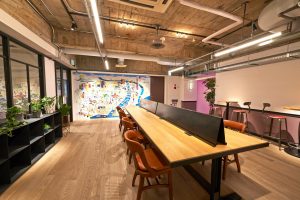 When you check in with the front desk concierge at Portal Point in both Yurakucho or Aoyama, it may feel more like a hotel than a coworking space. Both are expansive and versatile spaces,  with three floors of shared working space, private offices, private and shared booths, meeting spaces, convention rooms, gallery rental spaces, relaxation lounges, and luxury amenities. General office supplies are available, as well as Wi-Fi, scanning, photocopying, and printing.
Built with both local residents and travelers in mind, Portal Point offers luggage check-in upon arrival. Shared working spaces have flexible seating and an open layout, ensuring you can easily find a comfortable spot to work. The space is open 24-hour a day for members, but they currently do not offer drop-in rates. However, this spot is full of international travelers, both visiting Japan for an extended period of time or in need of a beautiful one-day event or meeting space.
Won't Be In Tokyo For A Full Month?
Whether you are in Japan for business, on a working holiday, or recently moved to Tokyo, finding a comfortable place to get your work done is imperative. Unfortunately, not all coworking communities offer hourly, daily, or part-time membership. While you still have plenty of drop-in options to choose from, you may want to consider a full month rental if you'll be in Tokyo for more than a week so you can get 24-hour access and extended amenities.
The benefits of coworking are many, as they offer comfortable and professional workspace that's designed to boost both creativity and productivity. Fortunately, Tokyo is ahead of the curve when it comes to supporting the needs of startups, entrepreneurs, and the growing mobile workforce — and especially in understanding the need for nontraditional work hours and meeting spaces.
So whether you're ready to network in Japanese or sticking to English while in Japan, Tokyo has plenty of spaces you'll want to check out. The cost will often be worth it if you care about having a focused place to work — and maybe even an impressive view of the city.