Tampa, located on the West Coast of Florida is consistently rated one of the best job markets and entrepreneurial hubs in the southern State. The world-class beaches of Clearwater and St. Petersburg coupled with the endless dining, mega malls, and modern entertainment make this a great destination for a holiday or living. Many entrepreneurs from the north have relocated to Florida to take advantage of the warm year round climate and no state level income tax benefit.
I had a chance to catch up with Chris Arnoldi the owner and manager of CoworkTampa, one of the city's leading spaces. Tampa has a history of cigar making with amazing 19th century brick buildings scattered throughout the area. CoworkTampa is located centrally in NorthWest Tampa and occupies one of these unique and classical curbside premises. Having been open for nearly 5 years, CoworkTampa has attracted and hosted a plethora of leading edge companies including Postmates, SolarCity, Lyft, Hilton, Nike, and even CBS. Wow!! Sound like a space you may like to work at and be associated with?
I took a tour of the space with Chris and got a sneak peak at the newest addition they are building out (top image above). An additional 5,000 sq/ft of remnant cigar factory space newly outfitted with 12 private offices, dedicated and flexible desk space, and a half dozen private call booths. When it's complete, CoworkTampa will have over 15,000 sq/ft of space and the ability to accommodate nearly 150 people between desk space and offices. At the time of this writing it should be finished in two weeks (Feb 7th, 2017) and will go a long way to continue to grow the greater Tampa coworking and startup ecosystem. *Dedicated desks starting at $247/mo
I had an interesting time browsing the remainder of the city and exploring the entrepreneurial scene. I even ran into a tech start-up that was working the day from an entertainment facility called Top Golf. What's better than putting your pop-up office place right on a driving range facility with blazing fast wifi?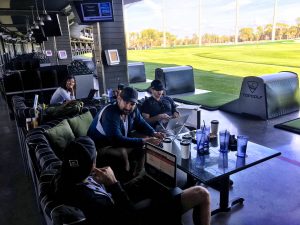 Starbucks was drawing its usual crowds with a few people (like myself) that stayed a couple hours past their standard coffee allowance.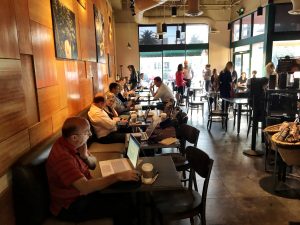 Like many cities in Florida, the centers are spaced out and require a car to get to and from. Fortunately Uber is cheap and in abundance, making it a breeze to get to and from any spot affordably and efficiently. From all the cities I've seen in the last year, Tampa feels like it is primed for growth in coworking. It has all the ingredients to be consistent with cities like San Diego where coworking has grown in volume of spaces and coworkers 4x in the last few years.
A few other coworking spaces to checkout while you are in Tampa, are: