On September 18th, 2017 Second City Chicago, the world famous improv comedy club, officially opened its doors to coworking.

Although Second City has been dedicated to comedy since it opened in 1959, together with the help of Mike LaRosa, Founder of Coworkaholic, the idea of integrating coworking in an underutilized, yet beautifully creative space came to fruition.

Everyone involved with this innovative project couldn't be more thrilled, as Second City Training Center President, Kerry Sheehan, shares, "The Second City Training Center is excited to be opening up its creator community to even more Chicagoans, by offering people the opportunity to cowork in our uniquely creative environment. Our newly built facility inside Piper's Alley, next door to Second City's original theater at 1616 North Wells, is already home to 4 student theaters, 25 classrooms, catered event space, and the Harold Ramis Film School. We're excited by the energy Mike is bringing to this idea and we're doubling down on our belief that ensemble-building is as important a practice in work and life, as it is in comedy".
It has been an incredibly busy year for Mike as he recently joined The Shift (Chicago) as a partner, leading expansion plans as well as focusing on larger real estate development and management projects such as Bridge 410 in Chicago, NEST Dubai at the new TRYP by Wyndham Dubai and now Second City!

Get the full story behind Coworking @ Second City from Mike LaRosa, mastermind behind this brilliant initiative, here:

What inspired the idea for Second City to open a coworking space?
I have a lot of crazy ideas…I know. Many of them don't work out; because of timing on someone's part, resources, interest, etc. Thanks to a fateful connection made six months prior, leading to an introduction and a meeting, it was simply the stars aligning. The team at Second City had an intuition there was potential for something like this, but just didn't know where to start.
The minute I stepped foot into the Second City Training Center, I looked at their COO, D'Arcy Stuart and said "You don't realize this, but you've literally built a coworking space." There are quiet booth areas for focus, a large beautiful open bleacher area for presentations and events, open desks and rooms that work just as well for business meetings as they do for classes. Walking around the space, there were a few students on their laptops, a contractor for them having a meeting and one class in breakout groups working on a script.
It didn't hurt that during that very first meeting/tour we met at the Starbucks directly below the space where by 10am there were 35+ people sitting on their laptops working. It was surreal – between that and the folks already working upstairs it was like my idea was already happening; all we had to do was show them the potential of growing it.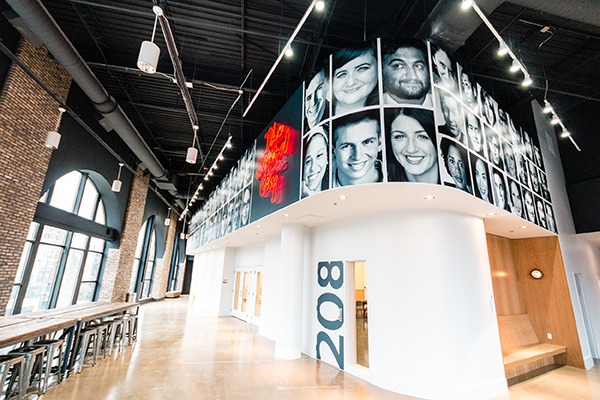 What has your involvement been?
We've been hired to manage their coworking initiative. I use the word initiative and not space because we aren't a space. There's so much sensitivity around the use of the word coworking and those out there that insist on defining what coworking is (in their opinion). We're here to manage and develop this program and am just thankful to the team at Second City Training Center for being so open minded to give us a shot!
What was required in order to set up a coworking space within Second City?
We did an analysis of the space, put together rough projections on minimal costs (there's literally nothing we had to do other than buy some extension cords) and potential revenue. In meeting with their executive team we learned their goals for this project, organizational structure of the business and which protocols in which we would have to incorporate and interact with.
This is such an innovative project because we have no costs. The space is already built, they're paying the rent, the wifi is on (and really fast, BTW), the front desk is staffed, they even have printing set up. That said, there's no pressure on making insane profit. While yes, the finance folks are happy to hear that we've created a new (albeit small, to start off with…) revenue stream, that's not the primary goal. The goal here is to connect the Chicago freelancer, contractor and remote worker community with the incredibly creative Second City community.
In starting off we're really treating this like pop-up coworking. We knew that solving the whole member management, billing, check-in issue was going to be unique. It didn't take too much time though to realize that in reality that was the easiest part because we could just simply use Deskpass. Literally it went from "OMG – how are we gonna make this work"…to "BAM! That's perfect" in 10 minutes.
Were there any challenges?
Not really. Of course, things always take longer than you want them to…that's human nature. Looking back on it, everything happened in the time and order it was meant to. The Second City team has been so amazing to help me navigate who we'd be working with on certain things like larger event space booking, managing conference room reservations, finance, marketing & PR, etc.

What are some of the unique features of this space?
Aside from a 10,000 square foot training center with an abundance of workstations and unique nooks, we also have this amazing restaurant and bar called 1959 so when folks are ready to call it a day they can just head down a few stairs and get some great food and drinks.

Are there any special member perks or benefits for working from Second City?
We're taking things really slow…step by step. First off, we're simply opening the space up to those who are on Deskpass. In doing so, there's already an amazing benefit by not only being in such a great space, but also being in such a great environment and being a part of an incredible community.
Think about all the magic that happens through connections, collisions and "accelerated serendipity" in a normal coworking space. Now, let's add a constant rotating list of major comedians, actors, artists and creatives that are already in and around the physical location, let alone the community. Not to mention all the talented students have more funny in their pinky toe than some of us have in our whole body. Lastly, it offers people a chance to experience some of the amazing classes like Improv 101 (if you want to get into comedy) in addition to professional development and team building workshops at Second City Works.
We want to see how people use the space, what they're looking to do there, etc. As this initiative goes on, the sky's the limit.
Do students and staff at Second City get complimentary access?
It's technically their space; their world…we're just working in it! 🙂
Since we're located in the Second City Training Center – it's pretty much like a mini campus. The students have always and will always have full access to the space.
With over 150 employees, the Second City staff have beautiful administrative offices which include cubicles, open meeting space, phone rooms and conference rooms. I'm sure they bounce around the entire building.
Is there a plan in place for cultivating a strong coworking community?
That's what we're there for! The Coworkaholic team will have a presence during most days (starting three days a week) where we'll be there to greet Deskpass users, chat, connect and foster a sense of community. We'll be curating a light schedule of programming and events that help the worlds of comedy and freelancing/entrepreneurship connect; some from Second City Works or Second City Training Center and others like typical lunch n learns that you'd normally see at other coworking spaces.

Do you foresee this model of occupying underutilized spaces shaping the future of coworking?
100% – it's already happening – and there's additional projects we're in the planning phases of. We just can't talk about it.
To keep up to date on some of the coolest initiatives in the coworking community make sure to follow Coworkaholic on Instagram and Twitter.