Portland AKA, the "City of Roses" has one of the fastest growing startup and coworking scenes in all of America! And don't think we're just paying lip service to Portland to promote the city's coworking spaces.
Let's look at some concrete evidence. Besides the amazing coworking spaces in Portland, here are three other things that make Oregon's largest city an attractive place to do business:
#1 Talent — Portland is one of the most popular cities in the US amongst the young, college-educated crowd. If you're looking to tap into a deep talented labor pool without having to pay Silicon Valley wages, Portland is a great place to consider basing your business.
#2 Community — Portland's startup and tech community is extremely active. So much so, that they're even created Calagator — an aggregated calendar for tech and networking events going on in Portland each week.
#3 Success Stories — While innovation has its place in the startup world, learning from the success stories of others also has tremendous value. Fortunately, Portland has no shortage of HUGE exits in recent years. For example…
— Pacific Foods to Campbell ($700 million)
— Elemental Technologies to Amazon ($296 million)
— Hydro Flask to Helen of Troy ($210 million)
From a business perspective, there are clearly lots of reasons you'd benefit from spending time in Portland. Even cooler, however, is that this city offers all of these professionals perks while still offering an enjoyable lifestyle.
Did you know that Portland is one of the world's most environmentally conscious cities? If you're an environmentalist or someone that's very health conscious, you'll love the pedestrian and bicycle-friendly nature of Portland.
Of course, you may need those walking and bicycle trails to burn extra calories after you sample the city's delicious local cuisine. Portland has been named by many publications as THE best street food destination in the entire world.
In short, if you're looking for a fairly large city with plenty of business opportunities and beautiful scenery, you'll LOVE Portland. Are you ready to get to work? Check out our 4 best coworking spaces in Portland below!
To some, Collective Agency may sound like the name of a group of cut-throat tax collectors. As the saying goes, however, "Don't judge a book by its cover."
In reality, Collective Agency is probably the coworking space with the most welcoming community in all of Portland! Open Monday through Friday 9am to 5pm, this coworking space is perfect if you're sooooo over working from home.
Not only does this coworking space tap you into a community of other friendly and ambitious professionals, it'll also change your perspective on work itself.
While you may have previously thought that being an independent professional or business owner required you to be somewhat socially isolated, you'll quickly find that just by being a member of Collective Agency you'll find yourself being invited to more interesting social events than ever before.
You're also likely to see your productivity shoot waaaay up! After all, how could it not? With coffee/tea, computer monitors, multiple ergonomic seating options, and one of Portland's fastest internet connections, being productive is easy at Collective Agency.
Don't take our word for it though, schedule your free tour at Collective Agency today.
Located in Portland's upscale Pearl District, Centrl Office has a perfect location if you'd like to be surrounded by other creatives and the finer things in life.
Housed in the historic GE Supply Company building, Centrl Office has a contemporary interior design that will appeal to your senses. From plush furniture to polished floors and perfect lighting, once you work at Centrl Office… you'll have a hard time imagining working anywhere else.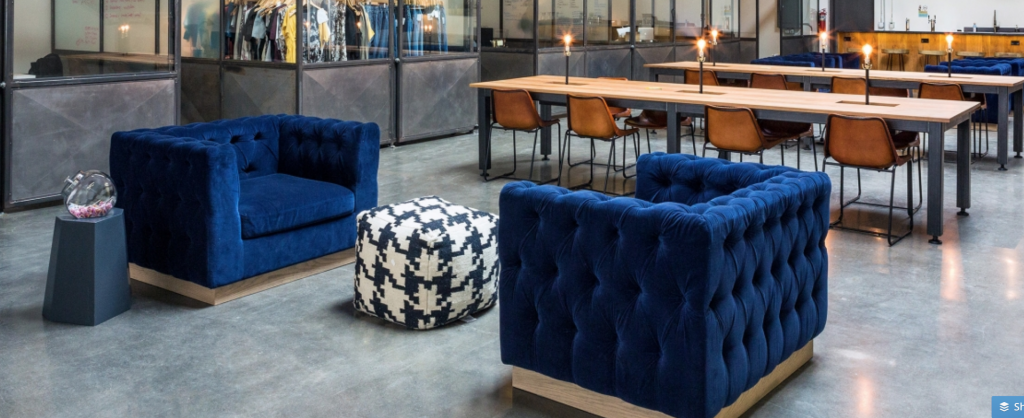 Beyond the visual appeal factor, Centrl Office is also equipped with everything you could possibly need for a productive day of work including…
— Blazing fast fiber optic internet
— Meeting rooms
— Fully equipped kitchen
— Friendly staff
Not to mention, wait for it… free beer. Need we say more?
Nedspace is the startup circus of Portland's coworking scene. No matter your background, Nedspace will both accept and embrace you. Nedspace prides itself on being Portland's most inclusive workspace — something we at coworker.com are behind 100%!
Apart from its welcoming community, there are also a few other reasons you're likely to enjoy being a member of this space. One thing you'll surely love about being a member of Nedspace is the amazing view.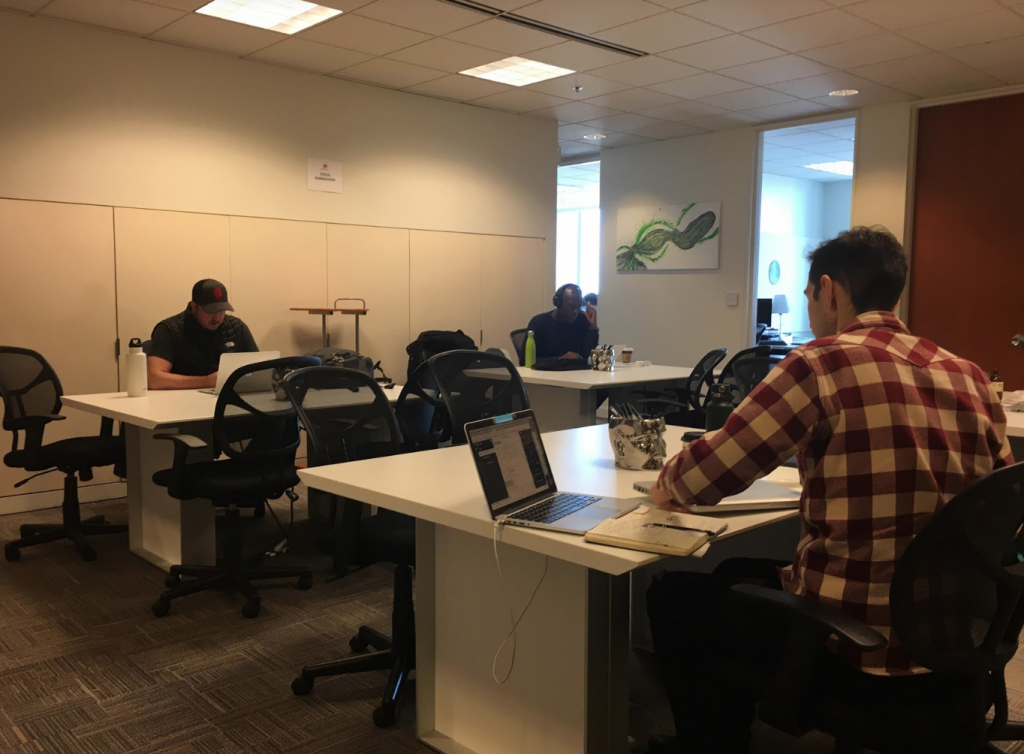 Large windows allow you to enjoy an 11th-floor view that overlooks all of Portland. If you're someone that loves to work with a great view, Nedspace can't be beat.
Oh, and check this out audiophiles and content creators… Nedspace is home to BigFoot Podcast Studio — Portland's first coworking space based podcasting studio!
Grow your company and be a member of the next generation of Nedspace companies that have already raised over $55 million to date!
WeWork Pioneer Place occupies the top floor of the Pioneer Place upscale urban shopping center. As you may expect, this makes working at this WeWork location incredibly convenient. Anything and everything you could ever need is all under one roof.
Working at WeWork Pioneer Place won't just save you time, however. Becoming a member of this coworking space will also help you expand your network.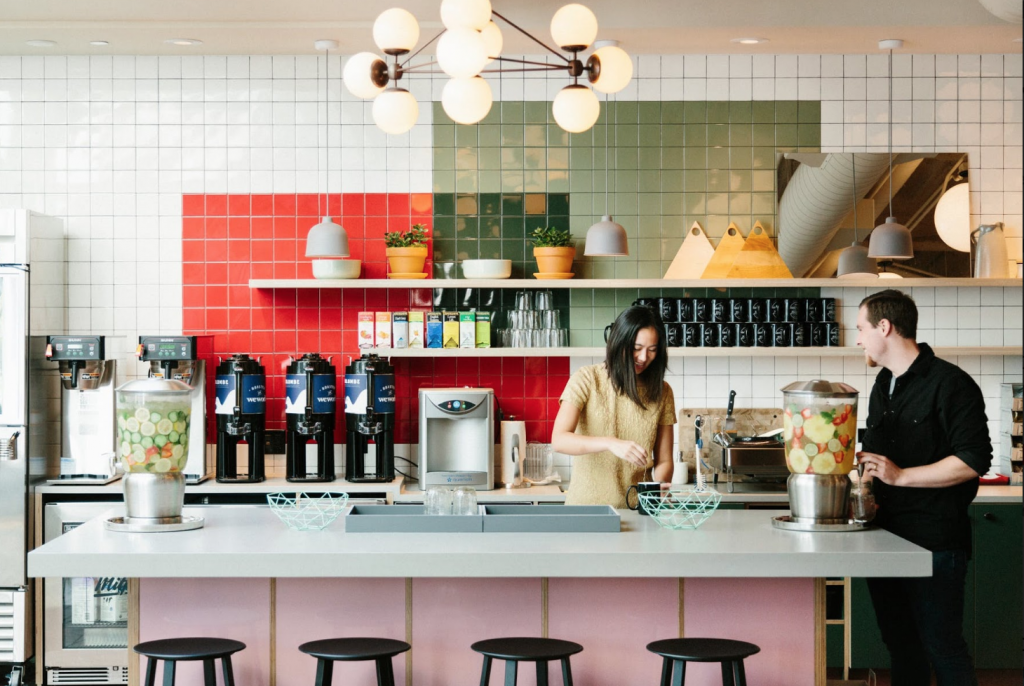 Each week this coworking space holds cool weekly events that encourage you to interact with other members of the space. From community lunches, to happy hours, garden strolls, and more, expanding your network as a member of this Portland coworking space is effortless.
The actual facilities at WeWork Pioneer Place aren't half bad either. Lightning fast internet speeds, flexible membership options, helpful staff, free coffee, printing/scanning/photocopying services and more!
If you'd like to know more… schedule a visit at WeWork Pioneer Place today!
Conclusion
While the list above was our opinion of some of the best Portland coworking spaces, the city's coworking scene extends far beyond just these 4 spaces. Click here for a full list of coworking spaces in Portland!