Photo credit: Catherine Dokken
As the saying goes, your network is your net-worth. But how do you expand and deepen your network without coming across as superficial?
In building a profitable and sustainable business, an inevitable part of your job as an entrepreneur is to mix with people that can help you move forward.
This may include people you admire that you'd love to collaborate with, well-connected industry veterans that could introduce you to someone, experts you want to learn from, or business heroes you aspire to emulate.
Networking events, conferences, business festivals, coworking space events, trade meetings, and social meet-ups often attract people with similar ambitions and outlooks on life.
My company, Fjellflyt, recently conducted a survey with participants from nine countries. We found that 40 percent of small business owners said their main goal in attending conferences is to grow profitability in their business through networking with like-minded people.
We network to raise our game, but traditional networking comes with some problems.
The problem with traditional networking 
We've all been there. You're standing in a noisy conference hall, clinging to a coffee cup and waiting for the right opportunity to approach someone important. But trying to squeeze yourself into a close-knit group of people in the middle of a conversation means you're also inches away from coming across as intrusive.
Since you don't want the moment to pass and are worried about wasting peoples' precious time, you cut straight to the chase and quickly say what you can offer and what you want in return.
Later, you feel empty. Your new acquaintances were left with nothing more than an ask. They accept your LinkedIn request, but never return your follow-up email. What a lost opportunity!
Your mind is puzzled by one big question: How do you get to know someone at a level that makes them understand what you and your business is all about?
Why I threw away 300 business cards
Having started two small businesses, I've been in numerous networking situations exchanging business cards and hoping that this time I would get a connection that could lead to a mutually-beneficial relationship. Sometimes it did, but most times the only tangible result was growing the pile of business cards.
After I had accumulated 300 cards, I threw the entire collection away and completely changed my approach to networking, going wholeheartedly into building meaningful relationships – the Norwegian way.
Here are my top seven tips to help you supercharge your small business by networking the Norwegian way: 
Share experiences, not business cards
The way the human brain is wired, we remember people and experiences that stand out more than places and routines. Thus, the first point in the Norwegian way of networking is to engage in social activities where you go on adventures together, discover new things, and spark conversations.
Enjoying the outdoors together by taking a craft beer tasting cruise, diving into a polar plunge, learning outdoor skills, or preparing a meal arond a campfire are experiences out of the ordinary. These activities will make you laugh together and establish real bonds without the awkwardness of small-talk in a crowded conference hall.
Don't let people's titles woo you
Norwegians are not often impressed by titles and don't easily conform to social-hierarchical systems. In most cases, you have to earn trust regardless of your position.
How much money you make is not the main measurement for success. Rather, Norwegians find it much more interesting to get to know your personality and understand what motivates you.
Care about and talk to anybody, regardless of their position, for a true Norwegian networking experience. At events in Norway, the speakers and attendees have the same status; meet-and-greets are not for sale. This makes it possible to communicate across constructed social borders.
So, don't let someone be too important to speak to or not important enough to care about, as this can prevent you from having some of the most interesting conversations!
Cut the crap 
Norwegians are not known for their outstanding small talk. We often skip the courtesy phrases. It's a common perception that the further north you travel in Europe, the less polite people are, but we just think of politeness in a different way.
For many Norwegians, small talk is regarded as superficial. Go straight to finding common ground, mutual interests, and discussing business ideas you are passionate about.
Involve the introverts
The perfect collaborator or supplier might not be the outgoing person talking to everyone in the bar. Ask that quiet person in the corner what he or she is up too, as well. Free yourself from the often imprecise categorization so easily made by the first impression, and uncover what opportunities that lies in really getting to know new people.
Avoid superficial screenings and you might be surprised. Networking with people outside of the traditional conference halls, pubs, and meeting rooms is a great way to uncover hidden talents and potential collaborators.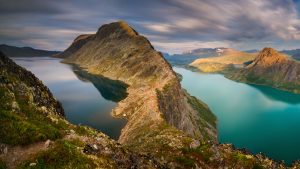 Connect in person
There's a lot to be said for the digital networking platforms like LinkedIn, Twitter, and Facebook, but there is nothing that beats in-person meet-ups. If you admired the views from a mountain with someone after helping them hike a ridge or push their limits, you won't forget about them—even when they change their profile picture.
Keep it small
Most Norwegians live in rural areas and know everyone in the village or part of the city. We therefore know what resources we can draw on to complete projects that are too big to tackle alone.
Having that overview and not feeling overwhelmed is important, so we limit our workshop groups to a maximum of 25 people. It's big enough to get input and ideas from different perspectives, but it's small enough to actually remember most of the people.
Eat together
In Norway, we associate sharing a good meal with "hygge" – a definition of gathering with your closest people and friends. Community is formed when we gather around the table. Nothing is more fulfilling as meaningful conversations during a meal with fresh, local produce.
Many good ideas tend to emerge when you indulge in a meal and the blood sugar is on the rise. You can let your guard down and simply enjoy the company of others!
___________
So, this is networking the Norwegian way. Try it and you will reap the business benefits while treasuring the memories for years to come.
Link to website: www.slowbusinessadventure.com