This article was originally published on Alexandra Nicorici Medium.com
Long story short, as I told you in my last vlog here, I was out of Romania for almost 3 months ( aka the whole summer). I spent two weeks in Mallorca, a month and a half in Portugal and 3 weeks in Barcelona. I know I wasn't super socially active this summer ( and probably my friends really hate me for this by now), but to my defense, I had a lot of really bad internet, lots of sun, beaches, and friends.
Besides being one of the best and most beautiful and amazing summers I have ever had ( thanks Coworker and friends), this was also one of the most intense summers I've ever had. Transformational I could say. One of the reasons is because I started going to therapy a couple of months ago and I can feel how I'm growing more and more as a person with every session and how I'm letting go to a lot of emotional baggage but also because I've learned a lot about myself when it comes to how much value I can bring in a team, as well as how I should carry myself.
Two and a half months later, below you can find some conclusions about this summer and trips and all.
1. I love Mallorca and it's definitely one my "to return to" list. I liked the people, the food (OMG), beach, water, and Palma
2. Barcelona is the place to be. I feels and looks like one of those cities from my vision board.
3. I realized that I barely posted any pictures from my 2 months and a half away from Romania ( below you can find some of my favs)
4. I realized that I love politics but it's killing me inside to see all that corruption still happening in Romania and realized that it may be the right time for me to move out. Actually, this changes every minute so I'm very confused about what I should do, but one thing is sure: I either get into politics or I leave. It takes courage to do any of the two. One of my fav Romanian nomads said in one of his articles that even his friends say he needed the courage to leave, he said that actually, the ones who stayed have more courage than the ones who left. I might agree, as I know for sure we are living historical moments.
5. I've realized that self-doubt can eat you inside a lot. And I've never experienced it so first hand as this summer. It's pretty insane if you think of it and if you think of why people let doubt have a flourishing life in their heads.
6. I've realized that I love making videos and I think I should film more and I need a proper schedule. To expect more in the next weeks
7. I realized Romania is poor. But not only in how much money people make, but in conceptions and how fast or slow things move. Things are a lot behind, development and mentality wise. Sometimes I think the country has so much potential but sometimes I want to get out of here thinking that mentalities change way too hard and this is something I don't want to fight with.
8. Therapy is one of the best things ever invented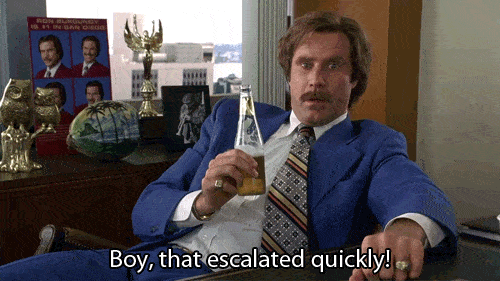 9. If generally I don't obsess over shitty things that happen in love, sometimes, when people hurt you, it triggers a lot of things inside you and it basically fucks up everything in you: your self confidence, your smile, your way to look at your self worth and it makes it really hard to open up your heart again, cause for a long time, instead of continually looking for love, you need to look after yourself, and fix yourself and make sure you get out of this stronger, better, more beautiful
10. When you meet the most perfect guy, don't let him go. That's probably because I might have found him in Barcelona and he slipped through my fingers
11. Going out with a Colombian girl 3 weeks in a row can get you in the most hilarious situations and in a lot of trouble as well. But watch, out, cause there's always a trick!
12. Barcelona has a lot of rooftops and you should definitely keep it on your to do list: yeah hunting rooftops I mean
13. Asian food from La Rambla seemed like the best food I have ever eaten in my life. Probably because I have spent 2 days in the police station and that got me "hangry"
14. That brings me to the next point: girls fights are never good, I don't think I've seen one since I was in high school. Crazy girls do crazy things and that sends you for days at the police station. No worries, it wasn't me
15. My friends in Barcelona are still my friends and it was super lovely to catch up with them. I also realized that except for my Colombian "amiga & companera de trabajo" I don't have any girlfriends there.
16. Falling in love in and with Barcelona is harsh. That's all I'm gonna say
17. I don't remember if I have ever seen stars on a flight, mostly because most of the flights I took are either very early In the morning, or in the afternoon. I saw stars on my way back to Bucharest and it was probably one of the coolest things ever.
18. I've also learned this summer to love myself but in a way that I have never experienced before ( that's why I was saying that Therapy is the best thing that was ever invented). I got to a point where I learned how to let go of my fears of being the best version of myself and feel this to the bones. Not sure how to explain this to anyone to actually make them understand, but I'm just let it like this: I've made huge progress in how I look at myself and at the word and I am very proud of myself.
19. I've also learned this summer that Carpe Diem is not just a club in Barcelona and it's not even making the best of every situation, but actually live: meet filthy rich tinder guys who talk to you about surfing, try to convince a garbage truck driver to take you home cause you're too tired to walk on high heels, go out with a crazy Colombian. LIVE LIFE.
20. I've also realized this summer that besides living, you need to let go of friends and situations that make you "ok happy" but not like "crazy happy". This is one of the reasons why you might want to move out or move away. I've read an article at some point that was saying that if you continue spending time with people who don't really share your strongest passions and interests, you should move away from them, because long term you will allow them, unwillingly to transform yourself into a dull person. Instead, try to find amazing people who share the same interests as you and push you forward to be where and who you want to be.
21. This summer I also realized that beautiful moments stay with you 4evaaaa and also that I should give myself a bit more credit when it comes to whatever I have done or achieved in life. I might actually say that I put myself into enough situations to finally work for a company that I absolutely love and live my digital nomad dream.
22. This summer I worked with the most amazing, supportive and crazy people ever. This summer I realised I have my dream job, my dream team. I realised what I am good at, what triggers me, what makes me happy and that there is so much untapped potential of any kind that I am more than excited to see what the future is going to bring……and Coworker is to be blamed for everything good happening.
YOU ONLY LIVE ONCE.
This summer I realized that as I only live once so I better get myself to work and live as much as possible, trust my gut, trust that any decision that I'm taking is a good decision and follow my heart.