Designed for those with a discerning lifestyle and an inclination towards health and wellbeing, THE MOSAIC is India's first premium experiential co-working space, which recently launched its first center in Mumbai. THE MOSAIC redefines the concept of coworking by offering a holistic lifestyle that incorporates aspects of wellness in all its offerings, be it the ambience or the value-added services.
Offering holistic coworking office spaces that optimize work productivity in India, THE MOSAIC will soon expand its national footprints to the NCR region, Bengaluru, Hyderabad and another space in Mumbai taking the total to five centers in the near future.
Speaking about the coworking industry, Mr. Gokul Das, MD & CEO of THE MOSAIC, said, "The concept of coworking spaces has globally evolved from being cost-effective to service-driven. In turn, this is moving spaces towards being sector or service-specific, such as tech, research and so on. Furthermore, besides startups, corporates are looking at flexible office spaces catering to their C-Suite and other senior staff members for business expansions. Hence, the need for premium shared spaces is finding its niche."
Das believes THE MOSAIC will be able to fulfill this need.
"We strongly believe that an environment catering to one's wellness can positively impact work productivity and bring out the best version of oneself. So we developed a premium coworking space that is not only visually appealing but also imbibes wellness at its core, helping our members reduce stress while at work. We are looking to soon expand our national footprint and thereafter aspire to expand globally as well. "
The first center of THE MOSAIC located in the Andheri (east) suburb of Mumbai is a sprawling 8,000 sq. ft. working space with various seating options ranging from flexible to fixed desks and spacious office cubicles.
Integrating the concept of 'Body-Mind-Soul,' the Mumbai center is aesthetically designed from a holistic perspective to provide a Zen-like environment with oxygen-rich plants and large windows to allow plenty of sunlight. The state-of-the-art facility provides a relaxing environment with open spaces and ergonomically-designed seating, a well-equipped conference room, a relaxing lounge area and a library fostering collaboration and knowledge exchange.
THE MOSAIC is the only coworking space in India that has an 1,000 sq. ft. fitness studio offering a variety of wellness classes like the Sadhguru's Isha Yoga and meditation classes (Isha Foundation), Grandmaster Carlton Hill's Tai Chi, Zumba and an in-house professional masseuse for de-stressing massages. The studio also has shower rooms to freshen up and organic drinks are served throughout the day for complete wellbeing.
Besides offering value-added services to its members, THE MOSAIC also offers knowledge sessions on topics such as bitcoins and crypto-currency, mind-mapping, entrepreneurship, best practices in branding for SME/MSME/startups, guidance for women entrepreneurs and many other topics.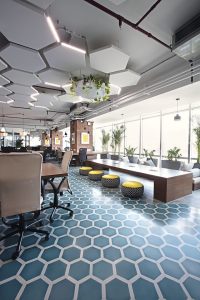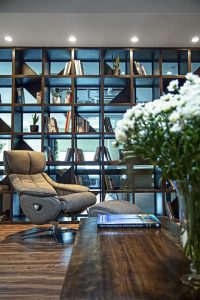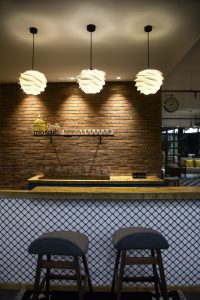 For more information, visit www.themosaic.in