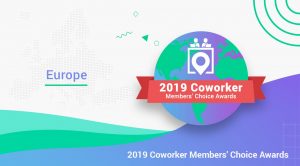 The Coworker Members' Choice Awards are the only global coworking industry awards based on feedback from thousands of coworking space members around the world. This year, we are thrilled to recognize 529 coworking spaces from our network of over 11,500 spaces as being the best spaces in their cities.
The Coworker Members' Choice Award is given to only one coworking space in each city — granting big-time bragging rights to that space and numerous other benefits, like increased brand recognition.
Upon counting and analyzing the results of thousands of votes, we are excited to announce the official winners of the 2019 CMCAs. After all, why should TripAdvisor and Yelp have all the fun!?

Introducing the winners of the 2019 Coworker Members' Choice Awards for cities in Europe:
Austria, Vienna: The SocialWorkHUB
Belgium, Antwerp: House of Ape
Belgium, Brussels: WAO Coworking
Bulgaria, Bansko: Coworking Bansko
Bulgaria, Plovdiv: Biz Labs Coworking
Bulgaria, Sofia: SOHO
Bulgaria, Varna: Switch
Croatia, Rovinj: Cowork Rovinj-Rovigno
Croatia, Split: WIP
Croatia, Zagreb: Impact Hub Zagreb
Czech Republic, Pilsen: Depo2015
Czech Republic, Prague: Locus Workspace
Denmark, Aalborg: Syndikatet
Denmark, Copenhagen: Labour Space
Estonia, Tallinn: SpringHub
Estonia, Tartu: Mobispace
Finland, Helsinki: E28 Community
France, Grenoble: Colinn
France, Moulins: CoWorking Moulins by Connecting Bourbon
France, Paris: Makom Café Coworking
France, Strasbourg: Welcome Coworking
Georgia, Tbilisi: UG Startup Factory
Germany, Berlin: Weserland
Germany, Bonn: The 9th
Germany, Cologne: CoWork-Lab
Germany, Düsseldorf: Tribes Düsseldorf GAP
Germany, Essen: Impact Hub Ruhr
Germany, Frankfurt: Tribes Frankfurt GAP
Germany, Hamburg: BEEHIVE Hamburg
Germany, Munich: BASE Co-Working
Germany, Stuttgart: wizemann.space
Gibraltar: Work Lab Gibraltar
Greece, Athens: Stone Soup
Greece, Thessaloniki: Coho
Guernsey, Saint Peter Port: Digital Greenhouse
Hungary, Budapest: KAPTÁR Coworking
Ireland, Cork: Republic of Work
Ireland, Dublin: Pine Hub
Ireland, Waterford: BOXWORKS.CO.WORK.SPACE
Italy, Bologna: Hive34
Italy, Cagliari: The Net Value
Italy, Carrara: Multiverso
Italy, Civitanova Marche: Navitas Coworking
Italy, Florence: Sit'N'Breakfast
Italy, Malgrate: Lotto Cinque Coworking
Italy, Milan: The Freelancer's Island
Italy, Pavia: Labora Coworking
Italy, Rome: Millepiani Coworking
Italy, Sesto San Giovanni: Co+Fabb
Italy, Verona: WELL COWORKING
Latvia, Riga: Teikums
Lithuania, Kaunas: Design Friends
Lithuania, Klaipeda: Light House Klaipeda
Lithuania, Vilnius: Work'inn
Luxembourg, Luxembourg City: The Office Luxembourg
Malta, St. Julian's: SOHO MALTA
Malta, Valletta: Grand Central
Montenegro, Bar: Beta Bar
Netherlands, Alkmaar: Het Nieuwe Warenhuis
Netherlands, Amsterdam: StartDock
Netherlands, Eindhoven: Microlab
Netherlands, Enschede: Cee Spot
Netherlands, Groningen: Launch Cafe
Netherlands, Haarlem: Haarlem Tech Startup Hub
Netherlands, Rotterdam: Progress Bar
Netherlands, The Hague: Tribes The Hague Central Station
Netherlands, Utrecht: Tribes Utrecht Central Station
Netherlands, Willemstad: CoWorld Curacao
Norway, Bergen: Impact Hub Bergen
Norway, Oslo: 657 Oslo
Norway, Stavanger: Innovation Dock
Poland, Gdańsk: Świetlica Collective Space
Poland, Gdynia: Concept Space
Poland, Krakow: Office & Cowork Centre –  Krakow, Dolnych Mlynow 3/1
Portugal, Aveiro: Ocupa Cowork Aveiro
Portugal, Braga: Factory Braga
Portugal, Caldas da Rainha: Prontos
Portugal, Cascais: Cowork Cascais
Portugal, Funchal: Cowork Funchal
Portugal, Leiria: Base Cowork
Portugal, Lisbon: Avila Spaces
Portugal, Matosinhos: Porto i/o Seaside
Portugal, Porto: Typographia
Portugal, Sao Miguel: unOffice PDL Business & Cowork Center
Portugal, Viana do Castelo: Link Cowork & Business
Romania, Bucharest: Omega House
Romania, Cluj-Napoca: Cluj Cowork
Romania, Constanta: Tomis HUB Constanta
Romania, Timișoara: DevPlant Cowork
Russia, Moscow: Cabinet Lounge
Russia, Sochi: Space PI
Serbia, Belgrade: Papergirl Galerija Hub
Slovakia, Bratislava: HubHub
Slovakia, Košice: HUBA Coworking 
Slovakia, Presov: My Residence Showroom & Coworking Presov
Slovenia, Kranj: Kovačnica
Slovenia, Ljubljana: ABC Hub
Slovenia, Šoštanj: Pristop Šoštanj
Spain, Alicante: ULab Ideas Meeting Point
Spain, Almería: Workspace Coworking Almería
Spain, Almuñécar: Contagyou
Spain, Barcelona: The Beach Factory
Spain, Bilbao: Alzola Coworking
Spain, Girona: Giworking
Spain, Granada: erranT
Spain, Ibiza: Origen Ibiza
Spain, Las Palmas: Restation
Spain, Madrid: Bee Lab Coworking
Spain, Majadahonda: CowUp Majadahonda Coworking
Spain, Malaga: The Living Room
Spain, Palma de Mallorca: Nidus 39
Spain, Sevilla: Arcadia Coworking
Spain, Valencia: Core Smart Working
Spain, Vigo: Coworking Vigo
Sweden, Gothenburg: Covendum Göteburg
Sweden, Helsingborg: Mindpark
Sweden, Linkping: DoSpace
Sweden, Malmö: Box Space Co-working Malmö
Sweden, Skellefteå: The Great Northern
Sweden, Stockholm: Impact Hub Stockholm
Switzerland, Geneva: Impact Hub Geneva
Switzerland, Luzern: Hirschengraben Coworking + Innovation
Turkey, Adana: Workinstation
Turkey, Ankara: eOfis Ankara Nextlevel
Turkey, Istanbul: Servcorp Tefken Tower
Turkey, Izmir: Nuvege
Ukraine, Kharkiv: Creative Hab Rozvytok
Ukraine, Kiev: HUB 4.0
Ukraine, Lviv: Compass Coworking
Ukraine, Odessa: Terminal 42
United Kingdom, Ashburton: Ashburton Work Hub
United Kingdom, Birmingham: The Melting Pot
United Kingdom, Bradford: Malik House Business Centre
United Kingdom, Brighton: The Projects Brighton
United Kingdom, Bristol: Redbrick House
United Kingdom, Calderdale: The Egg Factory
United Kingdom, Cambridge: Cambridgespace
United Kingdom, Cardiff: Space2Co-Work at The Maltings
United Kingdom, Chelmsford: The Transition
United Kingdom, Cullompton: The Nook
United Kingdom, Edingburgh: Kingsford Business Club
United Kingdom, Essex: The Hive
United Kingdom, Exeter: The Generator Exeter Quay House
United Kingdom, Glasgow: Collabor8te
United Kingdom, Lewes: Spithurst Hub
United Kingdom, Lincoln: The Co-Creative
United Kingdom, Liverpool: Signature Works
United Kingdom, London: Launch22 Kings Cross
United Kingdom, Newcastle: Flint Lab Co
United Kingdom, Newry: Granite Exchange
United Kingdom, Oxford: The Wheelhouse
United Kingdom, Poole: Weighbridge House Coworking
United Kingdom, Swansea: HQ Swansea
United Kingdom, Wimborne: Crown House Hub
United Kingdom, Worthing: Freedom Works Worthing
Congratulations to all the
2019 Coworker Members' Choice Awards winners in Europe!
As a token of our appreciation for participating in the CMCAs, every space operator will receive a trends report published, using aggregate data collected from our results.
If your coworking space wasn't nominated or didn't win the award this year, check back in the summer of 2020 for next year's competition.
If you'd like a free "Review us on Coworker" front desk sign or a "Recommended on Coworker" window sticker to help generate more member reviews, email us and we'll get them posted to you!