The rise of business travel — which is expected to grow to $1.6 trillion in annual spending by next year — has led to demand for a new product in the coworking arena: a global coworking membership pass.
As more remote professionals look to try coworking for the first time or need to find workspace solutions while on the road, coworking memberships are proving to be the answer to increased productivity and progress. 
Launching this January, Coworker's new Global Pass is a global coworking membership that provides frictionless access to thousands of coworking spaces around the world. Global Pass not only meets the market's demand for streamlined accessibility, but it is the first of its kind to operate in hundreds of cities. 
In fact, at the time of launch, Global Pass will offer access to thousands of coworking spaces in over 105 countries. What this means for Global Pass users is that they can readily travel to cities large and small while still managing to cowork, network, and be productive — no matter where they're presently located. 
Going on a week-long business trip to Tokyo? With Global Pass, you can check out five of the coolest coworking hotspots near your hotel. Moving to Los Angeles? You can try a day of coworking at five different spaces before choosing the community that fits your needs. 
Key benefits of Global Pass 
Regardless of where you are in the world, coworking memberships give remote professionals the chance to experience a wide variety of spaces with one frictionless subscription. 
Whether you just need a coworking space for a few days per month or you need a central location to meet with your team, Global Pass offers something for everyone. Moreover, there are several key benefits of Global Pass, such as:
Added flexibility
Having a coworking membership to thousands of spaces is particularly advantageous for people who prefer flexibility in their work. Hosted on the Coworker app, Global Pass offers the ultimate flexibility for users who need to quickly book a day of coworking. Even if you're leaving for a trip tomorrow, Global Pass users can log into Coworker's app and reserve a workspace within seconds. Have a change of plans? With Global Pass, you can just as quickly cancel or day or coworking and reschedule it to a new time or location in the future. No matter your schedule, the beauty of Global Pass is that it's totally up to you to use your five allotted days per month however you'd like. 
More options
With Global Pass, users gain access to thousands of coworking spaces that they might never discover on their own. All within the Coworker app, users can instantly locate spaces near your destination with the amenities you need, whether that be a meeting room, podcasting studio, or free parking. With 79 percent of corporate travelers using their mobile phones to complete their trip bookings in 2017, Global Pass adds efficiency to your planning by extending more options for coworking than ever before. With so many options at your fingertips, you can be inspired to develop your network, test out never-before-seen locations, and make the most of your business trip.
Easy access
Sometimes, the process of booking a day of coworking can be fragmented and even burdensome for both spaces and users. With inconsistent practices and methods of payment, it can be difficult to reserve a space and check-in on the day. Global Pass resolves these issues, offering a consistent, uncomplicated method to finding, reserving, and checking into spaces for a productive day of coworking. By using the Global Pass check-in tool via the Coworker app, users can easily check into a space upon arrival and show the community manager the confirmation, circumventing any check-in complications. With Global Pass, users are able to access spaces like never before, minimizing administrative tasks by hosting all of the needed information in one easy interface.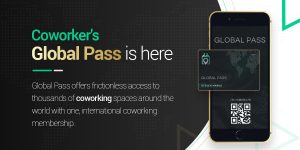 Global Pass product details
Starting at just USD $50 per month, a subscription to Coworker's Global Pass grants you access to any five coworking spaces within the Global Pass network. Each subscription cycle lasts for one month, renewing automatically on the same day and at the same time each month.
To access Global Pass, users must download the Coworker app. The app will house all of the information related to the coworking membership, including upcoming bookings and the amount of remaining day passes a user has left each month. 
Within the Coworker app, users can surf the Global Pass network by city list or map view. Then, users can easily reserve a day of coworking at their preferred space. 
When the date of your reservation arrives, users merely arrive at the booked space and check-in on their Coworker app. The app will then display all of the needed information about the space, including the Wi-Fi passcode and other details that will be helpful in navigating the space. If you have any questions while you cowork, you can either ask the community manager or message the space through the Coworker app. 
Just like that, users can begin their day of productive and uninterrupted work at their chosen space without any of the hassle of typical coworking registrations!

1. What is Global Pass?
Coworker's Global Pass is a global coworking membership that provides frictionless access for remote workers, business travelers, and freelancers to thousands of coworking spaces around the world. 
2. How does Global Pass work? 
When you're in need of a dedicated workspace for the day, go on the Coworker app and find a coworking space within the Global Pass network. Reserve your hot or dedicated desk for the day on the app, and easily check-in upon arrival via the Coworker app.
3. Are all of the spaces listed on Coworker available for access with Global Pass?
No. While we are working to bring all of our Coworker member spaces on board, a coworking space must be eligible to join Global Pass and must choose to opt into the Global Pass program.
4. What if I don't travel very often? What can I get out of Global Pass?
Global Pass is not just for people who regularly travel for business. Ideally, Global Pass will provide a unique coworking experience for every type of user, including people who simply want to check out more spaces in their area. In other words, everyone from the standard freelancer to the corporate consultant can benefit from Global Pass' improved accessibility, cost-efficiency, and extensive international network.
5. Which cities can I use Global Pass in?
Global Pass can be used in hundreds of cities in 105+ countries around the globe—and growing! We are always registering new coworking spaces to our network, so be sure to check back if the city you are currently in has recently added new options. From New York  and Hong Kong to Amsterdam and Sao Paulo, cities all over the world are already signed onto the Global Pass network. As soon as users subscribe to Global Pass, you can instantly access any of the thousands of spaces in our constantly-evolving network.
6. Can I use Global Pass 24/7?
The same opening/closing hours and weekend availability of a coworking space's operations apply to Global Pass users. Most coworking spaces that are part of the Global Pass network are open during typical workday hours, such as 8 a.m. to 5 p.m, though some offer extended hours. Since hours vary, it is wise to check a space's listing on Coworker before you book a day of coworking with Global Pass.
7. What if the space I want to work from is full?
In larger cities, sometimes the demand for a coworking space may be higher than usual, meaning there may not be an open desk or meeting room on the day you need. Since all bookings are reserved on a first come, first serve basis, Coworker recommends reserving your spot as early as possible.