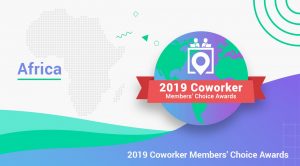 The Coworker Members' Choice Awards are the only global coworking industry awards based on feedback from thousands of coworking space members around the world. This year, we are thrilled to recognize 529 coworking spaces from our network of over 11,500 spaces as being the best spaces in their cities.
The Coworker Members' Choice Award is given to only one coworking space in each city — granting big-time bragging rights to that space and numerous other benefits, like increased brand recognition.
Upon counting and analyzing the results of thousands of votes, we are excited to announce the official winners of the 2019 CMCAs. After all, why should TripAdvisor and Yelp have all the fun!?

Introducing the winners of the 2019 Coworker Members' Choice Awards for cities in Africa:
Angola, Luanda: Workin Luanda
Cameroon, Douala: Cowork Africa
Egypt, Alexandria: Ejada Co-working Space
Egypt, Aswan: iSpace
Egypt, Cairo: Makanak Office Space
Egypt, Giza: Coursida
Ghana, Kumasi: hapaSpace
Ghana, Accra: BaseCamp Initiative
Ivory Coast, Abidjan: Le Phare Coworking
Kenya, Nairobi: PAWA254
Lesotho, Maseru: Progressive Co-Workers Hub
Libya, Tripoli: Nuqta Coworking Space
Morocco, Casablanca: Netspace
Morocco, Fez: Bridges to the Future
Morocco, Marrakech: The Spot
Mozambique, Maputo: MMO, Rani Tower
Nigeria, Abuja: Rutyono Offices
Nigeria, Ikeja: Workstation Maryland Mall
Nigeria, Lagos: Workstation Bar Beach
Nigeria, Lekki: Venia Business Hub
Nigeria, Port Harcourt: KoWorkNG
Rwanda, Kigali: Westerwelle Startup Haus Kigali
South Africa, Cape Town: Cape Town Office
South Africa, Durban: The Corner Office
South Africa, Johannesburg: Cube Workspace
South Africa, Paarl: Workshop17 Tabakhuis
South Africa, Pretoria: Grounded Work
South Africa, Stellenbosch: Workshack
Tunisia, Djerba: CoZi – Coworking Cafe
Tunisia, Nabeul: Coworky
Tunisia, Sousse: Hive 12
Uganda, Kampala: TechBuzz Hub
Congratulations to all the
2019 Coworker Members' Choice Awards winners in Africa!
As a token of our appreciation for participating in the CMCAs, every space operator will receive a trends report published, using aggregate data collected from our results.
If your coworking space wasn't nominated or didn't win the award this year, check back in the summer of 2020 for next year's competition.
If you'd like a free "Review us on Coworker" front desk sign or a "Recommended on Coworker" window sticker to help generate more member reviews, email us and we'll get them posted to you!