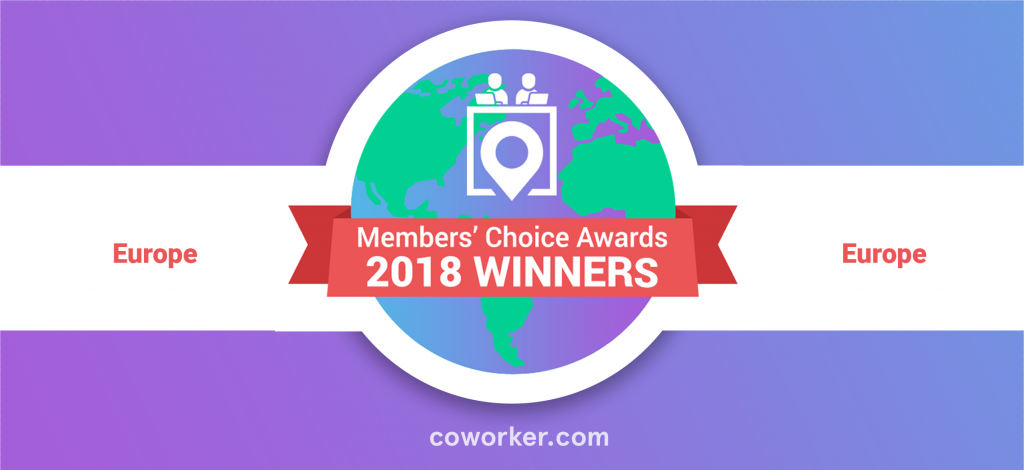 The Coworker Members' Choice Awards are the only global coworking industry awards based on thousands of reviews and opinions from coworking space members around the world. This year 345 coworking spaces received recognition based on the quantity & quality of member reviews during the past 12 months.
The award is given to only 1 coworking space in each city, with the exception of a handful of spaces who were nominated for the "best female focused coworking space" award.
Introducing the winners of the 2018 Members' Choice Awards for cities in Europe:
Armenia, Yerevan: Team Time
Austria, Graz: AVbaby
Austria, Vienna: Das Packhaus
Belarus, Minsk: IMAGURU
Belgium, Antwerp: StartBloc
Belgium, Brussels: Coworking Les Galeries
Bosnia and Herzegovina, Banja Luka: Coworking Banja Luka
Bulgaria, Bansko: Coworking Bansko
Bulgaria, Sofia: SOHO
Bulgaria, Varna: The Work Hub
Croatia, Zagreb: The Technology Park
Cyprus : Cyhub
Czech Republic, Prague: Locus Workspace Vinohrady
Denmark, Copenhagen: The Rabbit Hole
France, Bordeaux: Wigi Coworking Bordeaux
France, Chamonix: The Ski Locker – Chamonix
France, Montpellier: Come'N'Work
France, Paris: Cosy Corner
France, Strasbourg: Welcome Coworking
Georgia, Tbilisi: Impact Hub Tbilisi
Germany, Berlin: tuesday coworking
Germany, Bonn: The 9th
Germany, Cologne: Wertheim
Germany, Darmstadt: cool-working
Germany, Dresden: neonworx
Germany, Essen: Impact Hub Ruhr
Germany, Frankfurt: Co-work & Play
Germany, Hamburg: Shhared
Germany, Kreuzberg: Betahaus
Germany, Munich: smartvillage
Germany, Munster: Harbourside
Germany, Stuttgart: wizemann.space
Greece, Athens: Tzaferi 16
Greece, Iraklio: Office12
Greece, Thessaloniki: Coho
Hungary, Budapest: Kaptar
Iceland, Reykjavik: Minor Coworking
Ireland, Cork: Plus10
Ireland, Dublin: Guinness Enterprise Centre
Ireland, Waterford: BOXWORKS.CO.WORK.SPACE
Italy, Cagliari: Open Campus
Italy, Milan: The Freelancer's Island
Italy, Pavia: Labora Coworking
Italy, Rome: Millepiani Coworking
Latvia, Riga: Teikums
Lithuania, Klaipeda: Qtime IT Hub
Lithuania, Vilnius: Work'inn
Luxembourg: Urban Office
Macedonia, Skopje: Coffice
Malta, Valletta: Grand Central
Moldova, Chisinau: 404 Moldova
Montenegro, Bar: Beta Bar
Netherlands, Enschede: the cee spot
Netherlands, Amsterdam: StartDock
Netherlands, Groningen: Launch Cafe
Netherlands, Eindhoven: Tribes Eindhoven Airport
Netherlands, Rotterdam: Tribes Rotterdam – Coolsingel
Netherlands, The Hague: Tribes The Hague Central Station
Netherlands, Utrecht: Tribes Utrecht Papendorp
Norway, Oslo: The Kasbah Hub
Norway, Stavanger: Innovation Dock
Norway, Tromso: Flow
Poland, Bialystok: Explorer HQ
Poland, Gdynia: Concept Space
Poland, Katowice: #Krzywa12
Poland, Krakow: Office & Cowork Centre
Poland, Poznan: Coworkingness
Portugal, Aveiro: Ocupa Cowork Aveiro
Portugal, Braga: Factory Braga
Portugal, Cascais: CoworkCascais
Portugal, Funchal: Cowork Funchal
Portugal, Leiria: Base Cowork
Portugal, Lisbon: Avila Coworking
Portugal, Matosinhos: Porto i/o Seaside
Portugal, Porto: Porto i/o Riverside
Romania, Brasov: Demisol
Romania, Bucharest: Commons
Romania, Napoca: Cluj Cowork
Russia, Chelyabinsk: WooDoWork
Russia, Moscow: Cabinet Lounge
Russia, Rostow Am Don: Mesto
Serbia, Belgrade: Nova Iskra
Serbia, Kikinda: Mokrin House
Spain, Alicante: Glub Center
Spain, Barcelona: OneCoWork
Spain, Cadiz: Doce Monos
Spain, Fuerteventura: Hub Fuerteventura
Spain, Granada: erranT
Spain, Las Palmas: Restation
Spain, Madrid: Bee Lab Coworking
Spain, Majadahonda: CowUp Majadahonda Coworking
Spain, Malaga: The Living Room
Spain, Palma: Nidus 39
Spain, Tenerife: Wolfhouse
Spain, Valencia: a2 coworking
Spain, Valladolid: Educa Cowork
Spain, Vigo: DINAMOcoworking
Sweden, Boras: Elitkontoret
Sweden, Malmo: Box Space Co-working Malmo
Sweden, Stockholm: Impact Hub Stockholm
Switzerland, Geneva: Calliopee Business Center
Switzerland, Wil: Buro Lokal
Switzerland, Winterthur: WORKERIA
The Azores : unOffice PDL Business and Cowork Center
Turkey, Istanbul: ATOLYE
Ukraine, Kiev: CHASOPYS
Ukraine, Lviv: OK Factory Coworking
Ukraine, Odessa: Terminal 42
United Kingdom, Birmingham: Impact Hub Birmingham
United Kingdom, Brighton: PLATF9RM
United Kingdom, Bristol: Redbrick House
United Kingdom, Calderdale: The Egg Factory
United Kingdom, Canterbury: Fruitworks
United Kingdom, Cullompton: The Nook
United Kingdom, Glasgow: Collabor8te
United Kingdom, Liverpool: Basecamp Liverpool
United Kingdom, London: Launch22
United Kingdom, Londonderry: Eighty81 Creative Workspace
United Kingdom, Poole: Weighbridge House Coworking
Best female focused space in the UK: Blooms, London
Congratulations to all the 2018 Members' Choice Awards winners in Europe!
If your coworking space wasn't nominated or didn't win the award this year, keep in mind we'll be announcing the 2019 winners in January next year.
To qualify, ensure your coworking space is verified on Coworker and that members & visitors post detailed, descriptive reviews / testimonials about your space and community throughout the year.
If you'd like a free "Review us on Coworker" front desk sign and "Recommended on Coworker" window sticker to help generate more member reviews, email us and we'll get them posted to you!