Anna and Sophie are two ambitious entrepreneurs from Germany who have utilized coworking spaces in Malmö, Sweden to build their yoga mat startup, hejhej-mats.
Here, Anna and Sophie share a bit about themselves, from how they met, skills they hope to develop and who has inspired them to create a crowdfunding campaign for their brilliant line of socially responsible and sustainable yoga mats.
Tell us a bit about yourself:
Anna did her bachelor's degree in Marketing Management and then worked in a marketing agency as well as in a startup where she was responsible for the whole marketing activities. Sophie graduated from the Friedrich-Alexander University in Nürnberg with a BA in Social Economics. She gathered work experiences in a sustainability consulting agency. Both of us met during our semester abroad in Alcalá de Henares (Spain). We noticed that we are both interested in the same topic which is sustainability. This was why we went together to Sweden for our Masters. Studying Leadership for Sustainability in Malmö made us broaden our knowledge in the field of sustainability management and Malmö was also the place where both of us discovered our business idea.


What are you working on right now?
We have our own young and sustainable startup hejhej-mats in order to develop sustainable and recycled yoga mats. Since the amount of plastic waste on our planet is steadily rising and none of the existing yoga mats fulfilled our sustainability expectations, we decided to combine both problems and create a closed-loop yoga mat. We will produce our yoga mats out of recycled materials and they will even be recyclable at the end of its lifespan. In this way, we make sure that we use waste as our resource and that no additional waste will be created. Right now we are doing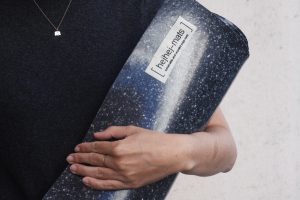 a crowdfunding campaign in order to gather the financial resources we need for the last adjustments on our prototypes and for the production. In this campaign, you can already buy our sustainable yoga mats even before the official sale starts and at a cheaper price. You can check out our crowdfunding page here.
There are also various different rewards such as a recycled tote bag or you can just give 5€ for a little bit more karma. We would be so happy if you support us in our crowdfunding campaign and help us to implement hejhej-mats. It would mean a lot to us if you can also tell your favorite people and your favorite yogis from our crowdfunding campaign and help us spread the word. Together we can make the planet a little more sustainable.
What was your first job? Has it helped you with the development of hejhej-mats?
We both worked in the fashion industry when we were students and it helps us now in design thinking.


Is there anyone who made a significant impact in your life with regards to starting your business?
Prof. Dr. Markus Beckmann, Sophie's lecture in the field of sustainability management during her Bachelor's. He inspired both of us to combine economics and sustainability.


What is the most rewarding moment of your startup career so far?
For hejhej-mats and our idea of our sustainable and recycled yoga mats, we got the Leapfrogs scholarship by the renowned Lund University.
Is there a book that has shaped your life or changed the way you think?

Cradle to Cradle: Remaking the Way We Make Things by William McDonough & Michael Braungart
Do you have a go-to yoga pump-up song?
"Here with me" by Susie Suh and Robot Koch is currently our favorite.

What is one skill or hobby you've been meaning to learn but haven't had time for?
Learning Swedish. We love the Swedish culture and during our one year in Sweden, we unfortunately did not have the time to learn the language.


List 3 simple things in life that make you really happy:
Yoga, food and sustainability
Which coworking spaces have you tried while building your business?
We loved Malmö with all of its coworking space and spent a lot of time at MINC, STPLN as well as tried the new Box Space coworking space. We actually love to vary our coworking spaces in order to get different atmospheres, meet different people and have some change in your daily life.
As entrepreneurs how do you maintain a sense of work-life balance?
Spending time with your beloved ones and having nice dinners with them as well as doing sports like running and yoga in between your working day.
If you are inspired by Anna and Sophie's story and would like to support their journey towards a circular future through their sustainable yoga mats, you can contribute to their crowdfunding campaign here.