Sue Viskovic is the founder of Flowspace. After looking for an office for her consulting business, Sue came across the opportunity to work from a location that was relaxed, friendly, inclusive–and not located in the congested, traffic-filled city. Now, Flowspace's community brings together like-minded individuals who love where they work, collaborating in a relaxing coastal space near the beach. Thanks to Sue, this space inspires entrepreneurs in Australia on a daily basis.
How did you discover coworking?
When I was invited to an event in a coworking space in Melbourne around 2004 I was fascinated by the space and the concept, having run a serviced office space in 1999.
What is your involvement with Flowspace? When did it open / why did you start it?
I am the founder of Flowspace. I actually came up with the concept in 2010 when I was looking for office space for my consulting business. I travel a lot as I run a national business from Perth and do a lot of speaking gigs around Australia, and given I don't need to be located in the city, I didn't want to spend an hour each day in traffic to get to my office. I live not far from the beach, and there is very little office space around here, so when I found a space that was too big for my 3 staff, I wrote the business plan for Flowspace. Thankfully I didn't get that space at the time (as I then had twins to add to the two kids we already had), and we ended up in a serviced office. Fast forward to 2016 and we were looking to move offices again. This lovely space came up and I dusted off the business plan and Flowspace was born! I knew there'd be more people like me – who lived locally and needed somewhere professional to work from without having to tackle the dreaded CBD traffic, or having to work from a boxy serviced office that had no soul.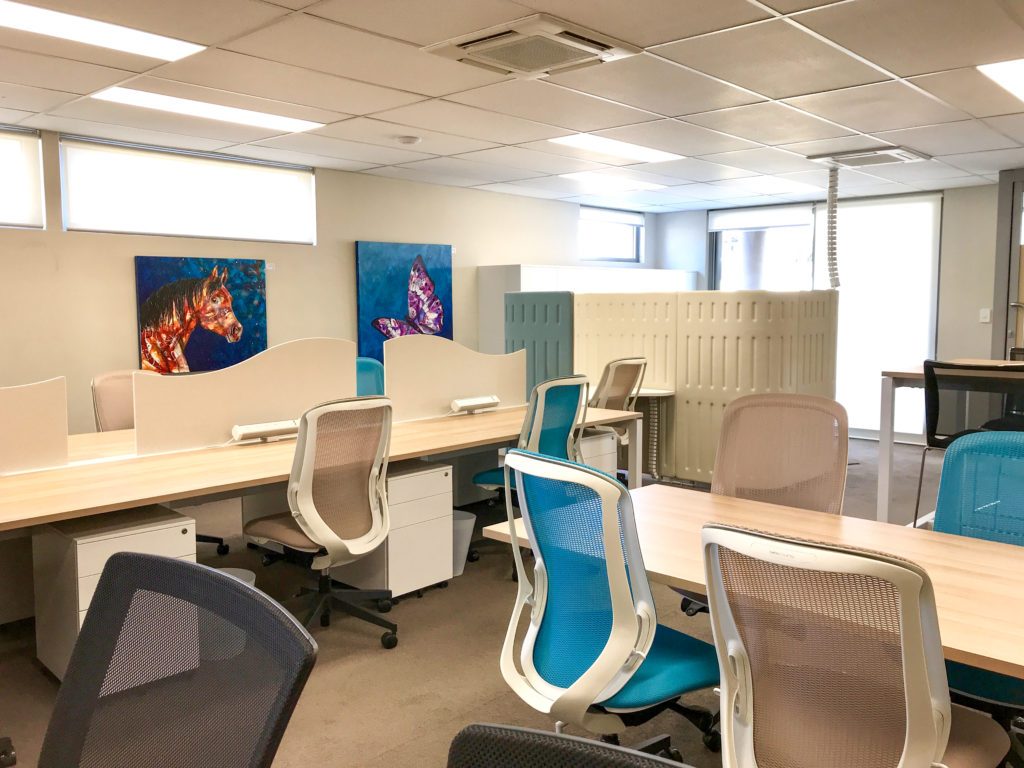 How would you describe the community at Flowspace?
Relaxed, professional, friendly, inclusive. Our community is a mixture of sole traders and teams of two, with professions ranging from engineering and mortgage broking to natural health coaching and photography. They share a common love of ocean air and value their family time, hence their desire to work in a coastal location close to home.
Do you host any sort of events to bring the community together?
So far this year we have held a Meet the Street community event where we hosted all the local businesses along the Flora Terrace strip with the mayor in attendance. We've had a book launch and a beauty pamper night in March and our Marketing Co-ordinator is pulling together our Lunch-and- Learn schedule for the coming months. We have a great list of topics ranging from brand building to business planning, social media marketing and personal effectiveness.
We're also soon to start our 'First Friday drinks"… a casual sundowner for our members on the first Friday afternoon of every month.
What are the three key ingredients for operating a successful coworking space?
Respect, Collaboration and Adaptability.
What is your favorite part about coworking?
Seeing our community network and help each other out. We've already seen members grow their business by delivering services to other members as well as being referred to their greater network. I also love the buzz that you can feel when there are a group of members in working. Although they're heads down working hard, it helps everyone feel part of something bigger than themselves. So many of our sole operator members have told us how it's changed their life – they feel more positive and get more done in 8 hours here than they ever have in a day at home.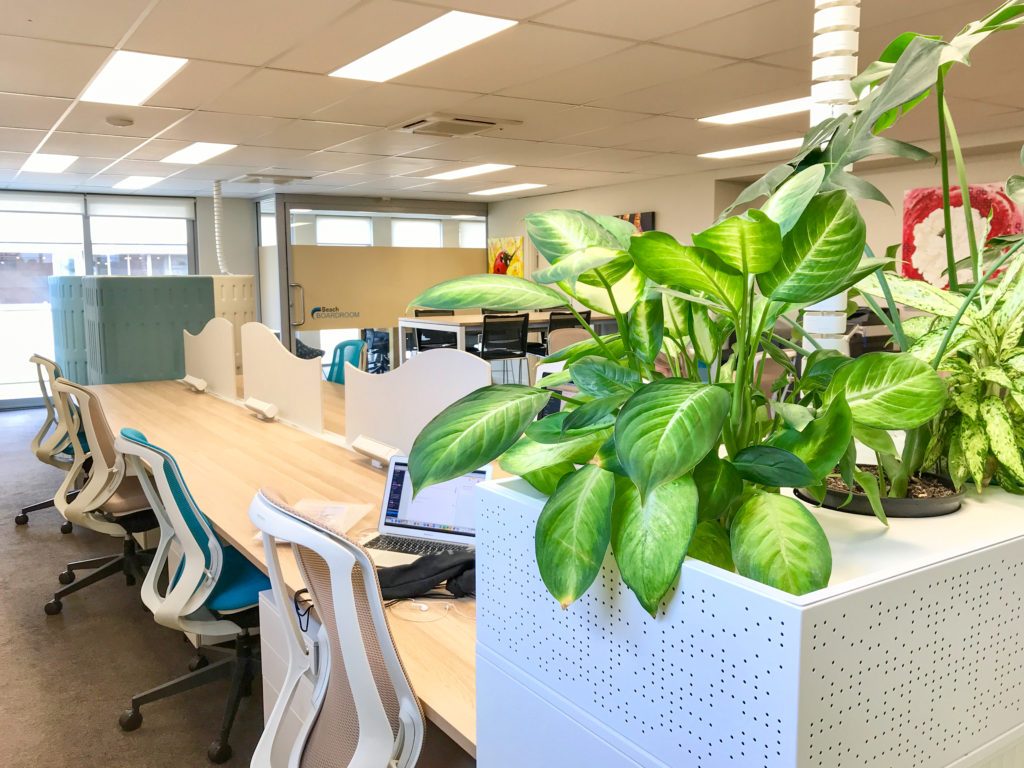 If you could change one thing immediately in your business what might that be?
It would be to have more members! I underestimated the time it would take to spread the word. Despite the fact thatPerth has over 15 coworking spaces, we're finding the need to educate people about the concept, as well as to let them know that Flowspace is here. People love it when they come – we've just been slower at reaching people than I'd like.
What types of cool projects are your members currently working on?
Quite a few of our members like to keep a low profile as they work in professions that don't lend themselves to public awareness, but a few that come to mind are: Nat Baldock's Uluwatu Magic, a social enterprise that is helping educate and improve the living conditions for women and girls in Uluwatu. Another one of our members, Carrie Cox is just about to launch her first novel, 'Afternoons with Harvey Beam', having been published by Fremantle Press. While she wrote most of it before Flowspace existed, we're totally convinced it'll be a best seller and her future books will be penned from here!
What was the most challenging part, thus far, of opening and operating a coworking space?
Initially, raising the capital to establish and fit out thespace. Thankfully my consulting business is going well so Iended up self-funding it. Now, it's marketing the space and having the time to dedicate the energy to it, while still running my consulting business. Having built a great brand in consulting over a decade, I forgot how hard it is to market a start-up business in a service that's not well known. I've now employed someone to focus on the marketing, and starting to get some traction.
Do you have any advice or tips for someone who is looking to open a coworking space?
Do your research on what other providers are in your space, and the likely number of members/target audience.Budget for the fact that you might have to fund it for longer than you expected until the community builds. Don't underestimate the time required to greet/liaise with potential members, and give attention to people when they've signed up. Your community will need some active energy in encouraging 'the vibe' you're after. I've found that once people see how friendly and warm management and other members are, they're happy to support one another, but it might not naturally happen without some contribution from you. It definitely helps if you are (or you employ!) an extrovert that loves people.
Oh – and also don't underestimate the love that your members will have for the space, and how generous they will be at sharing the word about you!
How would you like people to remember you and Flowspace?
As a really supportive community with a relaxed coastal 'vibe' that is also professional and quite beautiful. A space with heart that is really supportive of entrepreneurs and small business owners.
Anything else you would like to add?
We intentionally have not gone for the 'recycled packing crate and beanbag' feel here, as I expected to attract members a bit closer to my own age (mid 40's), and therefore likely have the need for ergonomic furniture. Our fit-out is relaxed and coastal, with beautiful artwork from rotating local artists, and yet is professional and welcoming. Our members are people that are more likely to be professional/established business owners who will be with us for the long-term rather than being tech startups needing to find their wings.
Check out Flowspace on Coworker.com and check out their website and facebook page.