Female focused coworking spaces are on the uprise in the coworking world as more professionals are seeking work environments built on the foundation of female empowering values that also offer the support of a strong feminine community.
Emily Rose Antflick, founder of Shecosystem, recognized the need for this type of work environment not only for herself, but also for those within her inner circle. So, like any great entrepreneur, Emily created a solution for her own problem by opening a female focused, gender inclusive, coworking community in her home city of Toronto, Canada.

Here, Emily will share her story of what inspired her to open Shecosystem, and how she has built it to be the thriving community that it is today.
What's your background?
I've never had a singular passion, and bounced around a lot. I did an MA in Curriculum, Teaching and Learning as well as a BA and a BEd, and worked in education for over 10 years. I was a teacher, consultant and curriculum developer in every setting from high school and college classrooms to museums to jungles and permaculture gardens. The common thread is that everything I've done involved creating transformative learning experiences and building communities.
How did you discover coworking?
I first discovered coworking when the Centre for Social Innovation opened near my home, and learned more about the movement when I was living in Bali when Hubud was launched by some parents at Green School, where I was working at the time. I loved watching the community grow around this hub and saw how useful spaces like this are for expats and digital nomads.
What made you want to open a coworking space of your own?
It started with me experiencing burnout in my teaching job and dreaming of creating my own job rather than squeezing myself into yet another ill-fitting box. I recognized how misaligned I was personally and professionally, and was craving a place where I could bring my whole self to work and be surrounded by like-minded people. Shecosystem really came out of me asking myself, "Where would I want to show up day after day?"
I noticed a demand for a space where women who work for themselves can come together, not just at an annual conference or monthly networking event but in their regular workday lives. A coworking space provides everyday access to like-minded people who have diverse skills and offerings. Mutually beneficial relationships naturally grow in a space like this.
What influenced the decision to create a female focused space?
I opened Shecosystem because women deserve a workplace where we can achieve success on our own terms, without compromising our holistic well-being. The dominant paradigm of work was not designed by or for women, and I wanted a safe space where feminine and feminist values were at the core.
The feminine is rising in our working world as we realize that a more creative, collaborative and open workplace that values emotional intelligence is the only way to a sustainable future. Coworking as a movement is founded around 5 core values, which are essentially feminine values: Openness, Accessibility, Sustainability, Collaboration, and Community. I really believe that if women were in charge, the world of business would look a lot more like coworking.
Women are leading an entrepreneurial groundswell and I love being a part of it. Shecosystem celebrates what women entrepreneurs bring to the table: a holistic perspective, a desire for interconnectedness and collaborative spirit, a sense of power based on taking responsibility rather than enforcing domination, and deep wells of creativity and generosity. We need these skills for our economy and our planet.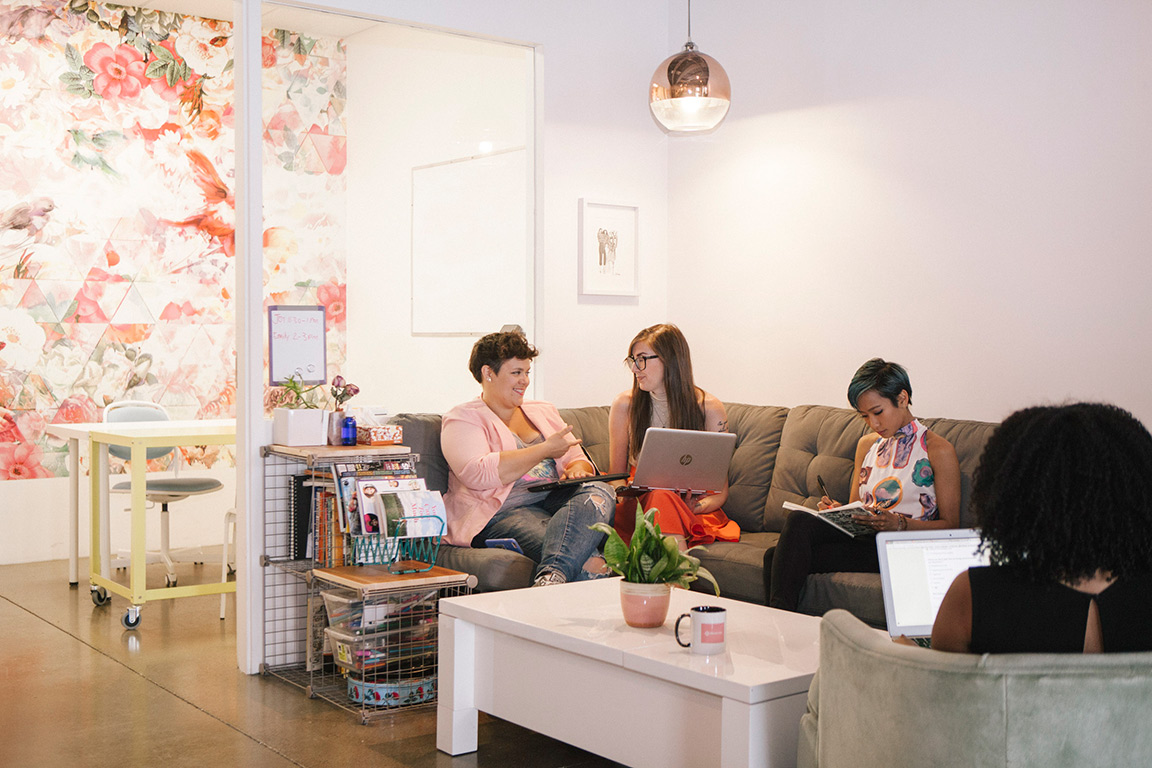 What are the benefits of a female focused coworking space?
The women and feminists of all genders who are part of this community don't always see themselves reflected in the competitive and aggressive startup culture; they've been looking for a space that validates their narrative, honours their values, and facilitates collaborative relationships that help their businesses move forward.
While women continue to face systemic barriers, we are building a mutually supportive ecosystem where we benefit from each others' knowledge, skills, connections, and empathy. And when women succeed, they pay it forward creating positive change for their communities.  As our community succeeds, we are raising the profile of feminist entrepreneurship, providing girls with more visible role models and mentors, and showing the world that business can be done differently.
Our larger mission outside is to create a positive gathering place for women that does not exist in our society. Outside of the home, women's spaces are usually geared toward beauty or consumerism – we get together with girlfriends to go shopping, to get our nails done, to spend money on girls' nights out. Shecosystem is a purpose-built space for women to gather for everything from sex talks with tantra educators to making protest signs for the Women's March to financial planning workshops.
What coworking space features would be unique to a female focused environment?
Most of our programming focuses on exploring women's experiences, highlighting our skills and sharing our stories. We have women's circles, screenings of films that profile women, women presenters at our business workshops, and lots of conversations about feminist topics.
All of the art on our walls is by local women artists, and members have been involved in co-creating some of our design elements like our mosaic backsplash. The one design element that stands out the most is our Red Tent – we have monthly women only New Moon gatherings in here. It's part of a global movement where women create a temple-like space to honour our cycles, gather, share, and nourish each other.
We have one gender neutral bathroom with free all natural menstrual products, which really every coworking space should offer.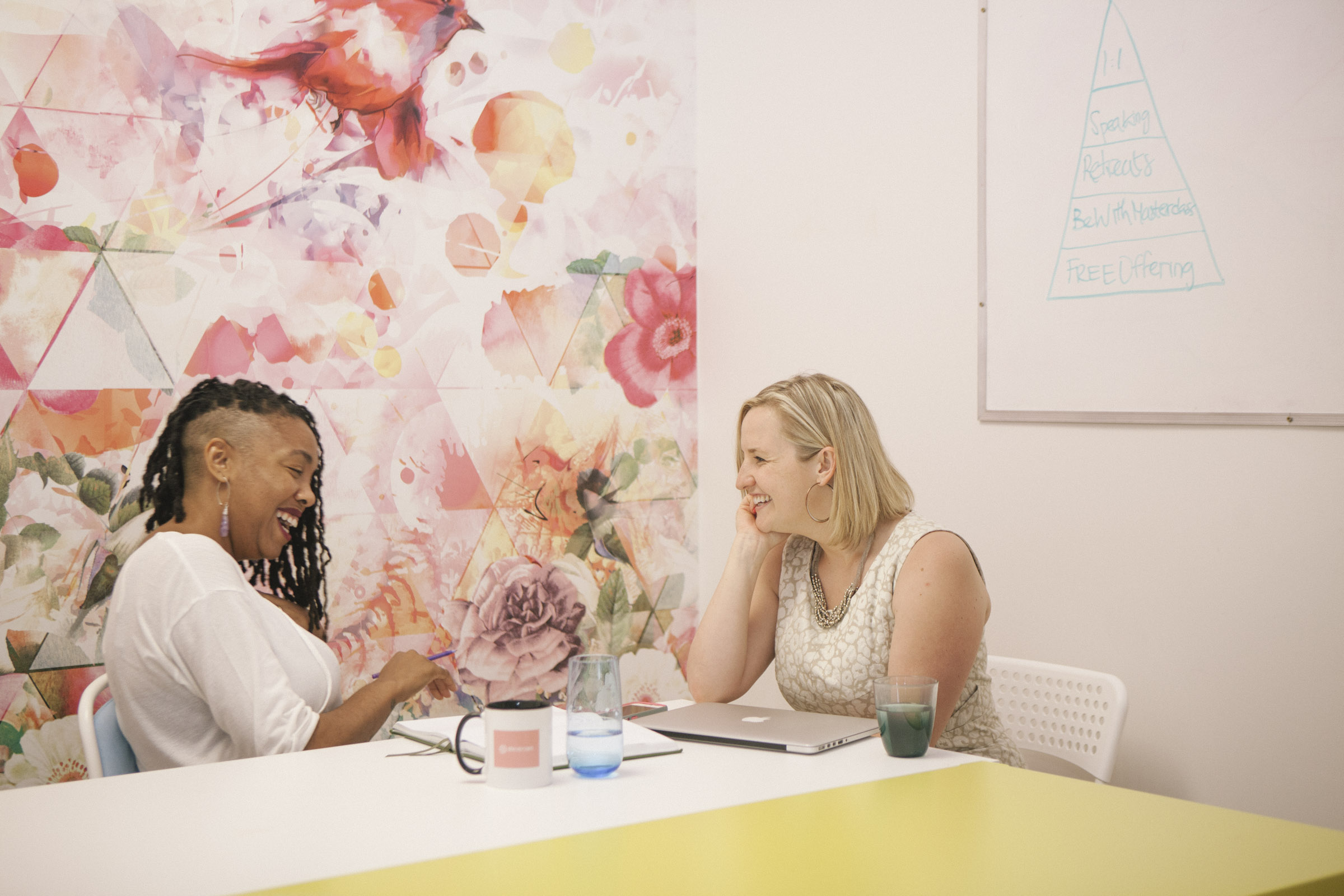 How did you build such a thriving coworking community?
I started by offering weekly Coworking, Wellness and Mentorship meetups. I initially was fortunate to collaborate with Women in Biz Network, an online women's network, to host these meetups – they already had several hundred Meetup.com members and a wide reach on social. These meetups went on for around a year, and I was continually asking for input, feedback, and measuring impact. I also hosted monthly events and a three-day pop-up at The Gladstone Hotel featuring an artisan market, wellness experiences, and coworking, essentially modeling what a day at Shecosystem would feel like.
The community grew pretty organically, with lots of women coming week after week and telling me that they felt like they had "found their tribe." Before I opened I launched a founding members program and had 18 "Shecosisters" signed up before the doors opened.
What makes Shecosystem unique?
One of Shecosystem's unique features is our focus on self-care. In a culture where women still carry the bulk of caregiving responsibilities, serving everyone else before themselves, there can be a lot of shame and guilt around self-care. We are trying to bring about a cultural shift where we finally give women permission to start seeing self-care as essential. Our members recognize that when you are your business, you have to sustain your holistic well-being to prevent burnout and bring your best to those you serve.
Our most powerful program is definitely our Opening and Closing Circles. Every day we meet at 10AM and 4:30PM and sit in a circle on the Studio floor to bracket our day with intention, draw a card, and share where we're at and what we're working on. It's a way for the community to connect beyond networking, and it helps us bring a mindful pause to the workday.
We have a multi-purpose studio space for classes and workshops, and a mind-body healing room with a massage table and comfy furniture. When the Studio is not in use for programs, members can come in and use the yoga and fitness props, dance, meditate, or just curl up in a pile of cushions and rest.
There are little props and reminders designed into the space to help people slow down and make wellness part of their workday. There's an altar on the windowsill with crystals, tarot cards, and meditation and self-care cards designed by our members where people can set an intention or just check in with themselves. We use a French press for coffee (fair trade, organic produced by Cafe Solar, a women's collective in Honduras) and the tea is loose leaf so you have to actually take a break, have a sensory experience, maybe have a conversation with someone while it brews, rather than mindlessly refilling your cup from a stale pot just because it's there.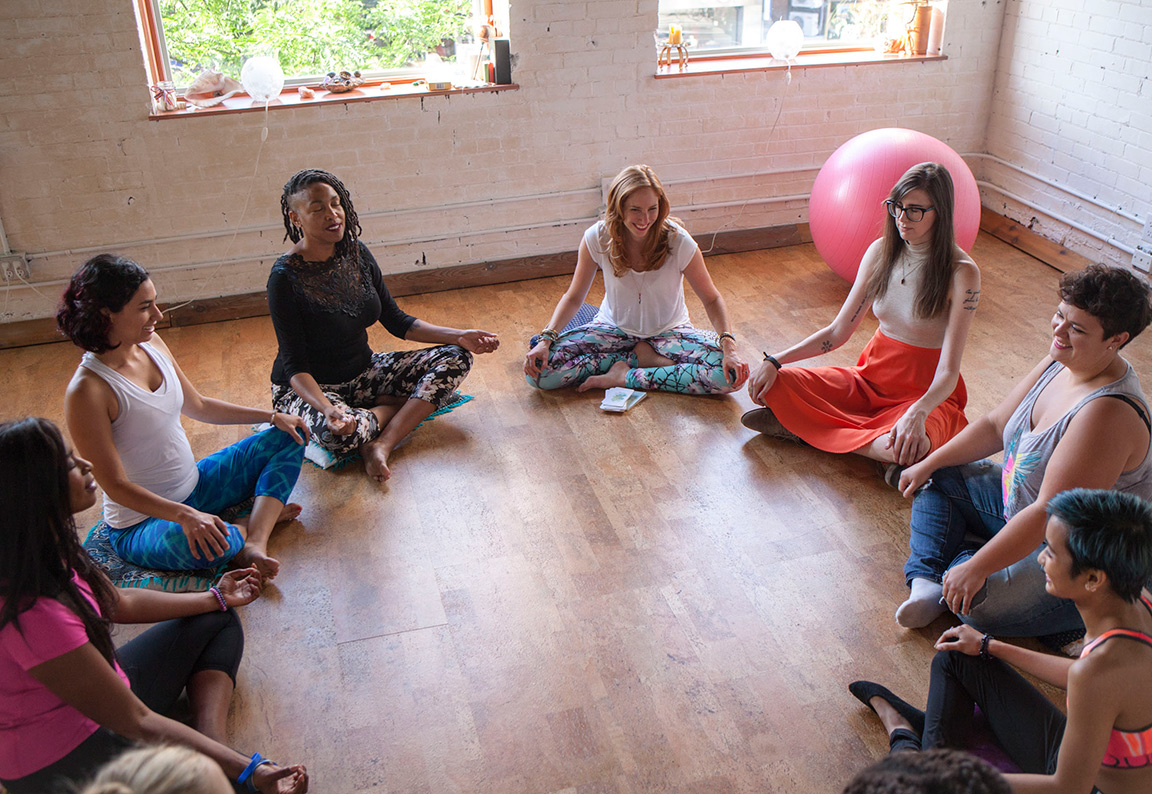 Do you ever receive any criticism for having a "female only" space? If so how do you respond?
The gender binary is very destructive, and this space is not about flipping it so that women are "better than men" but trying to find balance by making space for people, values, and ways of working that have been undervalued, ignored and marginalized. The biggest newspaper in the country wrote a clickbait headline that said "Empowering Women in the Workplace by Excluding Men," which drew a lot of criticism even though it was inaccurate. When someone says I'm creating a sexist 'no boys allowed' club, I remind them that all genders are welcome here.
This is a workspace where women can show up authentically, where they can be real and vulnerable enough to ask for help and offer genuine feedback. It's a workplace without mansplaining and all of the other micro-aggressions that undermine women in the workplace. Here women, trans folks, and non-gender conforming people can be confident, unapologetic, and take up the space that they deserve.
What are the key requirements for opening and managing a coworking space?
This is nothing new, but it's so key to build a community and create enough safety that they can openly give feedback and suggestions and take ownership of the space. I literally built this space for and with my community; they were involved in shaping the pricing, the layout, and the programming. Ask for help! Members WANT to be involved.
Second, it's important for a space owner to get out of the space once in a while! It can be really hard to get work done and wear all the hats – find some time where you can be free of interruptions.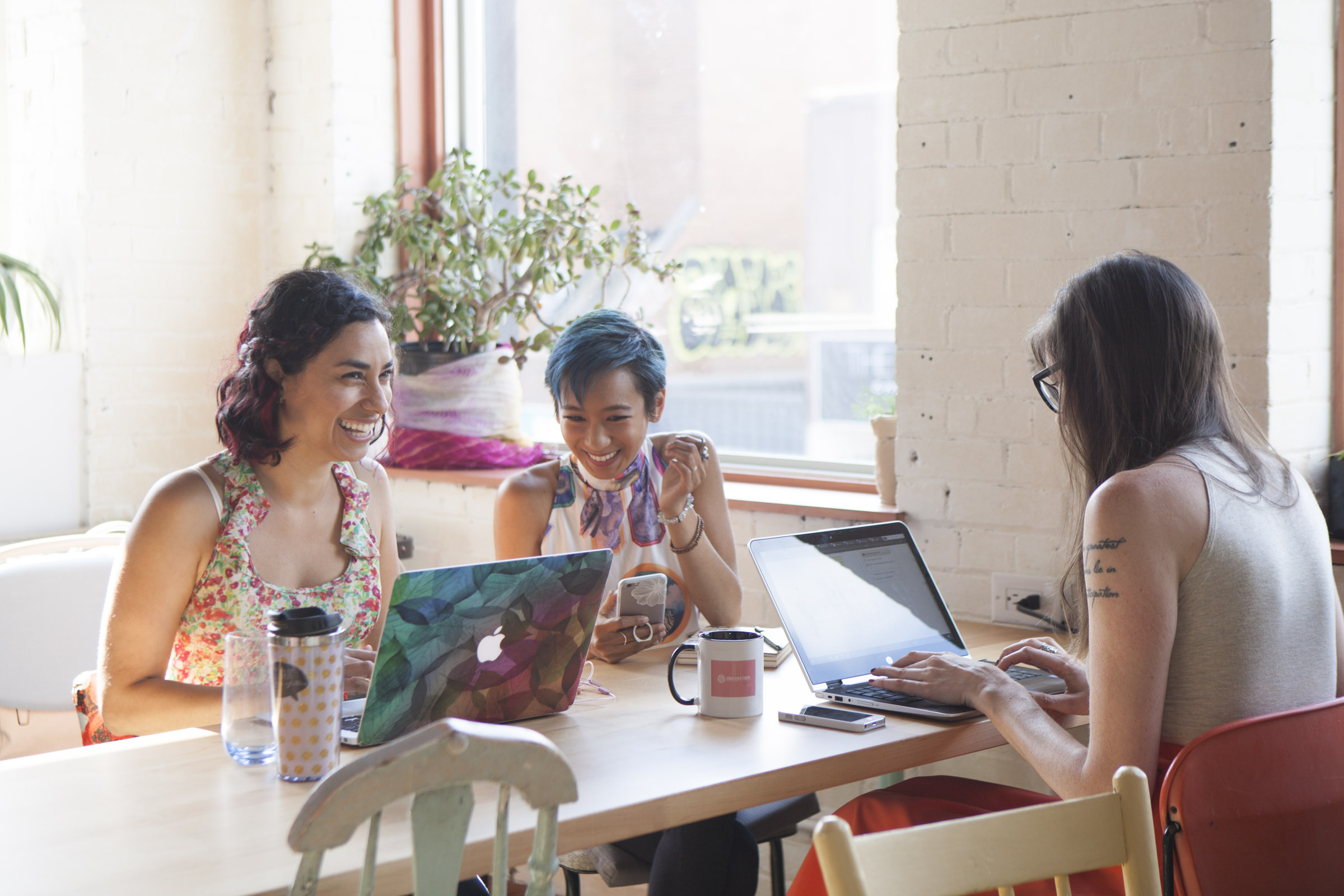 What's the highlight of your coworking career thus far?
Starting the "Coven:" an energy exchange program where I trade membership for assistance with staffing and managing the space. I have five women who have taken ownership of different projects to support the community, and I have full-time coverage so I can occasionally work offsite, or take vacations! It has been a game-changer. It has also shown me how much my members value this space and want to invest their brilliance in keeping it thriving.
What's your favorite part about coworking?
I call Shecosystem a work-life space because it blurs the boundaries, and I think that integration is a good thing. Having this space and this community situates my work in the larger context of my life. The relationships between members are multi-dimensional, and that often does not exist in a traditional workplace. There are so many ways we connect: friendships, hiring each other, barters, mentorship, collaborating on work projects, referrals. I also love how coworking allows us to see our journey mirrored in others, because entrepreneurship can be so lonely. The support of an inspiring community of people who can relate to the challenges and joys of each other's entrepreneurial journeys is invaluable.
Do you have any advice for someone looking to open a female focused coworking space?
I don't think this is specific to women's spaces, but build a community first, and create the space they need. It's easy to get caught up in what a space "should" be but the most important thing is to listen to what your members actually want it to be. And don't be afraid to ask for help from your community – it helps them feel like the space is truly theirs and takes the weight off your shoulders.
Also, don't be afraid to niche down. There is enough space in the market now people to choose the space that fits their vibe. You have to have an abundance mentality rather than compromising or diluting your mission and your brand in an effort to get more members through the door.
Take care of yourself during the process, keep your center, and be patient but persistent.
Click here to find a female focused coworking space near you.