Nadia Sotnikova, originally from Belarus, started traveling 5 years ago she began building her own business that would also give her the freedom to work remotely. Currently, Nadia is located in Bali, Indonesia, but is planning to relocate to Gran Canaria in a couple of months. Here is a look inside of Nadia's journey as a location independent entrepreneur.
Tell us a bit about yourself:

Even though my formal education was in marketing, I fell head first into remote business operations right after university. Back in college I started working for a fully distributed publishing company in the US and that's how my passion for remote work started. My whole family is very entrepreneurial and nomadic, and I grew up seeing my parents manage their business and travel a lot, so I caught the bug early on and always wanted to travel and build a business like my parents. Working as a VP of Operations for a remote publisher taught me a lot. For example, how difficult it is to build a highly efficient remote organization. Also, how rewarding it can be for everyone on board if you succeed! After a while I felt like I could apply my skills to help more remote businesses fine tune their operations so I started consulting as a freelancer. You can learn more about how I work with remote organizations on my website, www.nadiasotnikova.com.


What are you working on right now?
My main focus now is remote business process automation and organizational design, and my clients are quickly growing remote startups and agencies. I work with a couple of clients as an operations manager/ consultant on solving their unique challenges like communication barriers on cross-cultural teams, inefficient information flows, bloated project management systems, and the like. Most remote organizations starting to scale face these issues sooner or later if they're not intentional about their processes from the start. Then I come in hehe.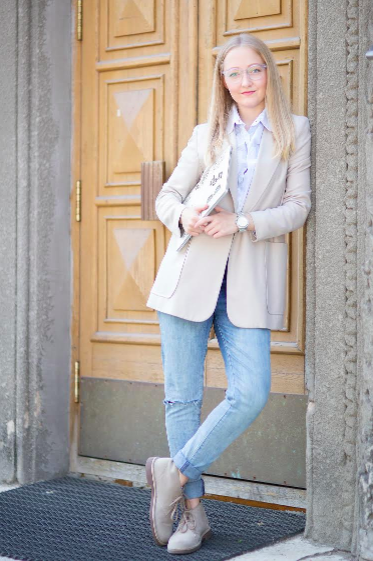 I'm also partnering up with Remote Work Hub on developing various resources for remote employers. Debbie (the founder of Remote Work Hub) and I are in the middle of building several products for remote organizations that we'll offer through the platform. However, I'm most excited about the community we're working on for remote workplace industry leaders. We will launch in November and have really grand plans for building a space where people passionate about the future of remote organizations can learn from each other, network, collaborate, and make a significant impact in this quickly growing industry.
Which book has shaped your life or changed the way you think the most?
It's a tough one! There are many books that had a profound impact on me. However, one of the latest books I've read that really changed my perspective on work and my craft was Mastery by Robert Greene. It reminded me about the importance of hard work, endless practice and never ending learning. This book humbles you. None of us are experts in anything. The second you stop learning, you're behind. The only way to do anything worthwhile is to admit that you know very little about any given problem, keep an open mind, never stop learning and question everything.
What's your favourite quote?
I have a tiny tattoo that says "do it scared" on my hand. It's my life motto and it was inspired by the quote "feel the fear and do it anyway". I don't even know who said it but it changed my life.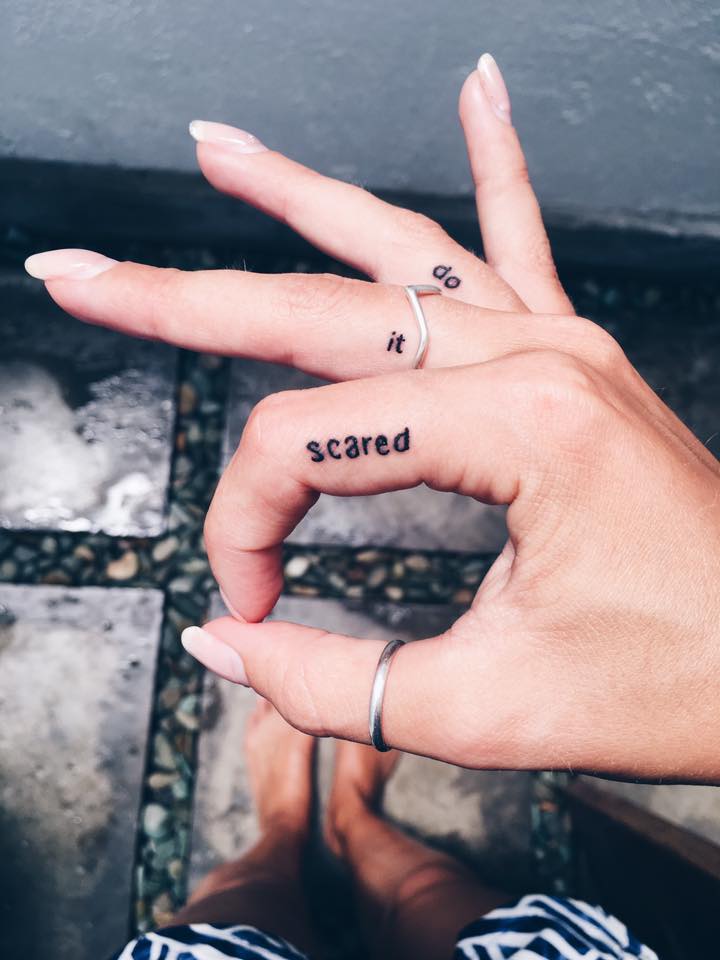 What is your go to pump up song?
Anything by Eminem. Seriously, when things get tough, there's nothing like "Lose Yourself" to get me in the zone to get shit done. 🙂
How do you start off your day — aka what's your morning routine?
Oh glad you asked! I have a crazy morning routine and love sharing it with everyone I meet (I'm that annoying person). I've been following this routine for a couple of months now and it keeps me productive and happy.
1) Wake up between 6am and 7.30am. The night before I use the Self Control app to block out all social media sites till noon the next day so I don't look at any distractions. True, sometimes I totally look at my phone, but keeping my computer distraction free makes things easier.
2) Do some stretches, 5 to 10 minutes depending on how hard I pushed myself in crossfit and surf the day before
3) Meditate for 15 minutes (I use Headspace and I'm on a 90 days streak now!)
4) Make coffee and healthy breakfast
5) Journal for 10 minutes if I feel like I need it (if I have some issues to address, am too anxious etc)
6) I work for one to three hours on my highest priority tasks. It will usually be urgent client work, or anything that's on a deadline. Taking care of this first thing in the day helps me relax and get more done later on. Plus, I'm able to catch all of my US clients awake that way, as I'm currently in Bali.
7) Then I will usually head to the gym for a Crossfit class or to surf if the conditions are good.
I try to not beat myself up if I don't get ALL of this done every single day, but early mornings and meditations are a constant now.


What is something you think everyone should try at least once in their life?
Take a crazy idea and bring it to life. The feeling of creating something out of nothing, you can't compare it to anything. A couple years ago I had an idea for a funny adult coloring book, and I ran a Kickstarter and published a real book. I now have hundreds of copies that aren't selling that well, but who cares? Every time I hold this book in my hands I feel proud. It was just a thought at first, and now it's a real book you can touch, smell, and color. I have a copy on my work desk as a reminder to keep creating, no matter what.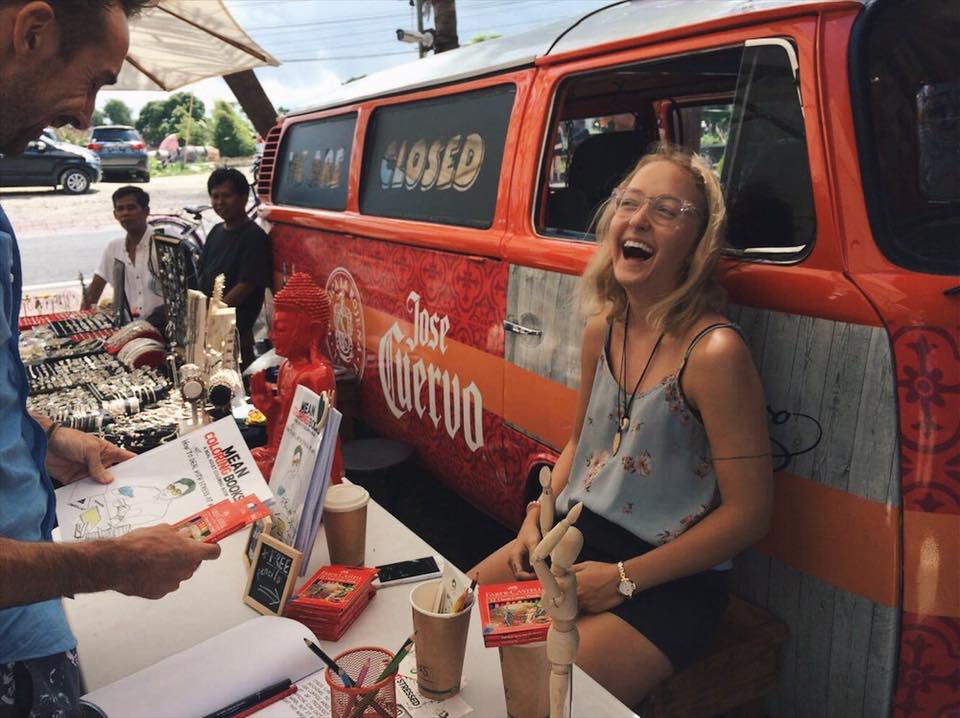 What is one skill or hobby you've been meaning to learn but haven't had time for?
I really really really want to learn to code, but don't have the time. I pushed through 30 days of #100daysofcode but had to stop because other projects became a higher priority. I'll come back to it later!

List 3 simple things in life that make you really happy:
Accomplishing something I couldn't do before
Seeing people I care about accomplish something they couldn't do before
Good healthy food

Name someone that has made an impact on your life and why?
I think if I start listing everyone, I'll miss someone, and they'll be upset. 🙂 So I'll just say my parents. They're the best. I wouldn't be doing what I'm doing now without them, they inspired and supported me unconditionally through everything. I owe most of my drive and ambitions to them too.


What is the most rewarding thing you've ever done?
I'm not sure. I think that most rewarding thing is still ahead of me. Creating a product definitely comes close. Making someone I love happy comes close. Let's see what I can do with my life next.

What is your favourite coworking space and why?
Dojo Bali! I've been to several different coworking spaces and Dojo Bali has a really special vibe. Tropics, surf, young entrepreneurs from all over the world doing cool things and then partying as hard as they work. It's a crazy mix.


When people come to you for help, what do they usually want help with?
100% of my clients (remote founders/ CEOs) tell me: "I spend 90% of my time putting out the fires in daily operations. All of this time could be spent focusing on growth and business development." And we work together to get them there. It's very hard but it's necessary if they want to scale their organizations.


How do you maintain a sense of work-life balance?
Saying no to unessential things, both in life and in work. I simplify things. I don't go to parties, but I work out and surf a lot, because it makes me happy. I don't meet with people I don't absolutely adore. I don't work on projects that don't have potential. That really reduces the overwhelm.


Name one skill you think everyone should have or learn?
Basic understanding of programming


What's the most spontaneous thing you've ever done?
Bought a one way ticket to Bali.

What was your first job? Has it shaped where you are today?
I worked as an English tutor when I was 17 and charged $30 per hour! It taught me that it doesn't matter how good you are, you can still make money if you have value to offer and are better at this something than your clients. Now, nothing really changed. In my work, I have to learn every day. New tools and technologies come out all the time. Sometimes I'll fall off the wagon for a week and my client will know something I don't know about my own work. It's ok, as long as I can create that value for them.


What's your favorite part about coworking?
The people and the passion for work.