Workforce mobility is changing the future of workspaces—and that future is already here, according to a report titled "Strategy Analytics in the Global Mobile Workforce Forecast Update 2016-2022." Today, Western Europe and North America are leading the industry in terms of workforce mobility. The youngest generations have grown up with a basic expectation of staying connected anywhere, anytime. Being able to do your job from any location with a fast and steady internet connection has transformed the working environments globally as these generations enter the global market. By 2022, the forecast predicts a whopping 1.87 billion people — or 42.5% of the total global workforce — will be mobile employees.
Coworking with a view
To benefit from the trend, the four-star Hotel am Badersee in the Bavarian alpine village of Grainau in the Garmisch-Partenkirchen area has launched its own coworking space directly at the foot of Mount Zugspitze, Germany's highest peak. This is one of several recent examples in the hospitality industry of hotels coming on board with coworking and opening innovative, on-site spaces for business travelers and locals alike.
Targeting both corporate customers and holiday-makers, the Lakeview Office coworking space in the heart of Bavaria's skiing and trekking paradise hosts up to 11 users at a daily cost of 25 euro. Along with "basic" features like individual or group workspace, shared printers/scanners, internet access, and free coffee/tea/water, users enjoy individual shelves and locker space, connection to a large screen and projector, and a balcony with a one-of-a-kind mountain and lake view. Conference rooms for meetings and group activities are also bookable on an hourly basis. For overnight guests, the service is available 24×7, including evenings and weekends.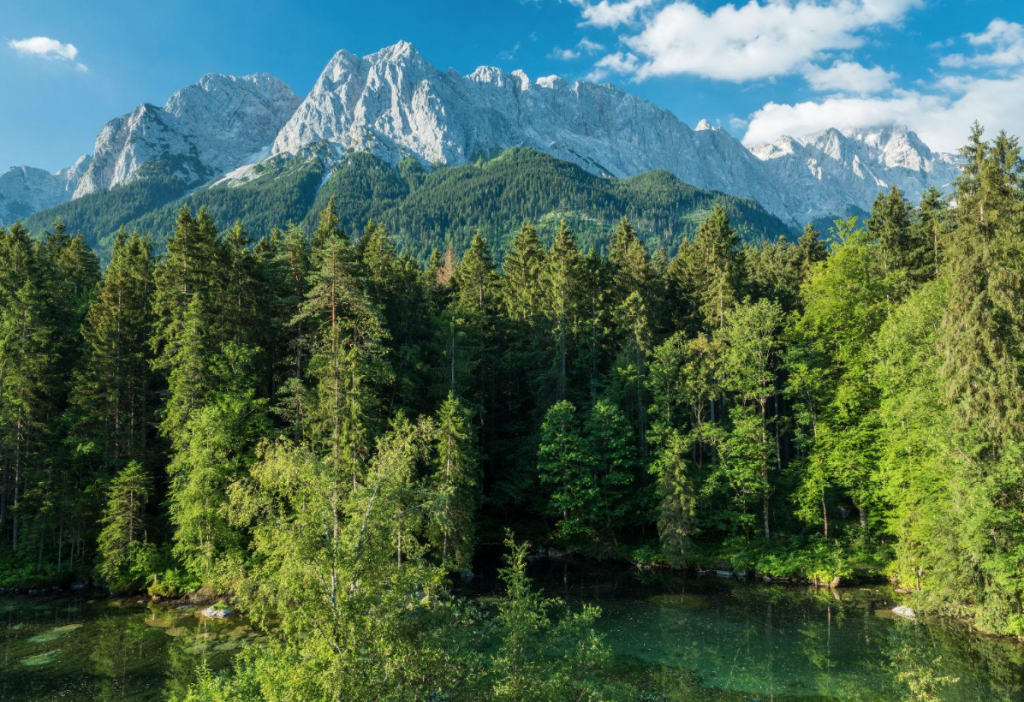 View from the Lakeview Office coworking space.
The Lakeview Office is located on the banks of the Badersee, a small crystal-clear alpine lake just three kilometers from the summit of Mount Zugspitze. Users can enjoy the iconic view of the Zugspitze directly from the coworking space's balcony. Lake Badersee has been a celebrated tourist and picnic location since the 1870s. The famous Bavarian King Ludwig II was impressed by the beauty of this mountain hideaway and considered the Badersee as a building site for one of his castles. Repeatedly reconstructed and modernized over the years, the Hotel am Badersee now offers its guests the comforts of a first-class hotel. With 135 guest rooms and 22 conference, group, and creative spaces accommodating up to 200 visitors, as well as various event formats (including Fish Bowl, Design Thinking, World Café, Bar Camp, or Walk&Talk), the hotel provides one of the best offerings in Germany's corporate market.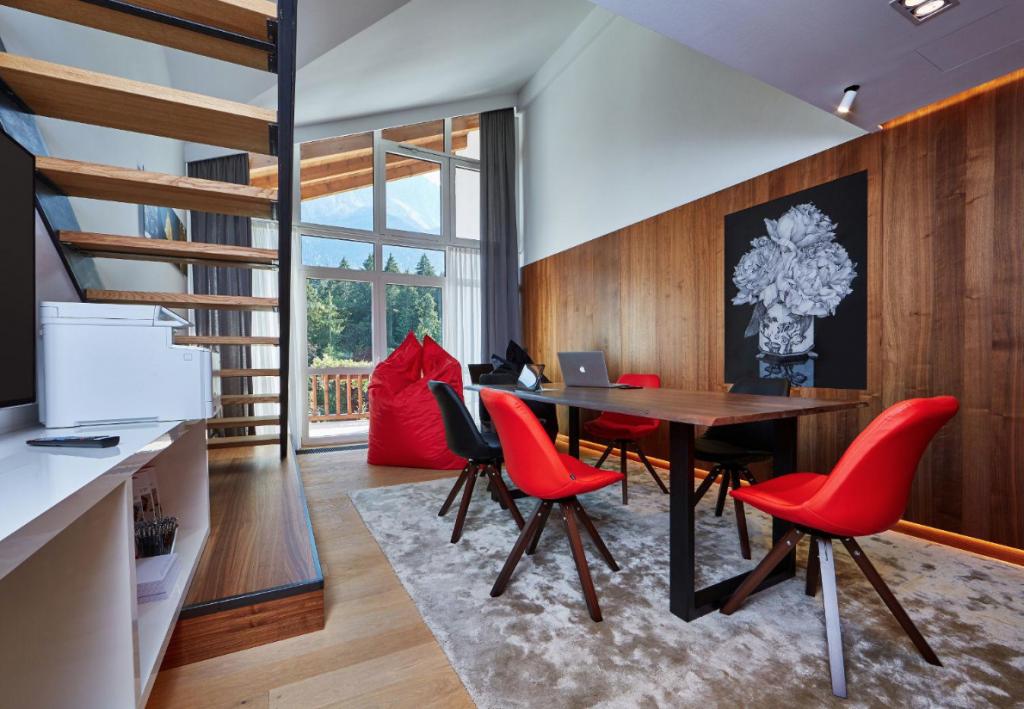 The Lakeview Office interior
Operating to the highest industry standards, the Hotel am Badersee was ranked sixth by the German conference hotel industry association Tagungshotels.de in 2018 in the category "Conference Hotels with 100 to 200 Rooms." Beside that, the hotel owns the renowned Association of German Travel Management's (VDR) "Certified Conference Hotel" label and since 2013 also meets the requirements of the VDR's "Certified Green Hotel" catalog, which includes over 70 criteria in categories like Energy, Water, Waste, Food & Drink, Mobility, and Social Responsibility.
Thus, after extensive renovations in 2012, the hotel management gave up using minibars and electric water heaters in guest rooms in order to reduce the environmental footprint. Now, the hotel's restaurants rely on local suppliers to deliver meat, fish, and greenery. A direct connection to the outer mountain area offers multiple outdoor event formats and incentives. The house is built and decorated in a lavish alpine style with wood and natural stone. Glass panels allow for extensive natural lighting throughout the hotel campus. Furthermore, the historic village of Grainau is only six kilometers (km) away from Garmisch-Partenkirchen and is easily accessible from Munich (132 km) and Innsbruck (65 km) airports by car or train.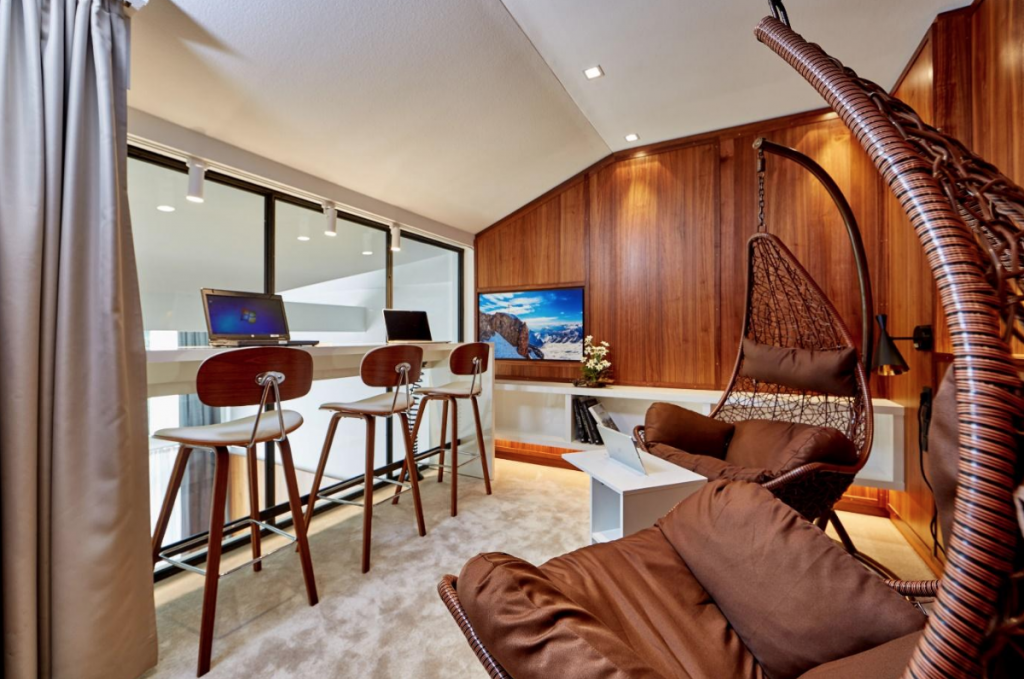 The Lakeview Office interior
"We at the Hotel am Badersee have been involved in the conferencing business here in Garmisch-Partenkirchen for decades, so we constantly explore the ways people work," said Jan-Claudio Rahn, managing director of ABG GmbH, the asset management company of the Hotel am Badersee. "Our core activity is about bringing people to work together efficiently, therefore we cannot ignore the global trends that are pointing in the direction of coworking as the future of workspace. Businesses go global, so many teams are geographically distributed.
"Valued skilled workers today choose companies that offer flexible work formats like remote work, home office or 'bleisure' travel, not ones with a 'traditional' corporate setup. We also see a huge demand for everything that fits into the 'work, meet, play' category. Therefore, we have transformed some meeting rooms into creative spaces that literally let nature be part of your meeting. An increasing number of jobs require staying connected while traveling. This builds an opportunity for realty asset owners like us, so customers can enjoy this unique location at the foot of the Zugspitze and feel 'at home' by performing their everyday working duties online in a pleasant and productive atmosphere in our Lakeview Office coworking space," said Rahn.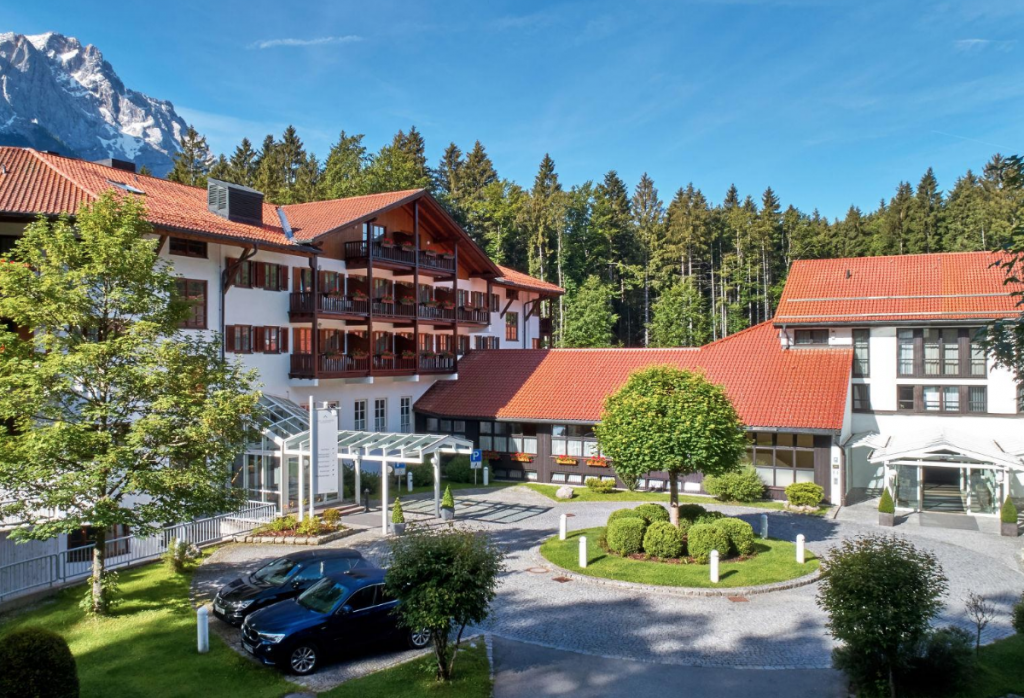 The Hotel am Badersee with Mount Zugspitze
Connected in the wild: Remote goes mainstream
Many asset management companies and asset owners worldwide have added coworking spaces to their building concepts in recent  years. However, coworking has been a more typical venture for city hotels thus far. Why, then, should coworking break city boundaries and settle in areas normally seen as holiday destinations?
"This is a logical step," said Sonja Wilms, director of sales and marketing at ABG GmbH. "Millions of individuals can now afford working from where they are or not having any office at all and still make good money while traveling. Many more are getting 'infected' with that way of life because it looks so attractive. Why not just provide a comfortable work environment to them where they are?
"Next, our corporate customers are looking for inspiring meeting spaces for teamwork, including outdoor formats. We offer unbeatable advantages, from unique location and top quality accommodation to unforgettable incentive programs in the Zugspitze natural preserve area. And all of  this strongly provokes team creativity. This blending of business and leisure has always been our focus. Our Lakeview Office coworking space, along with the creative meeting spaces, would maximize those customers' guest experience during their stay in Garmisch-Partenkirchen area," said Wilms.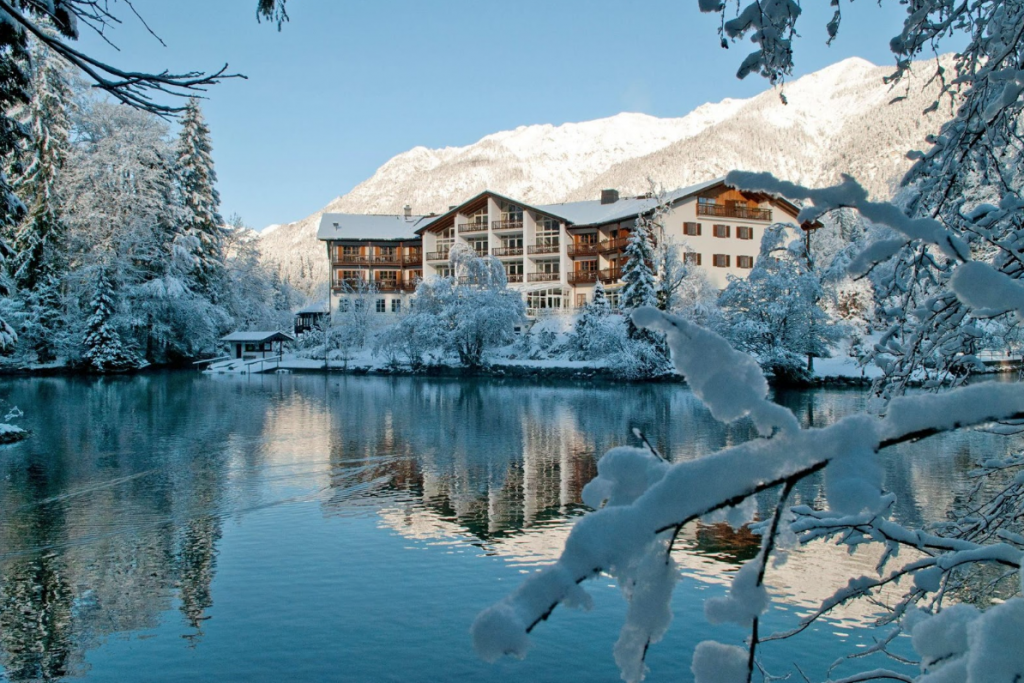 Winter tale at the Hotel am Badersee
As the internet continues to erase the barriers and it becomes more difficult to clearly distinguish between 'urban' and 'rural' or 'work' and 'leisure,' destinations that used to mean 'holiday' may come into play as 'business.'
"We are aware that the picture of the Bavarian Alps everyone has in their minds is an Arcadian, rural area with cows, edelweiss flowers, and ski resorts," said Wilms. "This is amazing, but we would like everyone to know this is also a perfect business location where you can run your daily work activities to the highest corporate standards. The new offering will add to the attractiveness of Grainau for business on the whole and help drive the 'tech nomad' type audiences to our area, especially active sports and mountain lovers. In this sense, we have to act as icebreakers, but we keep putting one foot in front of the other."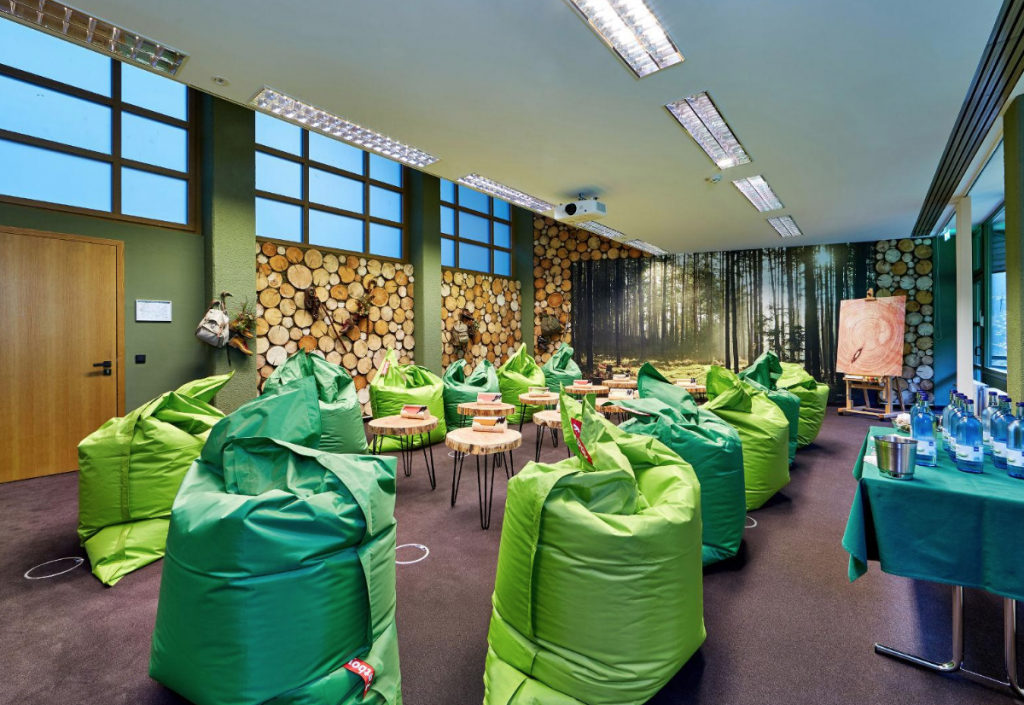 'Alpspitz Forest Room' creative space
Users, the soul of coworking
As work and travel continue to merge together more closely, travelers will need comfortable work environments away from their habitual residences. Local communities and atmosphere play a shared role in coworking projects along with room design and functionality.
What are typical scenarios that make a coworking space feasible? Research by the Global Workspace Association shows that 20 percent of coworking users are freelancers, while 47 percent come from small businesses and another 12 percent are mobile corporate users.
Do you need to check your email daily and respond to calls during your ski holiday in the Alps? Do you want to relocate for the short term to Grainau with your team to complete a software development project? Do you want to routinely work part-time on daily tasks while exploring the neighborhood? Most business professionals today travel and explore the world, but they cannot afford to switch off and go completely offline, even for one day. Ideal coworking spaces must therefore be offered as an innovative, productive environment that attracts all types of users with varying demands. By offering a creative working atmosphere and active outdoor socializing with like-minded people, the Lakeview Office coworking space at the Hotel am Badersee acts as the best solution for users.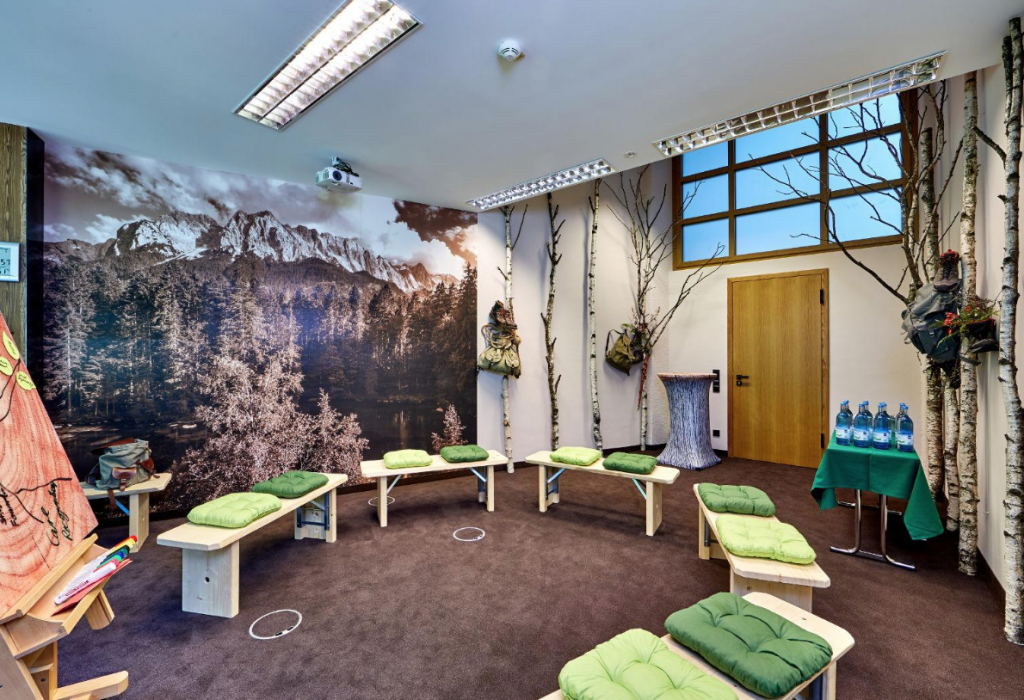 'Frillensee' creative group space
Workspace as a commodity
Work processes in the postindustrial economy are becoming increasingly creative, setting a new benchmark for realty operators and owners. Workspaces are now being designed as end-user products—besides including professional working conditions, customers expect innovative design and comfort. In fact, some company premises can boast their own meeting and coworking spaces, featuring state-of-the-art design and technologies that are hard to compete with. This reinforces users' expectations, making them look for outstanding experiences they cannot get in a home or office environment.
This can prove to be quite challenging for some space owners and operators.
"We will have to further explore our customer target groups and see what boosts their team productivity or which processes are typical for coworking environments," said Wilms. "This is a new market segment, so no best practice is available. The hospitality industry still needs to find a way to meet those expectations in terms of user experience. But we will learn to give coworkers what they need."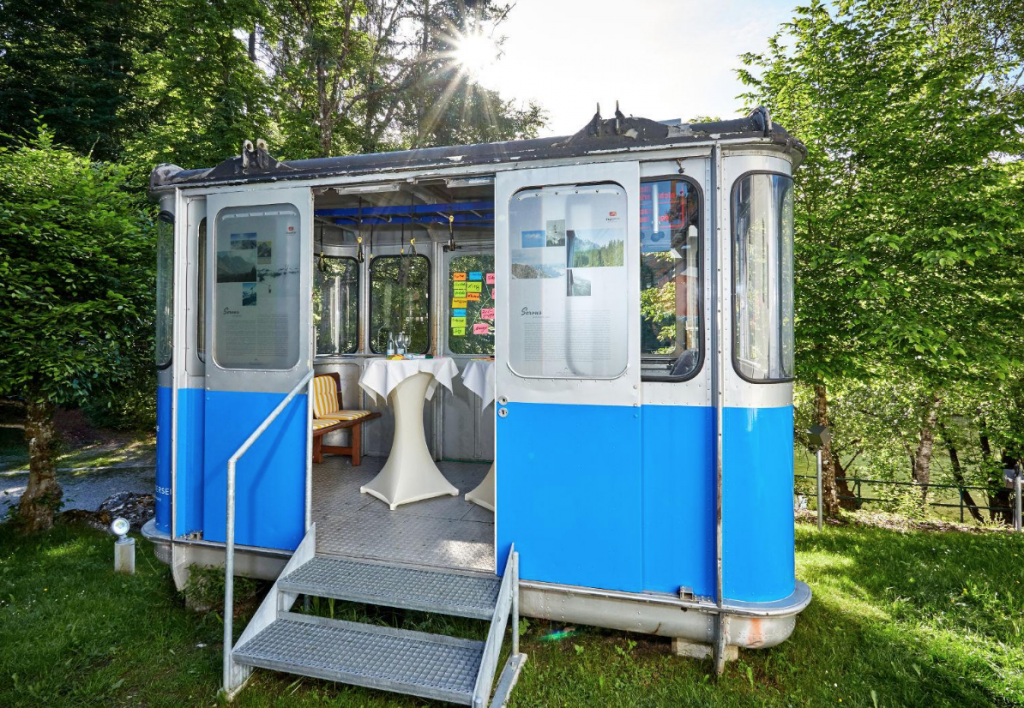 Have you ever tried brainstorming in a cable-car cabin? This one comes directly from the Zugspitze!
A very Alpine experience
In an internal effort to define their new product offerings, the marketing team at the Hotel am Badersee has summarized the essential benefits of the Lakeview Office for its customers. Along with being able to work in a relaxed living-room atmosphere with an amazing view of Germany's highest mountain, coworkers can take advantage of the whole infrastructure of a first-class business hotel–such as cozy rooms with a mountain or lake view, modern meeting rooms, Alpine-style creative spaces, an exquisite spa featuring a sauna with panoramic views, Ayurveda treatments and a snow room with real snow, as well as a fitness studio and rent-a-bike service. In combination, all of this is available to coworkers at a special rate. However, the key point of each user's stay will be feeling at home in the Alps and living the same life as the locals in Garmisch-Partenkirchen.
"Living in the Garmisch area is a very special experience," said Polly Peskovsky, online marketing manager at ABG GmbH, who moved to Bavaria three years ago. "When you live here, the Alps are part of everything you do. You see them from your window as you wake up, see them on your way to work, and then from your office. It's about knowing the ins and outs and having your own secret escapes in the mountains.
"Discussing mountaineering activities is a typical small-talk topic among our team. In the evening, you can go trekking or climbing in the summertime, or in winter make a brief skimo tour to an Alpine chalet – a mountaineering discipline that actually came into existence here in the Bavarian Alps. I know individuals in the neighborhood who wake up at four a.m. and make a small mountain tour before they go to work. It was amazing to meet so many like-minded people here who don't mind sharing their experience, knowledge, and passion with you," said Peskovsky.