Kansas City has one of the strongest coworking alliances on the planet, and now they are setting out to break a world coworking record by gathering over 500 people within the Kansas City area on August 9th for KC Coworking Day.
Here, Melissa Saubers, President of the Kansas City Coworking Alliance and Connector and CEO of Cowork Waldo will share what this event entails and why it is so significant for the coworking movement not only in Kansas City but for the industry as a whole.
 What inspired you to attempt to break a world coworking record?
The Kansas City Coworking Alliance was formed in 2015 to help support coworking in the Kansas City region. In January our team met to set our goals for the year. We came up with the idea of setting a Global Coworking Record for the most number of people coworking in one space at one time to really highlight what coworking is all about and bring Kansas City together.
What will this event entail?
We will start out the day by having the weekly 1 Million Cups presentation from 2 Kansas City startups, then we will check people in to set the global coworking record. After we set the record we will have a presentation from the Kansas City, Missouri Mayor, Sly James. He will declare this KC Coworking Day and acknowledge that we have set this record. We have food trucks, ice cream, games, music and more planned to help people connect over lunch. We even have a Google Hangout set up between us and Reading, England's Grow Green Park coworking community.
How did you select the venue for this event?
We wanted to have the event at a place that could fit as many or more than 500 people. Plexpod Westport Commons is the largest coworking space in Kansas City, and maybe in the world with over 160,000 square feet of coworking space.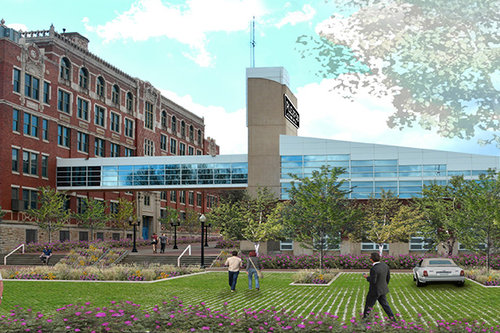 What will this event do in terms of spreading coworking awareness and putting Coworking in Kansas on the map?
The Kansas City Coworking Alliance exists to raise awareness about what coworking is and all of the benefits. KC Coworking Day will really highlight those benefits and show people what it's like to work side-by-side with other people from other industries and backgrounds.
KC Coworking Day will really highlight that Kansas City is one of the most connected cities in the world. People from all backgrounds and industries are going to attend KC Coworking Day because they want to help us set the global coworking record but they also know that they will find connections there and may have serendipitous collisions that could benefit their business.
How have you seen coworking shift over the past 5 years?
In 2012 when I first got into the coworking business there were 3 spaces in Kansas City, now we have 11 member spaces of the Kansas City Coworking Alliance and we're adding more all the time. At that time people did not really understand the coworking concept; sometimes people even thought we were a job placement center. The KC Coworking Alliance has worked hard to raise awareness of what coworking is and all of the benefits that coworking offers. Now coworking is more of a well-known concept in our area.
Where do you see coworking in 5 years from now?
Kansas City is adding new coworking spaces at the global growth rate. There's a pent up demand for this type of space where you can make the connections you couldn't if you were working from home or from a cafe. People from all industries are flocking to coworking because they see the real value in the community that they find.
It appears that Kansas City has one of the strongest coworking alliances. Why do you think Kansas City has been so successful in cultivating a such a strong coworking community?
Kansas City is a great city to live in, it's easy to get around, low cost of living and all of the resources you need to start and grow a business. The reason the Kansas City Coworking Alliance has succeeded is that we all went into this with common goals and we understand that we all will succeed if we work together. It's like that quote "a rising tide lifts all boats" we truly all work better together.


Why is it important for coworking spaces to work together?
Coworking is still such a new concept and in some areas, people are just now hearing about it. If you work together everyone will be successful and you'll get there a lot sooner.
Do you have any tips or suggestions for other cities who would like to form strong coworking alliances?
It takes a lot of extra work to form, grow and manage the alliance. You need to be committed to this. It often takes a cheerleader, or two to help get it off the ground but ultimately everyone needs to play a role and be fully engaged for the long haul. Everyone will benefit from working together.
Any other words of wisdom?
Just do it! Really, make a plan and get people engaged for the long haul. It's a lot of work but totally worth it.
Get in on the action by following @kccoworking on Twitter and by using the hashtags #KCCoworkingDay and #KCCoworking.
Click here to register for this event.