When you think of the most iconic city in the US (or in the world), what is the first name that comes to your mind?
It has to be New York City: the epicenter of arts, the world's trendsetter, multicultural capital and the home of Broadway shows. Although there are many reasons to fall in love with this city, there is one particular reason that makes New York amazing: its energy.
Also known as The City That Never Sleeps, New York is the center of creativity and colorful neighborhoods that hosts a wide variety of cultures. It is the place that brings together the cuisines from every corner of the world—from food-trucks to high-class restaurants.
Located in the southeastern part of the state of New York, it is one of the most populous urban agglomerations in the world, with an estimated population of 8,550,405. New York City is divided into five boroughs: Brooklyn, Queens, Manhattan, the Bronx and Staten Island, and there are more than 800 languages spoken throughout the city.
The main landmarks of New York City are extremely popular, as they manage to attract millions of tourists every year. Amongst the main attraction points we find the Times Square, known as the world's heart, the Broadway Theater District, the Wall Street, the Empire State Building, the Chrysler Building, the Statue of Liberty, as well as the Central Park and many other museums, streets, neighborhoods and buildings.
In addition to all the entertainment that New York City offers, it is also the home of some of the world's most successful finance, retail, media and real estate organizations. Having so many business opportunities in the city, many young entrepreneurs are at the starting point of their careers.
Having a space to work is crucial if you are trying to develop your own business. And what a better place to find your inspiration than in a coworking office?
With nearly 50 coworking spaces, New York's coworking scene is blowing up. Let's take a look at some of them: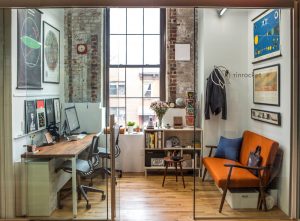 Cowork|rs is an ultra modern coworking space, situated on E 23rd Street in New York City, in close proximity to 5th Avenue and Empire State Building. Whether you're a freelancer, an independent professional or you are part of a team project, this can be the place you are looking for.
Cowork|rs offers all the amenities you need for your work routine, such as private phone, fast internet connection and conference rooms equipped according to the latest tech—all in a modern open-layout design.
Among the amenities that Cowork|rs offer we find: a lounge area, free coffee or tea, air conditioning, a kitchen area, free beer, en-site cafe and restaurant, events and workshops.
Did you know: Cowork|rs offers puppies you can play with – a good stress relief method.
2.
Spark Labs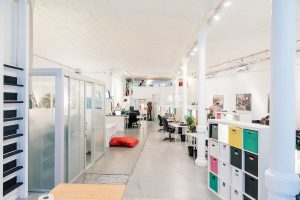 Spark Labs is a shared ecosystem that brings to the table a modern and well-organized office on 833 Broadway, New York City. This workspace offers opportunities for tech companies that are currently expanding on the US market.
Besides the fact that Spark Labs is a cat friendly and dog friendly office, some of the other amenities it offers is a kitchen area, wheelchair accessibility, standing desks, lounge area, free coffee and tea, air conditioning and heating.
Did you know: Spark Labs has an outside terrace, so you can work and enjoy a sunny day at the same time.
Bonus Tip: Spak Labs is only six minutes away from Pret A Manger, so you can eat fresh food everyday.
—
New York offers great opportunities for artists, marketers, web developers, designers and young entrepreneurs in general. It is the place where you can set your imagination free and where your dreams can come to life.
The greatest thing about New York City is that it offer you the chance to choose your own adventure and to experience it in your own way. Now's the perfect time to start your own adventure—choose the coworking space that works for you and be sure to bring your fabulous ideas with you, the rest is up to your imagination. Dare to dream big!