This article was originally published on Leanne Beesley Medium.com account
Hey folks
I did a keynote at TechBBQ in Copenhagen last week about building culture in a remote team, so sharing my slides & presenter notes here in case there are useful for anyone!
I'm deffo not the expert on remote teams as Coworker.com is just 17 people right now and 3 years old, but there's a bunch of stuff we do now that never occurred to me to do in the past (and wish I'd thought about it sooner).
So here we go…..
Like a lot of you here in this room, I'm a startup founder.
And my startup journey began because I had a problem.
Before Coworker I'd been working remotely for about 5 years. And every time I went to a new city or country I would waste SO MUCH TIME trying to figure out where to work from.
Coz y'know, if you're looking for a place to sleep, you've got booking.com, Airbnb, Tripadvisor.
But if you're looking for a place to work, somewhere with great WiFi and a great community of other entrepreneurs, there was nothing.
And it got me wondering, why isn't there a global platform for places to work?
And so we built Coworker.com, which is now the world's largest platform to find, book and review coworking spaces in 158 countries.
Coworking spaces have been getting a lot of attention in the media because of WeWork and its $20 BILLION valuation.
And although coworking spaces attract all kinds of people and companies, they're especially great for people working remotely.
Studies show that working from a coworking space instead of working from home increases people's happiness and productivity so if you have remote employees, offer them a coworking space membership as part of their contract…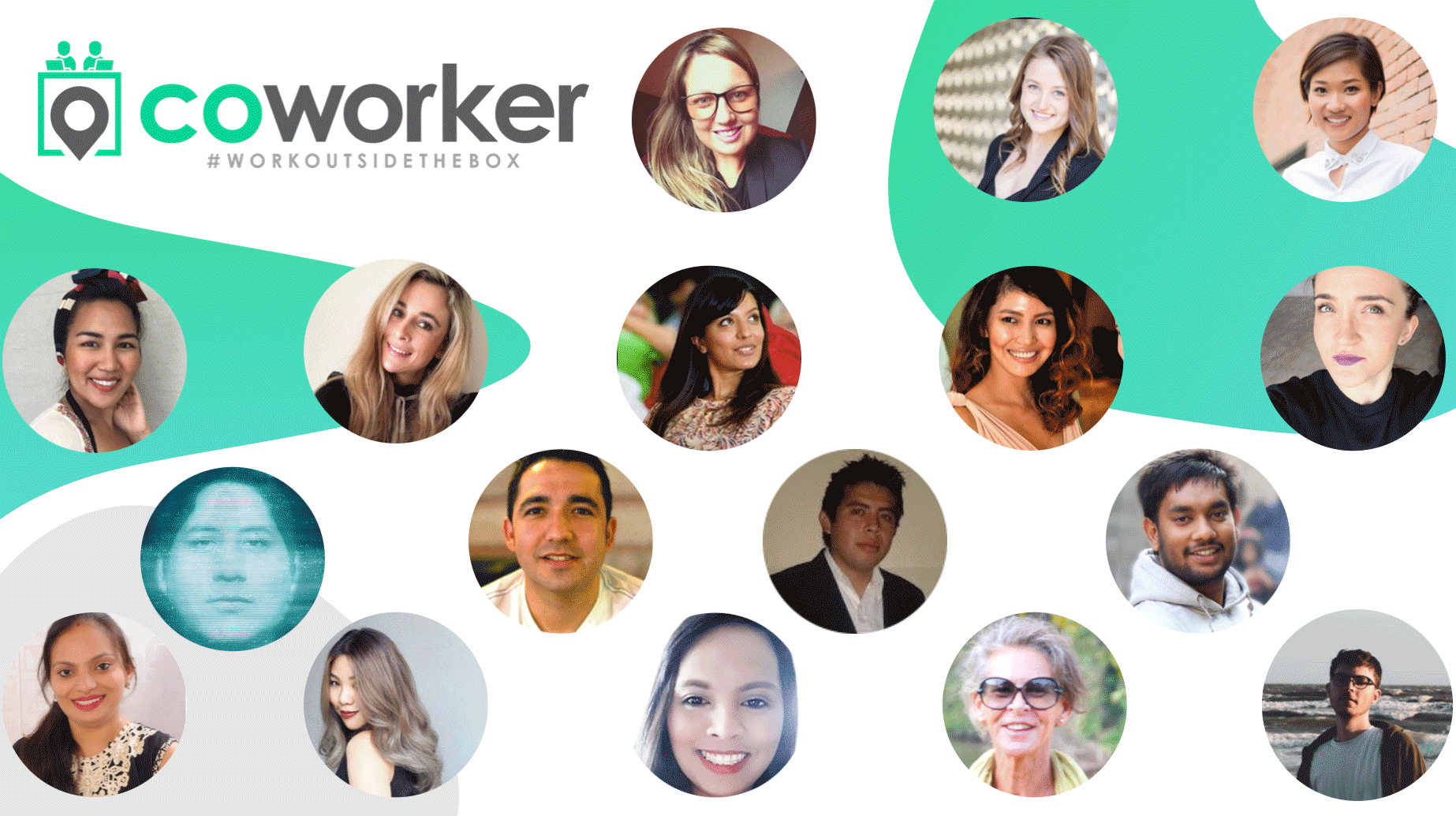 And that's what we do! When it came to building the Coworker team, having a fully remote team was the obvious choice.
Why limit ourselves to talent in 1 city when we have the entire global talent pool at our fingertips?
Our team now spans across 11 countries; Toronto, Barcelona, London, Bucharest, Australia, Thailand, Philippines, Bolivia, Mexico, Malaysia and more.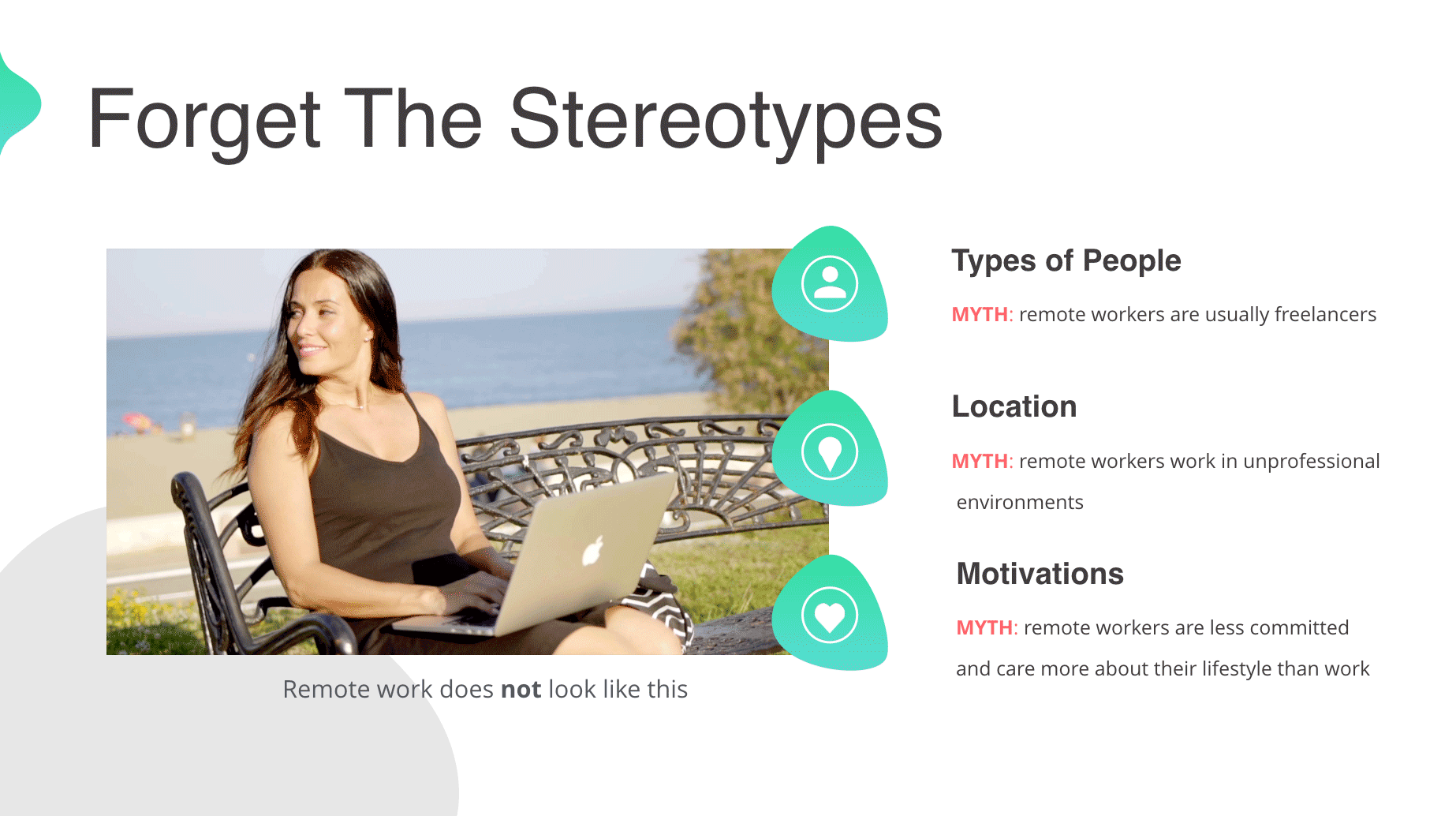 Sometimes what I've noticed is that some people have stereotypes of what remote work actually looks like.
There is this prevailing cultural stereotype that working remotely is something that only freelancers do or people who are not committed to a company.
And that is just not true.
The International Workplace Group did a survey of 18,000 mid and senior level professionals across 96 international companies.
And turns out, 70% of them work remotely at least once a week.
And over 50% work remotely at least half of the week.
And it's not just BIG companies.
If you look on AngelList, which has a really popular job board for startups, there are currently almost 7000 remote jobs with startups currently hiring.
And almost 1500 of these pay a salary of over $100,000 a year.
So if you have a startup and want to attract the best talent to come work with you, you've got serious competition out there.
And if you're not thinking globally when it comes to hiring great talent, you're missing out on some amazing people.