The coworking trend in South America has been exploding in popularity. Learn about some of the best coworking locations Latin America has to offer in this post!
When you think of coworking hubs around the world, what cities come to your mind?
Probably places like:
NYC

Berlin

Chiang Mai

San Francisco

Ho Chi Minh

Barcelona
That's all well and good, but if you limit your location independent working journey to these cities, you'll be missing out on the most exciting and vibrant continent on the planet: South America!
Think about it: if you can learn Spanish (and maybe some Portuguese) you can access a whole continent of friends, lovers, potential co-founders, employees, and freelancers.
Yes, South America isn't as known as SE Asia or some other places when it comes to being a digital nomad hotspot. (There's plenty of speculation about the reasons behind this).
However, certain cities in South America (such as Medellin) have real location independent communities, and there is plenty of good old fashioned entrepreneurship taking place as well.
And with entrepreneurship and the mindset that comes along with it, there is coworking!
But I'm not arguing just that you CAN find coworking in South America. I'm arguing that South America is the fastest growing coworking continent on the planet.
Is There Really Much Coworking Going on in South America?
Here's a bit of data to back up that bold claim.
First of all, coworking as a whole has been exponentially increasing in popularity over the past 5 years. A global survey by the coworking magazine Deskmag found that there were 1,130 global coworking spaces in 2011, 3,400 in 2013, and 8,700 in 2015.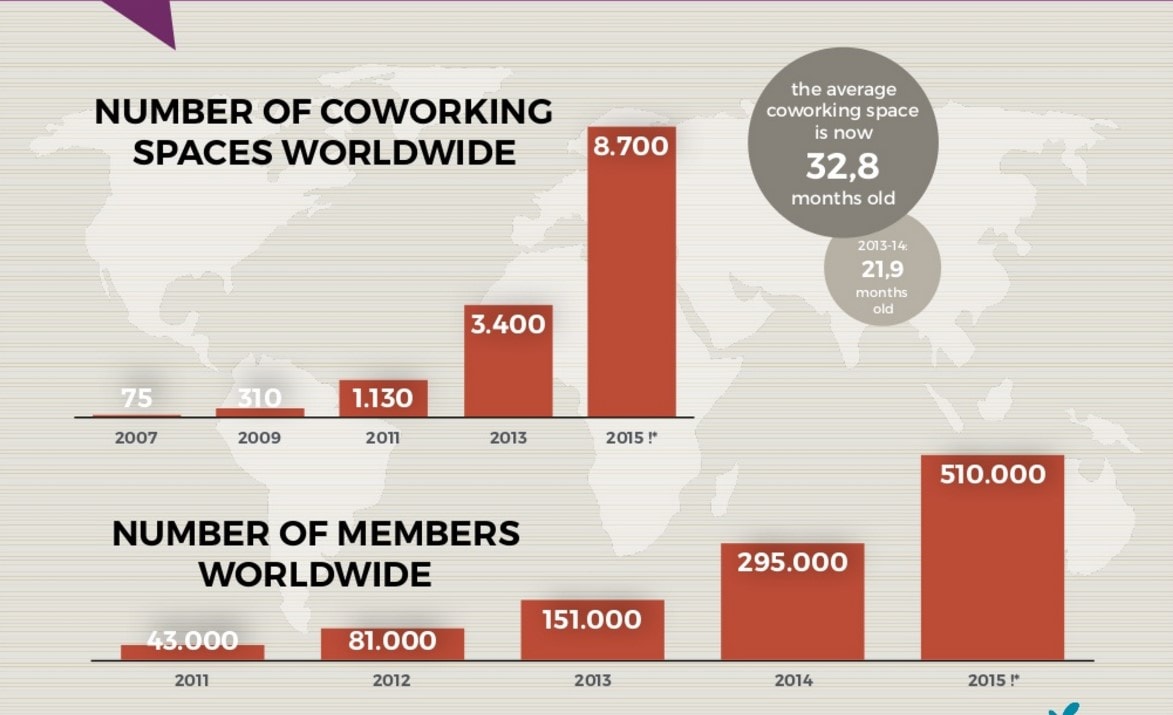 That's a "hockey stick" growth curve if I've ever seen one.

Additionally, an article by Deskmag found that from 2011 to 2012, "The strongest growth was recorded in many countries south of the equator. South and Central America saw a growth rate of 167% in the past twelve months. More than half of this was in Brazil…"
OK you say – but that was more than 5 years ago.
Fair enough, but just a few weeks ago an article on Bloomberg stated that "WeWork Cos., the world's largest co-working startup, is preparing to enter Argentina and Brazil while scouting potential sites in nearby countries as part of an expansion in Latin America."
The article continues, "WeWork is coming late to Brazil, where shared workspaces have already spread. The country's co-working market, which includes many local players, grew 50 percent in 2016 to 400 spaces, according to real estate consultant Engebanc."
Finally, we have our friend Google Analytics with some data on searches on Coworker.com for coworking in a few South American countries in 2016:
Colombia: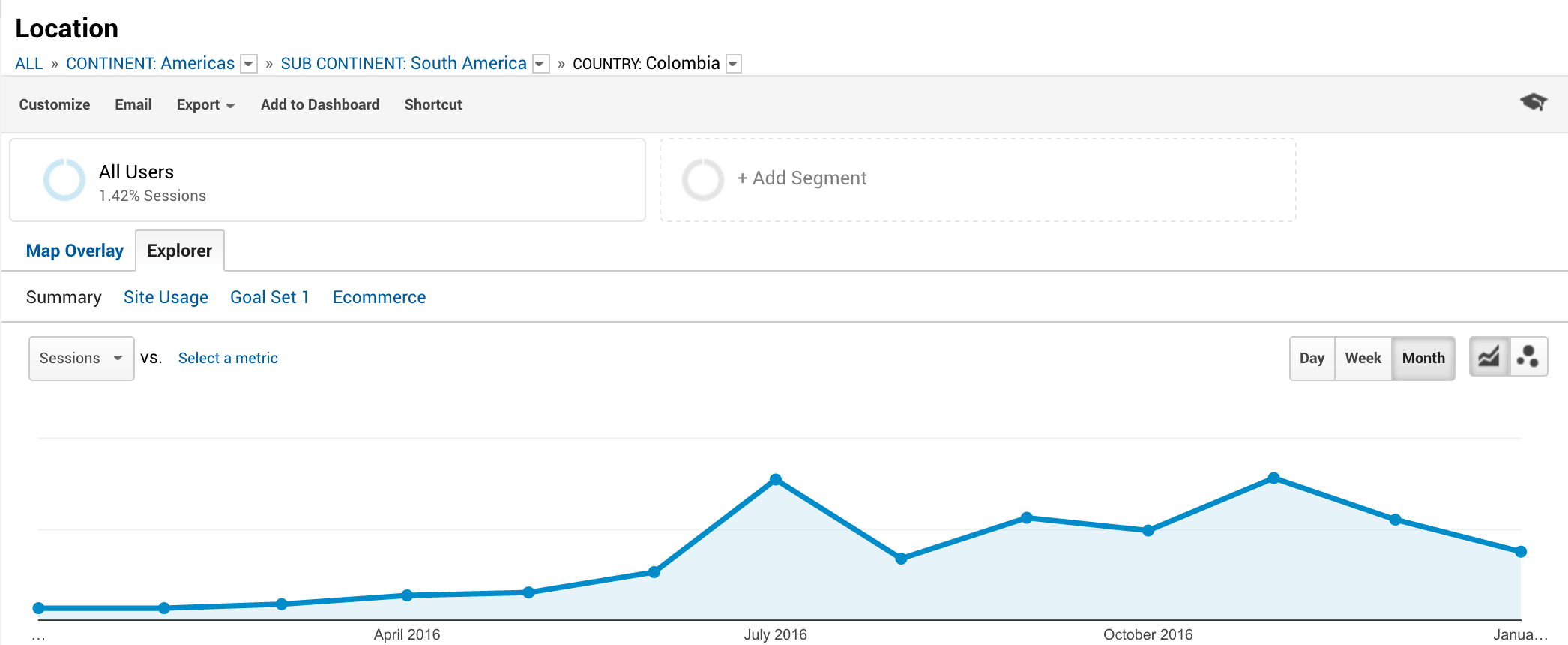 Argentina: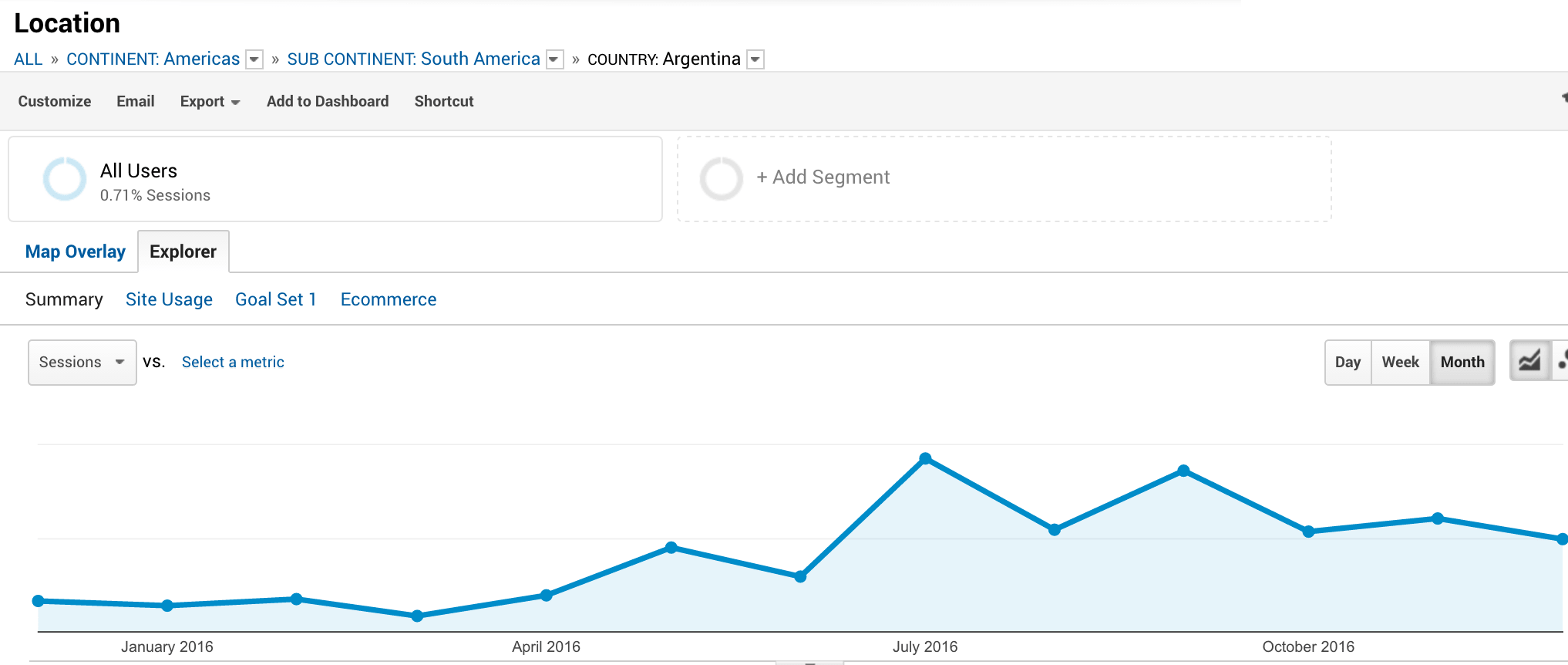 Chile: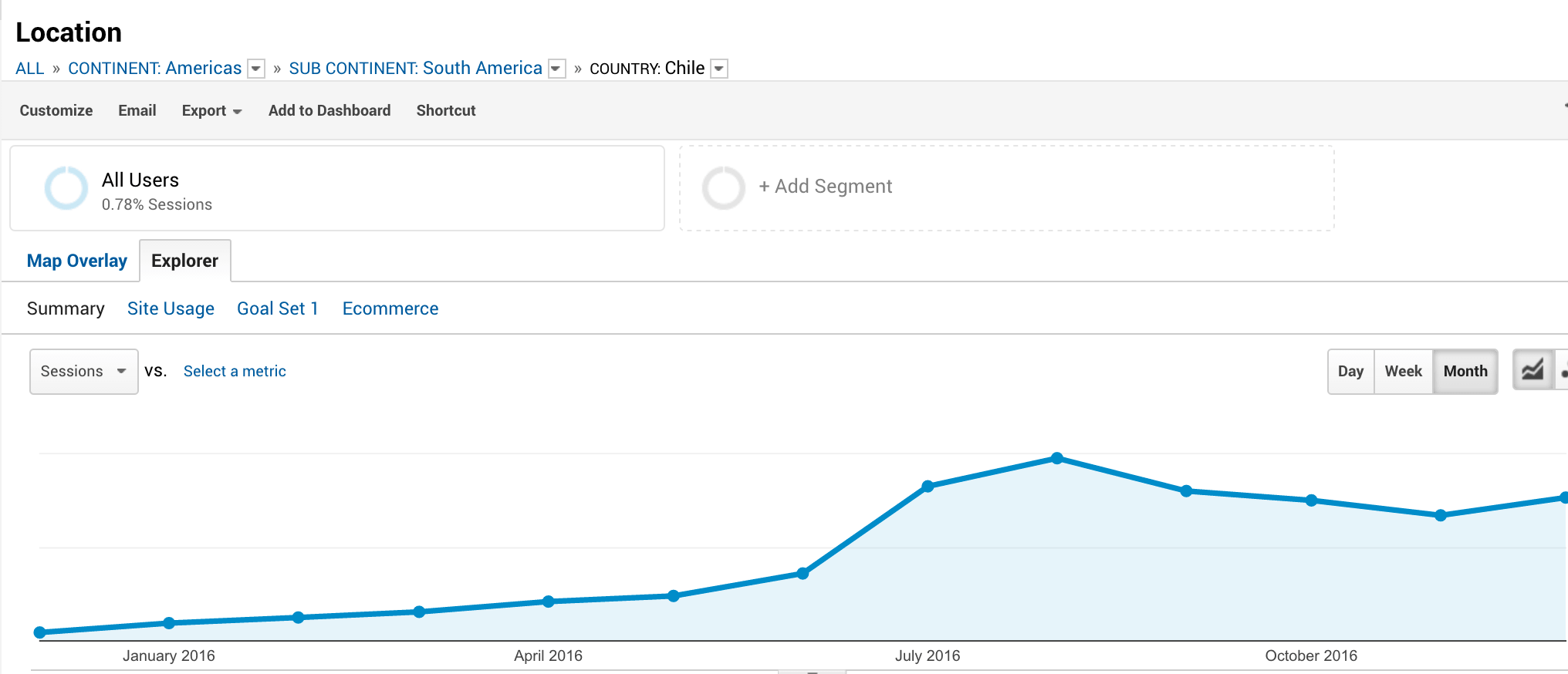 Ready To Book Your Flight? Here's Where To Go
OK, you're convinced. Took you long enough – South America is waiting for you!
Here are 5 coworking spaces in some of South America's world class cities that either have rave reviews or just look intriguing.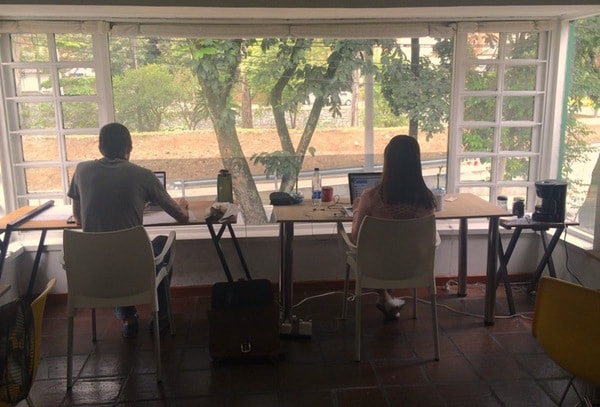 Medellin is known as the city of eternal spring, and with the amazing weather, it's not hard to see why. Residents love the amazing coffee culture, the beautiful people (spring is the season of romance after all) and the easy access to nature that Medellin provides.
Also, Medellin is arguably one of the top digital nomad hotspots in the world, being regularly mentioned among cities like Chiang Mai, Berlin, Barcelona, and Ho Chi Minh.
The community is real, especially at Casa 98, where one reviewer writes:
"…Casa 98 is close to everything, good transportation and everyone is welcome. The people (are) great, we have friends from all over the world, Jamaican, Americans, French…good opportunities to talk and practice your english or spanish skills and learn anything about your business."
#2:
StartupM3
in Buenos Aires, Argentina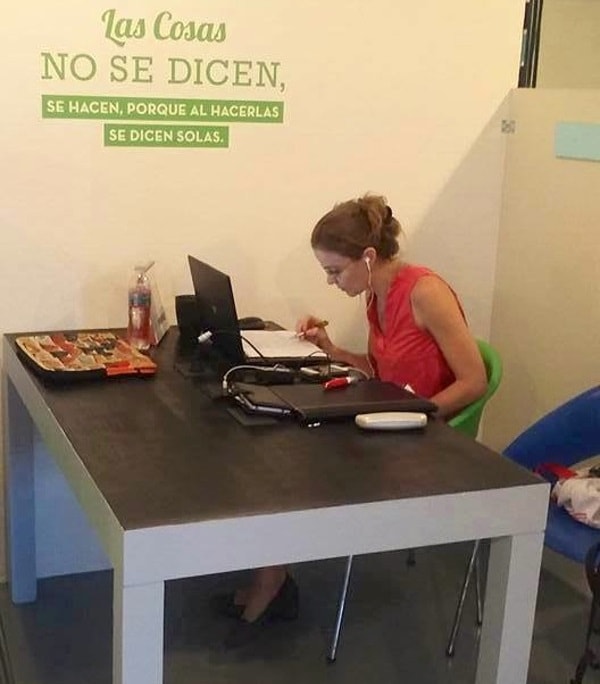 If you love Western Europe, the "Paris of South America" should be your first stop on the continent. A blend of European and South American cultures make Buenos Aires a world class international city to live in.
And StartupM3 will provide you with the means to keep funding your stay. Reviewer Lu Tkach writes that:
"…it's the best spot. It combines comfortable and quiet tables, good people around, and a lovely place full of plants and best of all: eco friendly. I love it!"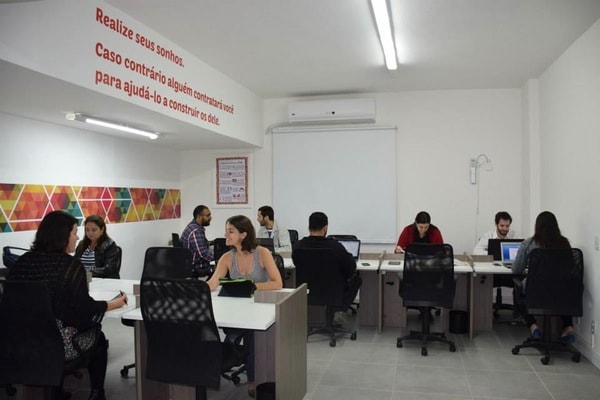 "Most beautiful city in the world. Best beach city in the world. Best culture in the world." Mark Manson (speaking about Rio De Janeiro)
If you go to Rio to work, you better have an obscene amount of willpower. However, I have faith in you – if you're reading this post, you're doing something right in life.
Tribo Coworking will help you on your career quest. They have blazing fast WiFi, a fully stocked kitchen, and lockers available so that you can go for a walk to the famous Copacabana beach nearby without lugging any electronics.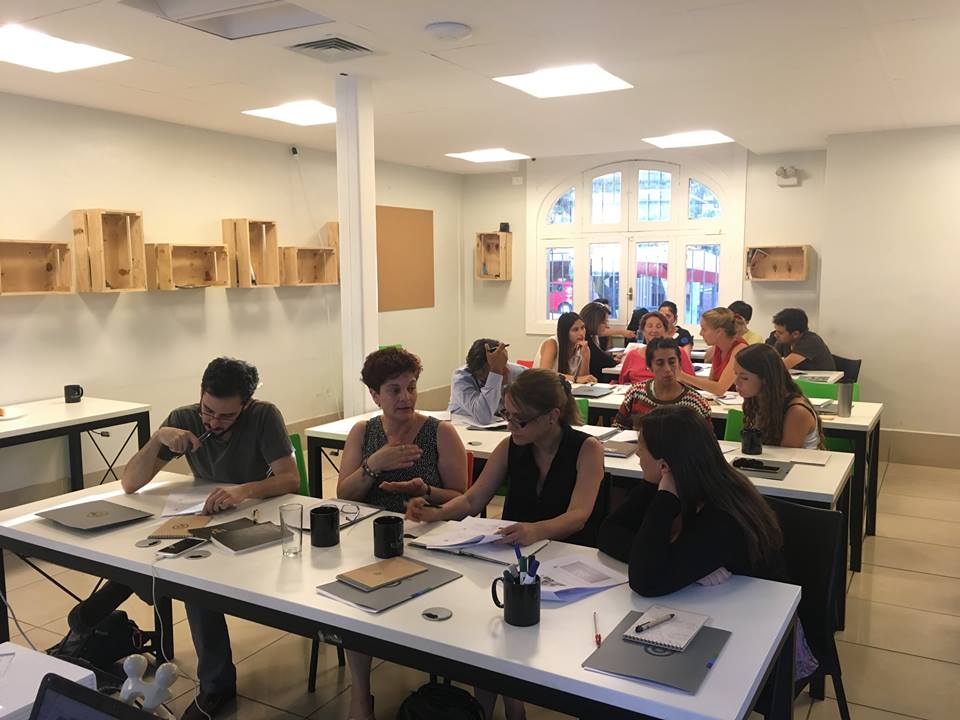 Crime in South America isn't as bad as Western media makes it out to be, but is a legitimate concern, especially if you are a solo female traveller.
Chile, being one of the safest countries on the continent, is an excellent safety conscious choice for your location independent adventure.
And the El Timbre Hub in Santiago will have you wondering why people ever worked in offices in the first place. As reviewer Eduardo writes:
"Great space & services. Good location. Excellent environment & ambient with other co-workers. They offer differents activities all the weeks. We recommend this as one of the best in Santiago de Chile."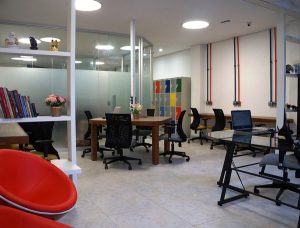 If you love Brazil but feel that Rio is a bit too touristy for your taste, Sao Paulo is your best option. The city is much more suited towards long term stays, which means that you can find a good work / life rhythm once you settle in.
And in Sao Paulo, you'll have access to Colab Coworking, one of the most positively reviewed spaces on Coworker with 45 out of 45 reviewers recommending it: As Paula Vasone writes:
"The fun, professional environment I encountered here allowed me to fully engage with my work whilst feeling the energy of an office and good vibes of the people who frequent the space. I even got some networking done!!

Highly recommend this space for the environment and professionalism, as well as the neighborhood it is located in. Thumbs up :)"