There are ways to be an eco-friendly coworking space—and then there's Green Spaces in Denver.
As the first eco-coworking space that maintains a steady focus on producing zero waste, Green Spaces prioritizes sustainability in everything they do based on a tiered, wholesome approach. Located in a 100% solar-powered building, Green Spaces regularly engages with environmental leaders, teaches members how to properly recycle and makes composting a shared part of daily duties.
"Green Spaces is all about community and sustainability — all aspects of it," said Amanda Piela, general manager at Green Spaces. "Whether it's sustainable and green practices or sustainable mindsets and partnerships, we create an environment that fosters positive professional and personal growth."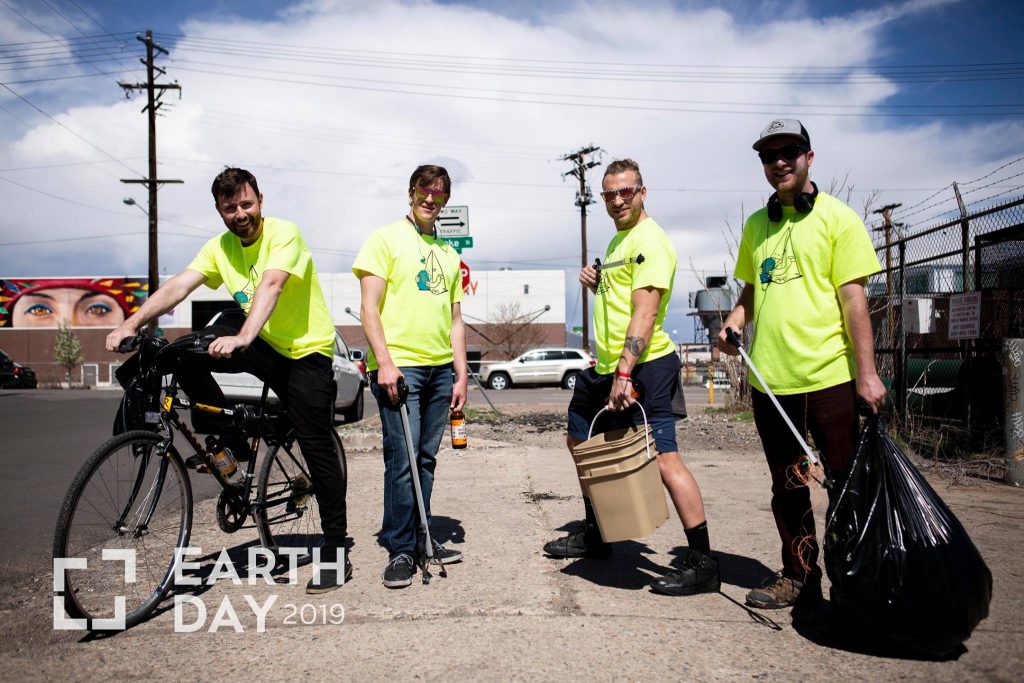 One of the most unique sustainability initiatives at Green Spaces is indeed its partnerships with local and national organizations that focus on environmentally-friendly practices. Besides being part of the The Clean Energy Collective (CEC), which develops community-owned renewable energy solutions for electric utilities and their customers, Green Spaces is also partnered with Certifiably Green Denver.
Through Certifiably Green Denver, Green Spaces receives free, confidential, non-regulatory environmental assistance administered by the Department of Environmental Health, which provides Denver's business community with the opportunity to become a certified green business. What's more—Green Spaces' coworking members each have the opportunity to become certified green (much like the space itself!)
Taking 'certifiably green' one step further
Besides offering its members the chance to become certified green, Green Spaces also receives a monthly Automated Sustainability Report™ by Alpine Waste & Recycling, a Denver-area waste removal service that collects the space's waste.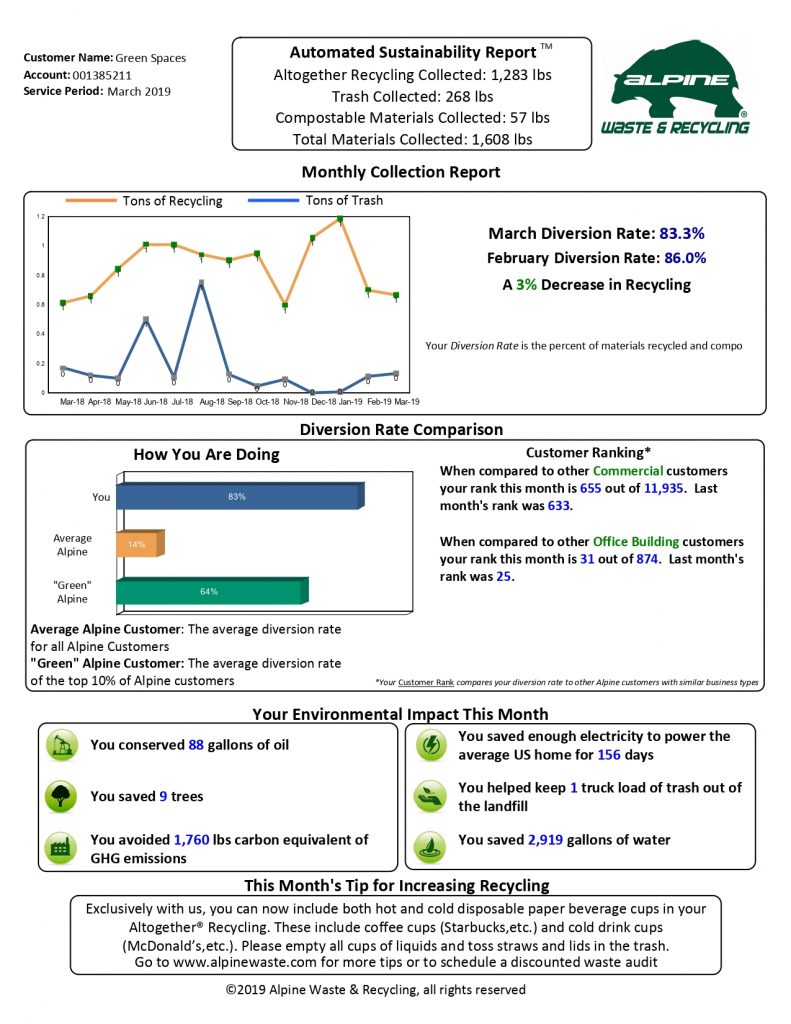 The report not only shows how much trash was collected each month, but it more importantly shows how many pounds of compostable materials and recycling was collected. This way, Green Spaces can analyze how they improved in their sustainable waste disposal efforts month over month, able to alter their strategies to reap the most benefit for the environment.
According to the Green Spaces' March 2019 report, the space ranked 655 out of 11,935 other commercial customers in terms of the percentage of materials recycled and composted only. In comparison to other office building customers, Green Spaces ranked 31 out of 874!
"Our sustainability report cards are crucial in showing our members exactly how much waste we produce each month collectively and whether or not our footprint improved from the previous month," said Piela. "The report cards make it easy to visualize and understand exactly what each individual member can do to produce less waste. Reduce, reuse, and COMPOST is my favorite saying."
Moreover, Green Spaces conserved 88 gallons of oil, saved nine trees and avoided 1,760 pounds carbon equivalent of greenhouse gas emissions. The report also gives its customers tips on how to increase recycling each month.
Earth Week 2019: Green Spaces' Time to Shine
This year during Earth Week (April 21-28), Green Spaces partnered with several entities in their Denver neighborhood — including Global Conservation Corps, DRiNk RiNo and RiNo Art District — to announce several fun-filled events to celebrate Mother Nature while prioritizing eco-friendly action.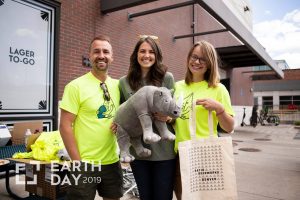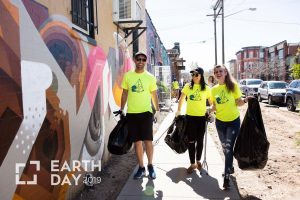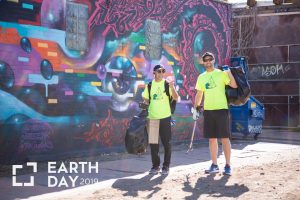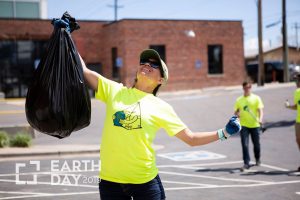 Alongside other Denver locals, coworking members of Green Spaces had the opportunity to kick-off Earth Week with an "Easter Sunday Trash, Treasure and (Dragon) Egg Hunt" in celebration of the ever-popular HBO series, Game of Thrones. The clean-up event had a great turnout and started the week on a high note, showcasing the united front in Denver against harmful waste disposal habits.
"The clean-up turned into a huge event once The Rackhouse [a local brewery and restaurant] decided to offer their space and host the afterparty portion of the day," said Amanda Piela, general manager of Green Spaces. "The amount of community support and engagement we had in the entire Earth Week planning was overwhelming. We all want the same thing and have the same mission — to encourage sustainability and create a greener future."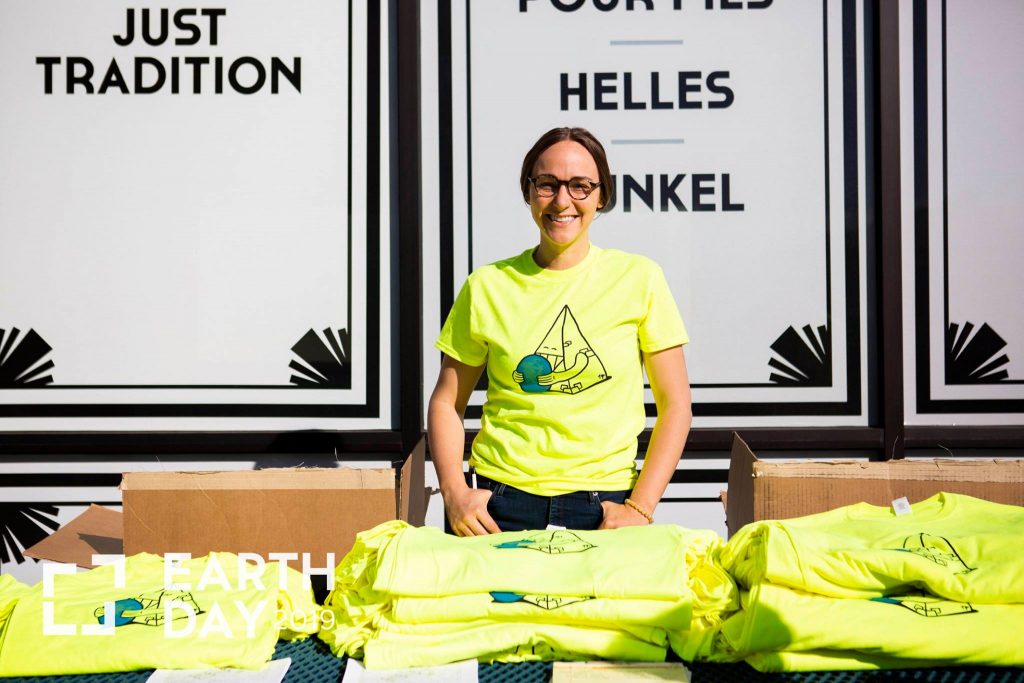 In addition to the clean-up, Green Spaces hosted a panel presentation during the week, open to both coworking members and locals. The panel, titled "Sustainability and The Future of Your Industry," welcomed a range of eco-leaders, including:
Sonrisa Lucero

, Sustainability Strategist at Denver Department of Public Health and Environment

Beau Kiklis, Organizer of the

Colorado Outdoor Business Alliance

Hillary Dobos

, Principal and Co-owner of Lotus Engineering and Sustainability

Roberto Meza, Founder and Farmer of

Emerald Microgreens

Mariana Pickering

, Co-founder and CEO of Emu Systems

Marca Hagenstad

, Economist at Circle Economics
In her position as general manager of Green Spaces, Piela hopes to continue these types of eco-minded events and panels at least once per month moving forward.
"The Easter Sunday cleanup day, as well as the entire week, was all about fostering a collaborative neighborhood and surrounding community that embraces sustainability, cleanliness, and public safety," said Piela. "Our Earth Week events are just the beginning of a year-long Earth Day mindset. We only hope to increase exposure and attendance of these events."
Giving Green Spaces the Green Trophy
With so many initiatives in place that encourage members to adopt an eco-friendly lifestyle, Green Spaces in Denver gets the nod from our team at Coworker for their efforts in sustainability, such as:
Using reclaimed materials throughout, including reclaimed wood tables and desks

Growing vertical gardens to keep the air cleaner

Relying on the 160 solar panels on the roof to supply 80% of the facility's power

Using recycled and non-toxic products for cleaning and paper supplies

Hosting "green" events

Sourcing from local vendors (coffee/tea)

Providing ample indoor bike parking as well as community bikes

Encouraging the play-work life balance by expanding in Winter Park
And so much more!
We applaud Green Spaces' eco-coworking lifestyle. What does your favorite coworking space do to be sustainable? Comment below with your tricks and tips to be a more sustainable coworking member.