Hayley's Online CoWorking Space is a thriving online community and space for digital nomads to work and connect, no matter their location. With this online space, she has grown a community that is more than just a network of nomads–it's a community offering support and friendship. Here, founder Hayley Wood shares her backstory and the key steps she followed to turn her dreams into a reality.
When I was 15, I left my province in South Africa for the first time. It is a day that I will never forget.
My family and I were headed to our neighboring province for a family member's wedding. I had no idea what to expect – would things look different there?
It seemed to take forever to reach the border. I stayed up late with a notebook and pencil in my hand. I wanted to mark down the exact time to the second that our car wheels crossed into this 'new territory.'
Just like that, feeling too excited for words, we left our province (Kwazulu Natal) and entered the Eastern Cape.
Little did I know that in the years to follow, I would burn through three passports in less than 10 years. I would leave my footprints on seven continents and call six of them my home.
But let's rewind a bit!
I never thought that travel would ever be possible for me. My family didn't have a lot of money, so the idea of jet-setting around the world was pretty much a pipe dream.
I remember one birthday in my late teens, my cousin took me to the little airport in our town just so I could see an airplane close up. I recall sitting on the little brick wall and watching a man with a briefcase run toward the airplane door. My only thought was, "Why is he so lucky that he gets to see the inside of a plane? What does the inside even look like?!"
Well, in 2004 – at 21 years old – I finally had my answer.
The day after I graduated from university with a degree in Genetics, Microbiology and Biochemistry – my journey began. I left home with around $400 in my pocket. I didn't want to one day be saying, "I wish I had…"
I didn't know where life was going to take me, but my plan was to do my best to travel until I hit 30 – then I would pick up my career again after that. But it wasn't even about the traveling or being in an airplane…
It was about following my curiosity. Knowing there was this big, wide world out there–a big, wide world that was too fascinating not to explore!
I had no idea that I could work online though, so I started off doing travel jobs that were way out of my comfort zone. I went from being a scientist to a naturalist guide in the Amazon Rainforest in Ecuador and Peru. Yes, I used to take people piranha fishing for a living – just one of the requirements of my job!
I then headed to Scotland where I worked amongst people from Poland, Latvia and Bangladesh in a potato factory. Yes, I spent eight hours a day sorting the good potatoes from the bad ones! I only lasted three months before I found myself frantically searching the internet for pretty much ANY job, ANY where!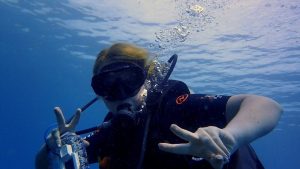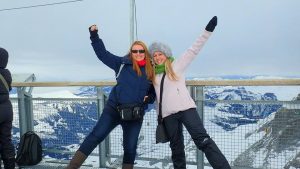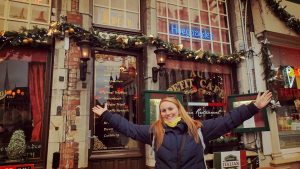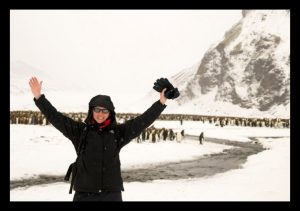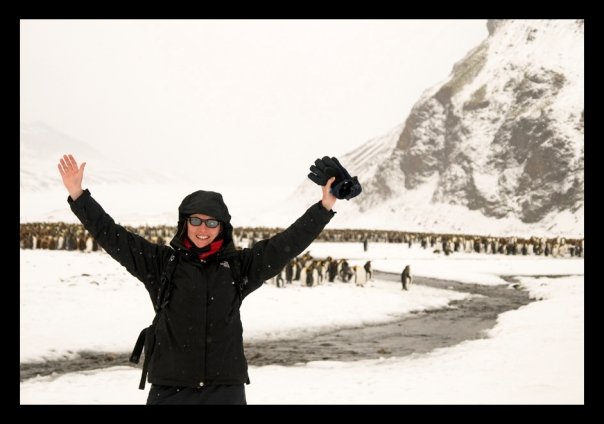 I came across an ad for an English teacher at a private academy in South Korea. The ad said that they provided full training and required a native English speaker with any degree.
Five days later I walked into a classroom in Seoul as "Hayley Teacher."
In the years following, multiple dreams became my reality. I taught myself how to ski and I completed my advanced scuba license in the Philippines. I hiked the Himalayas in search of a snow leopard and stood on top of one of the world's tallest buildings – Taipei 101 in Taiwan.
I welcomed in the new year with monks at a temple in the mountains in South Korea and swum with wild whale sharks in the Donsol Bay. I hiked the rainforests of Borneo and gazed at a wild Orangutan and her baby. I played in the snow in Antarctica.
I hiked to Everest Base Camp in Nepal and went paragliding for the first time at the world's second-highest paragliding spot in the world in India. I hugged the leaning tower of Pisa, ate Belgian waffles in the gorgeous little town of Bruges and explored the streets of Paris at Christmas time.
I did a road trip across Patagonia, marveled at the Blue-Footed Boobies (birds!) on the Galapagos Islands and explored the underwater world on a scuba-diving cruise to the Similan Islands. I camped on deserted islands in Phang Nga bay in Thailand with only a kayak for transport and got soaked in the mist of Niagara Falls.
At 34 years old, I haven't stopped exploring the world, but my life is a little different. Now, I've achieved a dream that I never thought was possible… and that is freedom! I don't wake up to an alarm clock everyday and I am not tied to one location.
"What do you mean that there are people who travel full-time and work from wherever they want to? Isn't that called retirement?!"
Yes, at 34 years old, and I love my life.
Right now, I am typing this from a beautiful coffee shop in Thailand which also doubles as my 'office'! Today I am no longer thinking, "What career should I pursue?" but rather, "How can I help others to be happy and fulfilled?"
Today, I am the CEO and Founder of a company that I am so very excited about:  Hayley's Online Co-Working Space (HOCS for short!) – onlinecowork.com.
What's an online coworking space?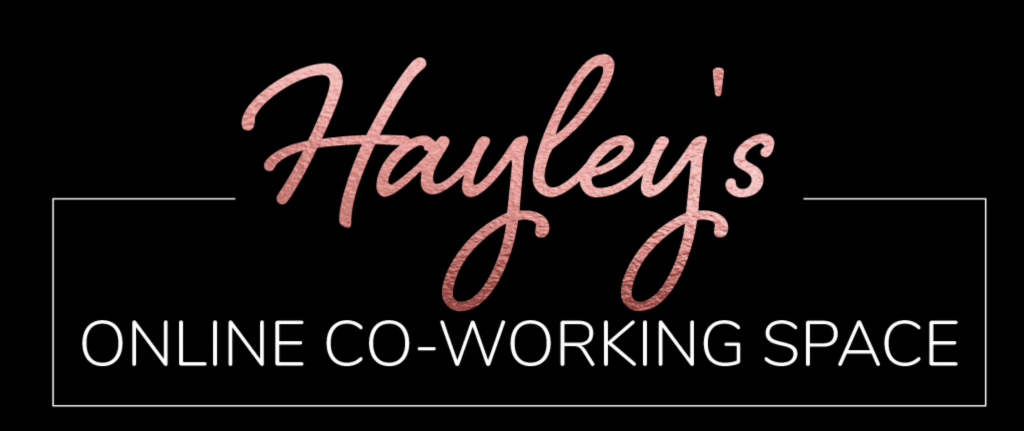 Ok, so now I know that you're asking, "What on earth is an online coworking space?"
Well, it's a platform where female entrepreneurs/freelancers can come online every single day, place their personal tasks on a group task board and get to work. Think of it as coworking community that travels around the world with you!
I created HOCS to solve these 3 problems:
1. THE LACK OF DEEPER CONNECTIONS IN THE DIGITAL NOMAD LIFESTYLE
As digital nomads, we move around from country to country. This is amazing – especially as we get to meet so many wonderful new people.  But it also means that after a while, we start to feel the lack the deeper connections with others.
Just as easily as a new friend comes into our lives, they are gone. They go off on their next adventure, while we set off on ours. But here's the thing: we all have one thing in common, and that is we're all working online.
This is where HOCS brings digital nomads together and keeps them together.
HOCS allows digital nomads to work with your new friends online. Comment on their tasks, form mini coworking teams, set goals with each other, share your skills and knowledge with each other! And all of this collaboration doesn't have to last just for the month that you're both in Thailand, or for the two weeks that you're in Morocco.
I'm talking about more permanent connections with those you meet along your journey.
Picture an office environment where your colleagues are all like-minded people who share your same enthusiasm for life – yes, that's HOCS! And you know what feels great? Often, you'll arrive in a new country, let your fellow coworkers in HOCS know and you'll quickly realize that some of them are also in the same country.
From there, you can arrange to meet up and cowork in person. You can even go on new adventures together and keep those amazing friendships growing from strength to strength.
2. STRUGGLES WITH ACCOUNTABILITY AND CONSISTENCY
As digital nomads, it can be hard to stay on track with our work–especially if there is a beautiful sunset waiting for us or a traditional festival that we really want to see.
This is where HOCS comes to the rescue.
Once your tasks are up on the group task board, they're there for everyone to see. Trust me, this really helps to provide the motivation to get your tasks done. Furthermore, being disciplined enough to write a task list every day is a great way to stay on top of your daily tasks.
HOCS also offers 90 minute daily power coworking sessions for further accountability.
Don't let another week go by without working on your goals. It's the Japanese concept of 'Kaizen' – daily, consistent action will get you there 🙂

3. INFORMATION OVERLOAD
The internet provides us with an overwhelming amount of information. How many freebies/opt-ins are still sitting on your desktop that you've never even used?
HOCS hopes to change that. Let's stop consuming information and start putting it into practice. Remember… it's not about perfection. It's about standing on the first step even though you can't see the rest of the staircase.
"Tip-toe if you must, but take that step…"




In closing, I'd like to say that I hope wherever you are in your life, however you might be feeling right now… I want you know that the world is waiting for you to step up and make your dreams a reality.
Your dreams may not be the same as mine, but one thing I know for sure is that the world needs more passionate, happy, fulfilled people.
The world needs more people who are not just surviving, but THRIVING.
That thing that gets you excited? Explore that a bit more. Take action on that every single day. You never know where it might lead you.
Have a little bit of courage. Take on the challenge.
Yes, you could fail…
… but you also might fly.