One of the reasons coworking spaces are very popular is that they help you maintain a work/life balance. The social pressure at coworking spaces to be productive helps you to avoid wasting endless time on Reddit or Facebook.
A friend asking you to grab lunch or encouraging you to come out later is also nice because it can help you to remain social. Coworking spaces are incredibly conducive to both working and playing hard. If maintaining a work/life balance is a priority for you, then you'll have to choose the right work coworking space.
Community is important, and some coworking spaces are known to have more social communities than others. Wouldn't it be nice if there was some kind of indicator that a coworking space had a social community? Fortunately, there is.
Although not widely known, there's a number of coworking spaces around the world that offer free beer. While having free beer doesn't guarantee a coworking space has a friendly community, we've also seen that coworking spaces with free beer tend to be more open.
People have less inhibitions and are generally more open to connect after getting some alcohol in their system. Let's be honest, free beer is just cool too! A small drink is an easy way to relax with new friends following a long day of work.
After doing some uhhhh… 'Research' we've created a list with the best coworking spaces that offer free beer. And we apologize to our paleo friends, this probably isn't the article for you.

Saigon is well known for being an excellent city for remote workers and bootstrappers due to its excellent cuisine, entrepreneurial culture, and insanely low cost of living. In a typical week here you'll really grind it out. Yet, regardless of the specific tasks you're working on you'll no doubt benefit from being a member of Dreamplex.
Whether you take advantage of its free tea, the kitchen, the productive work environment, or even the sofas to take a nap on during lunch; you'll surely get your money's worth. Add in the excellent community plus regular events and that membership is starting to look more and more like a good deal.
Oh, and did we forget to mention that Dreamplex was even cool enough for Obama to visit in 2016? As trade between the US and Vietnam continues to rapidly increase, there was an obvious political agenda to maintain and strengthen the relationship between the two countries.
Yet, what you might not have heard was that Obama also had a secret motivation for coming to Dreamplex. You won't hear it in the mainstream reports, but here at coworker.com we know the real reason he visited Dreamplex. It's quite simple. Obama came to Dreamplex for the free beer!
That's right, after each day of building your business you can cap it off with a nice cold one on the house. If it's good enough for Obama it'll probably be good enough for you too.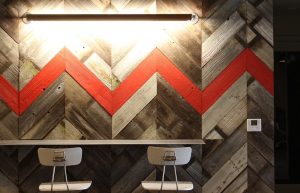 Stateside, one of our favorite coworking spaces is Union Cowork in San Diego. This coworking space has received great reviews due to its supportive community, quiet environment, and long list of amenities. Amongst those amenities is of course, free beer. Although we don't have proof, we believe that free beer went a long way in building the friendly community at Union Cowork.
Yet, while the free beer is nice, Union Cowork offers members so much more. You'll also get a relatively low monthly fee (considering the price of everything else in California), and perks at over 15 other nearby businesses.
In short, a membership at Union Cowork will likely increase your productivity while also netting you free beer and discounts on laundry and yoga classes. What a deal! If you'd like to visit Union Cowork without making the monthly commitment, check out their complimentary tours and free day pass.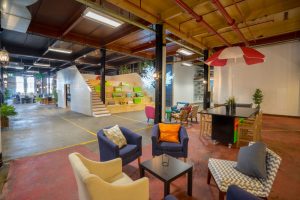 Although coworker.com now has over 3,000 coworking spaces, WOTSO Workspace in Sydney, Australia may be the coolest of them all. It starts with the comfortable seating area. At WOTSO you can choose whether you'd like to use a standing desk, ergonomic chair, or even a beanbag.
WOTSO also has a long list of amenities such as childcare, being dog-friendly, offering personal lockers, as well as a Skype room and all the other standard office equipment. Our favorite part of WOTSO Workspace has to be the chill factor though.
WOTSO has comfortable seating as we said before, but it also has a lounge, an on-site cafe, and entertainment options like foosball and ping-pong. Adding free beer on top of all its other features simply makes it impossible for other coworking spaces to compete.
Like Union CoWork, WOTSO WorkSpace also has complimentary tours and a free day pass. With great features and a try before you buy policy, we'd definitely recommend checking out this coworking space if you're ever in Sydney.
Conclusion
The most important factor when joining a coworking space is whether that space has a work environment that will allow you to produce high quality work. As we said earlier, however, having a social community at your coworking space can help you ensure you maintain a balanced life.
While free beer isn't a necessity, it's a good indicator that a coworking space may have a friendly community. That's why we encourage you to check out the coworking spaces above. You can also use our search function and use the free beer filter to view a complete list of all of the coworking spaces that offer free beer.