One of the world's most storied cities, there may not be another city that has impacted the modern world as much as Rome. Rome is overflowing with artistic masterpieces, historical relics, astounding architecture, and religious significance.
Italy's most populous city also has a comfortable Mediterranean climate, excellent coffee, and an abundance of museums and art galleries. Obviously Rome is a great place to see where modern civilization came from, but it's also a great place to see where the future of civilization is heading.
Rome has a diverse economy with strong service, research, banking, tourism, IT, and aerospace industries. The city has also become a rich hub for startups in recent years. This is in large part due to its strategic position in the center of Italy, along with its many respectable universities perform research at and recruit talent from.
Many large corporations such as Google, Microsoft, Gartner, and IBM have offices in Rome as well. This combination of rapidly developing startups and established mega corporations makes the city an excellent place for professionals whether they are looking to network, build a client list, or simply find their first job out of university.
Unfortunately, one thing that turns people off about Rome is the notion that the city is expensive. While being a tourist in Rome can be pricey, taking a coworkation in Rome can easily be done on a budget.
Whether you're on a short business trip to Rome, or have lived there your entire life, here are 5 of Rome's best coworking spaces.
Millepiani Coworking is a beautiful 400 square meter space built to foster innovation, collaboration, and serendipity. This coworking space won the Coworker.com Members' Choice award for a reason.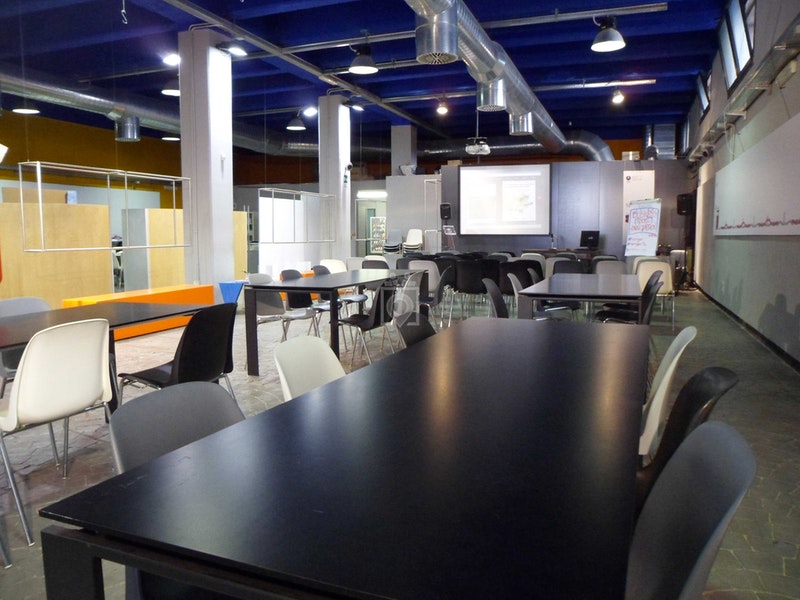 This coworking space is excellent from start to finish. Starting with the location, Millepiani Coworking is just a 10 minute walk from the nearest train station. Once you arrive at the space, you'll enjoy a warm greeting from the staff.
From there you'll have no shortage of places to sit. While the community is active at Millepiani, the coworking area still has more than enough space for everyone to feel comfortable. Speaking of the community, members of Millepiani are a welcoming bunch (especially once they see you're a regular and here to stay).
Even if you're more of the loner type, however, you'll still enjoy the atmosphere of the work area. It's an excellent place to focus. As a coworking member of Millepiani, you'll also have easy access to all the amenities you could possibly need to be productive.
Plenty of power outlets, solid wifi, a kitchen to cook, a fridge for leftovers, and regular workshops; Millepiani Coworking may be Rome's best coworking space for a comfortable, yet professional atmosphere.
Arco is a coworking space located in northeastern Rome. Apart from being in one of the nicer areas in the city, Arco is also just a few hundred meters away from Villa Ada — the city's 2nd largest park.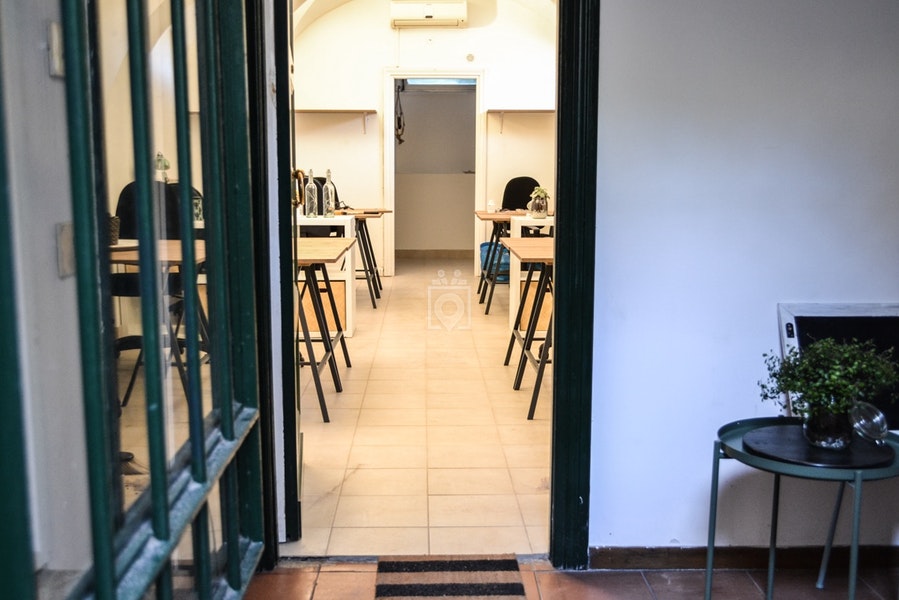 One aspect of this coworking space you'll really appreciate is its diversity. Arco attracts a variety of coworking members from completely unique backgrounds.
While they may come from different places, the members of this community join together to hustle each day in one of several coworking rooms. There are multiple places to work including an impressive interior terrace.
Arco also boasts a solid list of amenities that includes fast wifi, printing/photocopying/scanning, and a meeting room for private get togethers with clients or team members,
Best of all, everything at Arco can be accessed as needed. The space provides multiple coworking memberships depending on your budget, which facilities you intend to use, as well as how many times a week you plan to occupy a desk in the work area.
Request a free day pass at Arco here.
Located in the lively Pigneto neighborhood, FAMO COSE is a hybrid makerspace with coworking. The name FAMO COSO literally means "do stuff" in Italian. While not award winning, the name does fit this space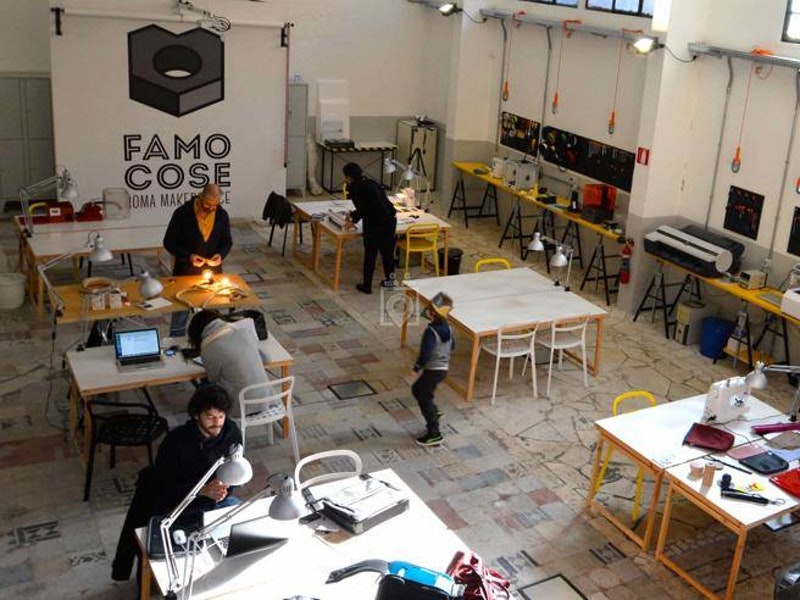 The members working in this space are some of the most productive and efficient people we've ever seen. Part of that has to be inspired by the space's interior design. A high lofty ceiling gives you space to breathe and think big,
The natural light that bounces off the white walls beats working under fluorescent lighting anyday as well. Most of all, becoming a member of FAMO COSE gives you access to unique resources that a lot of other coworking spaces simply don't offer.
As a member of FAMO COSE you'll be able to use a dark room, woodworking lab, later cutter, sewing machine, and even 3D printers anytime you wish. While used by many entrepreneurs and web developers, FAMO COSE is the ideal coworking space in Rome for product designer, architects, and DIYers.
Cowo 360 is a coworking space in Rome that nails all of the fundamental coworking basics. Membership plans are flexible with most members choosing to rent a desk by the day or month. If you're just passing through Rome on a daytrip, however, Cowo 360 offers a Wi-Fi cafe where you can rent desks by the hour (we told you Rome can be budget-friendly!).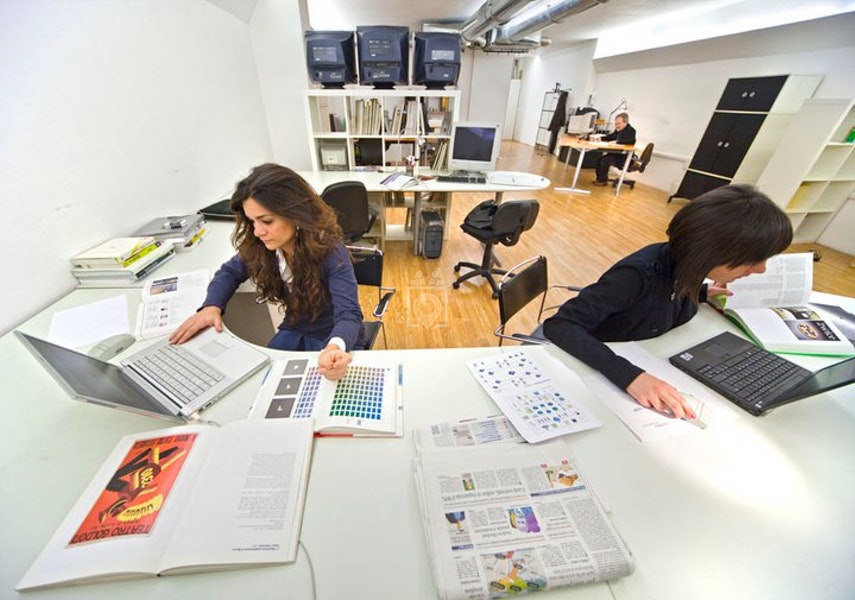 Flexibility isn't the only perk of working at Cowo 360. Members of the space also enjoy comfortable seats and a perfect level of privacy. You're free to focus without distractions in the space's several work areas. At the same time, if you start to feel isolated, the relaxation area, meeting room, and kitchen are great places to chat.
Plus for maximum networking opportunities, be sure to attend some of Cowo 360's regular tech meetups and business seminars.
One of two Talent Garden spaces in Rome, Talent Garden is the largest European coworking network. Whether you're looking to learn, launch, or laugh, you'll surely find the time you spend at Talent Garden Rome Cinecitta fulfilling.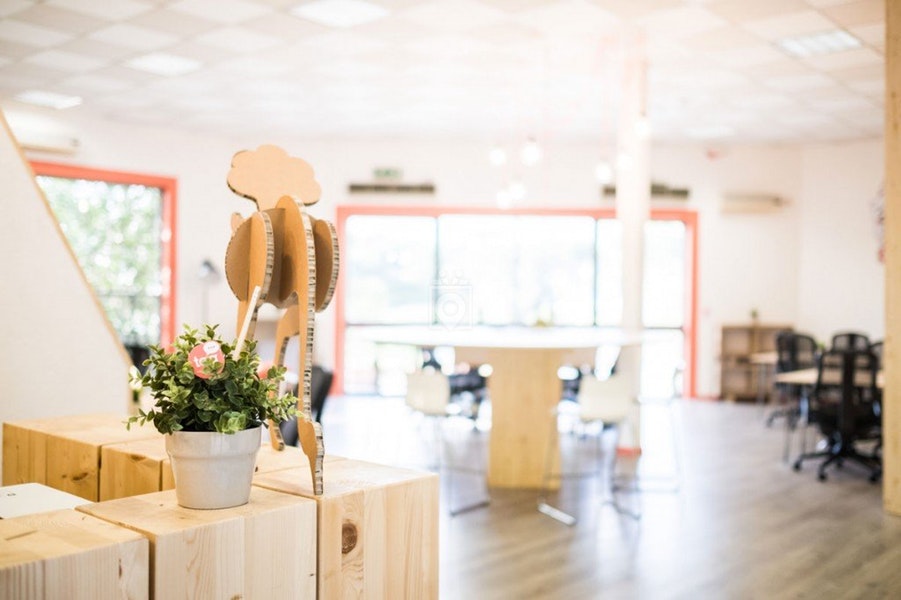 The obvious benefit of joining this coworking space is the extended Talent Garden network it'll allow you to potentially tap into. Many professionals that have joined a Talent Garden space say that doing so was the best thing they ever did for their career.
We've all heard the famous saying that your network determines your net worth. The only problem is that no one ever discusses what determines your network!
Half of the networking equation is simply having access to and being in close proximity to successful individuals (being part of a coworking community). The other half is having valuable skills so that other successful people will want to associate themselves with you (developed through concentrated effort each day).
The fact that Talent Garden Rome Cinecitta helps you succeed on both fronts makes its monthly full-time package of just €250 an incredible value.
Conclusion of Coworking in Rome
As you can see, there is no shortage of excellent places to work in Rome. We hope you enjoyed our list of Rome's top coworking spaces. Be sure to let us know your favorite Rome coworking spaces below!