Located in the Brazillian mega-metropolis of São Paulo, Pinheiros is one of the oldest districts in the city. It's also one of the wealthiest. In fact, Pinheiro's human development index (HDI) rating is 0.960 — the 2nd highest in all of São Paulo.
Despite being fairly affluent, the vibe in Pinheiros is far from pretentious. While most of the district is doing well financially (by Brazillian standards), there are also a few lower standard of living areas in Pinheiros.
As a result, Pinheiros has a wide diversity of people and is a culturally fascinating place to be. Why is this relevant to you?
Many call Pinheiros one of, if not THE most desirable area to live in throughout all of São Paulo. This is true whether you're a:
— Traveler passing through the city.
— Local Brazillian.
— Expat being assigned a position in São Paulo.
— Startup founder looking to building your team and scale.
Or… someone that just loves amazing coworking spaces! Pinheiros has tons of great places to work. And if you're looking to stay around a while, you'll likely be spending a lot of time in them to fund your exciting Brazillian lifestyle.
Here are a few of our favorite spaces in Pinheiros…
Would you roll your eyes if you heard a coworking space brag about helping its members make thousands of synergistic connections around the globe in any given year? If so, you wouldn't be the only one.
While coworking spaces are a great place to network, it's not uncommon for spaces to overpromise on the potential benefits they'll deliver to your professional network.
If there was one coworking chain that lived up to its lofty synergistic promises, however, it would have to be Impact Hub.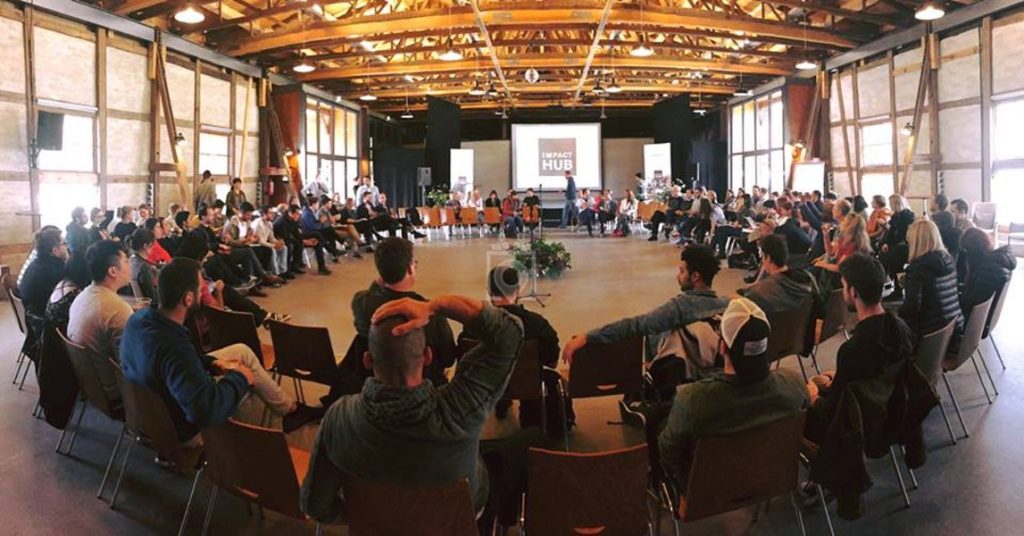 With over 100 impact hubs around the world, joining Impact Hub São Paulo truly does connect you to a larger global community. No matter what type of professional you're looking to connect with, you're almost guaranteed to find them in the Impact Hub network.
Of course, the benefits of joining an Impact Hub extend far beyond networking opportunities. As a member of Impact Hub São Paulo, you'll also enjoy blazing fast internet, multiple meetings spaces, an event room, and a living area to relax in after a long day of work.Want to know more? Schedule a tour at Impact Hub São Paulo today!
Estação Coworking was designed for people who believe in setting goals, the power of ideas, and sharing knowledge with those in your tribe. In other words, you'll love being a member of Estação if you're looking to not only get things done but also stretch yourself professionally.
Another reason you'll love Estação is that this coworking space has an incredibly comfortable work environment. All of the furniture and decoration in the space was chosen with great care. The result? A cozy work atmosphere that feels just like working at home — without the distracting Netflix temptations of course.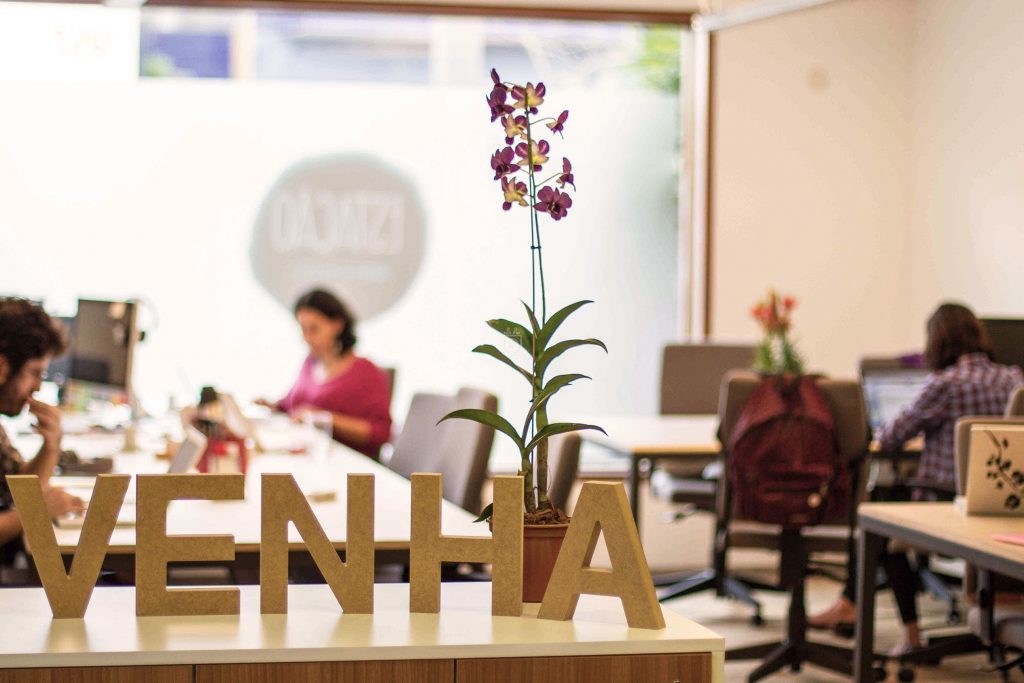 Estação Coworking has lots of amenities too. Here are just a few of them:
— Ergonomic chairs
— High-speed wifi
— Printing/scanning/photocopying
— Free coffee
— Cat and dog-friendly policies
And even all of these are far from everything! For more details on Estação and all that if offers, view the Estação coworker.com page here.
P.S. Are you interested in nightlife? If so, you'll be pleased to know that Estação Coworking is located in the heart of the Vila Madalena neighborhood — one of São Paulo's hottest nightlife districts.
Colab Coworking is ubiquitous when it comes to the São Paulo and Pinheiros coworking scene conversation. In fact, Colab is currently our most reviewed coworking space in all of São Paulo!
But… just why is Colab Coworking so popular amongst professionals? There are actually quite a few reasons.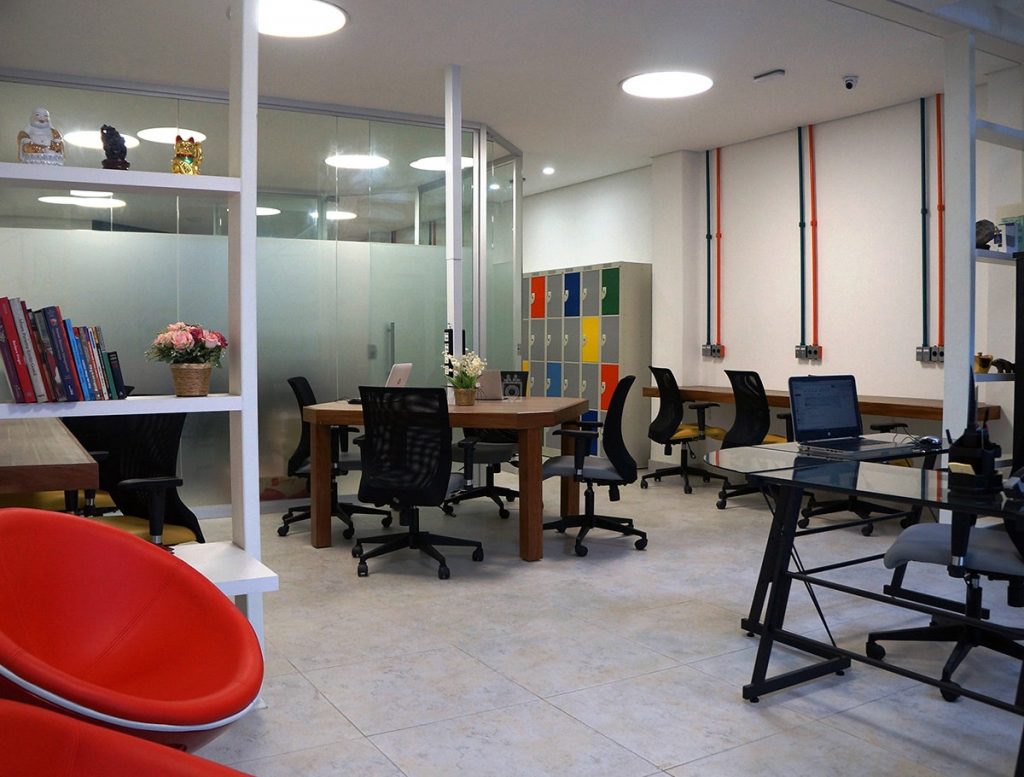 The first is Colab Coworking's affordable membership fees. At roughly $167/month or $15/day (in US dollars depending on current exchange rates), Colab is cheaper than many of the other most popular coworking spaces in São Paulo.
Colab Coworking also has a diverse community of professionals that span every industry. Plus, if your startup or company needs consulting services, Colab can connect you with a number of its partners to assist you in business strategy, finance, accounting, or even local legal advice.
Members of Colab say that the space offers modern infrastructure and practical services at a price that's worth every penny.
Interested? Click here to get a Colab Coworking day pass.
80 comfortable ergonomic chairs. Lightning fast 150MB internet. 1 Backup internet connection if the main line ever goes down. A 52 inch TV in the leisure area. Public transportation just 200 meters away. A 4.9 review score on coworker.com.
Sharing E.C is the coworking space that delivers all of the amenity goodness you could ever ask for in an office environment. Perhaps no other Pinheiros coworking space cares for its members more thoroughly than Sharing E.C.
It should then come as no surprise that the community at this space is incredibly welcoming. After all, it's not difficult to be friendly when you're happy to come to work each day. 🙂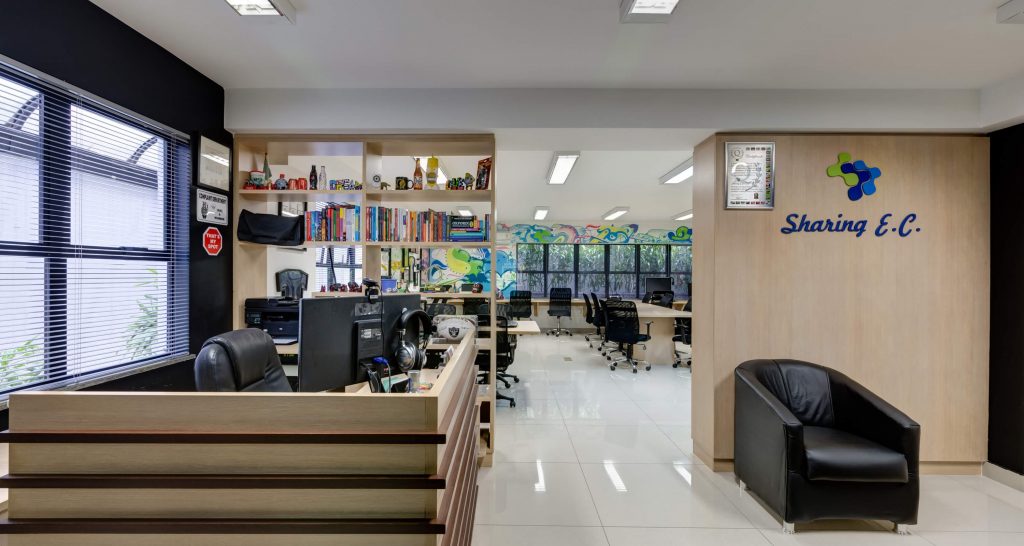 Don't just take our word for it, however. Here are a few things members of Sharing E.C have said about the space…
— "Sharing EC is THE place to be while in Sao Paulo."
— "I've been working here since 2013 and I love this place."
— "The meeting rooms are great. They have everything you need like Apple TV, Chromecast, 52 inch TV, etc."
If you'd like to share great experiences with these others sharers, be sure to check out Sharing EC while you're in Pinheiros!
Conclusion
We hope you've enjoyed our list of the best coworking spaces in Pinheiros. If you'd like to learn more about coworking spaces in São Paulo's other neighborhoods, be sure to visit our full list of São Paulo coworking spaces.