Ronny Hermosa is on an ongoing journey around the world to promote Fair Trade. Originally from a small town in Belgium called Virton, Ronny decided to quit his typical job in 2010 and create his nonprofit, Fair Trade Connection. After realizing the need to raise awareness about ethical business practices, Ronny found his mission: to inspire others by sharing the real stories and positive impacts of the Fair Trade industry. As a social entrepreneur, Ronny hopes to change the way we communicate about ethical products–and he's well on his way to doing just that! Read more about Ronny's story here:




What are you working on right now?
Recently I've started to create online courses to teach other nonprofits and social businesses about marketing. With my girlfriend Diana's help, we create courses on social media, video and photography, storytelling, visual design, etc. All of our courses are custom made for "ChangeMakers," meaning people and organizations who want to make positive changes in this world.  We figured that if we empower them with marketing skills, they can amplify their reach and thus inspire more good. Our platform is called the Fair Trade Academy.

What is your current desktop wallpaper? and why?
It's a quote that says:
"Be So Good they Can't Ignore You" (by Steve Martin)

Why? Because I want to create something so good that all the people who didn't believe in me or who ignored me in the past would be sorry AF.

Which book has shaped your life or changed the way you think the most?
It's a french book, called L'illusion Néolibérale. The title could be translated as, "The NeoCon Illusion." I read that book during the first year of my MBA and it basically changed my whole life. It opened my eyes on the kind of world we ARE living in and IT convinced me to dedicate my skills and energy to fixing the world and not messing it up even more.
How do you start off your day — aka what's your morning routine?
Wake up at six, grab my phone and spend two hours sending messages to people on LinkedIn. Networking like a madman. Then I prepare breakfast for my GF and I, and we eat it listening to the latest Gary Vee Vlog. After that I take a shower, try to meditate for 10 minutes and jump on the bike to go to a coworking space. Then it's on until 7 p.m.
What is one thing you do to get motivated?
My work is really motivating in itself. I'm so pumped up to go to work that sometimes I get bored on Sundays when I'm not working. So I start working … wait what? Am I a workaholic?
What made you smile today?
My girlfriend Diana makes me smile! She's my sunshine.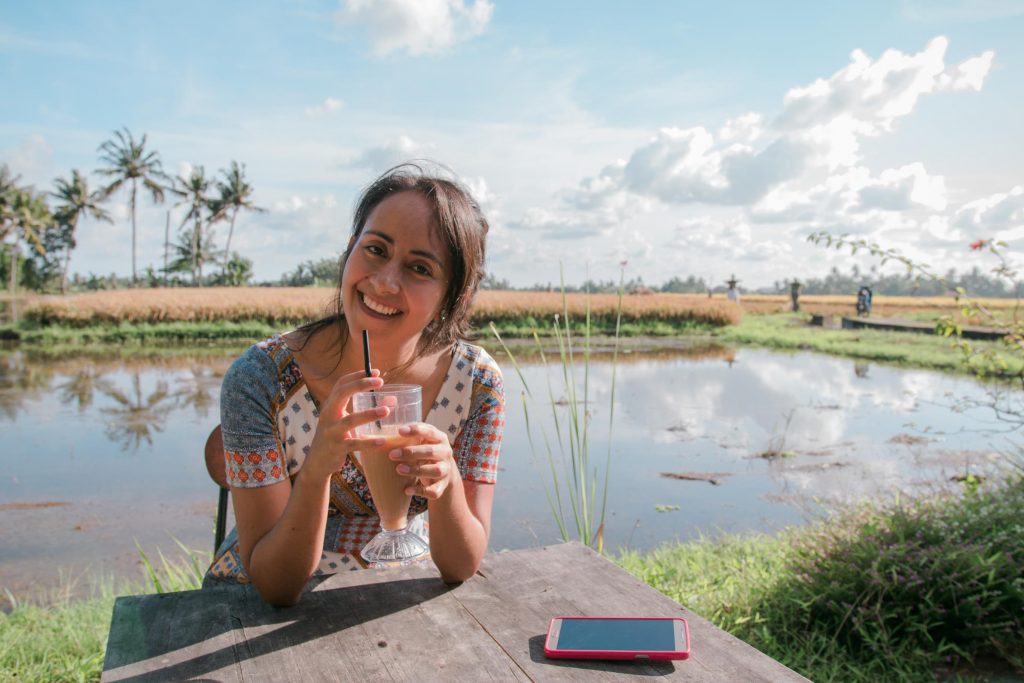 What is something you think everyone should try at least once in their life? Or Name one skill you think everyone should have or learn?
Everyone should try at least once in their life … the coconut jelly deserts from this guy at the Chiang Mai walking street on Sundays. He is pretty much in the middle of the walking street, has a van that sells only coconut jelly deserts – you get 4 for 20 Bahts.
Period.
What is one skill or hobby you've been meaning to learn but haven't had time for?
Learning Thai. I want to learn Thai so bad krab!
List 3 simple things in life that make you really happy:
– Coconut jelly deserts
– Doing the right thing
– Having so much freedom
What is the best thing that you have done, just because you were told you can't?
Worked all over the world!
What is your favorite coworking space and why?
I will go with Outpost in Ubud, Bali. It's very cool and the view is amazing. They have a pool, too.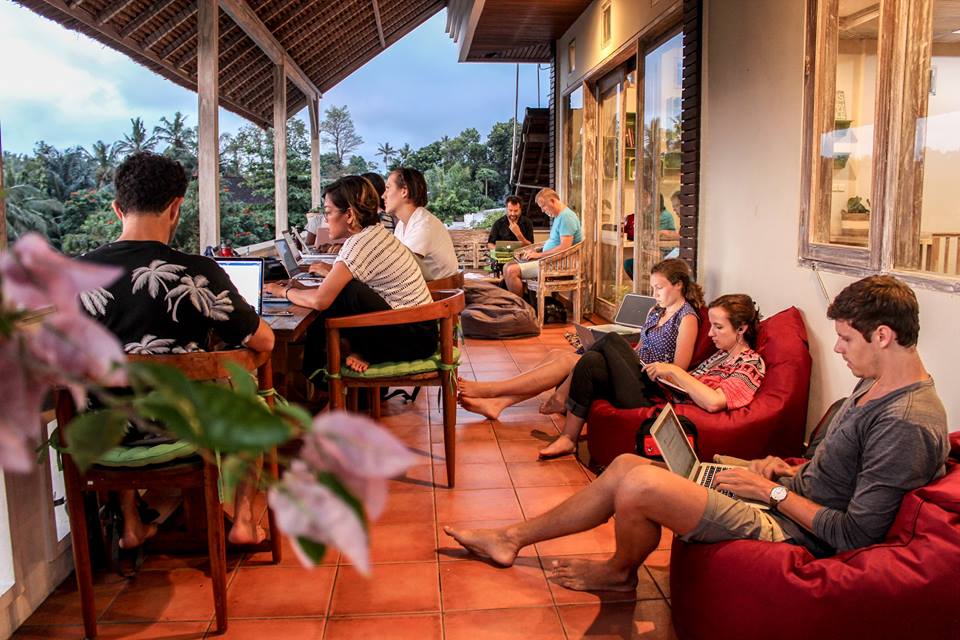 If you had the opportunity to spend a week or month in another country to be your office of the week/month, where would you go?
Since I'm traveling for seven years already, I guess I'd say Brussels, which is basically like home. To see my people for a week! I miss them.
Biggest item on your bucket list at the moment?
Go to Tokyo and eat as much sushi as possible.
As a Digital Nomad/Entrepreneur. If you were stranded on a deserted island, what three things would you have and why?
Of course a coconut opener (duh)

A huge quantity of notebooks & pens (because I guess a laptop won't be very useful on a deserted island)

A fish net (smart)
What was your first job? Has it shaped where you are today?
I worked in a butcher's shop when I was 15 during my summer break. Has that shaped where I am today? Ehh I'm not a vegan, does that count?
Any advice for your previous boss?
Yes: What goes around comes around. They will understand.
What's your favorite part about coworking?
The culture of coworkers. I love the hustle and to be surrounded by other hustlers make me feel great.  Coworking spaces are the best way to meet cool people around the world when you are an entrepreneur. I'm 100% convinced of that.
What is your go-to pump up song?
Ante Up by MOP.
Anything else you would like to add?
Yes, I'd like to see more purpose-driven and socially conscious entrepreneurs in the community. As a matter of fact, I'd like to see more ethical coworking spaces (meaning coworking spaces for social/ethical businesses) pop up all over the place. Coworker should have a special category for them.

Also I'd love to see more themed coworking spaces popping up like coworking for video creators, for photographers, for bitcoin traders, etc.