Lola Méndez has one goal: spreading the word about responsible travel. Though she never envinsioned that she'd be a full-time nomad, now she is excited about sharing her adventures on her blog as she adds to her collection of passport stamps. Lola is on a path of discovering her own worldview, exploring over 50 countries so far. As a Uruguayan-American, she uses her writing talents to encourage sustainable travel and support community-based experiences for the benefit of locals. Nice to meet you, Lola!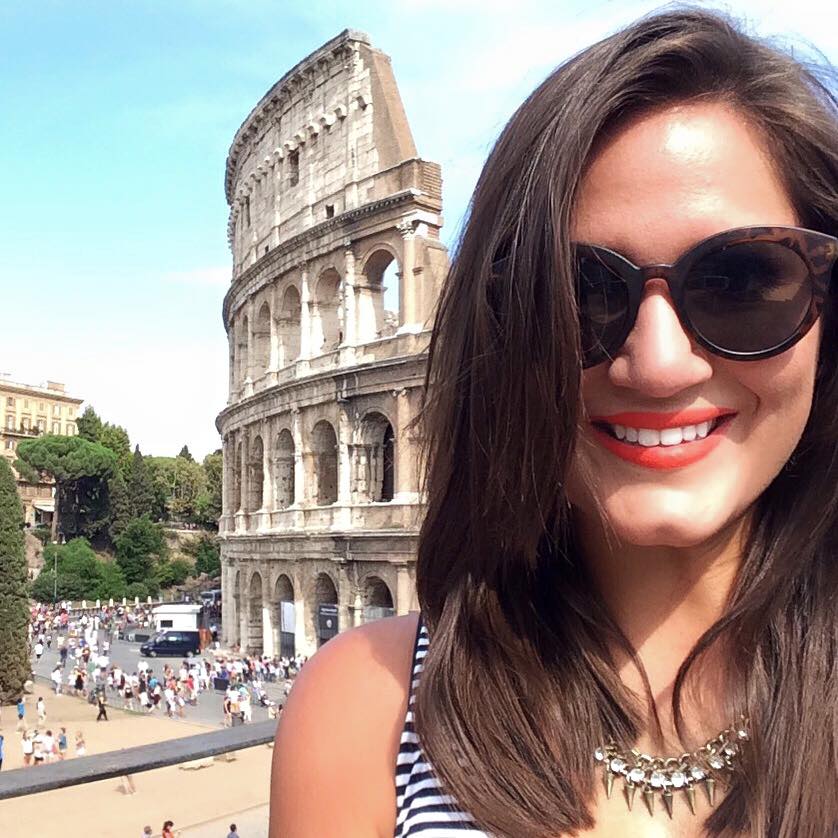 What are you working on right now?
I'm a freelance travel writer and blogger.
What is your current desktop wallpaper? And why?
White roses floating in a fountain in Marrakesh, Morocco. The scent of roses sends natural vibrations through your being and the white color represents clarity, which helps me focus.
Which book has shaped your life or changed the way you think the most?
I always turn to the teachings of Lord Buddha for direction, encouragement and peace.
What is one thing you do to get motivated?
I'm naturally motivated and passionate. I don't touch a project unless it gets me excited; if I have to force it, then I know the outcome won't be my best work.
What made you smile today?
I woke up this morning and made a smoothie bowl for my mom. We watched the sunrise over the ocean together from her balcony in Florida. I hadn't been home in almost two years, so simple moments like this are bringing me happiness.
What is something you think everyone should try at least once in their life? Or name one skill you think everyone should have or learn?
I think everyone should try things that scare them. I don't mean going to a haunted house or anything like that. I mean things that push you outside of your comfort zone in a safe way, of course. This could be having dinner by yourself, asking someone out that you're interested in, pitching a new client with a fee that you think is astronomical but you know your work is worth it, and so on.
What is one skill or hobby you've been meaning to learn but haven't had time for?
I've always wanted to learn how to play the ukulele. It's such a soothing sound and the instrument's compact size would make it reasonable to carry around while traveling.
List 3 simple things in life that make you really happy:
Laughing children

Engaging, passionate conversation

A crisp breeze on a sunny day
What is the best thing that you have done, just because you were told you can't?
Travel! I grew up in a middle income family in the U.S. with two parents who worked full-time. We did travel as often as we could to Uruguay, where my father is from, and around the country, but never anywhere else. I didn't even apply for study abroad programs when I was in college because I thought travel and living overseas was too farfetched for my finances. I wish I had known someone like me back then who could encourage me to be fearless and instill the belief that everything will fall into place. Traveling full-time isn't cheap, and certainly isn't for everyone. I don't keep a tight budget but I am mindful of my spending. Generally, the things I like to do are pretty affordable–from cultural experiences to eating local, fresh meals. To maintain my preferred lifestyle back in the U.S. would cost me at least 3x as much.
What is your favorite coworking space and why?
I haven't experienced many coworking spaces, as I usually find it hard to justify the cost. I prefer to work in cafes that allow remote workers to use their space. Of course I always order a coffee, lunch and usually a snack too. I always ask before bringing out my laptop and make sure that it's fine with the management if I work from the cafe for the day.
If you had the opportunity to spend a week or month in another country to be your office of the week/month, where would you go?
Of the places I've been, I am really eager to get back to Sofia, Bulgaria. I think it would be a wonderful place to be a digital nomad, as they have darling cafes, great healthy food and fast WiFi. Of places I haven't been, I am eager to spend time in Australia, South Africa and Japan.
Biggest item on your bucket list at the moment?
Work-wise? To get hired to write a travel-related article for a print newspaper and print magazine. Travel wise? To acclimate to solo travel again, as I had previously been traveling with a partner. I don't have a specific destination in mind and am currently seeking out locations that will be beautiful and peaceful so I can focus on work for the next few months before I start traveling around every week or so.
As a digital nomad/entrepreneur: if you were stranded on a deserted island, what three things would you have and why?
A hotspot with a strong WiFi connection, my laptop (which would never die) and my camera. This is assuming I have lodging and food/drink.
Tell me something you have never told anyone else.
I never intended to be a full-time traveler! It just sort of happened and once I started…I couldn't stop. There will always be more places to discover, cities where I've left pieces of my heart that I must revisit and fascinating things to learn from all corners of the globe.
What was your first job? Has it shaped where you are today?
I scooped ice cream the summer that I was 14. It taught me moderation, as I quickly developed a very strong right arm and a very round belly from eating my daily free scoop! I learned how to interact with people and read what they wanted between the lines. I also was shocked to discover how many people truly are vanilla (or chocolate) and stick to safe, simple, flavors. In life, and in ice cream.
Any advice for your previous boss?
I think all bosses can remember to be appreciate of their staff and show gratitude in whatever ways their team members need to see it, not the way they want to show it.
What's your favorite part about coworking?
The coworking that I've done has been untraditional in that I usually meet like-minded people in the cities where I am and we meet up at cafes to work, brainstorm, etc. For me, it is discovering others who are living life by their own terms, which may be seen as unconventional to outsiders. There are millions of us who are living out our dreams of seeing the world and working as we strive to afford our travels.
What is your go-to pump up song?
Anything Stevie Nicks! Maybe not a pump-me-up party song but definitely girl power anthems that make me feel empowered, strong and capable.
Anything else you would like to add?
My goal as a writer is to spread as much awareness as I can about responsible travel. Most of my freelance articles focus on sustainability and community-based travel. I share travel tips and resources on my blog, www.missfilatelista.com and on social media facebook, twitter and pinterest. I hope you'll follow along on with my journey and if you're curious about RT, please reach out!