Meet Jamie Atkinson, a digital nomad originally from Shrewsbury, UK, who has found his true passion: traveling the world. Jamie, or Jay, spent six years gaining valuable skills about relationship building, coaching and direct sales. After this experience in sales, Jay began to realize that corporate life wasn't all it was cut out to be. In September of 2017, Jay quit his job. Now, he's working for himself as a content writer, digital marketer and business coach. For more info on Jay's leap into the digital nomad sphere, you can check out his blog or continue reading our interview!
What are you working on right now?
I've put together a 30-day Instagram Challenge to help other people in my community at letsgetjobless.com grow their audience and reach. It's been an overwhelming success with growth from 500 followers to over 6,000 in a little over 30 days. If you're interested in joining you can get started by going to: www.letsgetjobless.com/30-day-instagram-challenge. It's completely free!
What is your current desktop wallpaper and why?
Honestly, since changing over to a Mac, I can't even figure out how to get to my desktop anymore! I used to have scrolling pictures of the latest movie posters on my old windows laptop though.
Which book has shaped your life or changed the way you think the most?
The Game – It's a book all about pick-up artists. However, the practical skills that Neil Strauss discusses in the book that you can apply to your business have been invaluable in my career. It's an interesting story too which keeps the pages turning.
How do you start off your day — aka what's your morning routine?
I've recently just adapted my routine. I've never been a morning person, always leaving everything until the last minute before I need to get out of bed. Then I discovered The Miracle Morning by Hal Elrod. My morning routine now consists of waking up at 5:30-6: 00 am, exercising, writing, journaling and meditation; all before my old lazy self would have even hit the snooze button for the first time.
What is one thing you do to get motivated?
For me, it's going out for a run and listening to a Gary Vee Podcast. The guy always gets my creative juices flowing and never fails to inspire me to hustle.
What made you smile today?
The cute Thai two-year-old who kept coming up to me at breakfast and playing peekaboo. I love the friendly Thai culture in general though; the Thai people always have me smiling.
What is something you think everyone should try at least once in their life? Or name one skill you think everyone should have or learn?
The biggest skill that is missing for sure is empathy. Too many people are looking at the world through a narrow view-finder, and just trying to understand how other people see it from their own situation would make a huge difference in everyday life.
As for one thing to try at least once in your life, Khao Soi (an incredible northern Thai dish) has got to be high up there on the list.
What is one skill or hobby you've been meaning to learn but haven't had time for?
I've meant for ages to get into boxing. I've done a couple of classes and even considered doing Thai boxing while in Thailand but it's something I haven't got around to just yet. When your hobby is your job, it's hard to focus on anything else.

List 3 simple things in life that make you really happy:
Community

Family

Incredible food
What is the best thing that you have done, just because you were told you can't?
I once got told making money online was all just pyramid schemes and I'd just lose all my money. Who's laughing now…
What is your favorite coworking space and why?
I love the Buristro Bar & Cafe in Chiang Mai, Thailand. It's affordable, has awesome drinks and you can lounge on a sun-bed and take a dip in the pool in the late afternoon. What more could you want?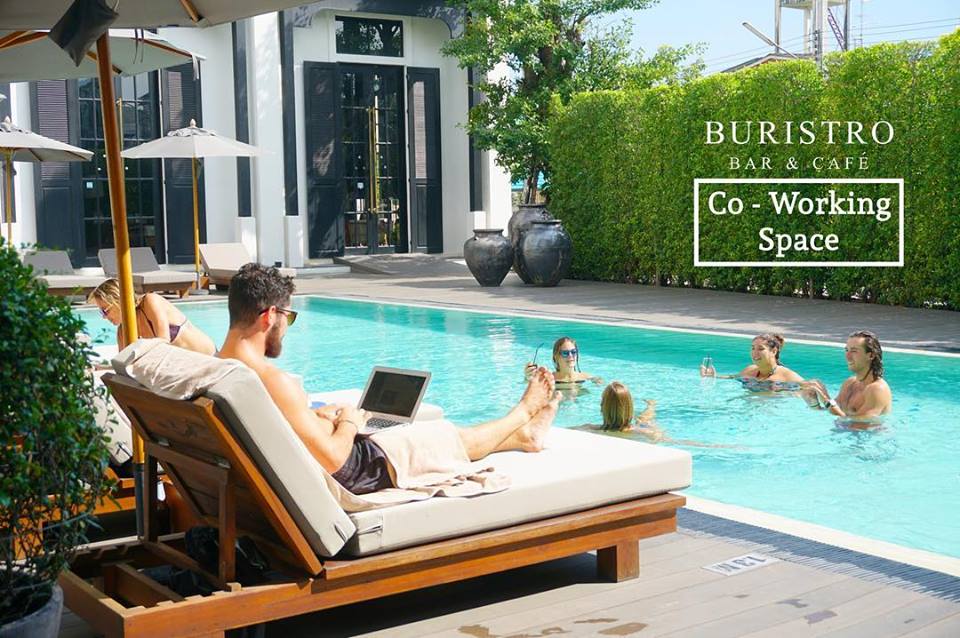 If you had the opportunity to spend a week or month in another country to be your office of the week/month, where would you go?

I'm dying to try one of those offices in Iceland with a glass ceiling looking up at the Northern Lights. I think it'd be a bit of a temperature shock though after three months in Thailand.

Biggest item on your bucket list at the moment?
It's a close fight between seeing Cape Point, South Africa where the Indian Ocean meets the Atlantic and my first speaking engagement about my passions in-front of a large crowd.
As a Digital Nomad/Entrepreneur. If you were stranded on a deserted island, what three things would you have and why?
A good book, a case of cold beers and a wifi blocker. (Just in case somebody tried to get the internet working.) It's rare Digital Nomads get the luxury of being stranded on an island–I think I'd make the most of it.
Tell me something you have never told anyone else. 
Of all the perks I landed in my old job from free business trips to incredible conferences, and of all the expensive items I've bought in my life, nothing has given me as much happiness as selling it all and realizing what's truly important in life: the people around you, and what you can give them.
What was your first job? Has it shaped where you are today?
My first job was working at my dad's restaurant and it 100% gave me the drive and determination I have today. Not to mention introducing me to the concept of building relationships in business early on.
Any advice for your previous boss?
My previous boss was an incredible mentor and a truly great man. His belief in me was second to none and I couldn't praise him enough for supporting me when I decided I wanted to leave. My only advice for him would be to ditch the corporation and to set out by himself. He'd be incredibly successful.
What's your favorite part about coworking?
Absolutely the networking–the people you meet not only invigorate your day but can change your life.
What is your go to pump up song?
Naive, The Kooks. It reminds me of home and the people I'm closest to.
Anything else you would like to add?
A ton of gratitude for everything the team here at Coworker do–having met most of you in person, you are all amazing, caring people and I love what you do! Oh, and watch this space. I'm confident you'll be seeing my name pop up in the Digital Nomad community.