She's set foot on all seven continents. She never uses an alarm clock. She's the founder and CEO of GLILA (The Global Location Independent Ladies Association). Originally from South Africa, Hayley Wood now considers herself to be a citizen of the world. From working in a Scottish potato factory to being a rainforest guide in Ecuador to teaching English in South Korea, she may be one of the most versatile digital nomads we've ever met. Hayley believes in one thing: freedom. Her online coworking space is designed to offer this type of career-freedom, teaching individuals about passive income opportunities and remote jobs. To Hayley, linear career paths don't equate with happiness–instead, she believes in taking risks, following your curiosities and seeing where life takes you.
What are you working on right now?
Making GLILA and my online co-working space, Hayley's Online Co-Working Space, into global brands! It's not easy when you've had to learn about online marketing from scratch, but Google is your friend. 😉 And hiring a team of course! None of this would be possible without my amazing team! When starting an online business, it's so important to try and focus on your zone of genius and delegate the rest. I learned this the hard way, but reaching for your dreams is not about perfection, it's about action. Try new things, make mistakes. Then when you know better, do better.
What is your current desktop wallpaper? and why?
Oh, this is a funny one! Ok, so it's a picture of my family and I on Christmas Day in Australia last year. We're all mining cryptocurrencies as a passive income and doing so well! So as a fun present, I bought us all mining hard hats saying 'Professional Crypto Miner'! So cheesy, but so fun. Because… why not!
Which book has shaped your life or changed the way you think the most?
It would be hard to pick just one! From The Big Leap (by Gay Hendricks) to Russell Brunson's DotCom Secrets–they've all been so valuable to me. I tend to read a wide range of personal development books though, from practical marketing to philosophy. I keep the important ideas that are relevant to me and discard the rest. I love to share book quotes, so this is one of the things I do in the GLILA Facebook community 'Books, Coffee and Travel Dreams'.
What is one thing you do to get motivated?
Watch Gary Vaynerchuk videos! Love that guy!

What made you smile today?
I was looking through my Chiang Mai (Thailand) photos on my phone from the last two weeks and was pretty much smiling from ear to ear seeing all of the amazing people that I've met since I arrived here. All doing incredible things with their lives; all such happy people! I can't get enough of the vibe here and I feel so very grateful.
What is your go-to pump up song?
Ok, so you're not allowed to laugh! I don't have one song, but when I was living in Toronto last year, one of my awesome friends gifted me a ticket to my first Ice Hockey game. I Shazam'd (that's an app!) a bunch of songs that were played during the game and yeah, they're my go-to playlist now! Such great energy! I am all about energy.
What is something you think everyone should try at least once in their life? Or name one skill you think everyone should have or learn?
Living alone in a foreign country where you know no-one! Many of us don't realize exactly how much the people in our immediate environment shape who we are. From our teachers to our family to our friends, removing yourself from this immediate circle, even if just for a short time, can be life-changing and I highly recommend it. You just might find out exactly who you are (ahem, including how awesome you are!) and what you really want out of life without the influence of anyone else's opinions. And that's where the magic happens…
What is one skill or hobby you've been meaning to learn but haven't had time for?
I'd love to dedicate more time to going deeper into the behind-the-scenes of cryptocurrencies. And playing the guitar maybe. Because when you're playing an instrument, you're present in the moment, and that's something we all need more of of in our lives.
List 3 simple things in life that make you really happy:
The Triple F – Family, Friends and Freedom
What is the best thing that you have done, just because you were told you can't?
Create my ideal lifestyle! I refuse to use exhaustion as a status symbol!! Happier people have the mental energy to focus on actually making this world a better place. It's time for us to stop surviving and start thriving. In this internet age, we have the tools to make this happen. As selfish as it might sound – fill up your own cup first, and watch your life change (and the lives of those around you!)
What is your favorite coworking space and why?
My own of course! A coworking space that essentially 'travels' with you? Well, that's pretty incredible! It can be tough being a digital nomad from the point of view that when you change countries, you usually have to change your friends as well. And while this has a huge advantage in that your network is constantly expanding, many of us crave deeper friendships and community. That's what I hope to solve with my co-working space. Bring your to-do list, put your tasks on the group task board and get to work. Comment on each other's tasks, ask questions in the forums and create mini accountability teams to keep you on track. Reaching our dreams is all about daily, consistent action – HOCS is there to keep you on track!! There is a 24 hour space where you can come and go as you please, or if you prefer a higher level of accountability, join us for our 90 minute daily power co-working sessions. Come join us from anywhere in the world–whether it's from a coffee shop in Hong Kong or a physical coworking space in Brazil. You'll always have a community of people cheering you on. You can even arrange to meet up to cowork in person with fellow members if you're in the same country!
If you had the opportunity to spend a week or month in another country to be your office of the week/month, where would you go?
Anywhere with a view really! I'm all about a good view 🙂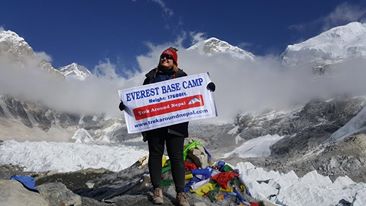 Biggest item on your bucket list at the moment?
Helping other people to create their ideal lifestyles! Seeing a person's face when they've just achieved something that they thought was impossible–well, that is priceless! Oh, and doing a road-trip through Iceland.
As a digital nomad/entrepreneur: if you were stranded on a deserted island, what three things would you have and why?
This is pretty hilarious, as my friends and I just did a road-trip to Pai in Northern Thailand for a few days. The bus ride was really long, so we decided to play a game where we ask random questions to get to know each other better. This was one of them! I have to say that my friend, Benedicte Flouriot (The Nomad Coach) had the best answer–her pillow! I have to agree. As for the other two items, I'm going to need some time to (over)think this (insert winking smiley here!)
What was your first job? Has it shaped where you are today?
My first job was working at an ice-cream shop in South Africa for $6 for the entire day during university! I somehow thought this was a lot of money so I worked there diligently every weekend. One of the big things it taught me was how our money mindset shapes our lives. People have different ideas about the value of money, and this is important to keep in mind, especially when creating an online business.
Any advice for your previous boss?
I loved my previous bosses!! They were instrumental in helping me to achieve my current level of happiness. So I am extremely grateful to them. Go show them some love – ESLstarter.com
What's your favorite part about coworking?
The community! Being around like-minded people, sharing ideas–well, I can't get enough of it!
Anything else you would like to add?
The secret to happiness is freedom…. the secret to freedom is courage. Be brave and watch your life change. All it takes is one decision – one step in a different direction. It doesn't even have to be the right direction. Just take that step. And enjoy the ride 🙂