You may already be a fan of Cat's work and not even know it. Chances are, you've seen some of her paintings printed across various mediums and products, like apparels, tech accessories and home decor. Cat Coquillette, originally from Kansas City, USA, is a globe-trotter with a paintbrush, eager to share her artwork inspired by her travels with the world. Partnering with brands that transform her paintings into best-selling products, Cat's artwork has been featured by celebrities like Hilary Duff, Lucy Hale, Jessica Simpson and Khloe Kardashian. With bright pops of color and vibrant typography, Cat's art speaks to the unique vibes and surroundings of her ever-changing offices–from coworking spaces to airport terminals. And to top it off, she's also dedicated to helping other creatives reach their goals and has published several video courses on entrepreneurship. Want to know more? We do, too! Read more about Cat, here: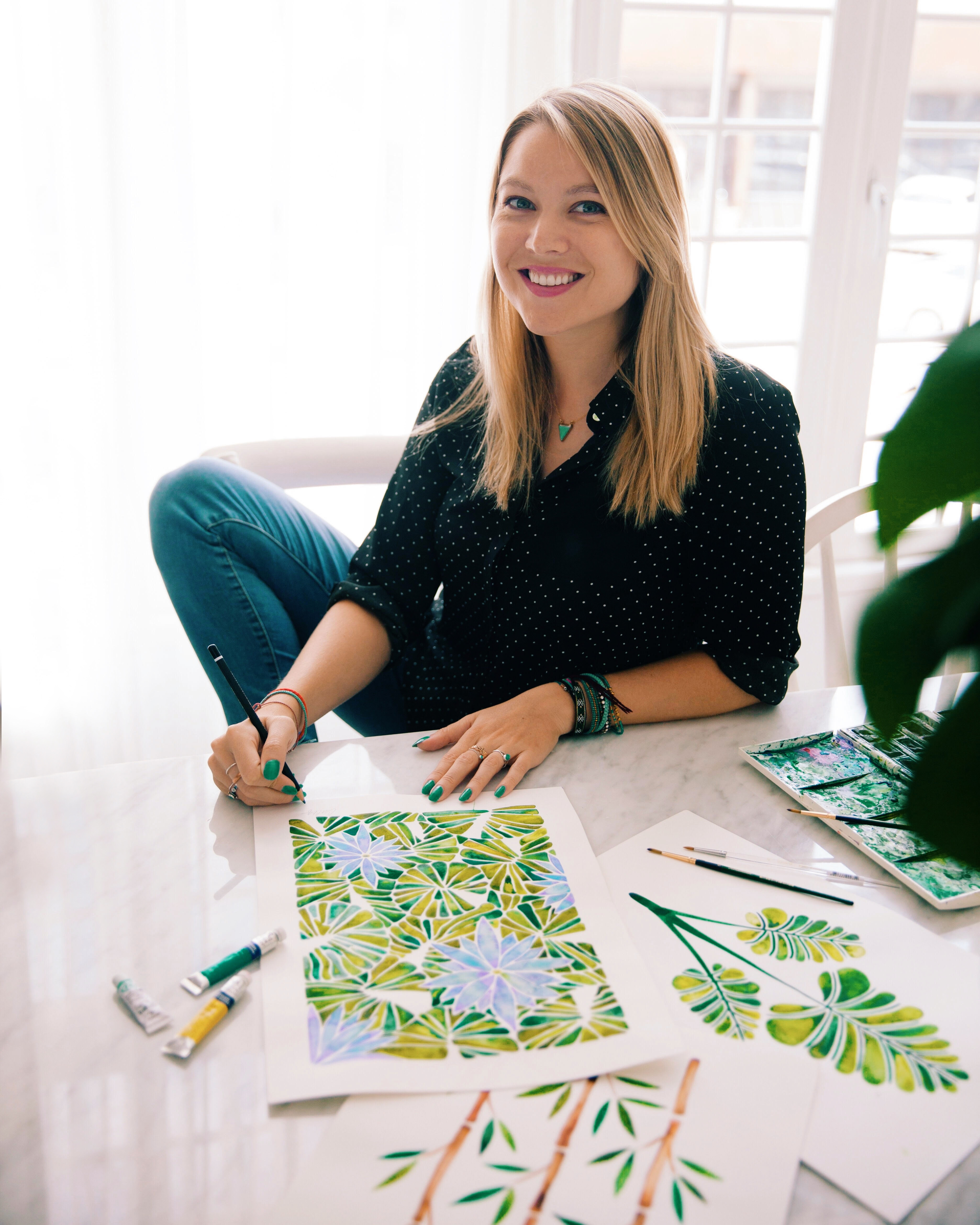 What are you working on right now?
I just wrapped up my newest online creative course. The class is all about how to paint with watercolors using modern techniques (skl.sh/catcoq4). Next month, I'm heading to New York to start filming my next online class, an introduction to Photoshop, which will be produced in partnership with Skillshare. Once we've wrapped, I'll be giving a presentation to a few hundred creatives in the NYC area. During all of this, I'm still painting nearly every day.
What is your current desktop wallpaper? and why?
It's a picture I snapped one evening in the ancient Mayan city of Tikal, Guatemala. A storm had rolled through the rainforest earlier that day, so the sunset over Temple II was especially vivid.
Which book has shaped your life or changed the way you think the most?
The Hitchhiker's Guide to the Galaxy. Not only is it a phenomenal read, but it triggers a desire to explore and get out of your comfort zone.
How do you start off your day — aka what's your morning routine?
I'm a night owl, so that's when I get most of my work done. My mornings are slow–I don't set an alarm, so when I wake up usually depends on what time I fell asleep next to my laptop. I start my days working in coffee shops or coworking spaces. I focus on the business tasks in the morning: sending invoices, responding to emails, working on my website and outlining new courses. My creativity kicks in during the evening, so that's when I get to have fun and create new artwork.
What is one thing you do to get motivated?
Go for a run.
What made you smile today?
So many things! I smiled when I saw the two dogs that live on my street–they both love belly rubs and came running up when they spotted me. I smiled when the barista served me my latte–I always compliment her foam art, so she makes new designs for me when I come in. I smiled when I opened my curtains this morning–my balcony faces the mountains in the west and the view was especially clear today.
What is something you think everyone should try at least once in their life? Or Name one skill you think everyone should have or learn?
I believe everyone should experience solo travel at least once in their life, whether it's to a nearby city or a foreign country. It's empowering to get out of your comfort zone and embrace a new experience with complete independence.
What is one skill or hobby you've been meaning to learn but haven't had time for?
I'd love to become fluent in another language. According to my iPhone app, Duolingo, I'm 20% fluent in Spanish, but I'm pretty sure their calculations are way off because I still struggle to order off a menu.
List 3 simple things in life that make you really happy:
Holding animals, a cold beer after a long day outdoors and a completely cleared inbox.


What is the best thing that you have done, just because you were told you can't?
Make a thriving living as an artist.
What is your favorite coworking space and why?
Hubud in Bali. Wild monkeys would occasionally wander over and play in the yard. I spent a month working there and never got tired of the sight.
If you had the opportunity to spend a week or month in another country to be your office of the week/month, where would you go?
Morocco! I have no idea what their coworking or WiFi situation is, but I'm planning on heading that way this fall, so I'll get back to you on that.
Biggest item on your bucket list at the moment?
Spend a few weeks on a riverboat down the Amazon.
As a Digital Nomad/Entrepreneur. If you were stranded on a deserted island, what three things would you have and why?
My parents' dog, Jack, for company. A lifetime supply of coffee. And Harry Potter and the Prisoner of Azkaban.
What was your first job? Has it shaped where you are today?
I worked at a paint-on-pottery studio when I was sixteen. I was a pretty terrible employee–I spent most of my time painting on the ceramics products I was supposed to be selling, so I was fired after a few months. The experience taught me that passion about my career is important, but so is being a good businesswoman. I could spend all day, every day painting, but that wouldn't pay my salary unless I have a solid strategy for monetizing and growing. This is the difference between a hobby and a career.
What's your favorite part about coworking?
I'm a soloprenuer, so coworking gives me the opportunity to run ideas by my entrepreneur friends and get their feedback. This is especially helpful when the person I'm coworking with is in an entirely different industry, which means they provide a unique perspective that I may have not previously considered.
What is your go-to pump up song?
Four Little Diamonds by Electric Light Orchestra
Anything else you would like to add?
If you're interested in any of my online creative business courses, check out catcoq.com/classes. I provide direct links so you can enroll for free and learn about monetizing your artwork, earning passive income and enhance your understanding of Photoshop.

If you'd like to check out the products I sell, visit shop.catcoq.com

And to end on a fun note: I keep my bucket list on my phone and add to it all the time. Some items I got to check off in 2017:

• Earn my motorcycle license
• Hike a glacier in the Arctic Circle
• Be interviewed on live TV
• Become a certified diver
• Hold a monkey
• Hike to the crater of a volcano
• See a Komodo dragon in the wild