Sarah was determined to work in baseball–it was her dream and the path she was creating for her career. But one day, she realized she also wanted freedom to travel and work on her own time. All of the pieces came together, and she now works entirely online in digital marketing, free to travel and live wherever she wants. Originally from Detroit, Michigan, Sarah Graves is now focused on art and photography–much different focuses than what she anticipated! But she loves every minute of it. Learn more about Sarah, our next Coworker feature, here!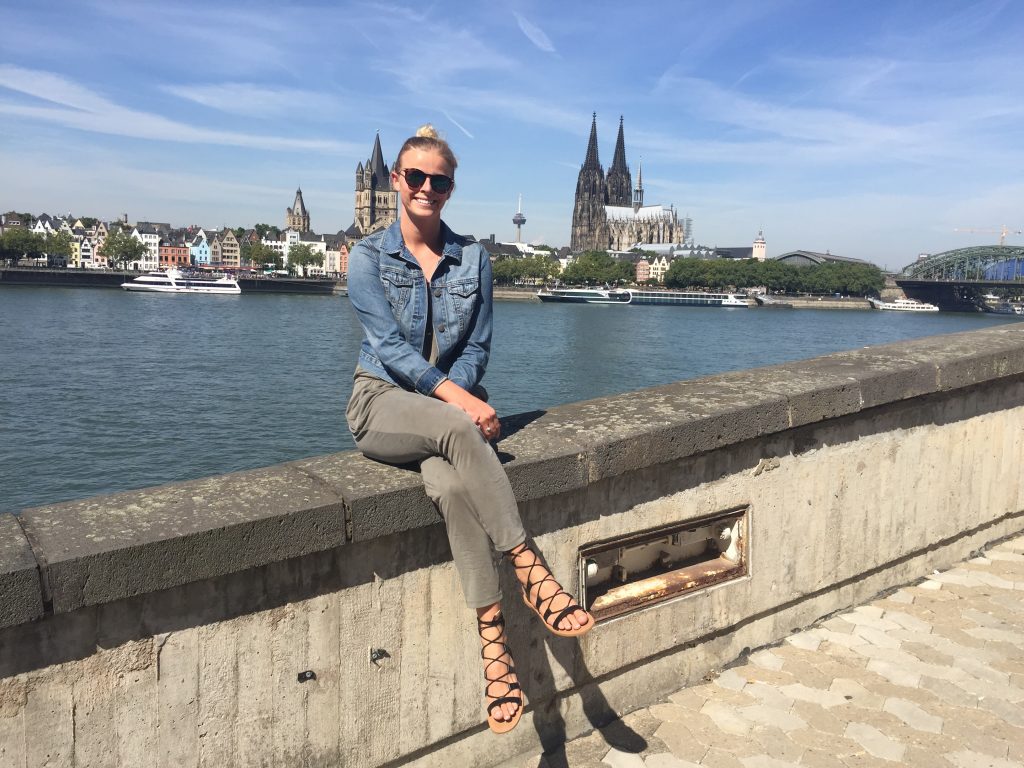 What are you working on right now?
Aside from my digital marketing, I am working on a passion project called Girls Who Nomad. It's in the beginning phases, but the goal is to provide resources and guidance for women who want to break the monotonous 9-5 life. I've been interviewing some incredible women who are already doing amazing things in the digital nomad space. I'm really excited about it!!
What is your current desktop wallpaper? and why?
My desktop wallpaper is a picture of my boyfriend, Mitko, and I on Vitosha Mountain in Sofia, Bulgaria. Call me cheesy, but I have him to thank for pushing me and encouraging me through the transition to becoming a digital nomad. He started working online before me and coached me through all of the ups and downs. He was also born and raised in Bulgaria and we spend a lot of time there, so it makes me happy to see this beautiful country every time I turn on my computer!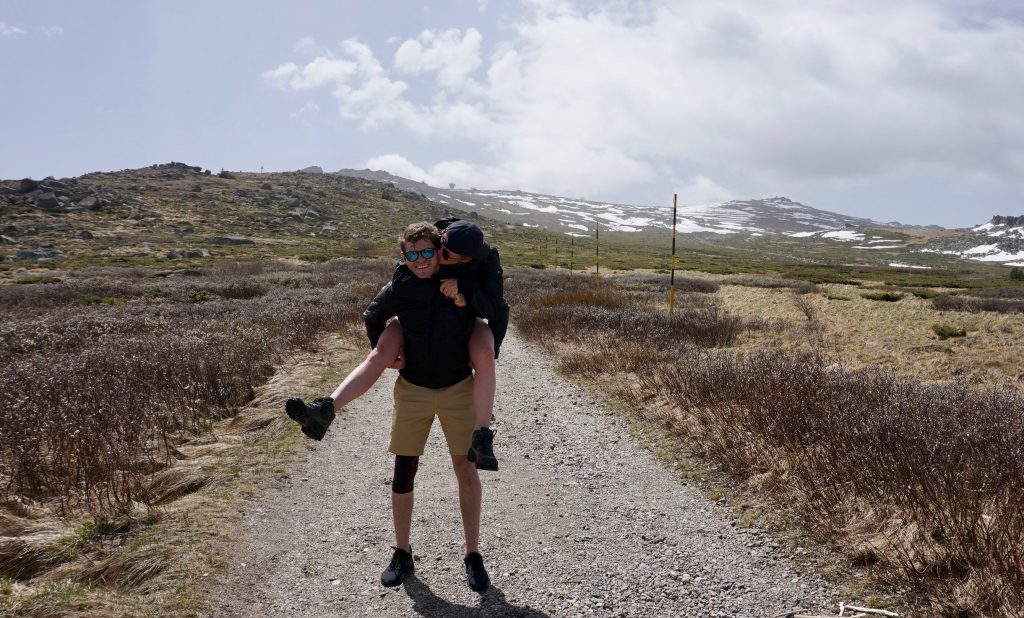 Which book has shaped your life or changed the way you think the most?
I REALLY enjoy reading – a lot!! But I think Wild by Cheryl Strayed is one of the most important books to me. Wild was actually assigned to me to read in college, and I fell in love with it. I believe it had a really big influence on my decision to up and leave the 9-5 cubicle life and jet off to Bulgaria while I was still only making less than $400/month!
How do you start off your day — aka what's your morning routine?
I'm quick to get to work in the morning. I get up relatively early, around 6:30, grab my coffee, try to get a workout in and start working. I figure the earlier I wake up and get the not-so-fun work out of the way, I'll have a little more wiggle room later in the day.
What is one thing you do to get motivated?
Staying active/working out is probably the most effective way for me to keep me motivated. If I get into a good routine and find ways to get exercise, I notice that I'm WAY more productive, which helps me stay motivated. This doesn't JUST mean trips to the gym, though – I volunteer at the animal shelter on Tuesday mornings and walk dogs for 2 hours, which is great exercise! I also listen to podcasts while I'm walking the dogs, so I get some extra motivation from that!
What made you smile today?
I just got back from spending more than a week at home with my parents in Detroit – I don't get to see them as much as I'd like to. And today I was thinking about how lucky I am to have the freedom to work from anywhere and do that. Sure, I'd be able to see them on the weekends occasionally, but today I smiled thinking about how cool it is that I'm able to do that!
What is something you think everyone should try at least once in their life? Or Name one skill you think everyone should have or learn?
I'm not sure if this would be considered a "skill" necessarily, but I think people need to learn how to be more confident in doing things that may break the "normal" mold. So many people I know are working jobs that they barely like, or even hate. But they have so much value in things they may consider a hobby!! I'm not telling everyone to drop their 9-5 and take up knitting as a main source of income, but people are so worried about looking like they're "trying too hard" on social media. I have friends that are amazing writers, photographers, etc. that seem embarrassed to put their work up on Facebook or Instagram. Take a stab at doing something different and putting yourself out there – you never know what opportunities will pop up from it!
What is one skill or hobby you've been meaning to learn but haven't had time for?
Playing the ukulele!! I got one for Christmas last year, and I've practiced about 3 times since then. It's such a fun instrument and small enough to travel with, and I was so convinced that I would learn quickly. Not giving up yet!!
List 3 simple things in life that make you really happy:
1 The supportive and amazing people in my life
2 Dogs
3 Traveling to new places
What is the best thing that you have done, just because you were told you can't?
Making a full time income online. So many people told me that it wasn't realistic, or it wouldn't be a good long-term plan.
What is your favorite coworking space and why?
Betahaus in Sofia, Bulgaria. The space was really open and big, and they have an amazing staff! There were different events going on while we were there, and there is a beautiful coffee shop that was run on the first floor.


If you had the opportunity to spend a week or month in another country to be your office of the week/month, where would you go?
I would go to Portugal. I've heard nothing but amazing things about the country and it's relatively inexpensive. Also, there's a good number of digital nomads there, which makes things fun. I've been dying to go there, but it hasn't worked out quite yet. Soon!!
Biggest item on your bucket list at the moment?
I would love to dive the Great Barrier Reef. I'm TERRIFIED of fish and swimming in the ocean, but I'm working on being more courageous and overcoming the fear.
As a Digital Nomad/Entrepreneur. If you were stranded on a deserted island, what three things would you have and why?
– A pen and paper to document my time there – would make for some great content when/if I get back!!
– A dog, because hopefully they would keep me a little happier and sane
– A camera
Tell me something you have never told anyone else.
I have a secret skill of touching my nose with my tongue
What was your first job? Has it shaped where you are today?
My first job was babysitting & nannying. It ruined me because it set me up to believe that taxes were not real. On a serious note, it helped me develop leadership skills and take control of situations from an early age.
Any advice for your previous boss?
I've been so lucky with my bosses from the past. I have no advice to give, but I learned some great things from the last person I worked for at a small marketing company. He was really great at listening and he let me explore and implement new ideas for the company. This is really important for bosses to do (or at least try to do) because it fosters creativity. He was genuinely interested in my opinions and ideas, which gave me way more confidence than I came into the job with.
What's your favorite part about coworking?
My favorite part about coworking is having a sense of community. As a digital nomad, sometimes I miss the office culture. In theory, it sounds great to not have to go into the office every day, but sometimes it gets old and lonely. When you go to a coworking space, you surround yourself with people who are working hard and WANT to be there. Nobody is forcing them to be there, and people just seem more interested in their work than they do in a typical corporate office.
What is your go to pump up song?
Ugly Heart by G.R.L. which is ironic because I have the absolute best person in the world as my boyfriend (going on 4 years). It's a really catchy song, and makes me feel like no one can bring me down!
Anything else you would like to add?
Coworker has been such an amazing resource!! I am so thankful for all of you. As great as coffee shops are, sometimes a coworking space is necessary. Coworker.com is so easy to use and offers so much great info!!
You can follow Sarah Facebook group, Instagram and check out her website.