Rachel is an expert in story-based copywriting. Originally from New York, Rachel Mazza is now living in Portugal–as she loves the European lifestyle. She specializes in generating persuasive landing pages and e-mails that inspire readers to take action. Before focusing on sales copywriting, Rachel had a digital marketing agency that offered web design, content marketing and SEO services. Read more about Rachel, here!
What are you working on right now?
I've just shut down my agency to focus 100% on helping business owners with products and courses get better conversions from cold traffic. At the agency, we provided persuasive content that was also optimized for target SEO keywords to affiliate marketers. I take that same idea of creating sales copy with long-term traction, and use it to help marketers fix their broken funnels by warming up cold traffic before it hits your landing page. This way. readers are already primed to buy before you ask them for the sale.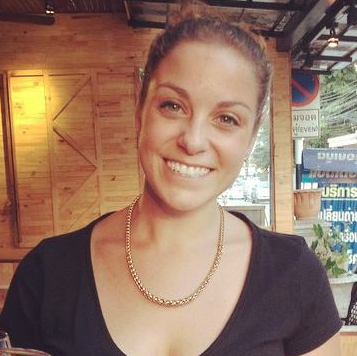 What is your current desktop wallpaper? and why?
It's a single quote on a black background that says, "You don't have to have it all figured out to move forward." — pretty much encompasses how I live my life. When an opportunity comes along, double check that it's in line with your core immutable laws and big-picture goals, then say 'yes' and figure out the rest as you go!
Which book has shaped your life or changed the way you think the most?
Wow – so many have had an impact based on the different phases of life I was in at the time. Recently I feel like I've gone through a huge paradigm shift after reading The Big Leap. If you feel like you're not living up to your greatest potential or doing what you're 'meant' to be doing – it's a great mindset shift. Also, The 5 Love Languages – this has improved all of the relationships in my life, not only the romantic ones. It teaches you to identify and communicate love, appreciation, and gratitude to other people who probably 'speak' a much different love language than your own! If you've ever wondered why someone doesn't appreciate you — many times it's just because you guys are speaking different love languages. I also really love Influence by Robert Cialdini – it's a must-read for anyone in sales or marketing and is a quick and easy read that shows you how people get persuaded to think a certain way or take certain actions. Last one I promise. The Profit First system has helped me keep WAY more of the money that I earn and is a big reason why I feel financially secure these days.
How do you start off your day — aka what's your morning routine?
Wake up – drink a big glass of lemon water – make a cup of coffee and then dive straight into work. I find my most productive hours are in the morning and often feel like I'm 'racing' my draining productivity as the day goes on. So I really push myself hard to get my ONE big thing done for the day before I take a break, make breakfast, or get distracted by email. Some days I'm more successful at that than others, but if I DO get that single, most important task done for the day then I feel way more accomplished and less discouraged if I get distracted from the rest of my to-do list (because… life.)
What is one thing you do to get motivated?
Listen to "epic music" – check it out on Youtube by searching for artists like "two steps from hell" I listen to the same 5 or 6 tracks and they kind of trigger work mode in my brain when I turn them on.
What made you smile today?
My friend Kate Purtle is staying with us here in Lisbon and she gave me a big 'ole hug this morning and a verbal kick-in-the-pants about not being too hard on myself and letting myself be human. Sometimes I forget that I don't have to be a superhuman with magic productivity powers every single day…. reserve that for like… once a week. 😛
What is something you think everyone should try at least once in their life? Or name one skill you think everyone should have or learn?
Learn to cook 2 or 3 healthy dishes that only use a few fresh ingredients really really well. You'll be able to feed yourself and not feel like crap if you're ever in an Air Bnb or place without great food options. You can impress someone with your magical ability to whip up gastronomic delights with very little supplies. You can control your health and weight by having an easy staple that you know will get you the energy and fuel you need. And cooking for someone is a fantastic way to show love and appreciation without breaking the bank.
What is one skill or hobby you've been meaning to learn but haven't had time for?
Salsa dancing. I know the basics but would love to get really great at it.
Outdoor running. I've always wanted to explore new places and keep fit while traveling by going for a run, but feel like I just suck at it! How can you even suck at running? You just put one foot in front of the other, right? I'm special that way sometimes.
List 3 simple things in life that make you really happy:
1.) My boyfriend Branko who constantly reminds me that I am loved, appreciated, and "enough" just as I am right now. He also reminds me that it's totally okay to be vulnerable and let someone take care of you once in awhile.

2.) Having a small but strong circle of really fantastic friends. They're all entrepreneurs and really freaking clever humans who are not afraid to be honest and call each other out on our crap, but also are so supportive and positive. I'm constantly blown away by how awesome these guys all are and how much they all accomplish.

3.) The ability to make money online whenever I need it. I love the freedom and peace of mind that I get from being able to provide for myself instead of relying on an employer to pay me what they think I'm worth. I set the standard for myself and determine my own worth. No one else does. And that's freaking powerful.
What is the best thing that you have done, just because you were told you can't?
Travel the world forever and run my own business from wherever I want to, how I want to. I feel like 6+ years in to this crazy ride and there's still people who would tell me that I need to "settle down and get a real job and start my life" …. what does that even mean? I am earning a full-time income working from my laptop all over the world, providing real value and changing people's businesses and their lives. And I'm doing it all with people that I love, trust and respect both as humans and as entrepreneurs. Why would I do anything else?
What is your favorite coworking space and why?
It doesn't exist anymore, but probably Coffee Monster in Chiang Mai, Thailand. It was this place at the base of the mountain there and I lived around the corner. It's where I met my first friends after making the move to starting my own business and I still am friends with those people today. It was a place that you could leave your laptop and go take off on your motorbike to ride through the Thai mountains and grab some tasty street food when you needed a break from the screen, and they designed it so you can work in bare feet and switch between a comfy air conditioned space inside, and a fresh, nature-forward space outside. It's really where I fell in love with working for myself.
If you had the opportunity to spend a week or month in another country to be your office of the week/month, where would you go?
A private villa in Tuscany or somewhere along the coast in Italy. I (somehow) have not yet been to Italy – even though my family comes from there. I've always romanticised the idea of buying an old villa with a ton of land and fixing it up – writing and running my business from a place of history, nature and fantastic freaking food. I would love to spend a week checking out some different locations to make that happen.
Biggest item on your bucket list at the moment?
This might sound really blasé but I really want to buy a property somewhere to use as a homebase. My ultimate dream would be to have a place with some land  on the ocean, but also near mountains or cliffs. With highspeed fiber internet of course 😛 I want to grow veggies and fruit, have a huge garden, can and pickle food, and just be disgustingly domestic. I love self-sustainability stuff like growing your own food or brewing Kombucha and having enough space to play and make a mess on a property that no one can kick me off of is a huge deal to me. I haven't had a home base since I moved out of my childhood home and I'm really seeking a spot that I can make my own without permission from anyone else.
As a Digital Nomad/Entrepreneur. If you were stranded on a deserted island, what three things would you have and why?
*My laptop (duh) – gotta make those internet monies so I can custom order a boat to come get me 😛 Although, having lived on semi-deserted islands before…. wifi can be a bit touchy in the middle of the ocean.
*Coffee or really awesome Yerba Mate (the good kind. with a gourd.) Caffeine is life.
*And a puppy. How cool would it be to have your own island puppy? We would swim and make a mess and run around and dig up all the things.
What are the podcasts you're listening to right now and Why?
The Truth About Marketing and Copy Chief Radio
Both are run by Copy Chief Kevin Rogers and are such a refreshing "no b.s." resource for what is REALLY working in marketing today. None of that "my offer is crushing it and my guru can beat up your guru" nonsense. Just real strategies from people in the trenches making stuff work. No fluff. No negativity. No ego.

I don't listen to a ton of podcasts – more of an Audible girl. Right now I'm finishing up "The Untethered Soul" recommended to me by my friend Rob. It's  been kind of a slog to get through because it's a bit repetitive but has some really great ideas on how to stop that annoying (and often anxiety-inducing) inner-chatter that's constantly running in your head and taking over your brainspace.
What was your first job? Has it shaped where you are today?
My very first job was leading trail rides on horseback through the forests in rural Illinois. Sounds very romantic but mostly involved a lot of poop and creatures that were annoyingly good at outsmarting me. I also taught little kids martial arts…. which, unsurprisingly, also involved a lot of poop and creatures that were annoyingly good at outsmarting me.
Any advice for your previous boss?
Oh man – my old boss was this guy named Mr. Lee. He was a Korean guy who spoke very little English and felt it was his mission in life to impart great wisdom upon my wild and excitable 18-year-old mind. He would tell me things like…. "Rasshow (that's 'Rachel' in Koringlish)…. you must CATCH the money" and he would mime snatching money Miyagi-style from the river of life flowing before us. Or…. something that I still say to this day. Whenever I would complain he would point his finger straight in my face and say very intensely: "WHO'S FAULT IS YOUR LIFE?! YOUR FAULT IS YOUR LIFE!"

Very true Mr. Lee…. very true. So I guess it's more advice that my previous boss gave me. But if I was to give him some advice it would be to tell people your real name so they can find you on Facebook later in life and thank you for all the insane life lessons and ridiculous work environment that shaped a lot of their work ethic and morals. Because searching for "Mr. Lee" on Facebook, surprisingly, is not very effective.
What's your favorite part about coworking?
Knowing that no matter where you are in the world, you can show up and have strong wifi, caffeine, and a space to work. One of the hardest parts about this lifestyle is getting thrown off course when your favorite cafe is closed for no reason, or the power goes out in your apartment block, or you can't find anywhere to print something – having a hub to just settle in and do your best work is invaluable.
What is your go to pump up song?
Kind of shifts between Hard Rock and Pop Ballads – right now it's anything by One Republic or Imagine Dragons. Although I always get a good boost from some Rise Against.

Anything else you would like to add?
Thank you so much for creating a website that helps entrepreneurs like me find great work spaces all over the world! Especially in remote locations or more expensive locations where it can be hard to find a good space without an epic search or breaking the bank. This is a huge game-changer for us laptop junkies playing business on the interwebs.