Meet Kristen Yates, a Seattle, Washington native who is a self-described "multipotentialite." What does this mean?  It means that she's obsessed with learning and trying new things in new fields. First moving abroad in 2010 to teach English in Prague, Kristen Yates has never looked back from the traveling lifestyle. From food photography in Prague to teaching summer camps in Italy, Kristen enjoys dabbling in many different jobs, holding over 30 different nomadic positions over the past 8 years. Lately, she's been leading yoga retreats and teaching workshops on creativity, empowerment and self-healing. To discover more about Kristen's passions, read on!
What are you working on right now?
At the moment, I am in a "study" phase (in addition to my freelance writing and design projects!) I am in Rishikesh, India studying my Level 2 Reiki and deepening my yoga and Tantra studies to bring these therapies into my work. My next creative project will be a course on igniting Inner Power through the chakras – I'm so excited to integrate what I'm learning in India and create this course for people back in the West.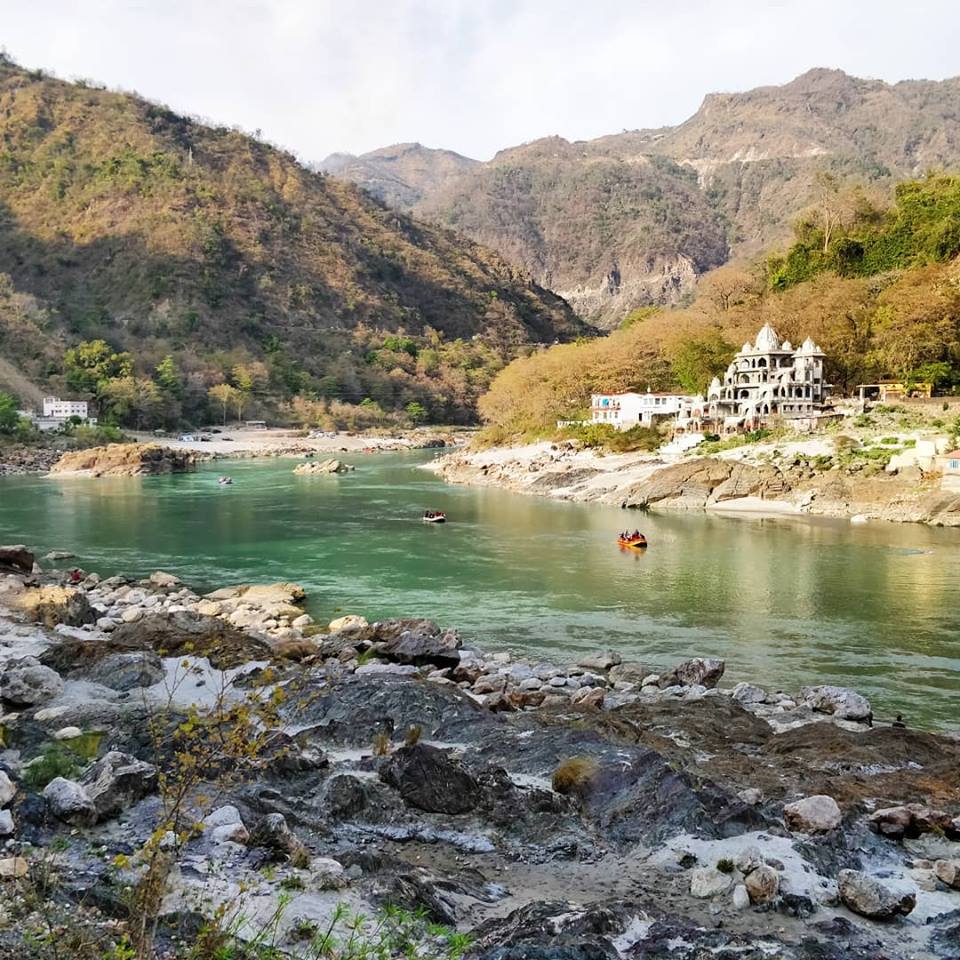 What is your current desktop wallpaper? and why?
My current wallpaper is this gorgeous, colorful spiral photo – hard to explain! 🙂 It's mystical and abstract and reminds me of the ever-evolving spiral of life… this has been such a powerful symbol in my life, as I have returned back to many places on this "Hero's Journey" of life (as have we all!) – never as the same person, but an evolved being with new perspectives, always growing!
Which book has shaped your life or changed the way you think the most?
Oh my gosh, so many – but the 2 that come to mind are The Power of Now and The Alchemist. The Power of Now was the VERY first "spiritual" book that I picked up probably 10 years ago when I was working my first job after college at a law firm. I'd read that thing cover to cover on the bus commute each day and it just sparked so much truth in my soul, it was probably one of the tools that helped me leave the corporate grind and set out on my own adventure. And The Alchemist – that book is so dear to my heart… the ultimate story of the Hero's Journey, the journey we're all on in this life…. I love the metaphor of going out into the world to seek our heart's desire, and finding that the treasure is right in ourselves, right at home. But it's the journey that transforms us into who we must become. Honestly even though they are more in the "spiritual" realm, I believe that both of these books are insanely powerful for any entrepreneur.
How do you start off your day — aka what's your morning routine?
Morning routines are such a huge passion of mine. I believe they are the game-CHANGER for living a powerful, impactful life. My routine looks something like:
– Hydrating
– 30 minutes of yoga
– Pranayama (breath) practice (lately Wim Hoff breathing)
– 20 minutes meditation
– Gratitude journaling
– Visualization meditation (lately it's a technique from Becoming Superhuman, another insanely amazing book)
– Some sort of cardio workout (if I have time) or straight to coffee/smoothie/work 🙂
What is one thing you do to get motivated?
I LOOOOVE listening to Tony Robbins – that guy gets me motivated like no one else!! So when I'm seeking motivation, I throw on some Tony while I'm working out or practicing Breath of Fire! As an ENFP, I get really motivated by other people, so listening to podcasts of people who inspire me is a great tool as well!
What made you smile today?
I spent some time meditating by the Ganges this morning, and on my way to yoga I ran into a few cows in the street, and just spent some time with them! There are so many animals here everywhere, yet no one seems to pay attention to them. I love animals so much and always try to give them love, they give us back so much energetically and I have to tell you, it's pretty awesome staying in a town where cows are just chilling out – they are really just like big puppies!
What is something you think everyone should try at least once in their life? Or Name one skill you think everyone should have or learn?
Solo travel is definitely something that everyone should do at least once in their life. It's like going to the school of life – the best school there is. You learn how to become resourceful, humble, flexible and connect more deeply to yourself and the people/environment around you. Also: ADVENTURES!
What is one skill or hobby you've been meaning to learn but haven't had time for?
I really want to practice my art more – I LOVE drawing and painting, and have this dream to create a visual/artistic journal with lots of cool hand lettering. Need to make more time to practice!
List 3 simple things in life that make you really happy:
1.Art stores, art supplies… all the art things
2. Making green smoothie bowls for friends, then going on motorbike adventures together
3. That moment the wheels come up during takeoff – despite being a travel addict, the rush just never gets old.
What is the best thing that you have done, just because you were told you can't?
Well, I wasn't told I "couldn't" by any individual – more just implied by society, I guess – but leaving my corporate job in 2010 to go out and build life on my own terms was probably the best thing I've done in this realm – it's the whole reason I am where I am today!
What is your favorite coworking space and why?
It's a tie between Beachub on Koh Phangan and Hubud in Ubud, Bali! With both, I'm obsessed with how they're so integrated with the natural environment! Beachub is pretty obviously right on the beach, perfect for rejuvenating in the ocean for a work break. And I love the jungle vibes of Hubud, with palm trees everywhere and monkeys climbing around… jungle and ocean, I can't pick between them! The community and events at Hubud probably nudge it over the top for me, though!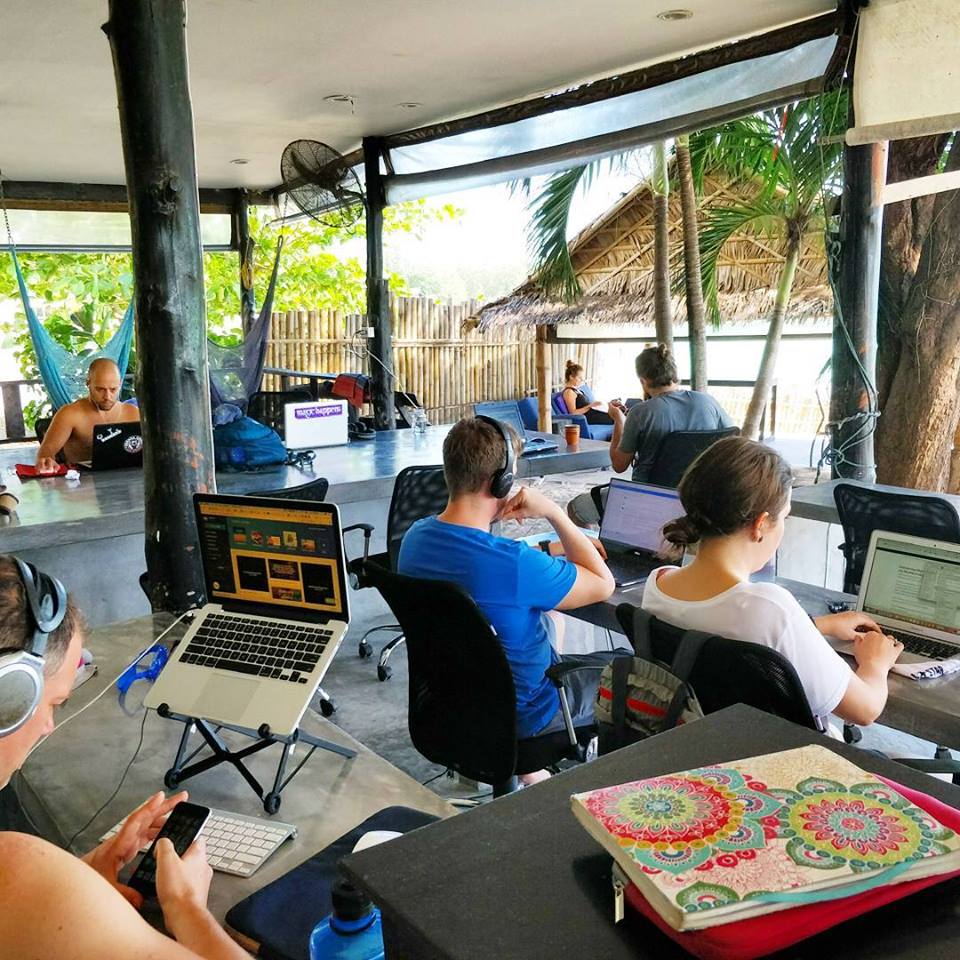 If you had the opportunity to spend a week or month in another country to be your office of the week/month, where would you go?
This is a hard one!! I'm going to go with Cusco, Peru, just because it's been on my list for a while now to get down to South America and the Sacred Valley, and immerse with the healers and shamans there. I've heard it's become more and more digital nomad friendly, so would be a great place to get lots done while immersing in the spiritual realm!


Biggest item on your bucket list at the moment?
Tie between seeing lions in Tanzania, swimming with pink dolphins, and studying with a Vedic Astrology/yoga teacher I've been wanting to meet in Pokhara, Nepal.
As a Digital Nomad/Entrepreneur. If you were stranded on a deserted island, what three things would you have and why?
My journal, my pack of pens and colors, and sunscreen. 🙂
What was your first job? Has it shaped where you are today?
I worked at a Six Flags theme park as a jack-of-all trades, doing everything from paddleboat rentals to working in the gift shop and serving up ice cream! Looking back… it's funny how I'm still playing in lots of different fields, from transformational coaching to yoga, writing, and web design!
Any advice for your previous boss?
Hmmm.. if I'm thinking back to my corporate job, I'd say incorporating yoga and mindfulness into the office!
What's your favorite part about coworking?
I've made so many amazing connections at coworking spaces that led to life-changing experiences that I never could have predicted! Not to mention the friendships that arise, and inspiration and motivation I feel. In 2015, I met a footwear designer who connected me with an opportunity to spend a month in Costa Rica, and whose girlfriend introduced me to the field of Applied Kinestheology. Not only was it a great new friendship with them both, but it led to experiences which have changed my life to this day!
What is your go to pump up song?
Break Free by Arianna Grande 😉
Anything else you would like to add?
You guys rock!!!! 🙂 🙂 <3